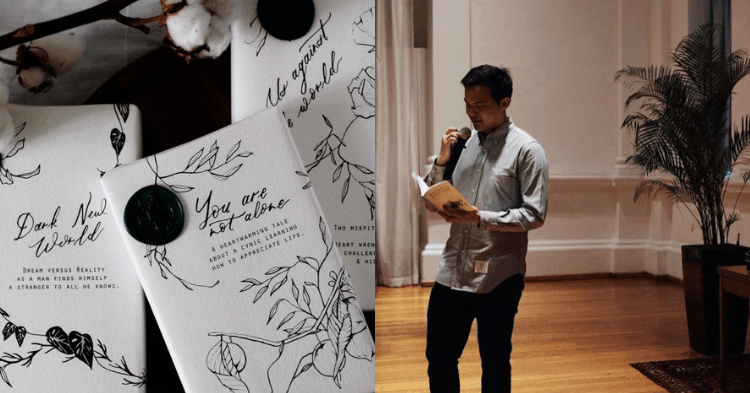 Adam Tie, founder and head curator of The Novel Encounter, which curates mystery books and offers typewritten poetry services, shares that his most memorable themes and word combinations "typically happen at live events".
"It surprises me how much trust people are willing to give a random dude on a typewriter," he quips.
A man rushing Adam to finish the typewritten poem while the man's girlfriend was in the bathroom.
A mother wanting to get a gift for her daughter with anxiety.
A young lady wanting to gift a poem to herself to get over a bad breakup.
These are some encounters which stand out in Adam's memory in his journey of creating typewritten, on-the-spot poetry. Using three words of the customer's choice, Adam churns out a poem within five minutes.
"I can't pinpoint any (specific memorable incident) in particular but it always gets me misty-eyed to see how spectacular human strength is through admission of vulnerability. It's a beautiful thing. And I love doing this," Adam says of his experience in writing on-the-spot freestyle poetry.
Speaking To Adam Again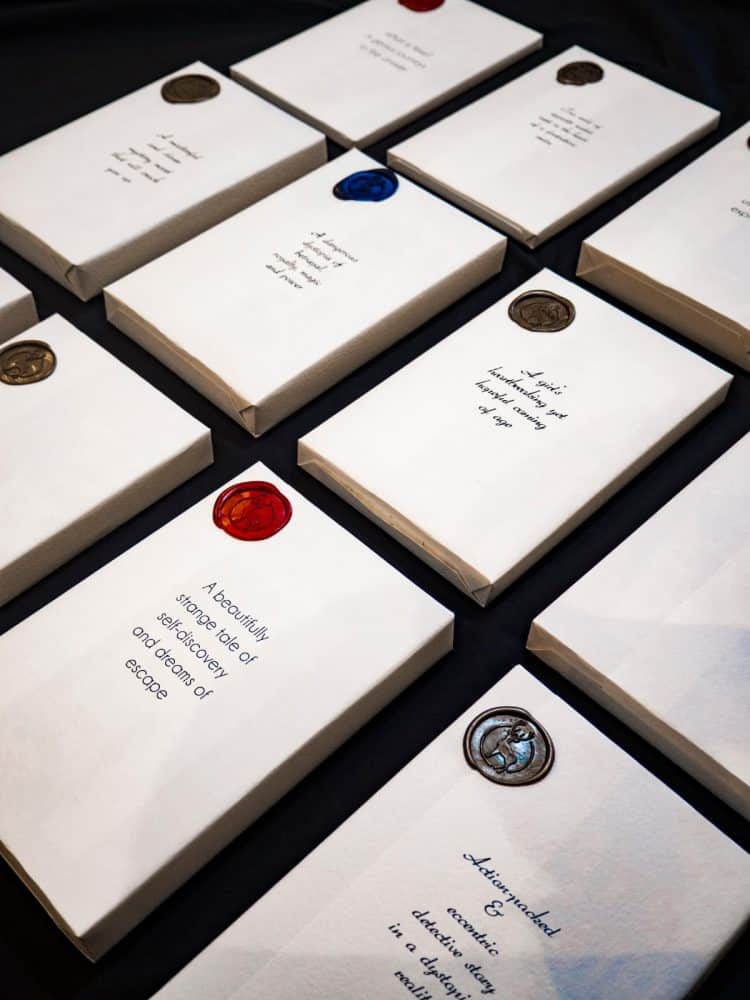 Last year, we spoke with him for the first time. Since then, The Novel Encounter has expanded their offerings – including new titles on their catalogue, as well as new delivery packaging.
Like their existing offerings, Adam assures quality for the new collection and reiterates the same money-back guarantee The Novel Encounter has always stood by.
However, the main difference in the new collection is its cover artwork – these three new titles have their cover artwork designed by Diana of The Wild Abandon, a calligrapher and artist based in Singapore and Australia. Adam also shares that the artwork on the book wrappings of these titles are intended to invoke "a deeper feel of adventure and mystery."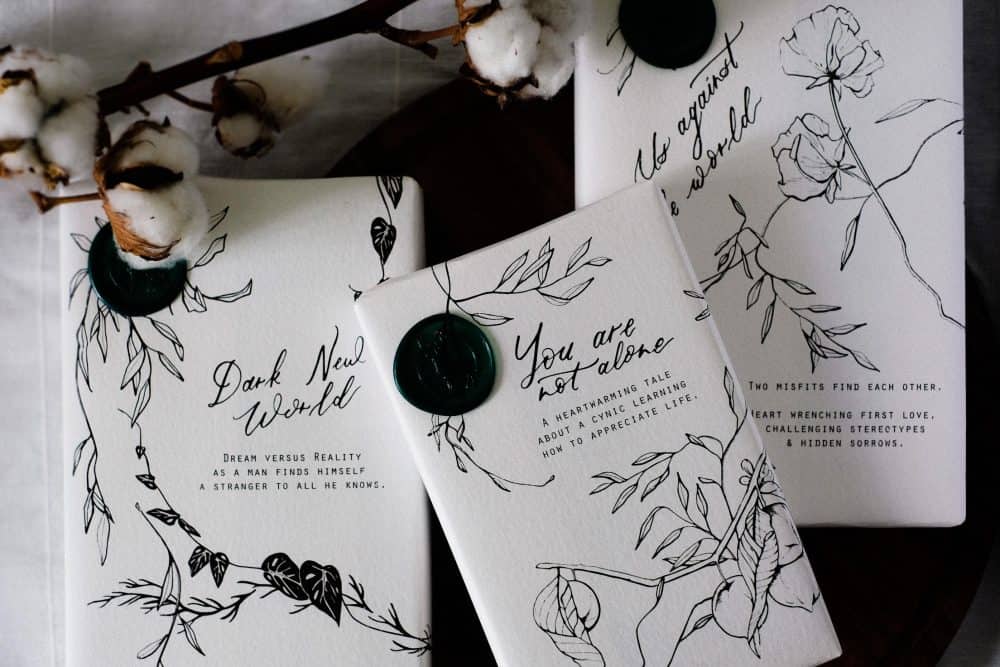 These new titles have also been curated with their bestselling genres – romance, mystery thriller, and self-discovery – in mind. Hence, each of the three new offerings cover these genres, to "ensure it's just the perfect novel adventure," regardless if purchased for oneself or for a loved one.
Having established themselves in the "mystery book encounter" aspect since The Novel Encounter first began, Adam felt that moving into new delivery packaging was the "natural progression", the "best next step to go" with The Novel Encounter.
"Given my love for good design and customer experience, we wanted people to feel excited upon receiving these not only as gifts from others, but even to themselves," he explains.
A Gift For Yourself Or Your Loved Ones
What, however, sparked the choice to launch gift boxes?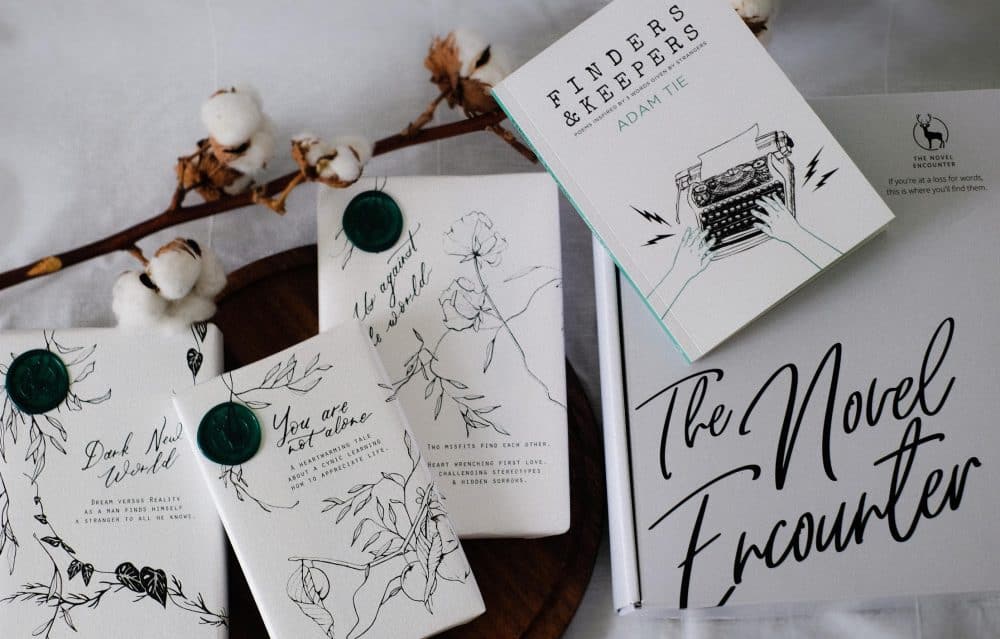 Adam replies in jest that this was done with the motivation to #TREATYOURSELF – and I would wholeheartedly agree with the importance of self-love! More seriously, as a self-professed "book geek", Adam desires to provide services he would personally love to receive – another tick in my book, in the name of good service quality.
"A gift box of novel items just makes me feel happy," he muses – I can't help wondering if there is any pun intended there.
From the gauge of customer feedback, the launch of the gift boxes seem to be well-received – Adam describes his customers being "contented and delighted with how (the gift box) looks and feels."
"If you guys (the customers) are happy, then I'm happy," he says.
Adam muses about The Novel Encounter's typewritten poetry services:
"It could be deliciously obscure, and to be honest, those are the ones I have the most fun with. It could be (live, life, love) for instance. But then there's (octopus, fireman, crossbow) and that just gets me excited to have the creative juices flowing."
Adam shares that he "has always (been) inspired" by writing and reading, as "words mean a great deal" to him. Thus, it comes as no surprise that he should choose these platforms to "help people feel less alone, more encouraged, more connected."
He aptly describes his sentiment as such –
"If my writing achieves (these intentions), then I'd count myself as lucky."
Going Into Various Directions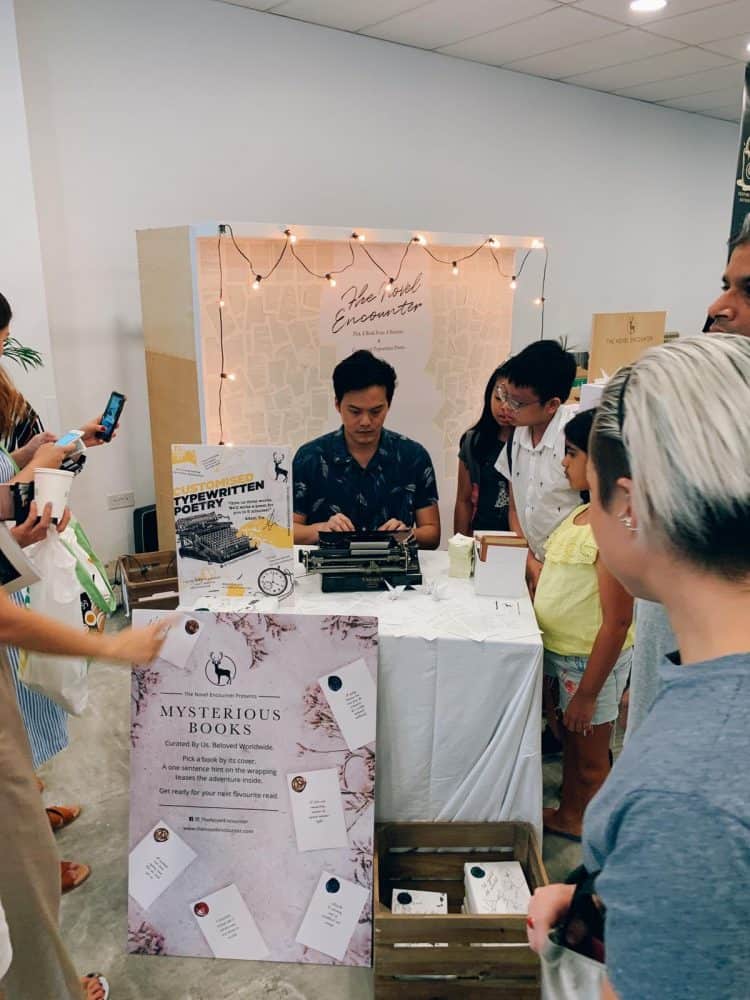 There are several ways one can engage The Novel Encounter for their typewritten poetry service – such as through their website and at live events. Most recently, they have also branched out into events. These include weddings, corporate events, and birthdays.
The Novel Encounter promises that when customers request a typewritten poem at a live event, they are able to write out a poem within five minutes – this adds to the novelty of the experience as customers experience the fun of watching their poems being written in front of them.
"The fact that it's typewritten on a vintage typewriter always seems to make people intrigued," shares Adam – that's also what drew him to doing that in the first place.
"I bought the typewriter on the spot at a vintage fair the moment I saw it," he explains.
Having said that, despite the novelty that typewritten, on-the-spot poetry promises, has The Novel Encounter ever been stumped by the randomness of any word combinations they've received?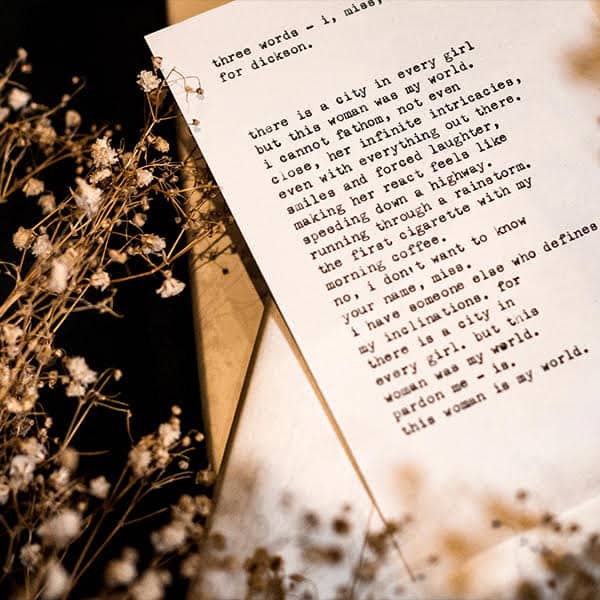 Adam describes an encounter with a customer who had a stop watch on him, and with a friend on Skype.
"No joke, you cannot make this up – (The man goes) 'so you're the three word poem dude, right. I challenge you to do this in five minutes. Forex, Mitsubishi, Starbucks. GO!' ,"  he muses.
As Adam worked on the poem, his customers were literally counting down to the time limit as was promised to them!
Looking back on the encounter, Adam says: "They were good sports though, it was pretty intimidating at first but they were very kind about it at the end. It was pretty good entertainment value for the onlookers too!"
Naturally, this piques my curiosity in wondering if there are any themes Adam might avoid taking on in the course of creating typewritten poetry. Yet, Adam has no "no-go zone" for this pursuit.
"I don't want to do that. If someone is brave enough to open up to me about their personal life, it's my role as the writer to craft something that's worth of their admission. I want to do them justice, whatever the subject," he explains.
Another Beginning
The Novel Encounter has also launched Finders and Keepers, a collection of Adam's freestyle poetry, written at live events for authentic strangers. This was published with much support from Adam's loved ones, and that of the The Novel Encounter community.
"I literally wouldn't have dared to do this without them," he says.
While this collection consists of a combination of newly composed poems as well as a selection of Adam's favourite poems he has done in the past, he assures me that "90% (of the poems) are brand new ones."
Some of these poems are also published as a result of a contest that Adam held – he requested for the The Novel Encounter community to give him three words for him to put into the collection, and describes the experience as being "given an overwhelming response, which was very moving."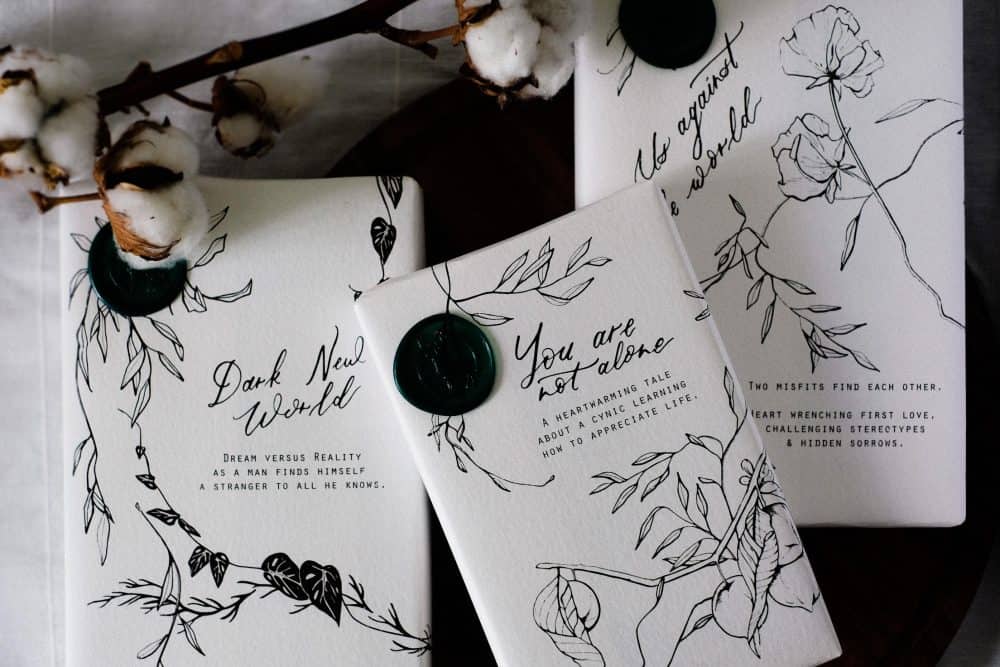 At the core, Adam hopes that through The Novel Encounter, he would be able to "do things that help people feel less alone, that they have an outlet (to express themselves), (and) that they deserve to be happy."
In addition, apart from (more) new book titles, Adam shares that they will be launching notebooks soon. Also in the pipeline are more possibilities of new concepts and collaborations, to enhance the newly-launched gift box collections.
Drop them a note if you'd like to have them as a part of your events! You can also follow their Instagram to stay updated.