Extended #CircuitBreaker measures got you binge-watching the latest Netflix Korean dramas like Hi Bye Mama, Itaewon Class or The King: Eternal Monarch? I was salivating watching Park Seo-joon cook up homely Korean stews. Or how about when Lee Min Ho refused to eat Korean fried chicken because it hasn't been tasted yet?! That scene had me yelling at the screen "GIVE ME THAT FRIED CHICKEN!!" 
If you're anything like me, you're probably craving Korean food watching those dramas! With help from ManyPlaces.sg's online F&B directory, we compiled a list of Korean restaurants to satisfy those cravings.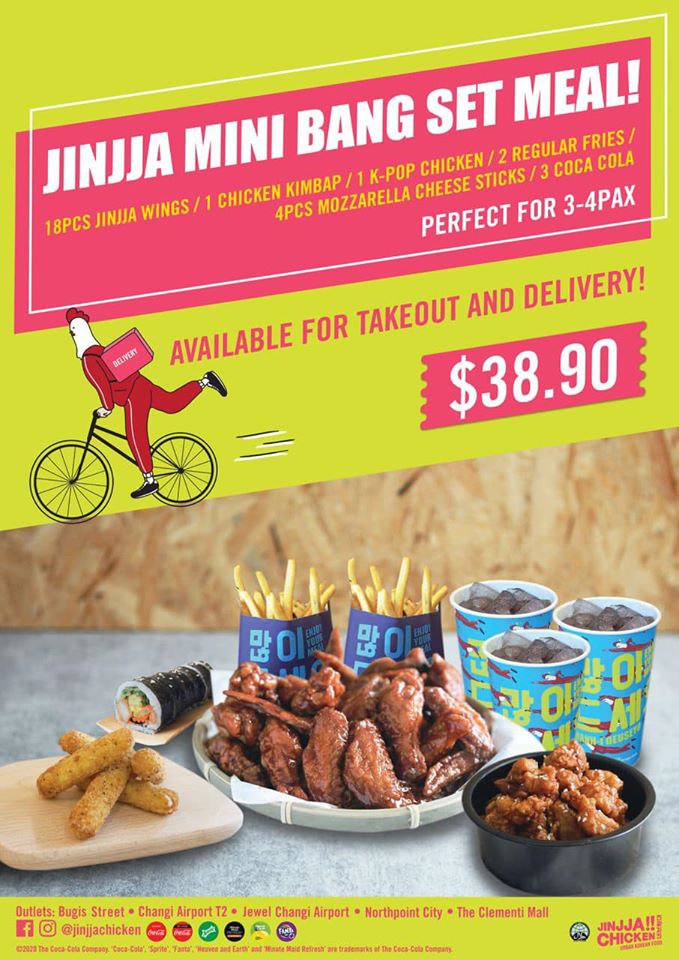 A Korean chain restaurant best known for its Korean Fried Chicken and Jjajangmyeon, JINJJA Chicken serves hearty Korean food that is delicious, fast, and affordable. 
Favourites include their Seafood Jjamppong ($11.50++), where you can choose from three different variations – Creamy, Monster (Spicy), and Original. For smaller bites, check out their Tteokbokki Fries ($3.90++), a twist on your regular fries with the addition of Tteokbokki, and Jinjja Drumsticks ($9.50++). 
Why not make it a family meal and get their JINJJA Mini Bang Set Meal (pictured, $38.90++) for 3-4pax! Order here now!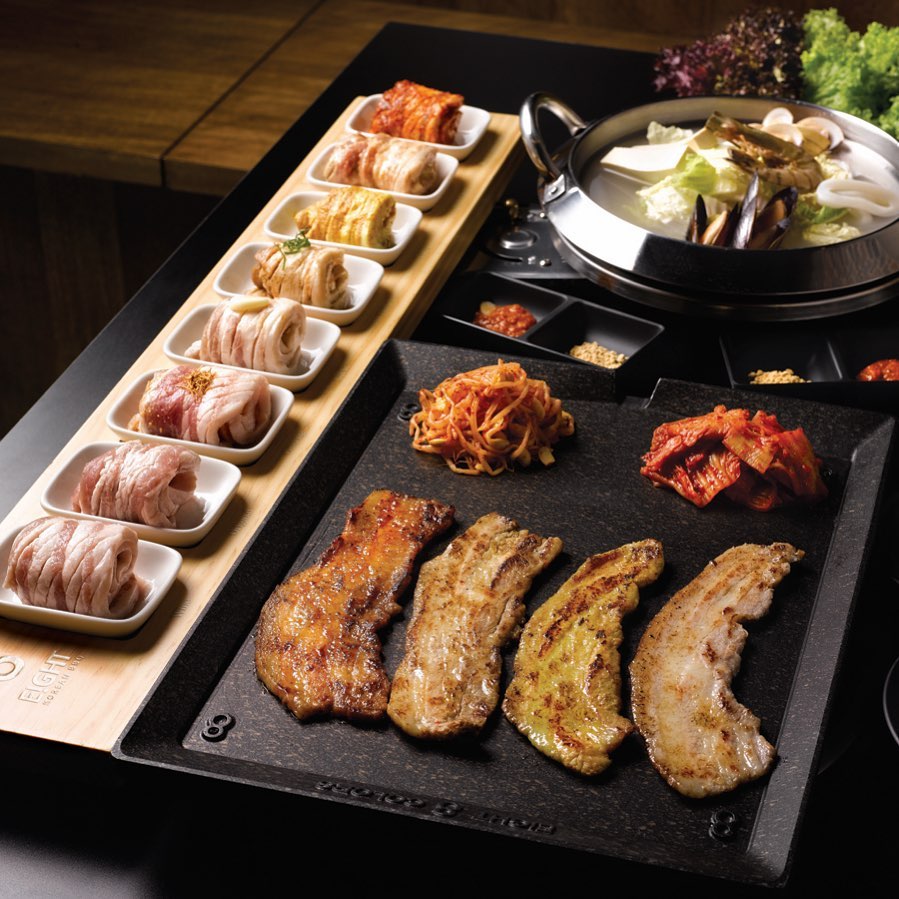 8 Korean BBQ is famed for their tantalizing array of flavours of BBQ Pork – original, wine, ginseng, garlic, herb, curry, miso, and red pepper.
For a mighty KBBQ feast, order the eponymous 8 Colours set (pictured, $98++) that include all 8 flavours of marinated pork belly. It even comes with a stew to wash down all that meat! 
They are currently offering free islandwide delivery with a min spend of $100. For those who are nearby and can pick up your order, quote "TAKEOUT" and receive 10% off the total bill. You can place your orders at +65 9018 9212.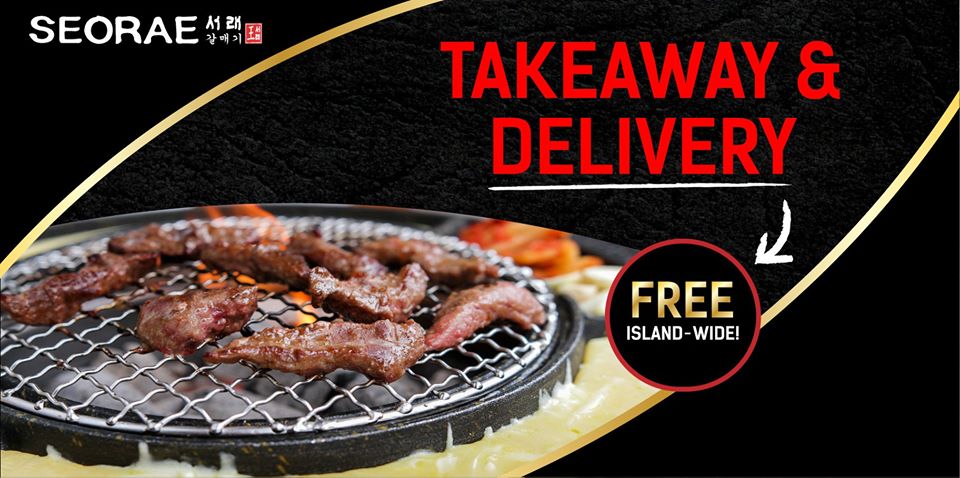 Seorae Korean Charcoal BBQ offers Korean stews, pancakes, rice sets and of course, BBQ meats! While they have plenty of BBQ options, check out their customer favourite – Woosamgyeob ($22.90++), a dish of US Beef Shortplate that is thinly sliced and marinated with their special sauce, then grilled to perfection.
For a quick solo meal, they currently have it as part of their lunch sets (starting from $11.90++), which also includes other types of grilled meats served over hot rice. 
They are currently offering 20% off for pick up orders with free delivery islandwide with a minimum order of $39! Check out their menu here!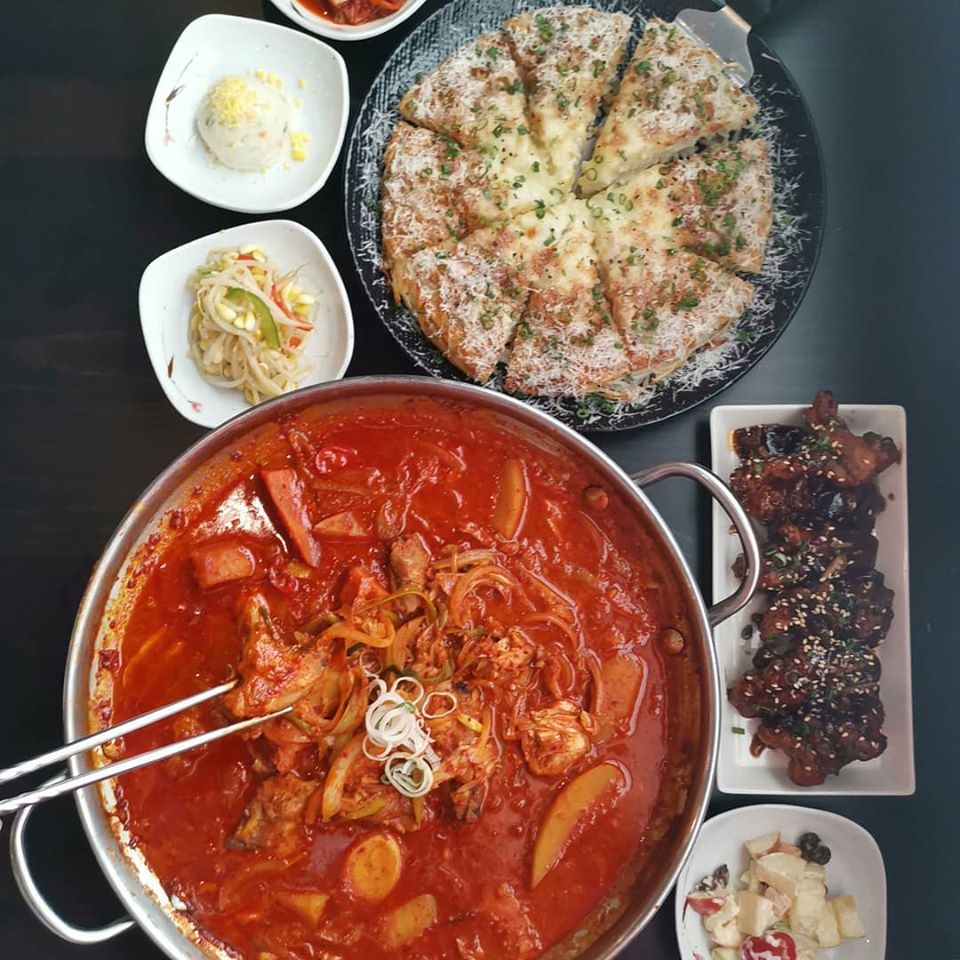 Yeogi Korean Restaurant & Bar is a homely family restaurant serving authentic Korean food at affordable prices. Something to note is that they're one of the rare restaurants with a 5 star rating on Facebook! 
If you have kids at home, try their Cheese Rosti (pictured, $17++)! Hand shredded potatoes topped with grated cheese, a sure-win in any family. Their Army Stew (pictured, $38++) is another family favourite, with customers praising it for its generous portion and delicious broth. 
They're currently offering free islandwide delivery with a minimum order based on your location. ($50 min order for distance <5km, $100 for distance >5km). Check out their menu here and send your order to +65 9780 2953!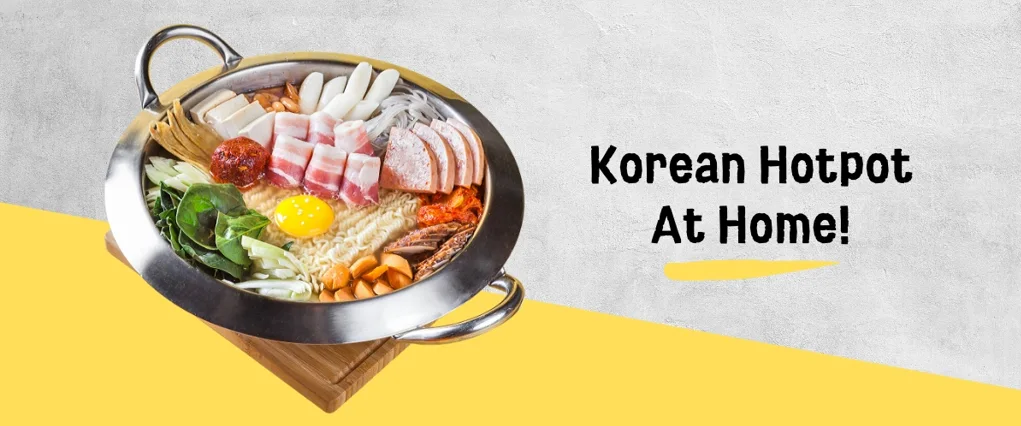 For those cosy nights at home, give Hongdae Oppa Korean Hotpot a shot! A hotpot set for 2-3 pax is going for $88++ and comes with free Korean side dishes. They also offer a la carte broth paste (starting from $8++) in case you want to spice up your hotpot broth!
They are currently offering 20% off for pick up orders with free delivery islandwide with a minimum order of $39! Here's their menu!
6. SBCD Korean Tofu House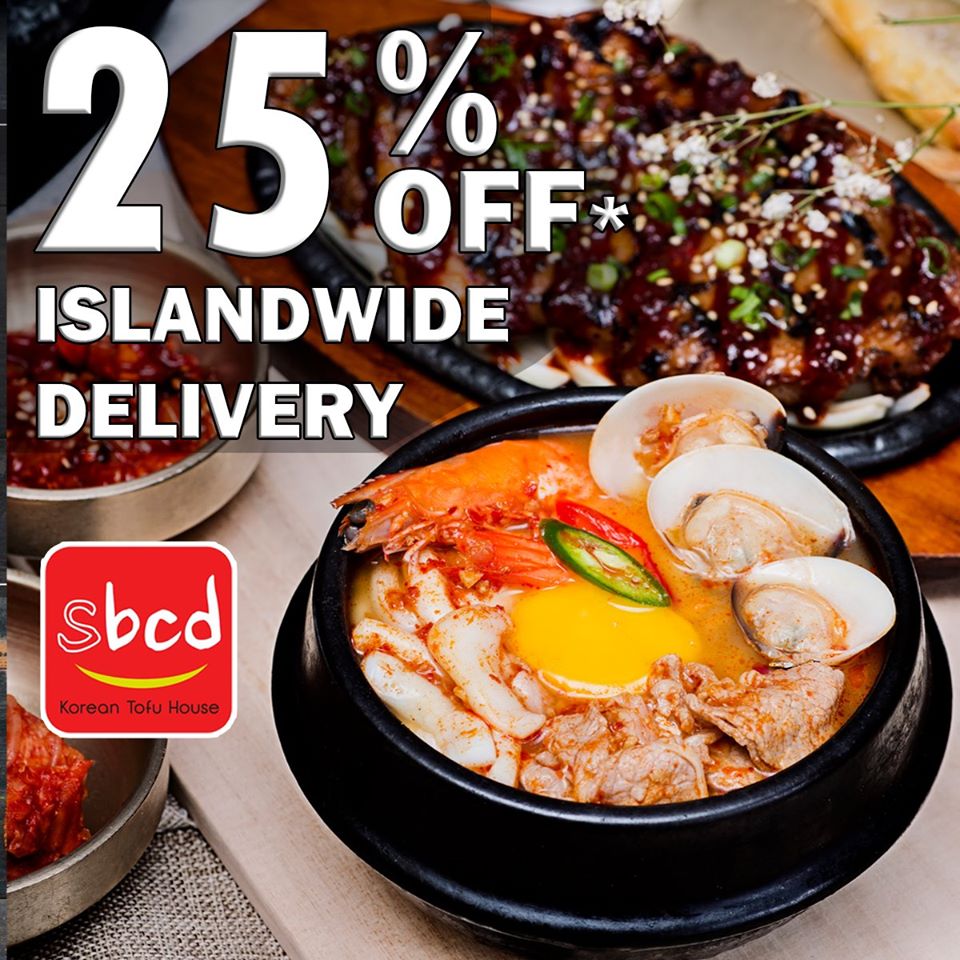 SBCD is well known for their namesake soft tofu soup. Their soft and silken tofu is handmade fresh daily in the SBCD kitchen, from specially imported soybeans from Paju, South Korea. 
Customers rave about the Seafood Soontofu ($23++) for its silky tofu and flavour-packed broth. Other hot favourites include grilled beef short ribs – L.A. Galbi ($38++), Grilled Spicy Chicken ($29++) and more. 
While their prices are slightly steep, their quality ingredients more than make up for it. Take advantage of their latest promo code NEWFEAST or BETTERFEAST to enjoy 25% discount on your meal! Order here for your delicious stews! 
7. Bonchon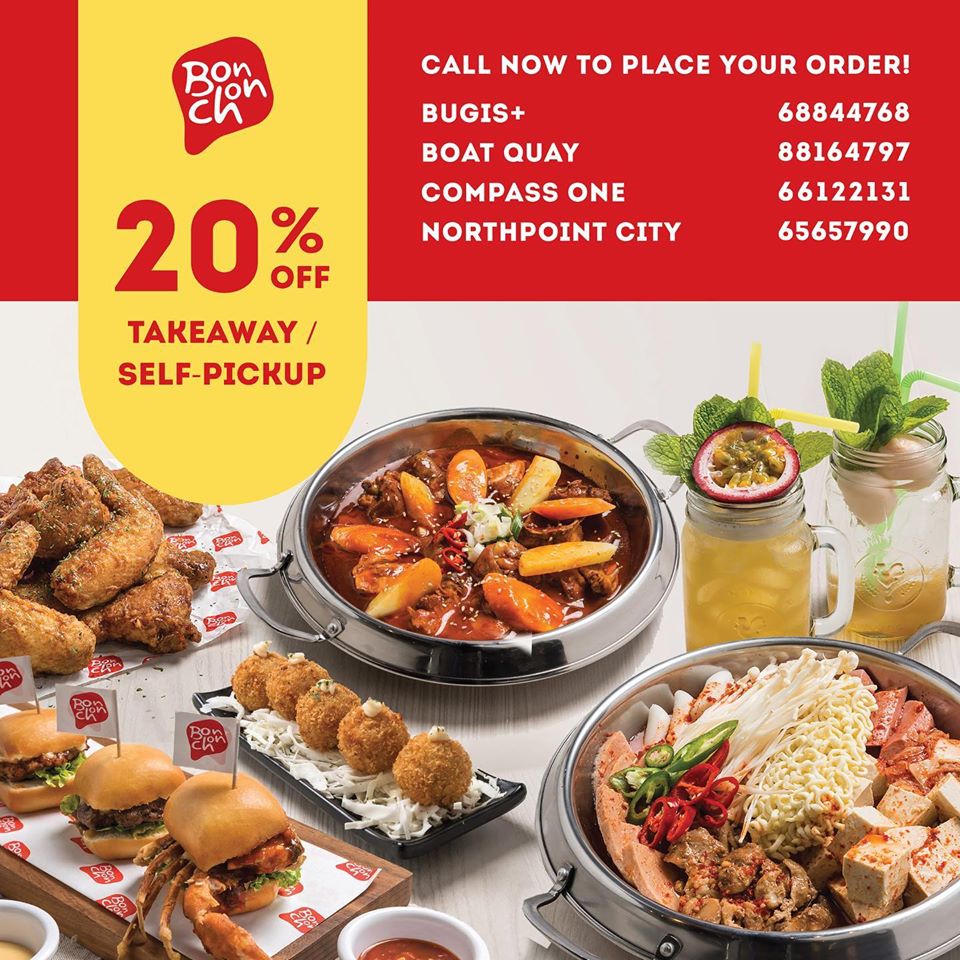 Bonchon is a famed South Korean franchise that has garnered international popularity (with the likes of epicurean hubs New York and LA) for its signature dish – you guessed it – Korean fried chicken. The golden crisp is achieved through double-frying the chicken so that the insides remain moist. Bonchon also fancies themselves a "healthier option" as they use trans-fat free meat. 
Aside from their Korean-style fried chicken ($16.90++ for small, which feeds 2 pax), they also have interesting fusion dishes such as Truffle Cream Tteobokki ($15.90++). 
Bonchon is currently offering a 20% discount for takeaway or self-pickup orders. Browse their menu here.
8. Ajumma's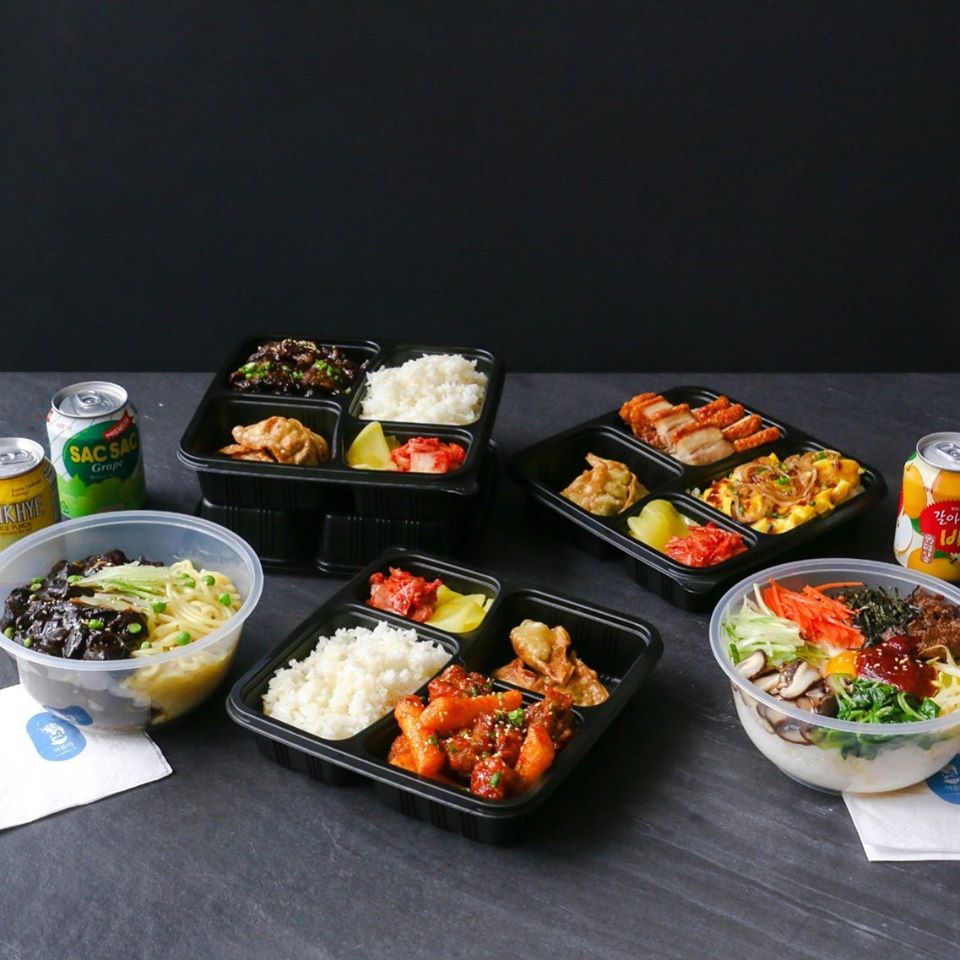 The first time I had Ajumma's, I was blown away by their delicious Crispy Samgyeopsal with Creamy Scrambled Eggs and Soy-Yuja Sauce ($13.90+). Speak English you say? That's crispy pork belly laid over creamy scrambled eggs, caramelised onions and rice, with a flavoursome yuzu sauce created specially by Ajumma's.
Other than delivering their delicious Korean food, they now also offer Ajumma's Survival Kits. These kits contain pre-packaged ingredients of your favourite Korean dishes like Kimchi Pork Belly Stew ($17.90+), Beef Bulgogi ($14.90+). Perfect for those trying to hone their cooking skills! 
Check out their food delivery options here or DM them to find out more on their survival kits!
9. Chir Chir Fusion Chicken Factory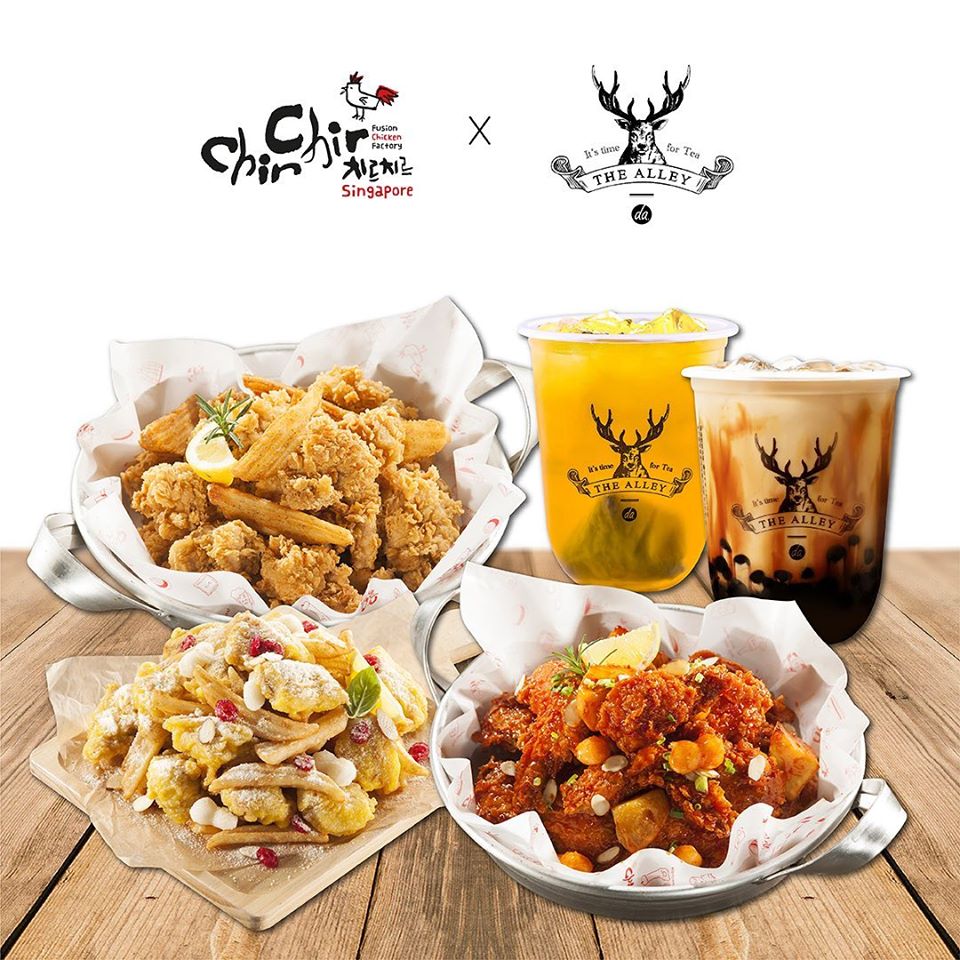 Hot off the press! Chir Chir and The Alley have collaborated to bring you your Korean Fried Chicken and bubble tea fix in a convenient delivery to your home!!
Chir Chir's Korean Fried Chicken has been hailed by many as one of the best in Singapore. When the honey butter craze swept through South Korea (and consequently the rest of Asia), Chir Chir's Honey Butter Fried Chicken ($28.90++) was all the rage. It's hard to resist crispy fried chicken coated in an umami sweet-savoury seasoning, accompanied with a honeyed garlic mayo dip.
You'll be glad to know that this umami bomb of a dish is available for delivery or takeaway through their online order form. You can even combine orders from Nipong Naepong and Masizzim through this order form! Do note that The Alley is available for delivery orders only.
10. Masizzim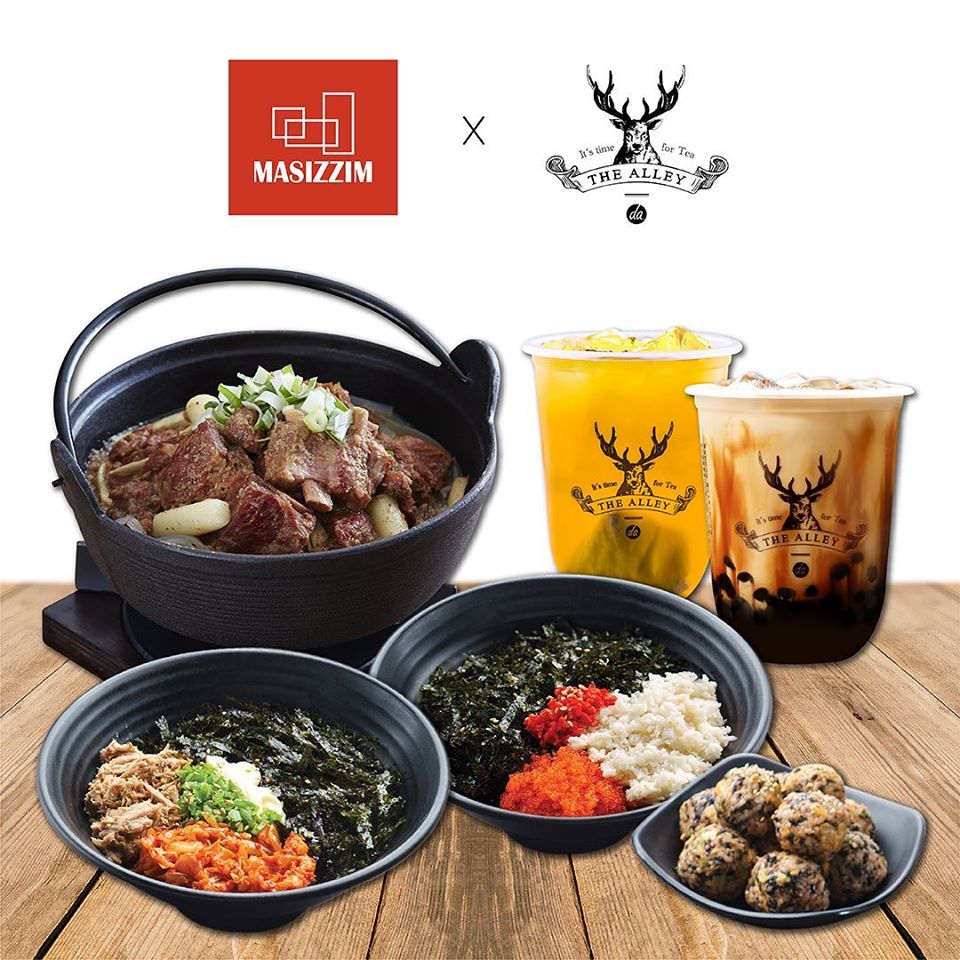 Masizzim, sister restaurant of Chir Chir, focuses on Korean stews and scrumptious rice balls. Similarly, they currently have a collaboration with The Alley!
Masizzim's signature stews include the Spicy Seafood Beef, Signature Beef Rib Stew, and Chicken and Pork Rib stew, all of which feature slow-cooked meat in a rich savoury stew. 
The crabmeat and roe rice ball ($10.90+) is a standout – chunks of sweet crabmeat, generous dollops of Japanese mayo, salty Korean seaweed and pearly rice (or your choice of grain) come together in a dream combination that you can scoop into little morsels.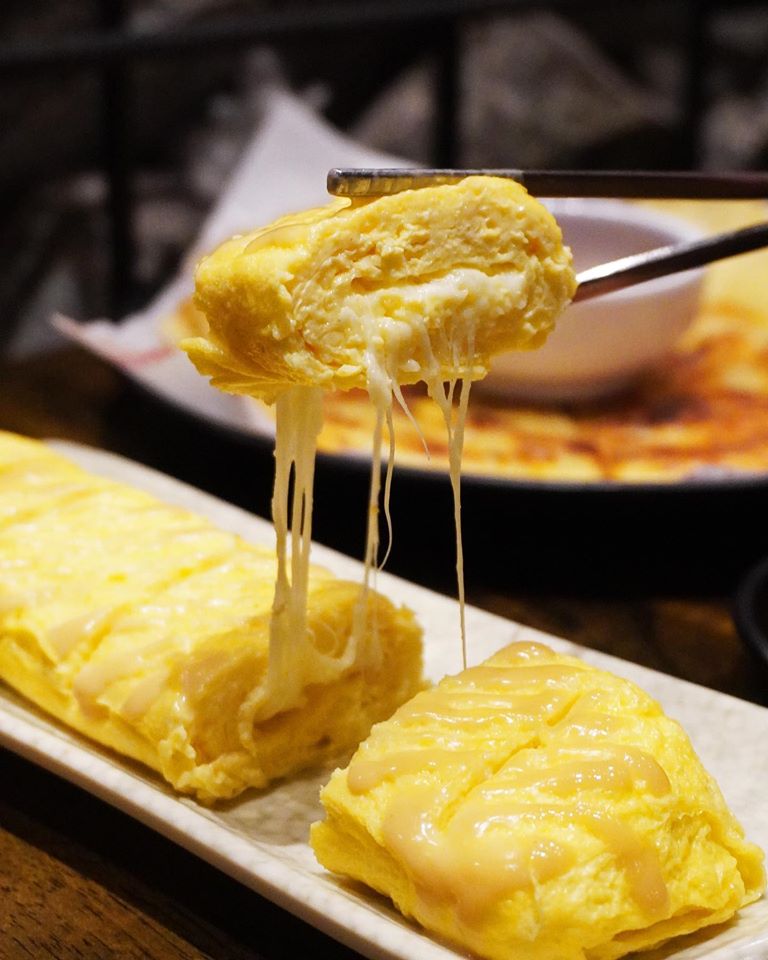 Another standout hit by Masizzim is their Honey Mustard Cheese Egg Roll ($9.80+). Who can resist that cheese pull!
Combine your Masizzim, Nipong Naepong, and Chir Chir orders here! 
11. Jun BBQ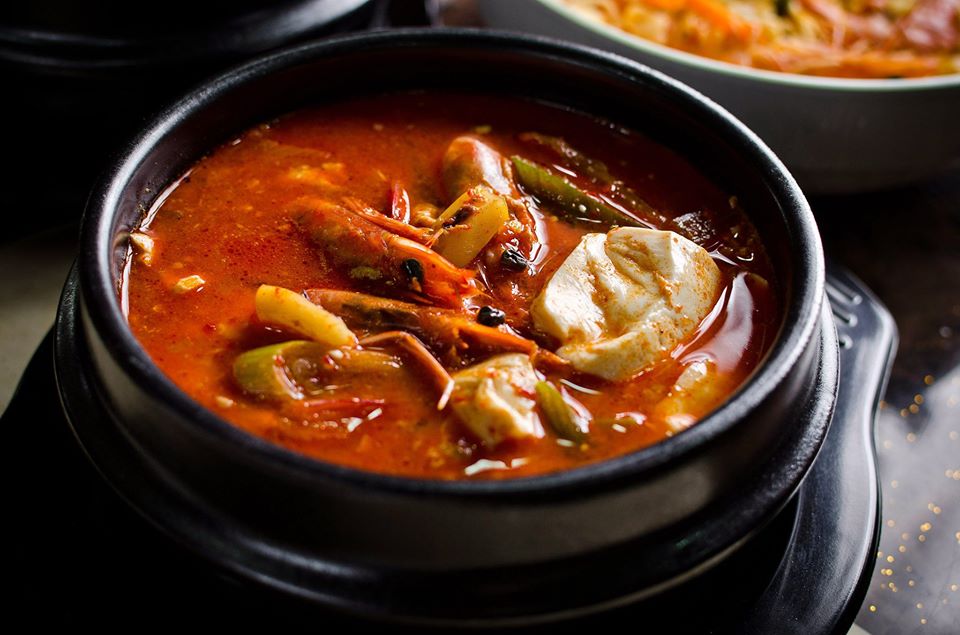 Heavy flavours are often characteristic of Korean dishes (think rich stews, deep fried chicken), so when we try to be healthy, Korean is not usually the first thing that comes to mind. Jun BBQ is a locally owned Korean restaurant that offers MSG-free, authentic Korean food without compromising on flavour. 
The Seafood Beancurd Stew ($9.90 for delivery) has a rich, natural sweetness imparted by the seafood. The stew has a comforting, homemade quality, warming and spicy without the overwhelming saltiness characteristic of MSG-laden soups.
They're currently offering free islandwide delivery for orders above $50! If you're around the area and can takeaway, check out their menu for special takeaway rates