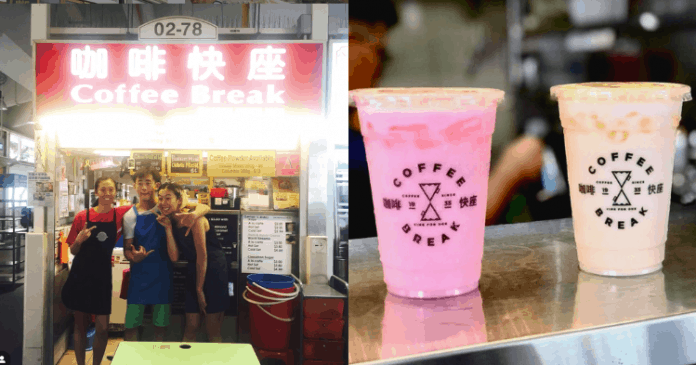 Walk up to the second level of Amoy Street Food Centre during lunchtime and you'll spot a long, snaking queue in front of the stall near the stairs. Coffee Break plays a crucial role in the Tanjong Pagar district – they provide CBD dwellers with their daily caffeine fix.
Coffee Break is run by third-generation hawkerpreneurs, Faye, Jack and Anna sai, who are siblings.
The Sai family's coffee business began way back in the 1930s when their grandfather came to Singapore from Hainan island and opened a kopitiam along Keppel Wharves.
After her grandfather passed on, her father and uncles took over the kopitiam which was later enbloc-ed and sold.
Faye's father, James, eventually opened Coffee Break at its current location.
The Role of Family in Business
Each of the siblings undertake different responsibilities in the business. Jack is in charge of R & D as he "has a very acute taste palate" and is thus able to innovate new flavours and expand their product offerings.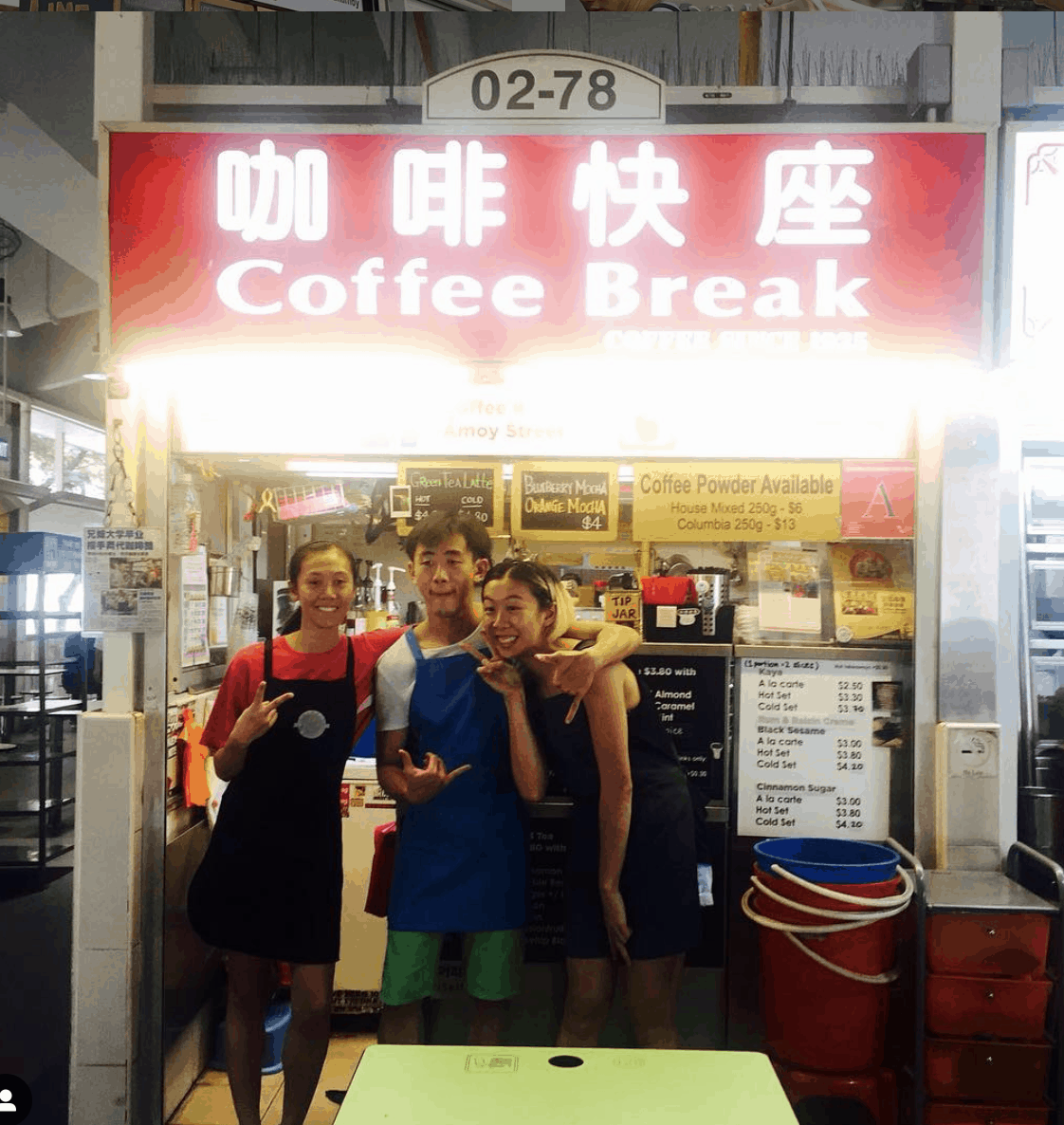 Anna, who has a degree in Fine Arts and a "keen eye for the aesthetics", manages their social media and marketing collaterals, while managing their day-to-day operations.
Faye takes charge of A & P and long-term planning – a role that she took on naturally, as she majored in Marketing back in her university days. Faye also has an impressive 16 years of F&B industry experience under her belt – which probably helped her propel Coffee Break to where it is today.
Despite handling various aspects of the business, all siblings still put in hours at the stall daily. Their father, James, comes in to manage their suppliers, and blends and grinds their coffee beans and tea dust to ensure consistency.
Breaking Away From the Norm
A quick look at coffee break's menu will tell you that they serve not just your usual kopi or teh. What really sets them apart from their fellow coffee and toast stalls is their artisanal product offerings – they offer a range of interesting flavours, like Sea Salt Caramel Kopi, and Earl Grey Creme toast.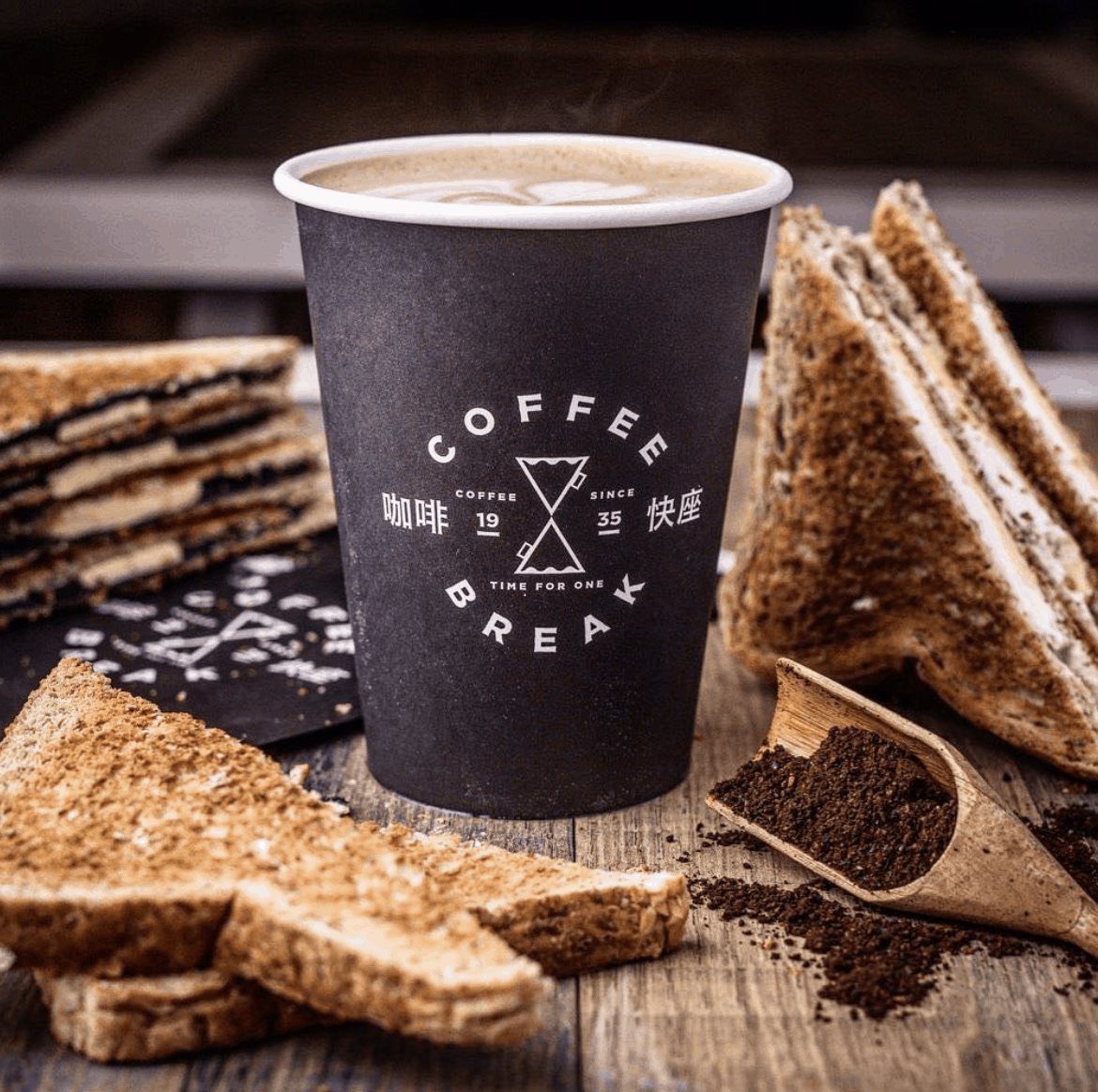 Sounds like something you'd get at a hipster cafe, doesn't it? Except for the fact that it's much friendlier on the wallet.
"We wanted to offer more exciting options to the traditional Singaporean breakfast, and to stand out from the many other beverage stalls in the hawker centre."
A Day in the life of a Hawkerpreneur
Unlike most of us, the siblings begin their day at 5am to get their fresh daily supplies.
"We will reach the stall at around 630am, and start preparations for an hour, where we will boil water, prepare our toast spreads and other ingredients."
Coffee Break typically opens its shutters at 730am, and the "breakfast slam" ensues almost immediately. They rush through a quick staggered 10-minute lunch break at 11am, just before the lunch crowd pours in for their second dose of caffeine.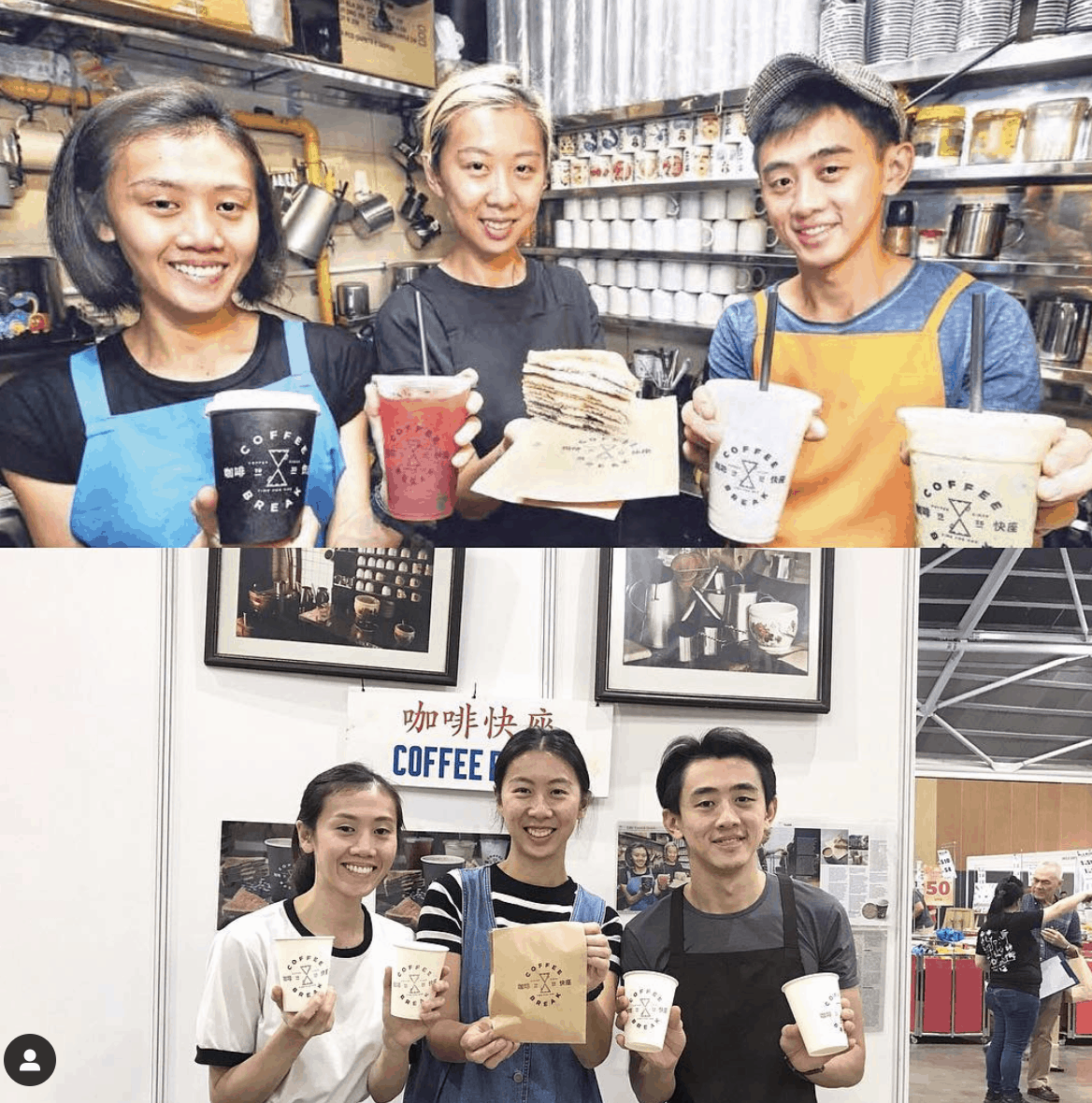 "From 2:30pm to 4pm, we will be closing the stall, which means washing, refilling, stock-taking, ordering from our suppliers, etc."
The day doesn't end when the stall closes – the siblings have to work on accounts and rostering, as well as other administrative work.
"We really only stop working around 7pm," says Faye.
Just like running any business, critical thinking is key. She shares that as hawkerpreneurs, they face daily operational challenges such as sudden absenteeism and hardware problems.
Choosing the Path Less Taken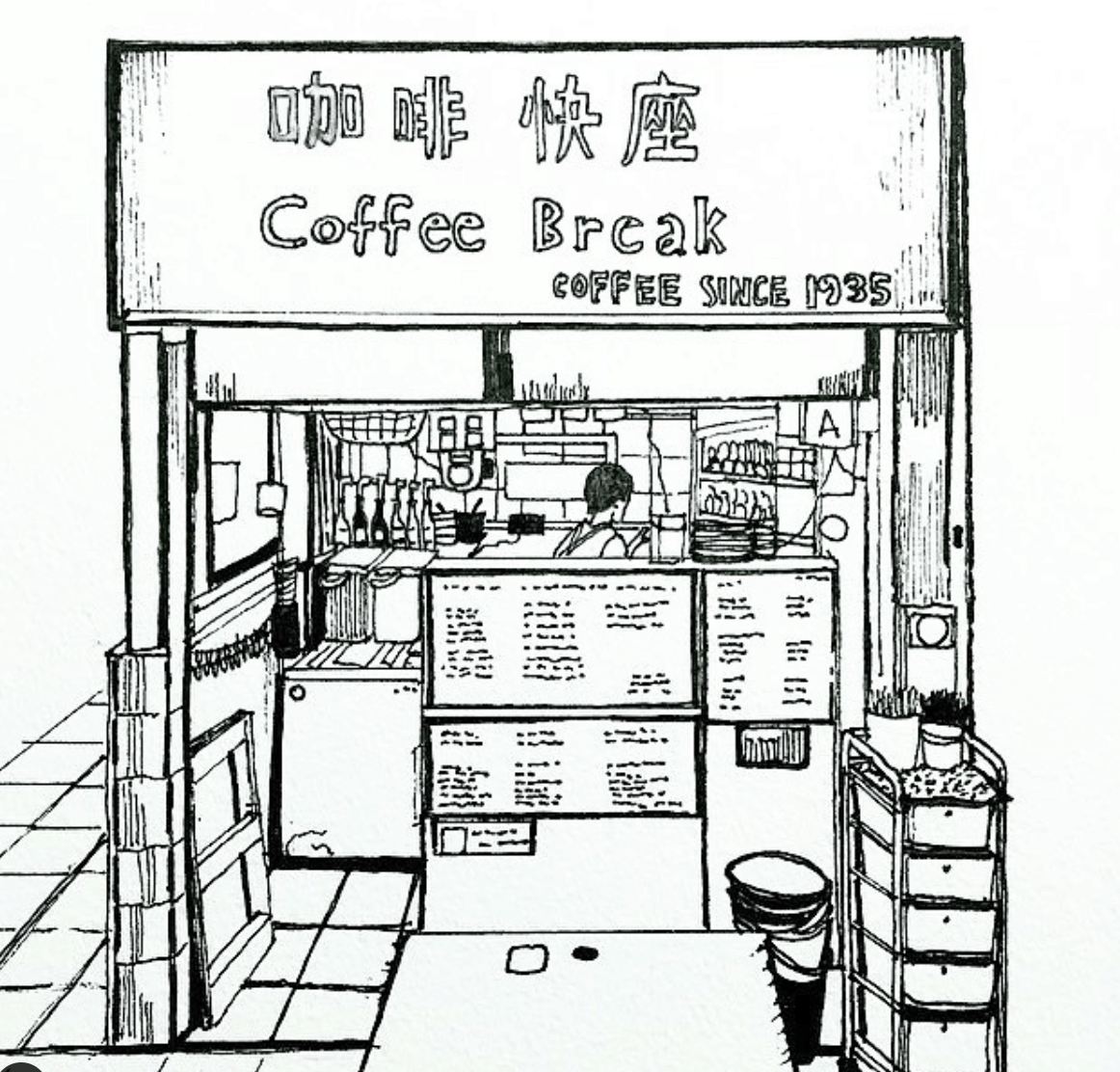 The hawkerpreneur life is no doubt a tough hustle. I asked Faye why the siblings, who are well-equipped with paper qualifications, chose this path as opposed to the conventional desk job.
Her brother Jack previously worked at a news desk and as a freelance writer, but decided to hop onboard the business because of his desire to "make a direct impact with his decisions and actions."
Faye herself worked as a sports events and marketing executive, before accumulating experience as a barista at various local cafes.
Anna, who is also Faye's twin, was on a sabbatical from her teaching profession when she decided to join the business, as she favored the idea of working with family.
"Quality in Our drinks, Sincerity in Our Service"
Faye says that in order to keep their customers coming, they have to maintain consistency and quality in their toasts and drinks while working quickly to match the pace of the CBD crowd.
"Whilst our quirky-flavoured drinks are also popular in their own right, we believe that our speed in serving our drinks at the stall also help to attract the office crowds. "
Speaking of quality, pay attention to the cups the next time you drop by for a drink.
Their cups are reminiscent of cafe-style coffee cups, featuring the year "1935" – which was when their grandfather first started his kopitiam business.
Apart from running their physical stall, Coffee Break has expanded its product offerings to Nespresso-compatible kopi capsules, which are available on certain shopping applications. They also plan to sell their popular Black Sesame Jam and Matcha Coconut Jam and are branching out to do events and live brew pop-ups.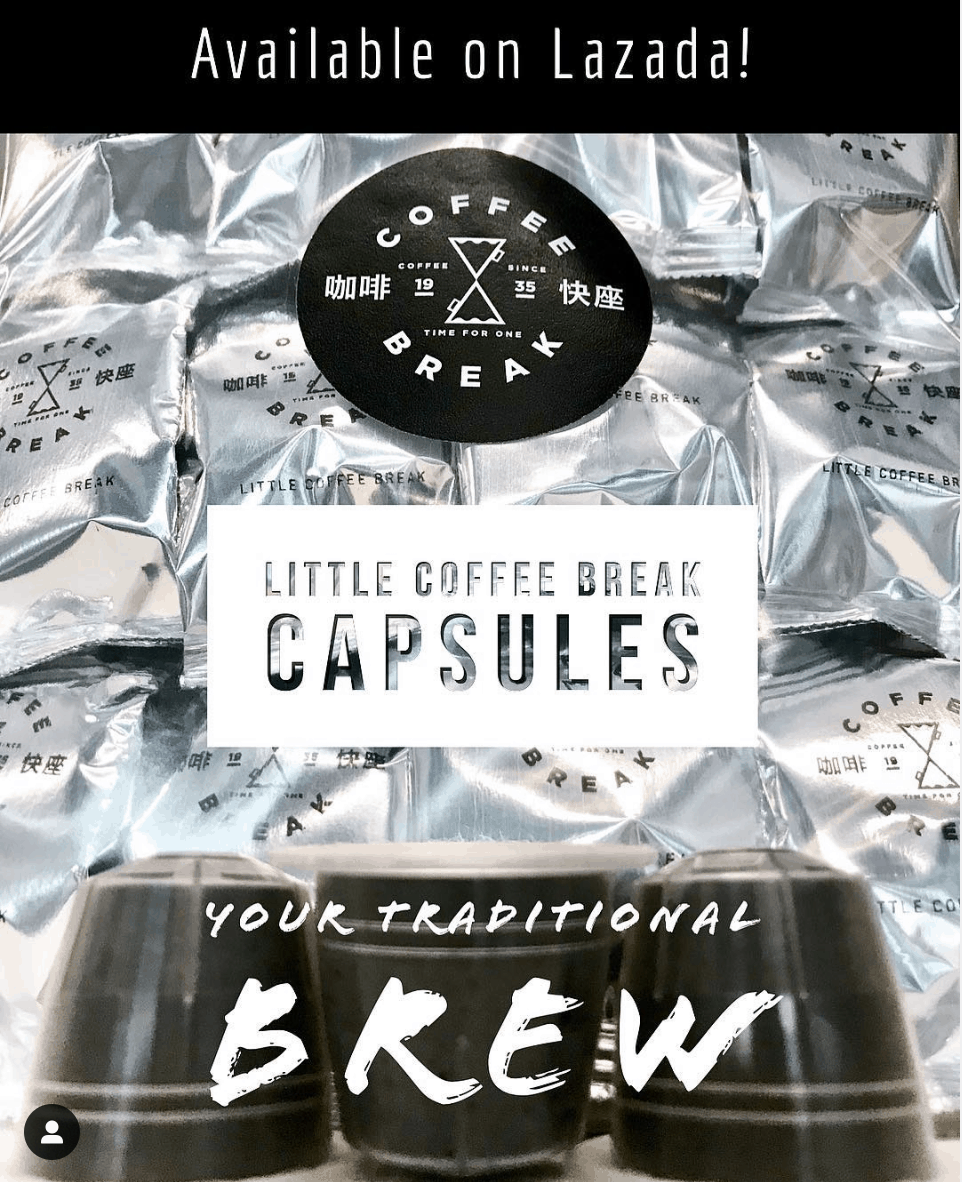 "Shaping Singapore's Heritage"
I ask Faye what she finds most rewarding about being a hawkerpreneur. Her response is a candid and heartening one – she and her siblings are comforted and motivated by the smiles and appreciation they receive from customers on a daily basis.
"The most rewarding thing would have to be the smiles and appreciation that we get from our customers on a daily basis."