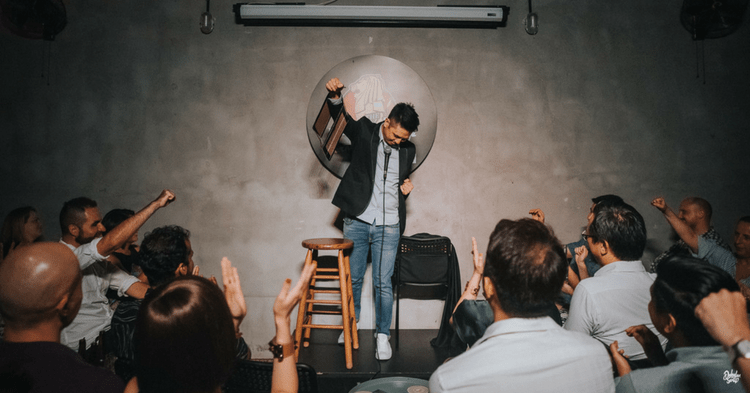 In one swift motion, Adrian Saw pulls a picture out of an A4 banana yellow envelope, and unveils a picture of Tom Cruise.
It's the exact name that I'd pulled out of a stack of celebrity names on stage, the name and face that I've had to think persistently of so that it somehow burns a visual into Adrian's head. It doesn't matter that all that's running through my head is a classic compilation of said celebrity running.
The audience gasps, but only to some measure – it's as though a magician getting his tricks right is an expectation these days.
What truly makes Adrian's show is what he does next. He gestures to the audience, and on cue, they all shout "amaaazing!". This Australian magician's routine is a seamless combination of magic and self-deprecation.
It seems like a distinctly apparent pairing choice, though not often seen in the stand-up, or magic scenes.
This is one stand-up act you can go to without having to worry about getting picked on for the way you look, or for the fact that your partner looks much younger than you, sugar (à la Russell Peters).
Feeling The Spark
Adrian was born in Sydney, Australia, to Malaysian Chinese parents who'd moved there in the 70s. As part of his "day-job", Adrian had travelled to Hong Kong, and has been in Singapore since 2016.
His days in magic precede his days in comedy, stemming from when he was just 11 years old.
"There are magic shops in Sydney, and there was this guy out in front doing tricks to get people to buy magic books. I convinced my mom to buy me one," Adrian tells me.
The now suave man's stage talents began with a history teacher who saw him performing some tricks for friends. The teacher later gave Adrian a few minutes to perform at the end of every history lesson in what Adrian describes to be his "first open mics".
"At the time, it was more of a .. fumble through the tricks, kinda mess it up and go from there."
Gradually, it led to his first "proper" performance at a friend's birthday party, where he'd asked for the lights to be dimmed in fear of his methods getting discovered.
"It was, in hindsight, absolutely terrible."
An Unlikely, But Obvious Pair
I've always seen magic and stand-up comedy as two completely different skill sets. The former's charm lies in well-executed routine, whereas the latter's lies in swift thinking that, performed tastefully, is witty and amusing. Adrian helps me put the two together.
"It was a natural progression where a lot of things were never intended as comedy per se, but you get a lot of material from your audience especially when you're doing magic."
He explains by telling me about the organic opportunities for comedy that magic presents – like when unintentionally fumbling on a trick. It's actually brilliant.
In Adrian's sets, he doesn't tell stories the way stand-up comedians do. His act centers around the beauty of magic and the opportunities for interaction and humour that comes with it.
Comedy In Singapore, From an "Outsider's" Perspective
The live comedy scene in Singapore has come and gone in waves. Most comedy clubs have had a relatively short lifespan, with 8-year-old Comedy Masala being the oldest club here, contrary to some comedy clubs in the United States which have stood grounded since the 1980s.
Comedy isn't exactly amongst the first list of options for most Singaporeans when it comes to deciding where to go on a Friday night.
But with recently active options like Netflix and spaces like Canvas, Blu Jaz and The Merry Lion, the resurgence of comedy as an entertainment form is inevitable, for now.
Adrian tells me that there's a fair amount of Singaporeans who perform and watch live comedy here and it goes without saying that performing for the first time in a foreign country can be daunting.
Cultural differences and scene elitism can manifest or backfire in one too many ways. Adrian took quite the risk with his entry into the scene but it was, perhaps, the only way to do it.
"When I came to Singapore, I hadn't done any magic for 5 years… I just said, I want to do this, I just want to do five minutes of an open mic."
Things have turned out reasonably well for him. He's done a number of open mic nights here, and performs frequently at The Merry Lion, Singapore's newest comedy club addition.
Is There 'Local' Comedy?
I'm Singaporean. If you are too, then you'd know that there are some jokes that wouldn't resonate with us as well as, say, an ERP joke would. Some of Singapore's most popular comedians have built their routines off anecdotes and slang that are uniquely Singaporean.
Where many are used to a recurrent theme in jokes that are mostly funny because we 'get them', Adrian likely has a harder time pleasing an audience than many locals would. He tells me that even non-Singaporean comedians resort to "commenting a lot about life in Singapore and the differences in where they're from". Cue chewing gum jokes.
It's not necessarily a bad thing.
Television hit comedy sitcom The Office is well loved for both British and American versions, but by different people. The wildly successful American version would not have existed if no one had seen potential in adapting the original, British version, helmed by stand-up comedian Ricky Gervais.
As Adrian puts it, "when you're growing up in a place, there are some things that you notice".
Behind the closed doors of comedy clubs and stand-up nights, material is confoundingly liberal, defiant of stereotypes that making fun of the government is absolutely off limits.
"I think we've progressed a lot more over the last few years in those terms."
Opening New Doors, Alohomora
Especially in Singapore, performance arts is a gritty way to make a living. Despite governmental bodies like the National Arts Council stepping up in attempts to fill the plates of starving artists, many often have to deal with the agendas of their private deals in the industry.
"In terms of the club work in Singapore, you'd either have to be touring, or be doing private work," Adrian comments, referring to performing comedy here.
He adds that corporate and private options are probably the best bet for aspiring magicians or comedians, though it ultimately comes down to content. There's only one way to judge your act, and that's to perform in front of an audience.
"When I go and try new stuff 89% of the stuff is like, "Ok, that didn't work at all." But you keep that ten percent and you keep using those ten percent bits," he says, expressing that every contender's first show will probably suck.
Expecto Patronum
The stand-up equivalent of dementors is when two people turn up to the club's show on the night of your act. Professionalism is courage in this industry, and expecting your set to fall flat is the worst mindset to have.
Adrian says that his secret is in proceeding as if there's a full audience, and in performing on the go as compared to preparing for the perfect performance.
His years performing and winning competitions have unquestionably taught him a thing or two. The humble magician tells me about how he's had to evolve overtime to accommodate to his quirky combination of performances.
Right before I step off The Merry Lion's stage, Adrian hands me a large, gloss-laminated, autographed photograph of himself to thank me for volunteering.
"This might be worth millions someday," he says, and the audience sets off in a chain of stifled giggles.
As I sit down, I feel like I've been a part of something a lot bigger than the average comedic, or magical performance. Melodramatic, I know, but I still keep that photograph unscathed, with strong faith that Adrian's self-ridiculing, side-splitting magic routines will be worth millions someday.
Adrian performs Shiok! and Awe, a magic and comedy experience at The Merry Lion Comedy Club on 28th June 2018.
More details, and tickets here.