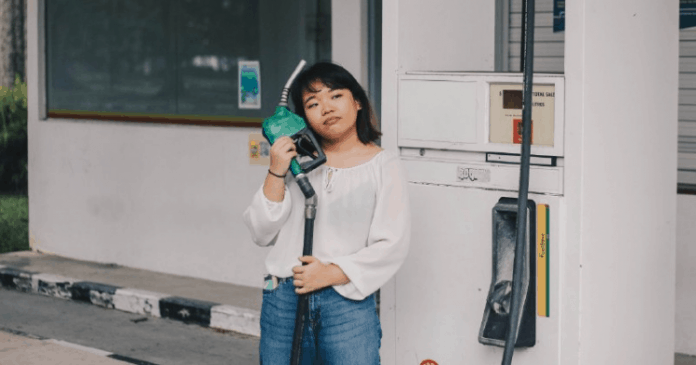 Vivien asks if we could meet at a bar near the Esplanade.
I arrive and it seems pretty fancy. Vivien says "they have $5 Raspberry Vodkas", and I thought that was the most on-brand way to begin an interview with the local singer-songwriter and published poet.
With two singles, one music video, an independently published book, radio interviews and an EP in the works, all while juggling multiple projects, Vivien has been busy.
Waxing Lyrical and Building Bridges
Vivien released her first single, Part II earlier this year, while the second single, Everything Stays came out in early April.
At the end of the day, it is less about the numbers and more about the quality of the product for her – she believes people will be able to tell what a good song is.
Vivien shares that she writes songs because she can't verbalise properly. To her it's beyond communication – it's cathartic.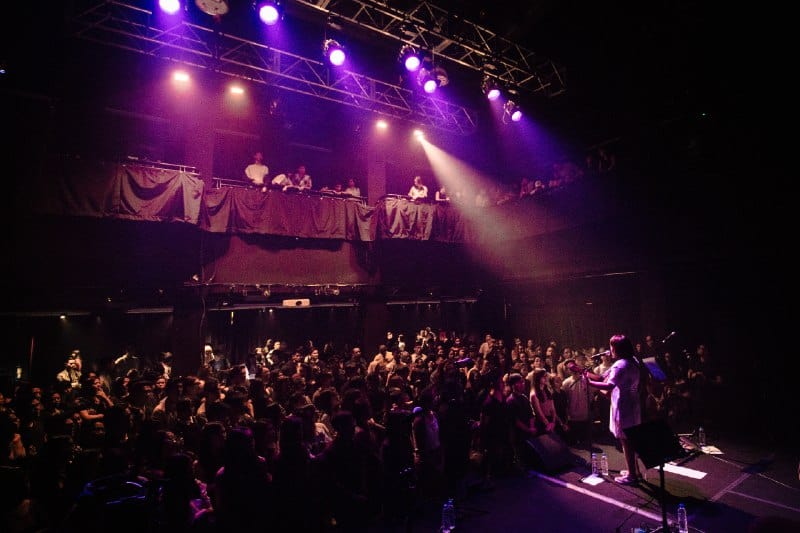 "Someone told me once if not for your songs, I wouldn't know I felt this certain way. [Hearing that] I felt this certain way like oh my god! I'm giving someone emotional vocabulary! So that's powerful from a mental health point of view. I'll keep writing because I can't possibly be alone."
Vivien started her musical journey from school, and was later accepted into the Noise Singapore Mentorship in 2017, under the guidance of Sara Wee.
Despite the exposure it gave her, being her own musician was a steep climb from Noise due to commitments in university, stress, and her own struggles with mental health. It took a year and a half to convince herself that she was ready to create something.
Her strategy remains the same till today —set things into gear and put stuff out there before she can back out.
After assurance and practical advice from her mentor, she finally plucked up the courage to approach a producer, Bani Hidir. She then signed a contract to get distributed.
Vivien also discussed her interest in contributing to the local music scene and offered to help out with marketing due to her skillset. This experience grew her love for the scene as she felt even more connected to other artists.
Finding Her Way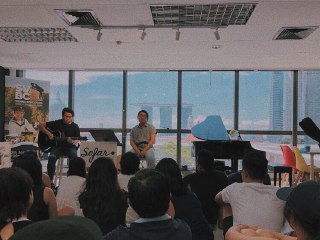 Yet, her problems were inward-facing and she remained very self-conscious. She realised that things do not get easier with numbers.
She had to do more for herself now – write press-releases, marketing, and take her own artist profile pictures. "The only thing about numbers is that people will see you clearer, but you have to put in more leg-work, which is actually very humbling."
She is now starting to come to terms with the fact that there are many ways to contribute as a musician.
Although she used to be insecure about not being musically trained and her shortcomings as a musician, she found her strengths and ways to contribute to music.
Vivien stresses that music does not have to be lonely. With an EP in the works, she realises that the whole process is not really about her; it is about creating the best product of the songs with various people.
It helps that she has made friends along the way with people she works with, aligning with her mantra that good collaborations come with good camaraderie.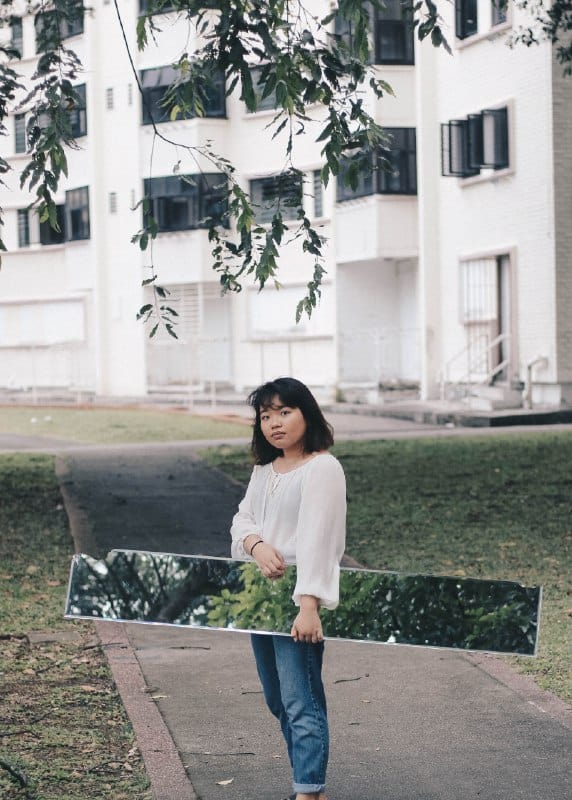 When asked about the stereotype that Singapore is not conducive for musicians, Vivien has this to say:
"Singapore is perfect for me to be myself because the scene is so small and young, and this is empowering for me as an artist."
"Everything we do sets the trend for future generations and there is no space for competition. If we keep thinking of music as competition, we are fighting for limited slots; we are eventually going to cannibalise and become so limited."
Bathroom Covers and Telling a Story
There is nothing quite like Vivien's Instagram page – a candid composition of artist shots, self-written poetry, her experimentation with photography and song covers filmed in her bathroom.
It is a reflection of life itself; the intertwining of her professional pursuit of the arts and a more vulnerable appreciation of offbeat beauty.
I ask her about her late-night bathroom covers on her Instagram story and why she chose her particular mix of professional production and brutal honesty.
Vivien says she grew up thinking that she was not a typical pretty girl, and was also watching various UK musician Vloggers who focused their branding on personalities.
"I came to the conclusion that I wanted to subvert the idea of being a celebrity…. not that I am one. Subvert in a sense that if I was going to be famous, hypothetically, I want it to be on my own terms. I have no energy to sustain being someone that I'm not."
With that thought, Vivien has focused a lot of her energy on story-telling and creating a concept through her music. On-stage, she is honest about her inspirations and the journey she has with creating her work.
This stems from her childhood love of knowing what goes on behind the scenes.
"When I watch stuff from Tim Burton, I would love to know the behind the scenes. In a sense, I'm trying to shape myself as the kind of artist that was lacking in my childhood, that I would have very much loved to follow."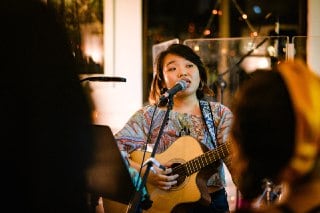 Between the dance video she promised when her first single hit a 100,000 streams on Spotify, and the stories she tells about lost love and fairy tales on stage, viewers are very much acquainted with the Vivien Yap that exists in the privacy of her bedroom.
9 to 5 and Creating Worlds
I ask the usual question that all local artists get: how does the Singaporean dream compare to your own dreams?
"Honestly I'm living on the fringes of society. It's so difficult to explain to my friends, especially my family, what I'm doing. A lot of musicians, as far as I know, are working on multiple projects at a time. That's why people mistake the music scene for being exclusive. We're not intimidating, we're just together because we're in the same boat."
She talks about the struggle to justify to herself that she wants to continue doing this as a career and not subscribe to the 9 to 5 life. With a university degree under her belt, it can be hard for friends and family to understand.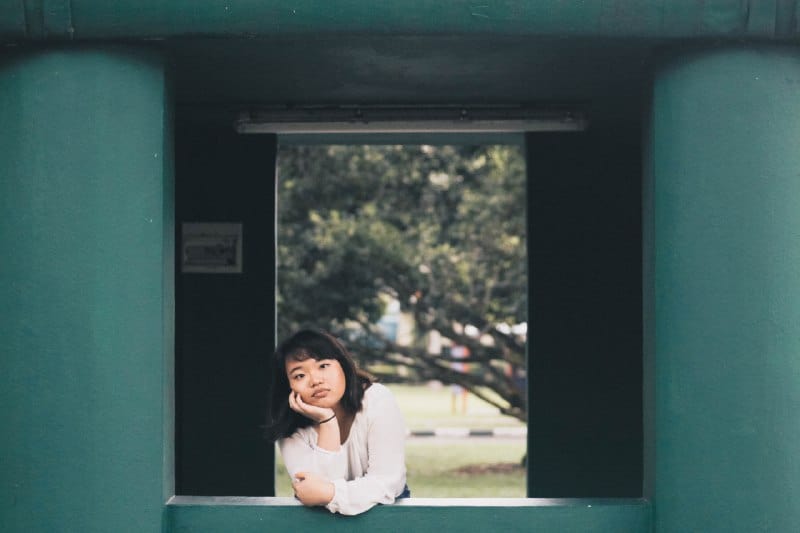 But Vivien's journey has only just begun.
She still has a lot to say artistically and her love for creating worlds through her writing and music shines through.
When interviewing Vivien at the pub that day, people probably saw two friends instead of strangers, and I believe that is pretty on-brand for Vivien Yap.
Vivien Yap's debut EP 'Fables' will be released 12 July.