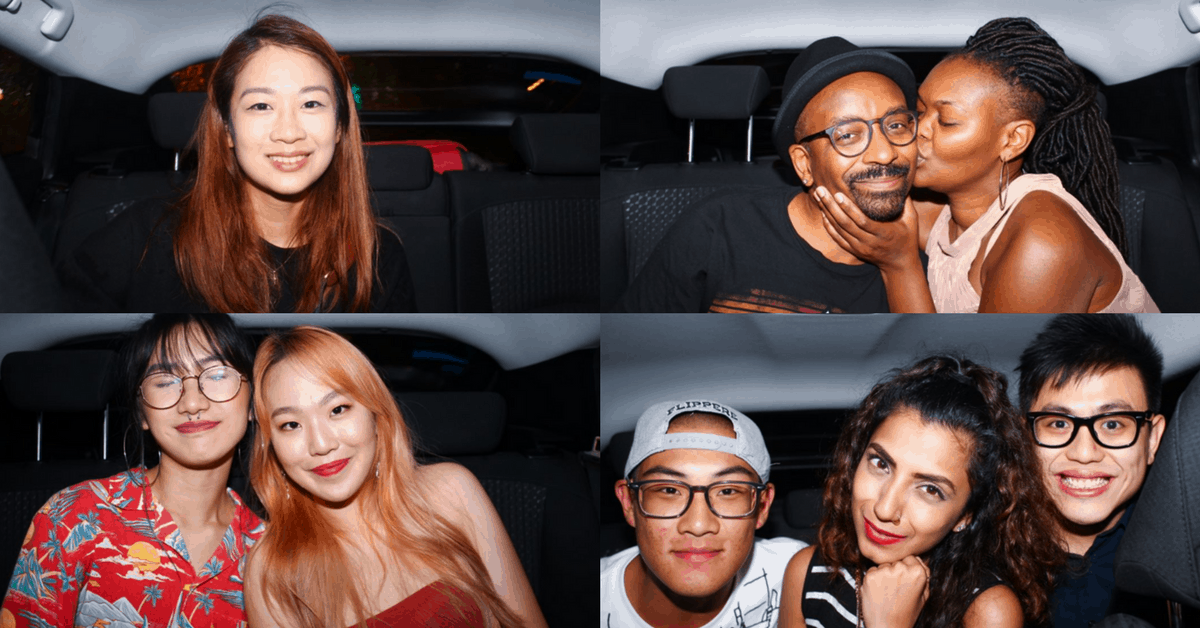 Sitting in an Uber surrounded by cameras is by no means an ordinary occurrence, and one would find their alarm bells ringing. You may, however, be stepping into the car of The Ubergrapher instead.
Known publicly only as "Maverick", he finds joy in taking photos of his Uber passengers. These photographs end up on his Instagram profile, often with unfiltered captions.
He's released an official photo-book with Uber which comprises of his posts, and I can't help but question: what is it about this man that makes the otherwise shady request (of asking to take a picture of you in his car) seem so ordinary to others?
The Art Of Remembering 11,500 Faces
Maverick has hit a milestone of 11,500 trips around Singapore today, so it's understandable how he's become so comfortable with conversing, though not all trips might have gone as smoothly as mine's going.
This is, after all, an interview – so he's probably had the opportunity to rehearse quite a number of times. Better rehearsals than risk, given the nature of his hobby.
He gets the conversation rolling on his own initiative, telling me everything I need to know about why he does what he does.
He started taking rider photos in October last year, an attempt at inculcating his hobby into work. It's an attempt at humanizing and "breaking the routines" of his daily life, given the nature of his job.
In April this year, he published a photobook with Uber, a compilation of his photographs and their accompanying Instagram captions. It's part of the whopping 700 stories that he has gathered in 6 months of driving.
"I'm facing the road and they're sitting at the back, so I use photographs to have memory."
He's no Humans of New York, and he doesn't try to be. Maverick describes his style as "light-hearted comment and captioning," and not "heavy-hearted transcripts."
"I may not think too much, I just say what I say, there are pros and cons to never thinking about the consequences."
That explains the occasional queasy caption on his feed.
Too Close For Comfort?
Similar to the inhibition-lowering nature of his conversations with passengers, the pictures taken of them are up-close and gritty, from behind the window by the driver's seat.
They're also an inadvertent source of insight on passengers depending on how they respond to requests for these photos.
Some instantly reach for their glamour kit for some light touch-ups, he says, while others opt for multiple takes before selecting one where they look their best. And some others simply could not care less.
Considering his success in getting passengers to converse candidly, I surmise the genius of his waiting location: parked by popular nightlife spots, he easily gains a clientele that are considerably relaxed and loosened up prior to meeting him— definitely a contributing factor to his consenting "90% of customers."
Maverick realistically comments that not everything can be attributed to alcohol and relaxed demeanours. He admits that the possibly alarming realisation of being "trapped in a car" contributes to their willingness to politely answer questions.
However, it's clear that it's common for most to warm up to him, even offering personal stories of heartbreak, or complaining as if he's an old friend.
Despite a questionable approach, Maverick has racked up his fair share of fans – he's held competitions with a ride in his vehicle being the reward.
Unfortunately, the nature of Uber's passenger-driver matching system prioritises efficiency and reasonable proximity as opposed to granting fans their wish to meet the Ubergrapher… he sounds a little relieved at this.
In spite of this, he has come across a self-proclaimed fan or two, signing autographs for them and having them eagerly pose for his famed shots—a skill, he jokes, that he has honed to the point of making anyone look good.
I Don't Really Spy With My Little Eye
Socialising can get tiring on downcast days, so a "stealthy" set-up is perfect for Maverick. The only way to actually spot the Ubergrapher is through the bulky Canon EOS-1D that he has on his dashboard, although he puts it away occasionally.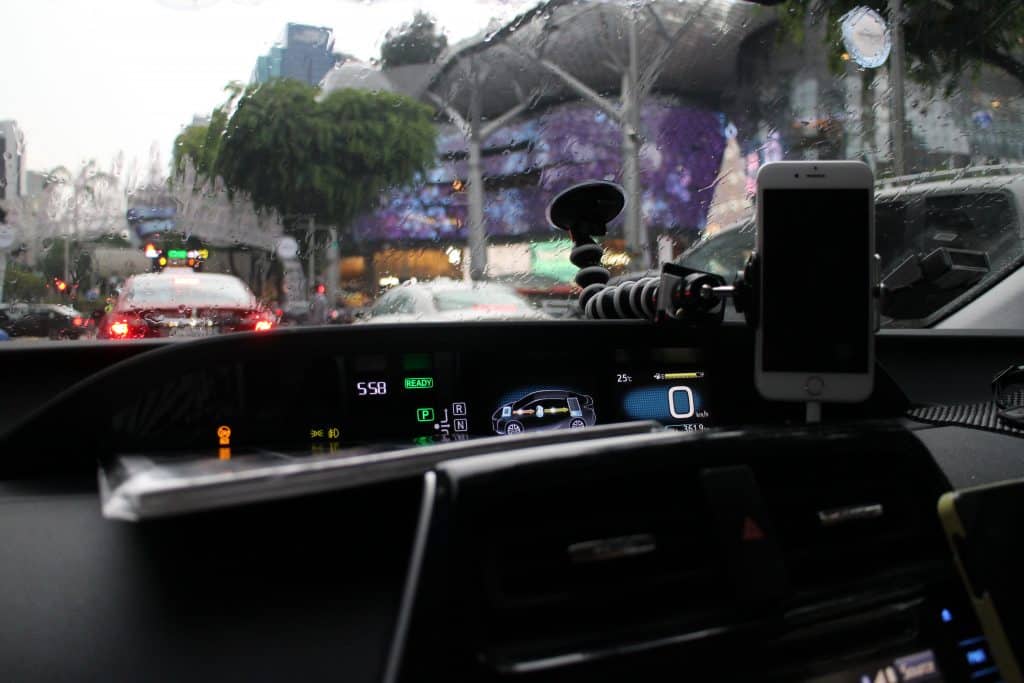 Speaking about his YouTube channel (launched in April this year), Maverick mentions the discreet Go-Pro camera that he uses for recording "somewhere at the back". He typically reveals its presence to passengers mid-ride, so as to incite most "natural", genuine reactions possible.
I'm not sure I can imagine those revelations going well most of the time.
He claims he hasn't had any hostile responses to date, and has a "pretty high success rate of customers giving consent". If plausible, I presume it is because of the situation that could either seem cornering or completely orderly to customers.
Though Maverick says he doesn't publish content that customers don't consent to, I can't fathom the awkwardness involved in having to turn off all equipment when a customer's unhappy, all to follow with a sullen ride and the prospect of an awful review.
I suppose having all of your live-streaming equipment and your Youtube channel's content sponsored (by a company called "Peeqr") makes the whole process seem all the more 'legit' and non-intrusive – just a little peek.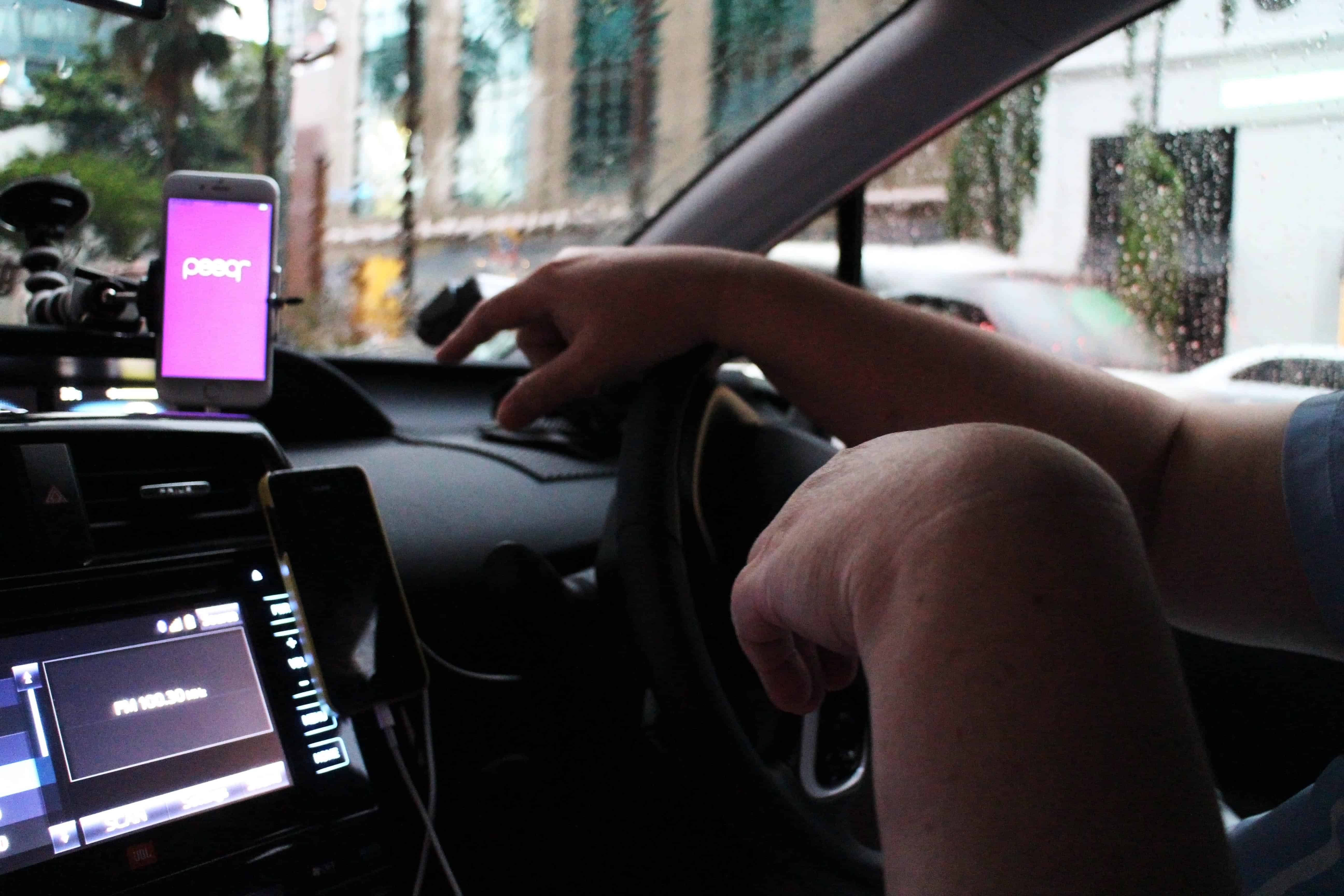 "Everybody has a story, so if i'm able to get enough information, I capture it in a photograph."
It's a challenge determining whether that's just a corny sentence, or evidence of how much Ubergraphy means to the man – perhaps it's a combination of both?
I'll admit though – it's noteworthy how he's able to recall the story of every passenger from just a photograph.  You can tell it's purposeful to him from the way he recalls passenger stories in detail just by looking at his photographs.
"Everyone Is Beautiful"
I ask about an issue that many taxi drivers have raised in conversation with me: ethnic communication stereotypes.
It's common perception that Asian cultures, in general, emphasize on the importance of being reserved, whilst foreigners to Singapore are perceived to be significantly extroverted.
Maverick is vehement that they're mere fallacy, saying that it eventually comes down to the way he carries himself and deals with situations – the most he's dealt with are grumps from the occasional sulky customer.
He goes on to tell me about how he believes that he's in exchange with a slew of 25 "beautiful people" a day, a line i've seen quoted in many of his other interviews, but an important one nevertheless; the essence of what helps him make the menial task of driving professionally sound so easy.
Even then, I don't buy into him stating that "nobody's nasty"; it's conceivably a mindset he's been forced to adopt through scathing experiences.
The Ubergrapher Universe 
Maverick has various plans for what he names his "Ubergrapher Universe," and with right reason. He has an Uber movie undergoing discussion, and he's got his sights set high. 
He also plans to develop the Ubergrapher into a platform that provides the opportunity for people to voice their issues with confidence, "rather than just a forum".
Of all of his projects; one of which includes an unorthodox internet property startup (mid-development), The Ubergrapher is what Maverick describes to be "totally me".
His celebrity status might become difficult to manage beyond the confines of a vehicle, and I start to see why anonymity is so important to Maverick. With business, boosts and implosions are equally possible .
A Road Best Travelled With Precaution
Maverick is an undeniable connoisseur of his trade, and although he's in his thirties, meeting passengers of "all trades, all ages, (and) all countries", leaves him with an elderly-equivalent of experience and knowledge to impart.
As the Ubergrapher tells me about the power of positivity and how it's his strongest suit, I still cannot discern how his attempts have been the roaring success that he makes them out to be.
And for the safety of humanity, I pray they aren't. Whilst the Ubergrapher may be well-meaning, his anonymity makes it a walk in the park for copycats to use this for leverage against naive targets.
Some of the Ubergrapher's videos are filmed closing the end of passengers' trips, and backgrounds could give your locations away, so it's best you exercise caution on this ride. If you're faced with a stalker, a video like that is potentially haunting and fatal. Very plainly, it's passenger responsibility. 
His fame is a scary representation of how customers trust too readily within the safety nets of a business transaction.
As Maverick puts it, people have gotten so used to surveillance everywhere that surveillance crimes are just like terrorism.
"You know that it happens, but you just have to live through your day without thinking too much about it."
Before Maverick and I share a strained parting handshake, he takes my photograph.
"Bright smile," he says.
From a passenger's seat, the nature of Maverick's activities ooze awkwardness, but I adhere to the request anyway. I know not to trust strangers, but the magic of hearty conversation makes me a little less weary.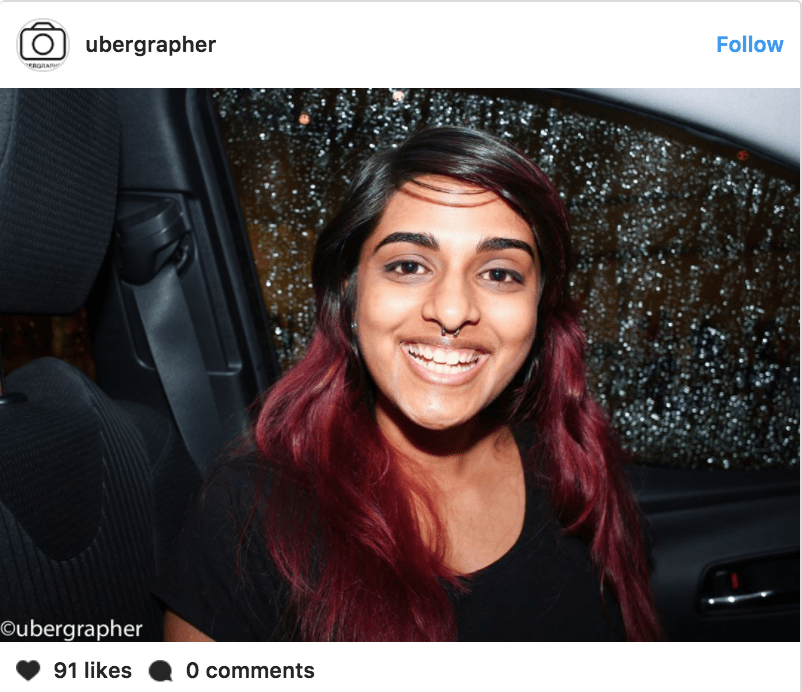 Maybe the Ubergrapher really does want to heal our troubled world through, what is quite possibly, the only way he knows how.