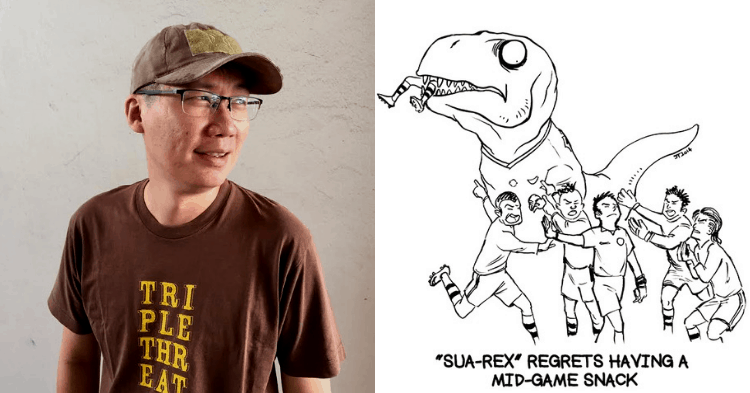 I was at the most recent Singapore Toy, Game & Comic Convention (STGCC) when I came across a booth that immediately piqued my interest. I had seen these comics before online, and had fallen in love with them. Fans of the series, Rex Regrets, would know it as a T-Rex that tries to go through daily life situations, and the light-heartedness of the comic drew me in.
It turns out that the creator of Rex Regrets is a Singaporean – Jerry. Currently a freelance technical/military illustrator, he's also teaching adjunct at Lasalle and has been a teacher for nearly a decade.
On top of having multiple roles, he's also a part of the team at OIC (Organization of Illustrators Council) Singapore and a member of the core team running Illustration Arts Festival.
Although Jerry has been drawing "pretty much as soon as I learned how to use a pencil",  he has been drawing professionally since 2002 with his first job and since 2009 as a technical illustrator.
Despite his years of experience, a common misconception that occurs is when people ask if he makes websites. While he used to be irritated by such questions, he now views these as opportunities to link them up with people who build websites and applications.
A Funny Beginning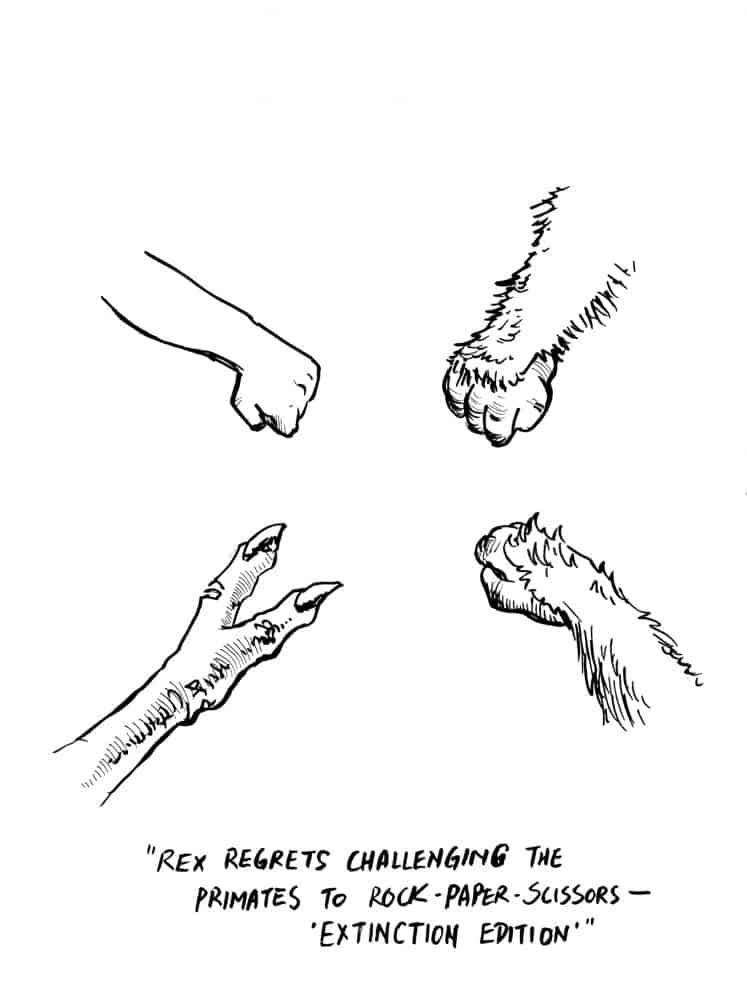 The beginnings of Rex Regrets is a funny one – Jerry was watching the live stream of Japanese mangaka Yuusuke Murata one day early in 2013 and drew pages from the very popular One Punch Man. At one point, Murata sensei wasn't paying much attention to his camera's framing and was for a fairly long time drawing off screen.
"I was looking at his drawing tools and was intrigued by how many similar pens we both use; I got bored waiting for him to come back into frame and decided to just draw sill things."
He then remembered an old book shown to him by an ex colleague years ago about crocodiles climbing mountains and  thought, "why not put a T-Rex in that situation."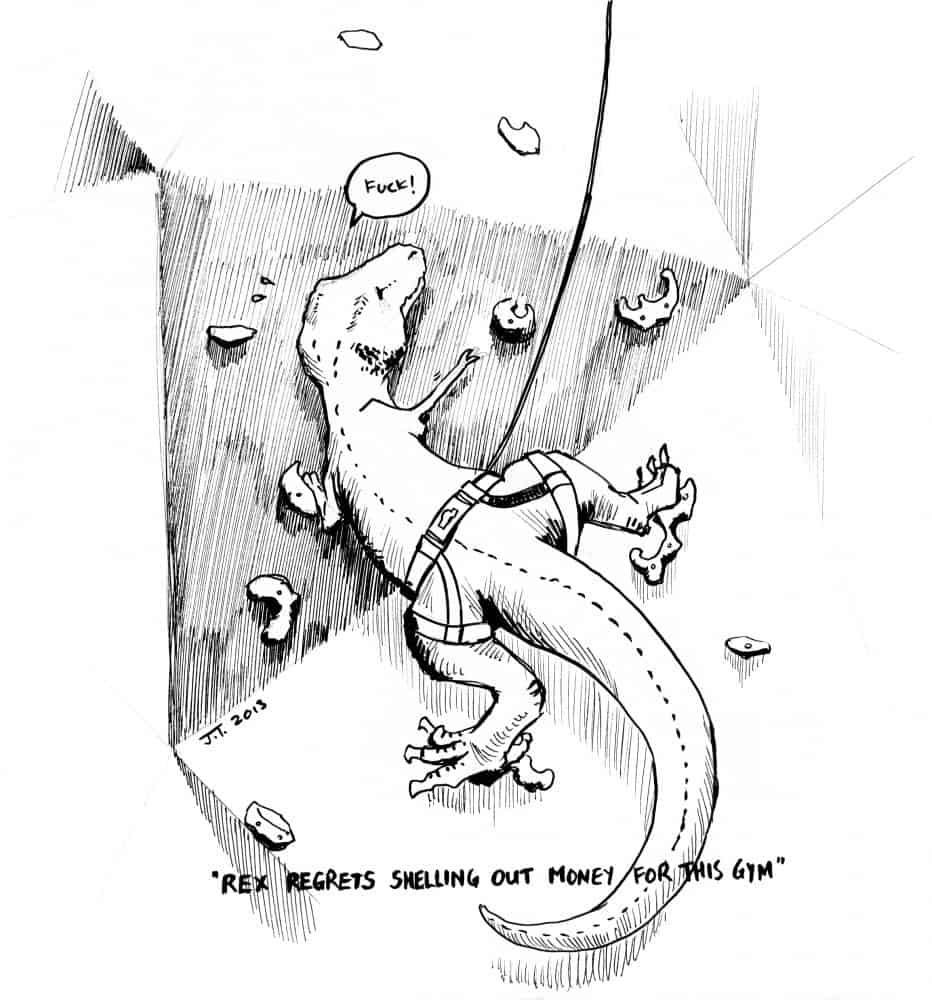 That day alone, he drew 4 to 5 jokes and posted them on Facebook.
"It got a lot of positive responses and some of my earliest supporters just kept egging me on to do more and here we are now. For some reason I settled on the alliteration Rex Regrets right away and it has stuck ever since."
It has been 5 years since then, and Jerry has now released a second volume for Rex Regrets. In fact, Jerry reveals that it has gotten a few international fans, but that it would be "nice to get more eyeballs" as he feels that it can grow bigger. "Although I probably need to be more consistent about posting new jokes," he adds.
Source Of Inspiration
While I enjoy the various situations that Rex finds himself in, I can't help but wonder if they're inspired by Jerry's daily events. To this, he shares that he's inspired by Gary Larson's Farside Gallery conceptually. "A one panel comic with a smart-ass punchline putting Rex in all sorts of compromising situations. Every panel starts with a situation and imagining how Rex has to contort himself to resolve it."
It turns out that – to a certain degree – I'm right. In a lot of them, Jerry admits that it's linked to what he has experienced at that moment. For example, the "Scandinavian Furniture" strip was born when he was fixing up a drawer system from Ikea, and thought that it's probably much much worse for Rex if he were to do it instead.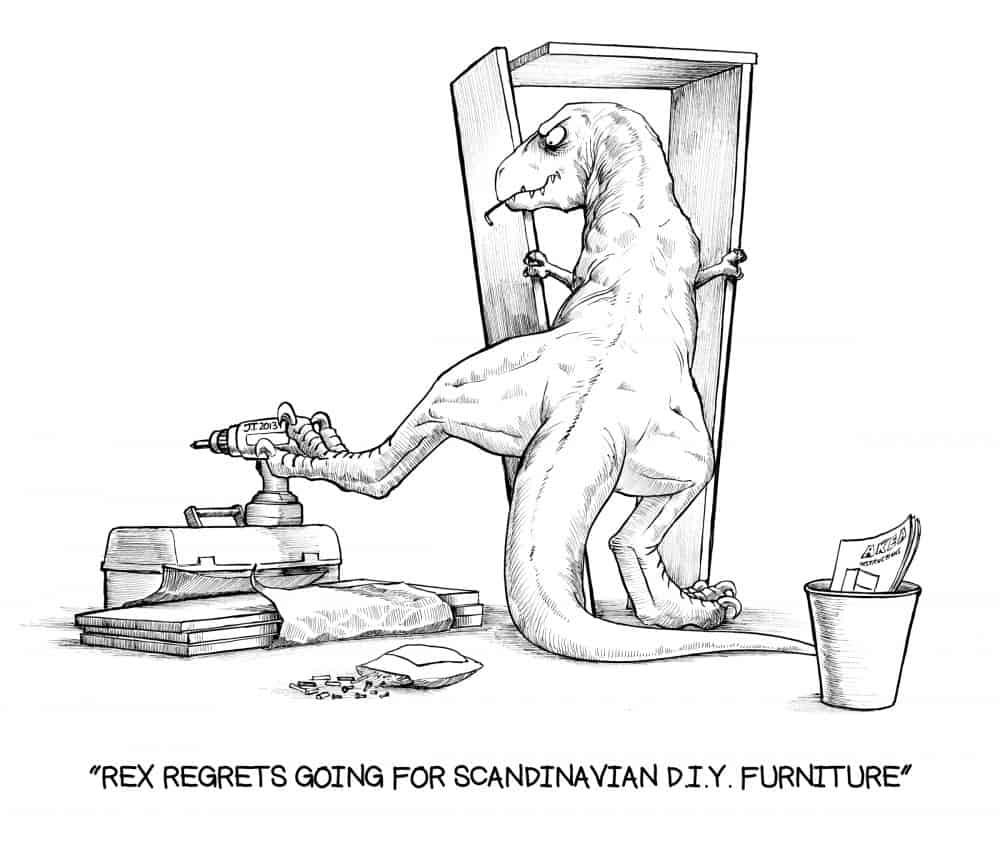 "Sometimes Rex has a smart way around things but more often than not he doesn't."
Of all the jokes that he's done, Jerry's favourites are still his first 4 jokes as they are amongst the purest in form and also the ones that, in his opinion, doesn't get old. Another of his favourites also includes the Star Wars series.
Ups And Downs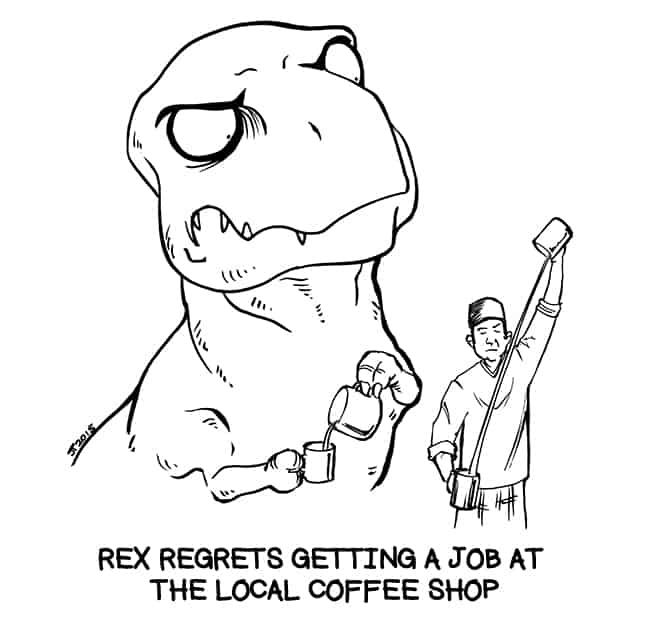 Over the past 5 years, Jerry's favourite moments include meeting fans in person. "I thoroughly enjoy all my convention experiences across the region. It's always cool to see someone's face light up when they talk about their favourite jokes in the series and its always a good feeling to bring a smile to a reader's day."
Other than that, meeting other creators have been fun too. On such occasions, Jerry reveals that ranting about the creative process can be a never ending conversation. In his own words, they're "negative rants, but cathartic as heck."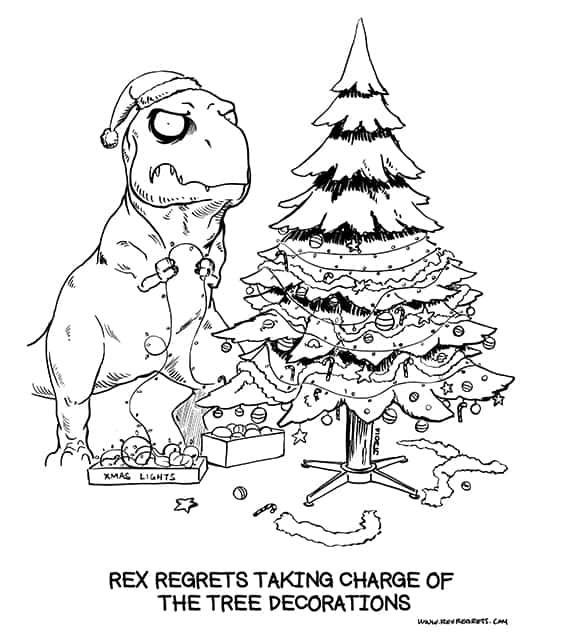 Even so, the obstacles that stand in his path are more than just a few. Being a self published author and artist means that he's essentially a one-man show: he handles the entire spectrum of work on his own. His silver lining is the help he receives from his friends with regards to running booths at conventions, and a very supportive wife who chips in with jokes occasionally.
"Monetary difficulties would include sometimes paying a bit more than I can afford because of poor planning," he adds with a smile. On the creating front, ideas are aplenty but finding the discipline to sit down and get things done can be really hard for him.
"I'm very lazy by nature so it can sometimes be incredibly difficult to get things moving."
Another Webcomic?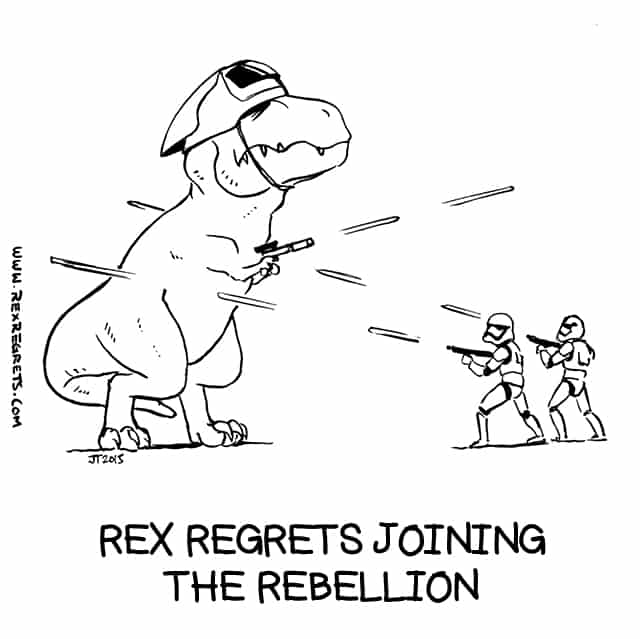 Currently, it seems as though another webcomic is in the pipelines. "I've been planning out another webcomic for years and it has never really taken shape until recently so that might take up another chunk of my time."
Jerry also has plans for more Rex Regrets, adding that he "should probably start checking off the growing to do list stuck in front of [him]."
In closing, he questions his abilities to simultaneously grow two comic titles while continuing to work as a tech illustrator and teach at the same time.
"Growing old puts a very real stop sign on your physical ability to do things."