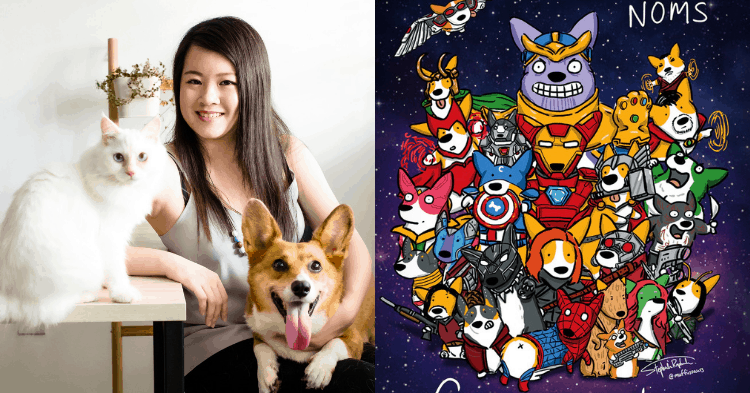 This year's Singapore Toy, Games and Comics Convention (STGCC) opened my eyes to many illustrators – besides Rex Regrets, there was also Muffinsaurs. I was intrigued at their set of stickers of the Avengers characters reimagined as corgis and kittens. By the end of the day, I had bought one of the corgi stickers for myself.
I decided to reach out to the brain behind Muffinsaurs – Steph Ho. Just like many other illustrators in Singapore, Steph is self employed, currently focusing on her building her Muffinsaurs brand.
She usually starts off each day by processing orders from her various online stores. Then, she heads over to her studio space to pack the orders before heading to the post office.
"I also work on commissions and always struggle to find time to create more work."
A Love For Drawing
Ever since she learnt how to hold a pencil, Steph has been actively drawing. "I was doodling everywhere, even the wall and cabinet of the house, much to my mother's dismay," she shares with a laugh. However, it was only in 2016 that she began to make illustrating a full-time career.
For the uninitiated, Muffinsaurs' brand logo depicts a dinosaur balancing a muffin on top of its head. The moniker dates back to 10 years ago, where Muffinsaurs was actually the name of Steph's online game avatar.
"I used to play a lot of online games back then and I love dinosaurs when I was a kid."
As for the inspiration behind her illustrations, Steph attributes it mainly to her pets. An animal lover, she currently has a dog and two cats.
Going Viral With Kitties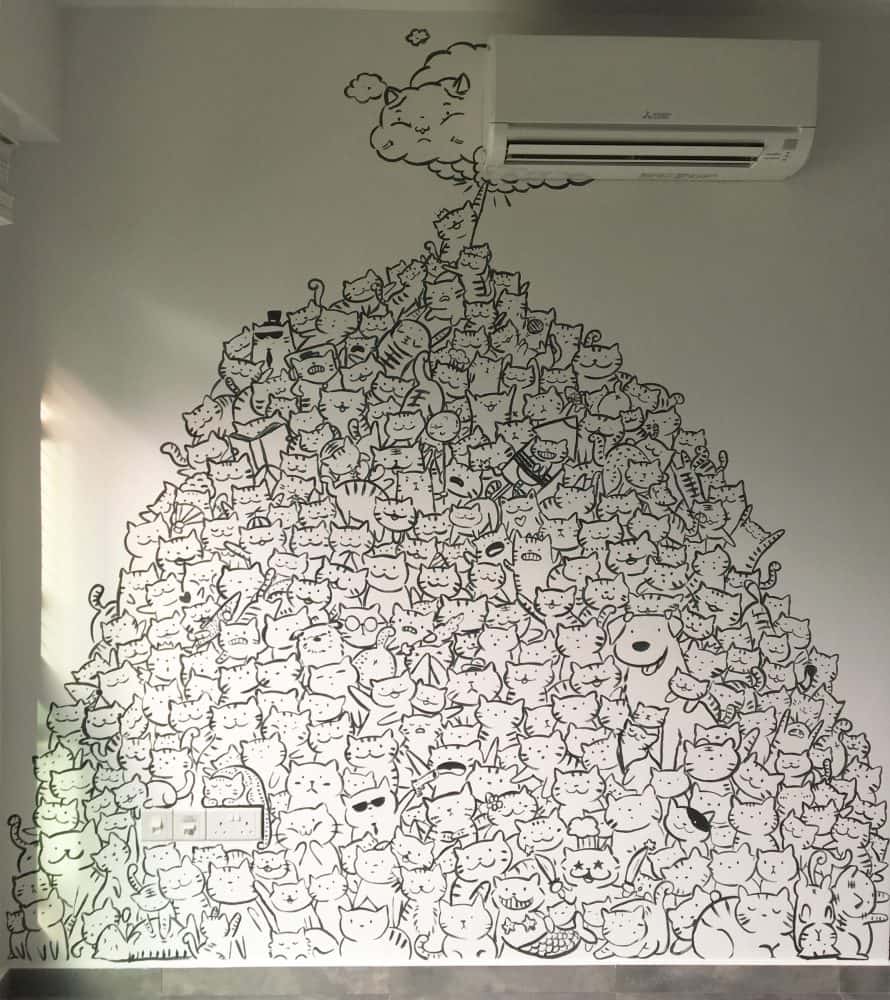 To date, Steph's favourite illustration is the cat mural that went viral a few years back. After all, it was the mural that helped her to kick start her career as a mural artist. She then launches into the story of how the viral piece came about:
"My friends just got their new place and decided to commission me to paint on their walls. The best part is, they gave me the freedom to draw anything I want as long as it is cat related. Their only requirements is to add 2 of their dogs inside, so I did a mural full of cats with 2 hidden dogs."
While her illustrations are adorable, goofy and positive – life as an illustrator can be trying. Steph brings up a problem which she faces, and I'm certain other illustrators will nod in agreement too.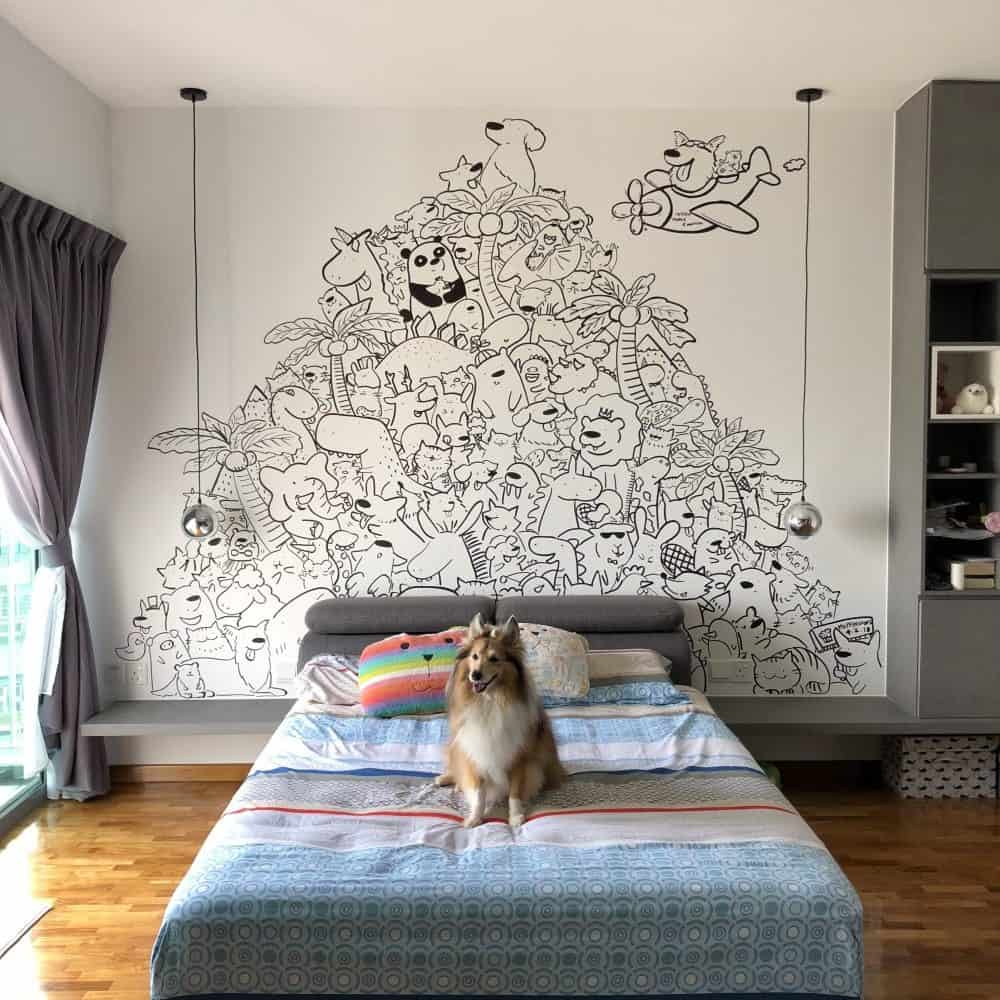 "Trying to explain to the client that we can or cannot do a certain style."
She recommends those who wish to engage an artist to first look through their portfolio and decide if the style or drawing is what you are looking for. After all, it's no surprise that not every artist can do a different or similar style.
To make things a little clearer, she gives an analogy: "It's like asking a Hokkien mee chef to cook Italian Aglio Olio and expect it to taste as good."
Reaching Another Level Of Success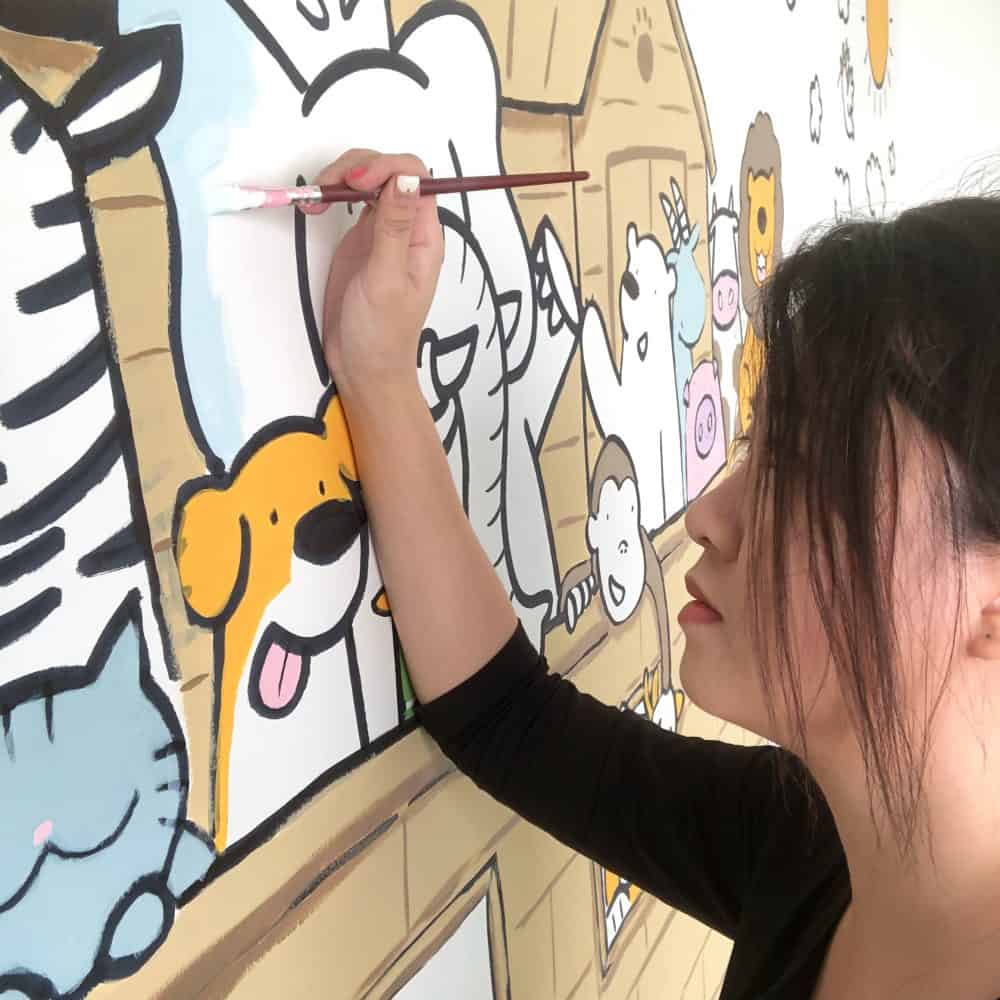 Through it all, Steph has chalked up a variety of memorable experiences. Yet, one incident stands out from the rest.
While it is often said that imitation is the sincerest form of flattery, this remains debatable. After all, not all artists would take imitation – or plagiarism – positively. Even then, some friends I've spoken to have revealed that if they were to launch their own apparel line, they would know that they've achieved success when there's a counterfeit of it in the market. For Steph, this was the case.
She realised, for the first time, that one of her artworks which she put up on a print-on-demand website was ripped off and sold on another site in the US.
"Instead of feeling upset and find ways to bring them down for plagiarism. I was like 'YES!!!!' Because I've created something that was good enough that it was noticed and stolen," she laughs.
In the future, Steph hopes to expand her merchandising business and explore murals and wallpapers for corporate businesses such as hotels.
In the meantime, you can find out more about her work here.