A year ago, SGAG posted a photo talking about a new line of chips that are based on local dishes like Chicken Rice and Laksa. The post went viral quickly, thrusting the Singaporean food startup, F.EAST, into the spotlight.
Started by two former finance professionals Lee Yuejer and Cheng Kee Vern, F.EAST chips hopes to fill a gap in the potato chips market by introducing local flavours into a Western snack.
Since its launch in November 2017, time flew by pretty quickly for the married entrepreneurs. In an interview, Vern and Yuejer recount the events leading up to the launch of their third flavour and overseas expansion.
From Favourite Snack To Setting Up Their Own Flavours
Vern's obsession with potato chips began since childhood.
Growing up in Brunei, she would often head to the potato chips section first and it became a habit for her. Through the years, she then realised that potato chips are usually single note flavours. This was a stark contrast to Asian food, which usually houses complex flavours and bold contrasts like sweet and spicy food.
In their interview with Vulcan Post, the couple wanted to focus on Singaporean flavours "because it is the birthplace of [their company]".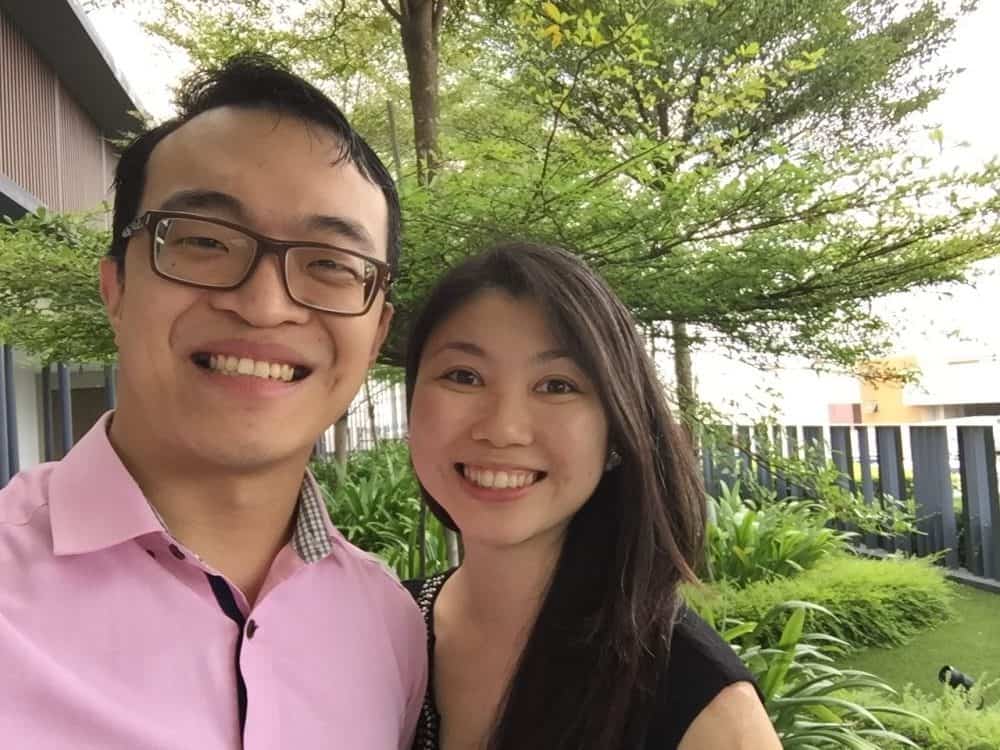 Like any startup, the founders have gone through initial hurdles, such has resorting to Google to figure out how the food business worked, and cold calling suppliers. While doing their cold calling rounds, they were rejected multiple times, receiving responses such as "don't even bother" or that they would become the supplier's competitor eventually.
Despite the discouraging remarks, the couple pushed on. With a little bit of luck, they were able to start distributing at a 2x2m space at Raffles Place and sell on Redmart on November 2017. In their first few weeks, the team struck gold from selling out their stocks pretty quickly from the hype.
A Clearer Path, But With New Challenges
Yuejer attributed their initial success to going viral on SGAG and also their press coverage on CNA and TheSmartLocal which brought the spotlight onto their niche idea.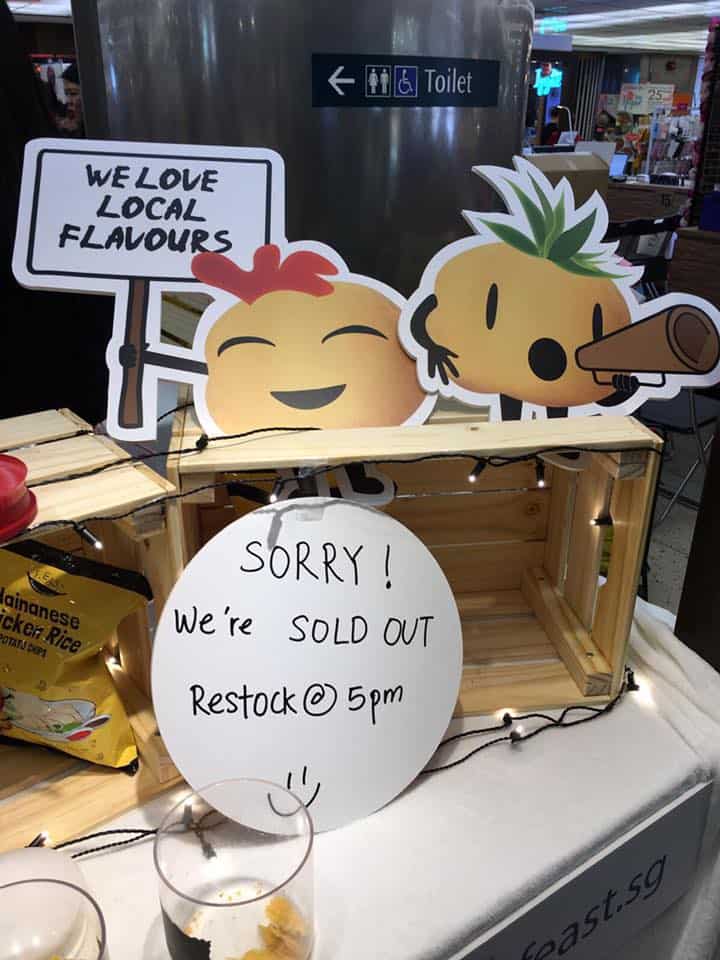 It was also at this stage where it became easier for them to deal with established businesses and putting their product onto shelves.
"It became pretty simple to deal with suppliers after our initial hurdle. They also made it easy for a pair of newbies to do business with them," said Yuejer.
F.EAST then expanded their distribution channels to Giant a few weeks later in the same year, 7-11 in February 2018, and then Fairprice in April 2018. They also had a temporary booth at Changi Airport Terminal 3, and partnered with Scoot to distribute their chips on Scoot flights from 1 May to 30 June.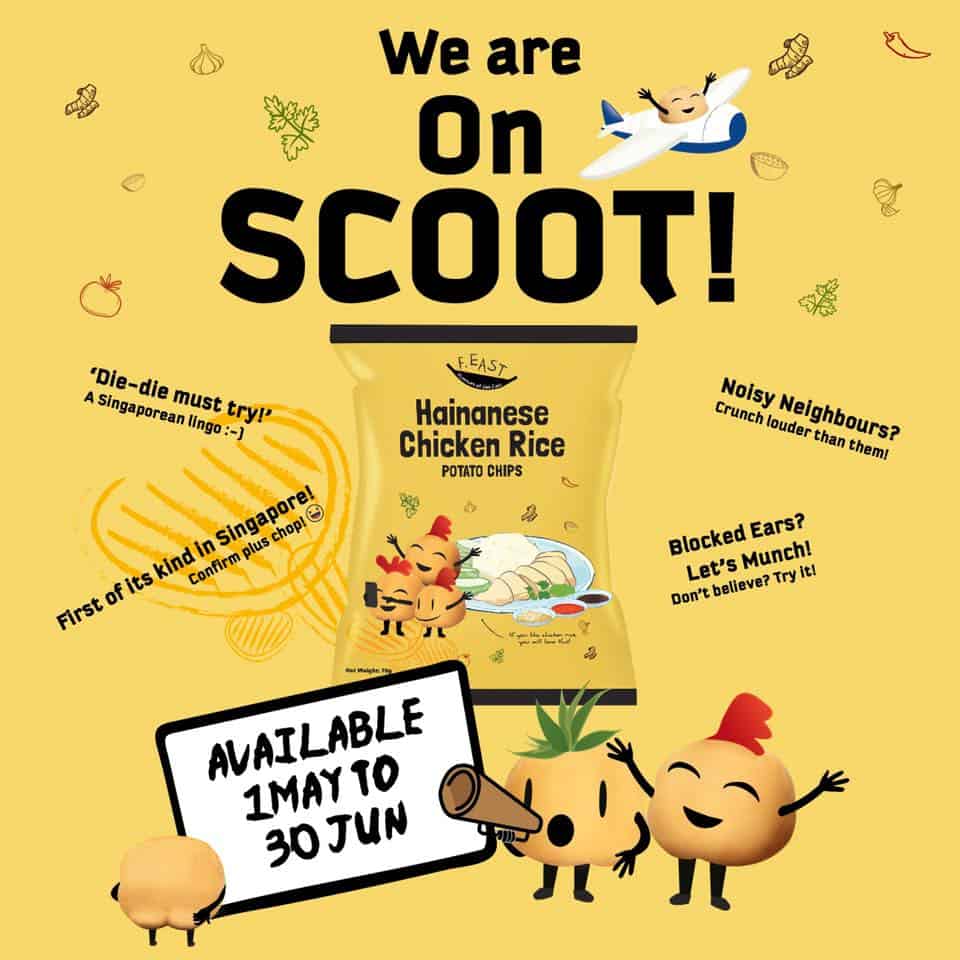 The next challenge for the entrepreneurial duo came in when they wanted to expand overseas.
Once the founders were able to understand how the supply chain for food products & optimisation worked, it was time for them to learn about shipping and overseas distribution. Yuejer and Vern admitted that the things they initially thought were trivial turned out to be important details in shipping their products overseas.
"When it comes to palletizing, there are different sizes based on whether they are US or European configurations," said Vern. "If you started building on top of the wrong pallet size, the shipment can be rejected immediately. This is something integral to the supply chain that we didn't think was important initially."
Nevertheless, the chips have been shipped and sold overseas in places like Brunei, Thailand, and Japan.
Launching Their 3rd Flavour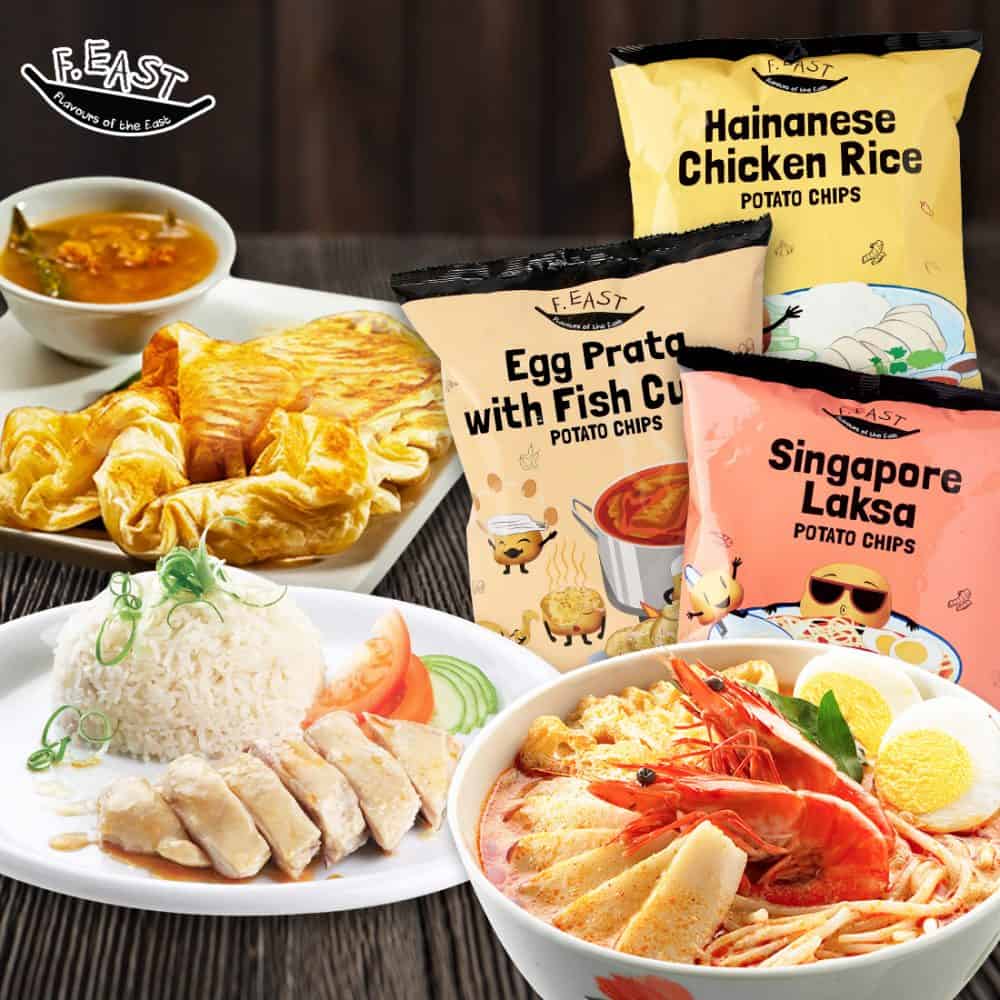 Ten months after the company started out with a bang, F.EAST was ready to introduce their third flavour to the world – Egg Prata with Fish Curry.
During the launch, Yuejer said that the retailers they worked with had started placing orders for the third flavour. It is also well received by the customers, with some citing that this flavour was better than the previous two.
When asked about why they picked these three flavours, Yuejer said, "We initially worked on a range of flavours, but not all of them complimented potato chips well." He said that there are still more flavours in the works, and have plans to introduce more flavours in the future.
"We're still a young, hopefully fast growing company that's still trying to make [F.EAST] an enduring business."
Looking ahead, the entrepreneurs are in discussions to bring their chips into other overseas markets.
You can purchase their potato chips here.
Featured Image: Source