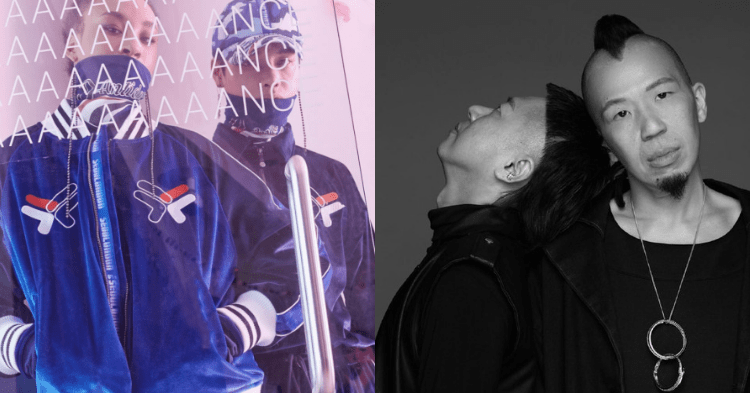 Some 12 years ago, Kenny Lim and Andrew Loh ventured into the fashion industry by accident.
Back then, Kenny, an undergraduate from English Literature at NUS, worked as a copywriter while Andrew was a graphic designer.  The creative duo, who met while working in the advertising industry, felt stifled and discouraged. After leaving their careers at an advertising agency, Kenny and Andrew felt "depressed and needed to recharge creatively."
What was intended to be a break from their advertising careers led to a creative collaboration between the two. This soon gave rise to the inception of their fashion label DEPRESSION, launched in 2006.
DEPRESSION draws inspiration from Chinese subcultures, serving as a constant reminder that the power to change one's life lies within yourself.
The label pays tribute to punk and street goth elements, fusing them together with a dark palette to create alternative, unisex apparel. DEPRESSION has attained global recognition, appearing at fashion shows such as Seoul Fashion Week, having artistes such as Kat Von D and Adam Lambert don their apparel, and collaborations with big names such as Casio, Onitsuka Tiger, Swarvorski and Pioneer.
We interviewed Kenny, director and designer at DEPRESSION. He convinces us that in fashion, doing what feels right is more important than doing what is best.
How They Got Started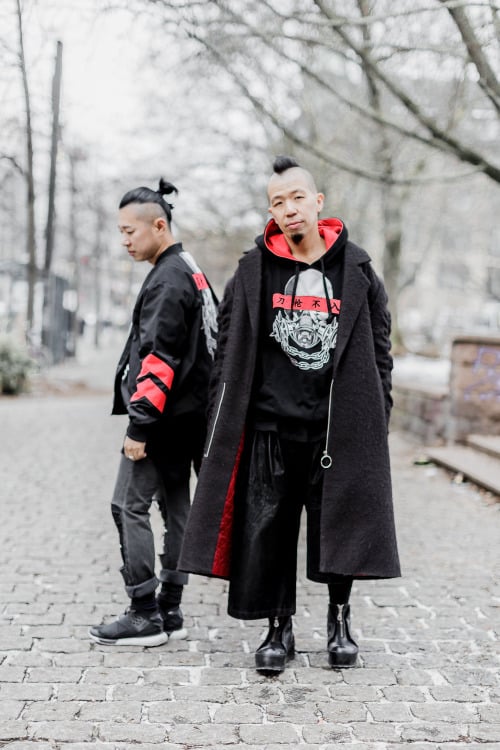 Depression's first showcase was held at Parco, a  shopping mall in Singapore. Kenny recalls that it was a two-man show — just Andrew and himself — and it was "challenging but fulfilling to be able to present your art in front of so many people."
Since then, they have moved on to bigger things, such as KL Fashion Week, Digital Fashion Week and Berlin Fashion Week.
Between 2011-2015, DEPRESSION was stocked at various multi label stores across Japan, Hong Kong, Paris, and Los Angeles. In recent years, however, the duo has decided to narrow down the focus towards " limited pieces for the domestic market".
Their first international showcase at Seoul Fashion Week Spring/Summer Collection 2013 allowed them to network with international media and buyers.
The Best Way To Be A Creative Person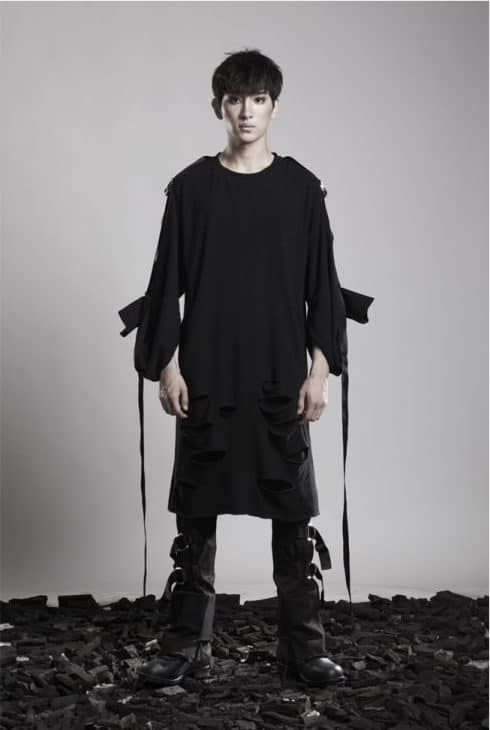 I ask Kenny to walk me through the design process behind each new collection, and his response is surprisingly simple and candid.
"It's a process of creative freedom, and a collection can spring forth just out of the blue." When brainstorming for new concepts, Andrew and himself will "just chat" and an idea comes up.
Having "no trends, framework or research limitations" works best for Kenny. In fact, he feels that it is "the best way to be a creative person ." He holds the belief that creative individuals should focus on doing what they like.
"Being original is more important than being successful."
This honest piece of advice reflects DEPRESSION's stand on being a label that plays by their own rules.
While it appears that DEPRESSION has undeniably achieved local and international success, Kenny doesn't reckon so. "Its an overwhelming compliment to say that we are successful. I don't think that is the case at all." He adds that he doesn't view success as critical point for the label.
"What's more important is that we enjoy our careers. It's about doing what feels right, rather than what is best."
Key Milestones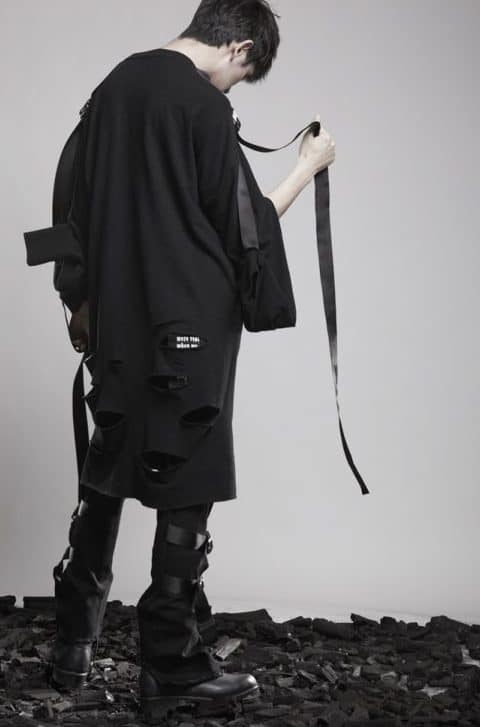 In their early days, the duo did n0t have much contact with the media, instead relying on word-of -mouth advertising.
"We didn't have to speak with any press, and we didn't have to dress any celebs," recalls Kenny. He calls word-of-mouth marketing a "powerful form of marketing", an approach he found most appropriate for DEPRESSION.
He also says that it "felt real and it felt like a personal milestone."
Another milestone the duo is especially proud of is their establishment of SECTS SHOP , a 1,700 sq ft multi-brand store at Orchard Gateway. Apart from stocking the label's collections, the store offers pieces from various international brands that are meticulously curated by the Kenny and Andrew themselves.
"We travel to fashion weeks to pick up international brands." Fans can look forward to brands such as Rick Owens, Nils, N21, Facetasm, Ih Nom Uh Nit, Walter Van Beirendonck and more — brands that Kenny has "so much respect for."
Other international brands that can be found at Sects Shop include Chinese high fashion label More Than Dope, and pieces from the FILA x D-Antidote collaboration.
No Need For That
Kenny's response when I asked why DEPRESSION chose to focus on unisex apparel, as opposed to creating separate collections was that "there's no need to distinguish between genders". The designers draw inspiration for new collections by using fashion as a medium to convey a message.
"We look at fashion as art. Not clothes."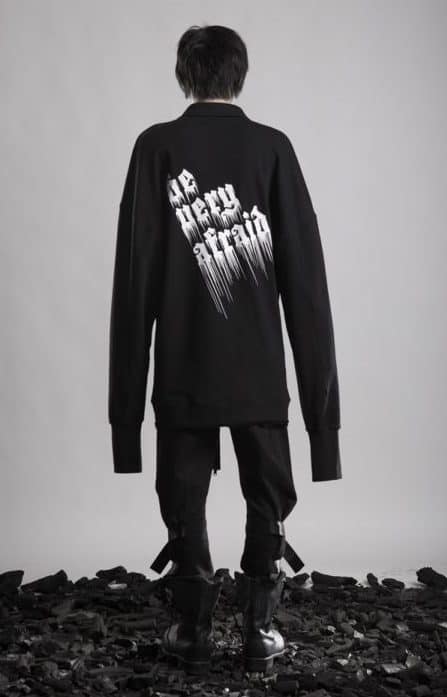 "It is important that there is a message, or that it is saying something, " insists the director-designer.
Kenny cites messages such as "facing your fears" and "life is a struggle" as key examples. He considers DEPRESSION's Vol.4 collection, which has yet to launch, his favourite collection thus far, describing it as "a bit of a joke on the current athleisure hype."
With so much recognition and several accolades under their belt, we can certainly say that their career switch was indeed a wise choice.
"One thing just led to another. Now, it seems like the only thing we know how to do."
 Sects Shop is located at Orchard Gateway #04-14, 277 Orchard Road.
Featured Image: Kenny and Andrew Pictured By Poh Heng Jewellery and Sects Shop