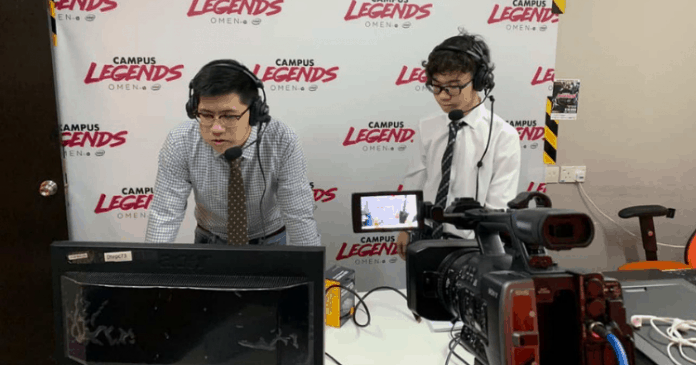 In my interview with 24-year-old Singaporean eSports commentator Daryl Lim last October, I learned how much time and effort is required to succeed in the increasingly competitive online gaming industry.
It's no mean feat, considering that you need to possess strong research skills and technical know-how along with a flair for public speaking.
Eight months on, the proverbial student has turned into a literal teacher, holding a series of classes that started on 11th May for budding eSports commentators.
The lessons are backed by the National Youth Council and include practical experience via Campus Legends; a League of Legends and FIFA 19 tournament organised by the Singapore Cybersports & Online Gaming Association (SCOGA).
Daryl revealed that he turned down more lucrative job offers in order to groom the next generation of Singaporean eSports commentators. "I feel this is more of a passion project. I'm not here to lecture, take the money and go. I want people to learn something when they leave, even if it's just one thing," Daryl says.
Would his altruism be rewarded or would he regret leaving a fatter paycheck behind? I attended his classes for a month to find out.
Diamonds In The Rough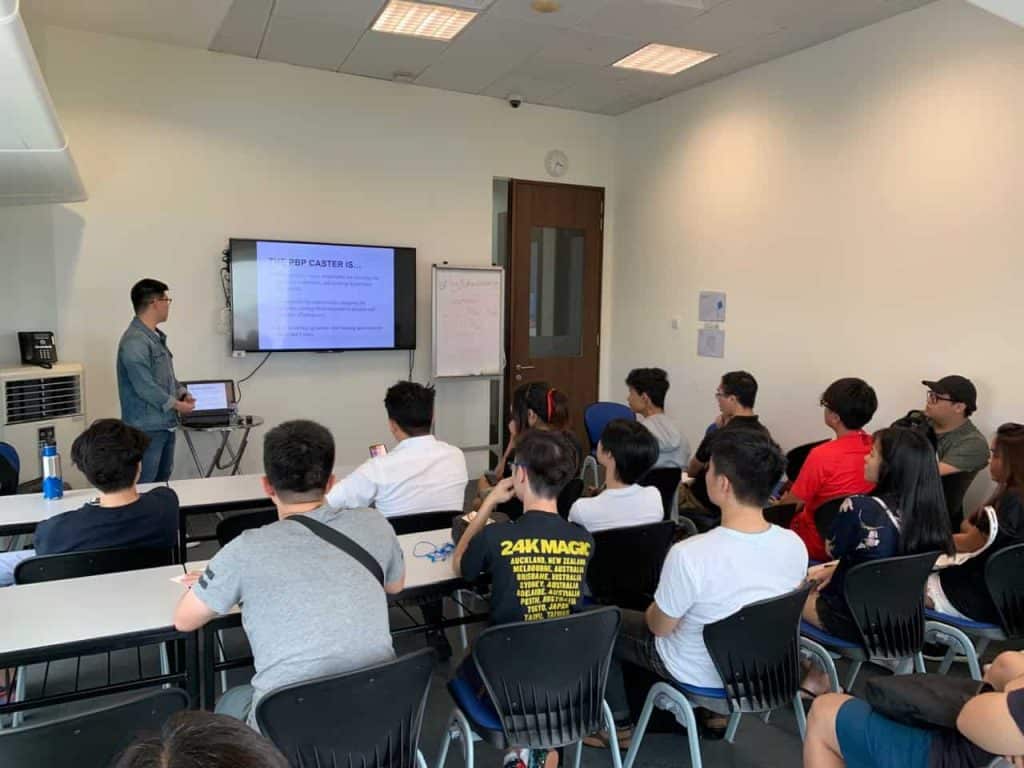 Daryl shared that he was anxious in the days leading up to the class due to the low sign-up rate on Peatix. It was also his first time teaching in a formal setting and to a potentially large audience.
Fortunately, his worries would be for naught soon enough, with almost every chair in the room being filled.
The class was split into three portions, starting with a lecture, followed by a Q&A session with Daryl and fellow eSports professionals Grandon Oh and Jensen Goh and lastly, trials for the Campus Legends tournament.
It was obvious that the trial was the part most attendees were looking forward to. It ensured that they could proceed with the rest of the classes and receive personal coaching from Daryl during the course of the Campus Legends tournament.
It's little surprise then that they paid so much attention to the lecture, with several people busting out their notebooks for good measure.
The lecture drove home the point that eSports is not all fun and games, drawing on concepts from the field of Communication and detailing the specifics of eSports commentary. Tell anyone that this was for a public speaking module instead and they would wholeheartedly believe you.
Throughout the course of the lecture, Daryl shared his personal experiences to reinforce the concepts taught. Although the frequent interjections by Grandon and Jensen threatened to derail the lesson, it created a lively learning atmosphere.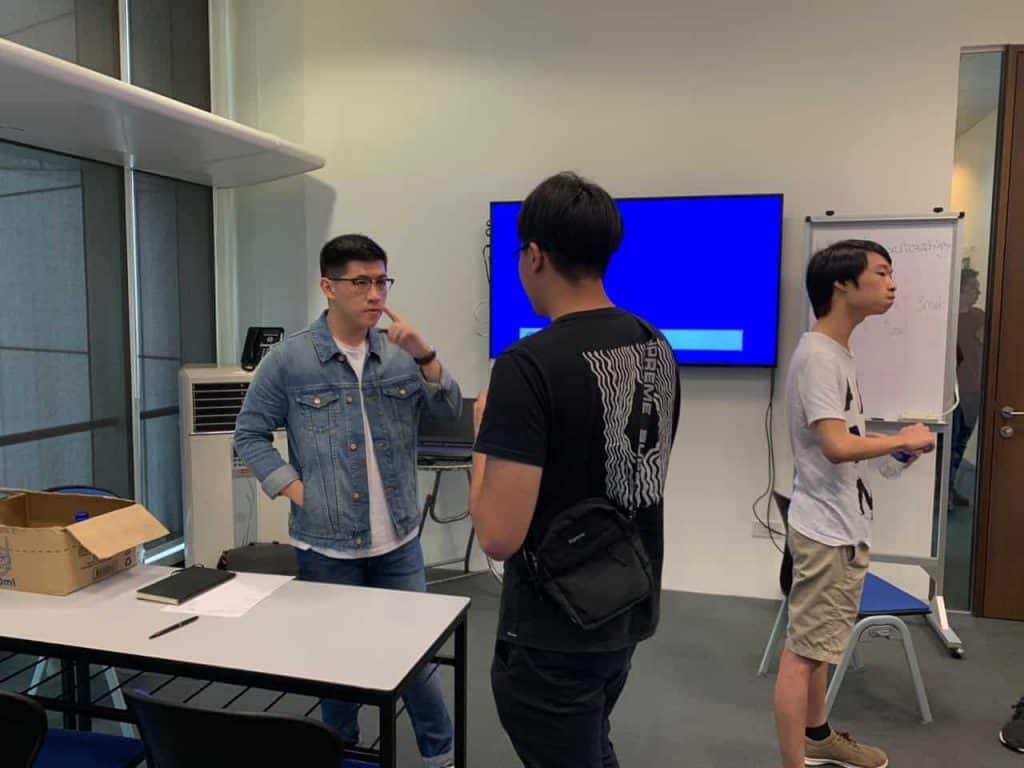 All three professionals spent their break and a good thirty minutes after the lesson ended answering more questions from the crowd. They critiqued the commentary of each and every attendee for any game they chose, although it was made clear that only individuals who were interested in casting League of Legends and FIFA 19 would potentially continue with the rest of the classes.
After the dust settled and the room fell silent again, four lucky attendees were selected to work with Daryl on the League of Legends section for Campus Legends.
Three's Not A Crowd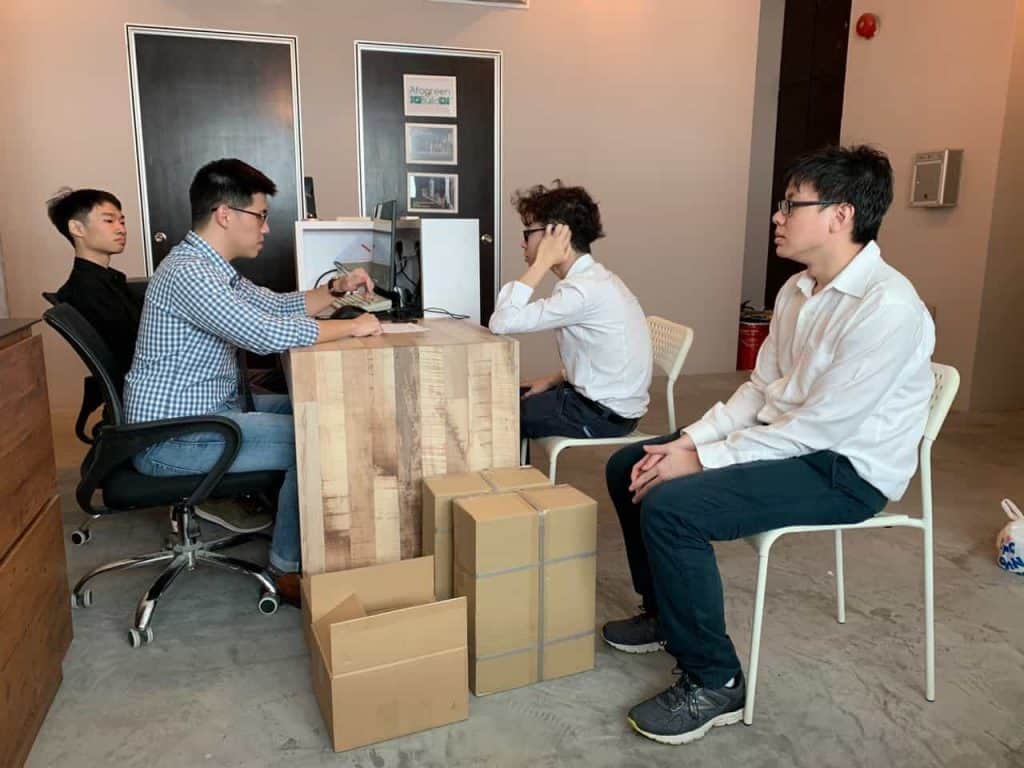 Despite making it past the introductory lesson and gaining the opportunity to commentate alongside Daryl for Campus Legends, the four students could still be sent packing at any stage.
For the first day, 21-year-old Gerard Peters, 18-year-old Lim Chu Fan and 23-year-old Terence Chan would take turns to cast a single game with Daryl, from pre-game emceeing duties all the way to post-game commentary.
Although the three of them are avid League of Legends fans, it was still an uphill task.
This rang especially true for Terence, having no experience with commentary whatsoever. "I'm inexperienced so I expect my nervousness to show, but I'd still like to do this full time," he says.
Daryl himself was taking no prisoners, handing out progress sheets to his students and highlighting what they needed to work on individually before and after every game. "What I'm doing is isolating skills and competencies and I need to make sure that they work on them. It's something like drills for football," Daryl says.
This repeated for the following weeks – if you think that providing commentary for an entire League of Legends game multiple times a day is unrealistic for a beginner, you're right.
However, Daryl mentioned that the decision was made intentionally.
Throwing his students into the deep end of the pool and letting them work under pressure would allow them to learn many things quickly. The safety net in this case would be the small scale of the tournament, with a modest prize pool of $10,000 along with participation from tertiary institutions only, except the junior colleges.
If the three padawans were nervous, it certainly didn't show, with witty banter being exchanged and commentary being practised. The scale of the production soothed their nerves too, with the studio in an office no larger than the average bedroom.
Technical skills from the production team were taught before the broadcast, from introducing replays to the audience to minute details such as the commentators being required to sit at an equal height.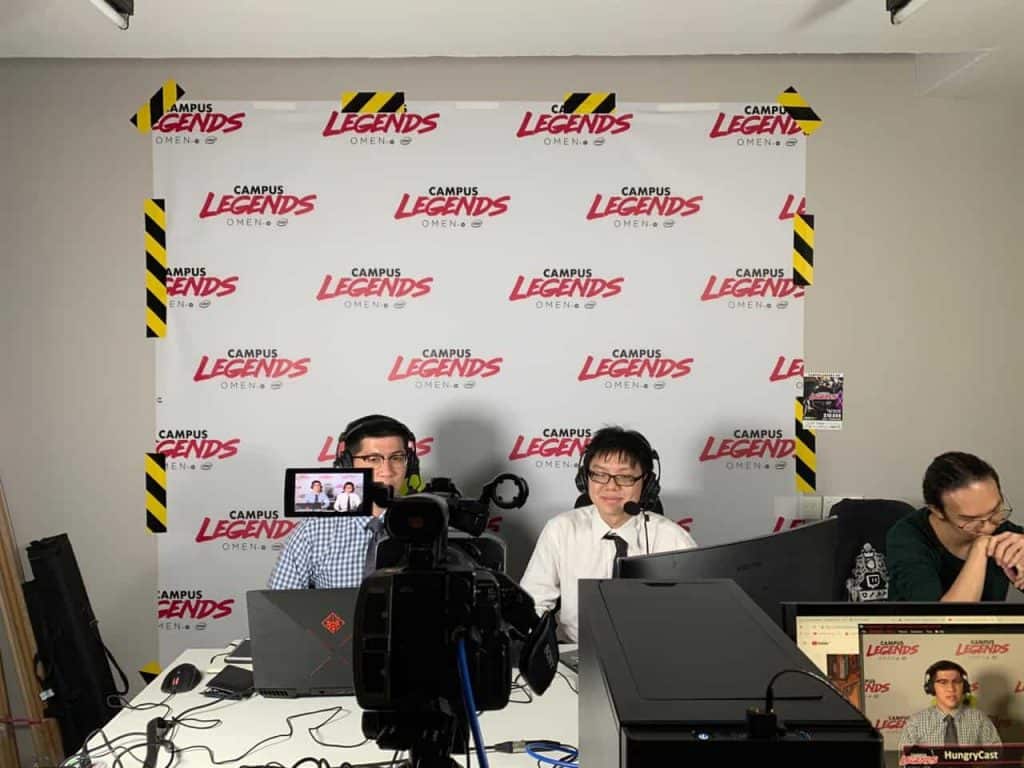 As the clock struck 3pm, it was show time.
Singapore Polytechnic would be determining which team represented the school via several qualifier matches and Terence was up first.
"Think of this as a podcast, just two people talking with other people listening in", Daryl reassured. Although Terence was visibly nervous, he eased into the game as it progressed.
The next two matches had Gerard and Chu Fan working alongside Daryl. They had minimal hiccups as they had some prior experience, even though these were best-of-three matches compared to Terence's single game. However, work didn't stop when the games ended.
Daryl provided feedback and a list of tasks to accomplish before the following week's broadcast, even though he had just worked on five games in total.
Working Out The Kinks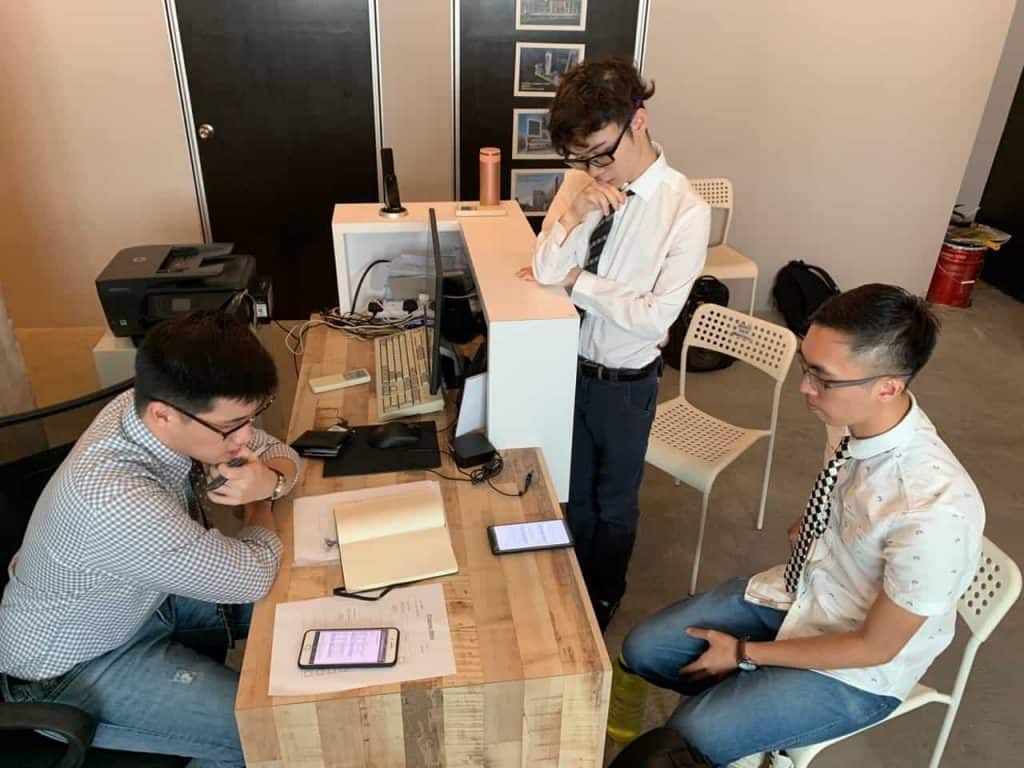 The final classes for the month were split into two days, as there were games scheduled on both Saturday and Sunday. Saturday's games would see Gerard returning along with a new face in the studio.
24-year-old Daniel Chong was unable to make it for the previous week's session and to make things more challenging; he has minimal experience playing or watching League of Legends.
When quizzed on why Daniel decided to throw himself off the deep end, he mentioned "I'm actually a streamer myself and I'm doing this to expand my repertoire. It's also the best time to do this since the industry is booming".
Grandon dropped by as well and to the delight of the two newbies, the veteran eSports commentator provided some much-needed coaching before and in-between games.
The games held this week were to determine Nanyang Polytechnic's representative team but it appeared to be a foregone conclusion as a certain team was filled with professional players.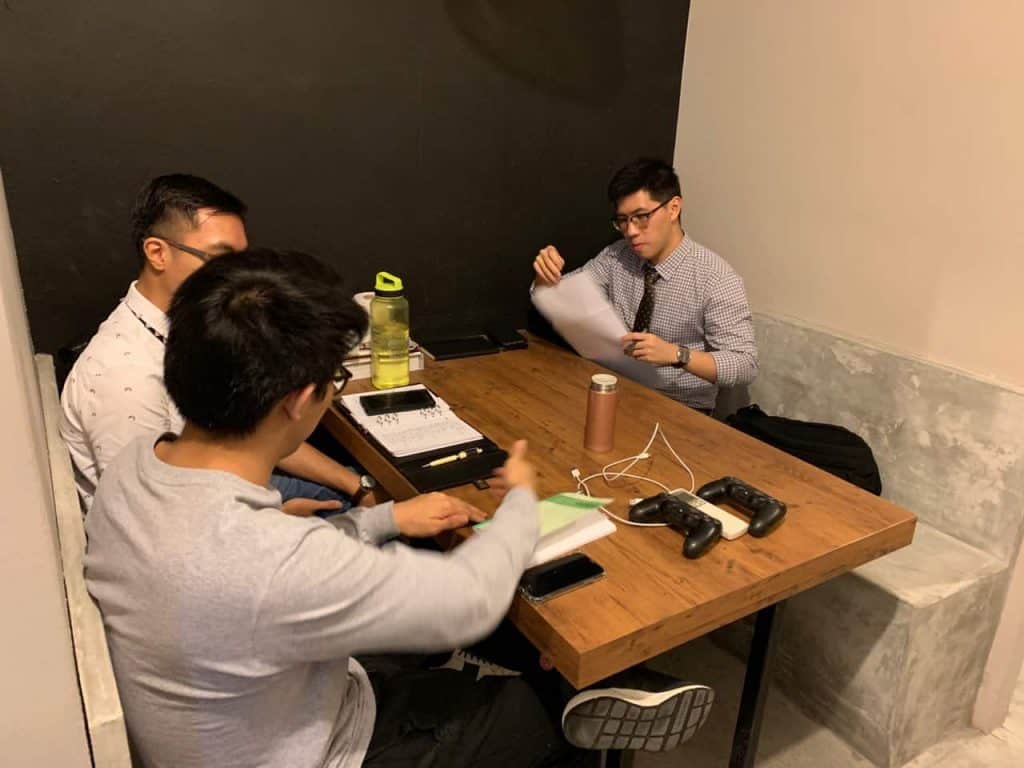 This afforded Daryl and Grandon more time to coach.
Daryl spent a large amount of time coaching Daniel due to his inexperience with League of Legends, even mentioning that he could be taken off air altogether if he didn't improve fast enough.
If you're wondering whether similar classes would be held for other roles in eSports by this point, you'll be delighted to know that there are plans for that.
Honorary Secretary of SCOGA, Dennis Ooi, said: "The road map is there and we are working towards longer courses, but they require certification compared to master classes like these. We're working with local institutions also."
For some of you reading, that would be a relief due to the amount of pressure an eSports commentator faces, coupled with the amount of time and effort that has to be invested into preparing for a match.
Not only do you need to be comfortable with the game you're commentating for, you also need to work on your vocal training, remember player statistics and prepare for each and every match you're casting for in a day.
Turns out it isn't just enough to have a pretty smile and a nice voice.