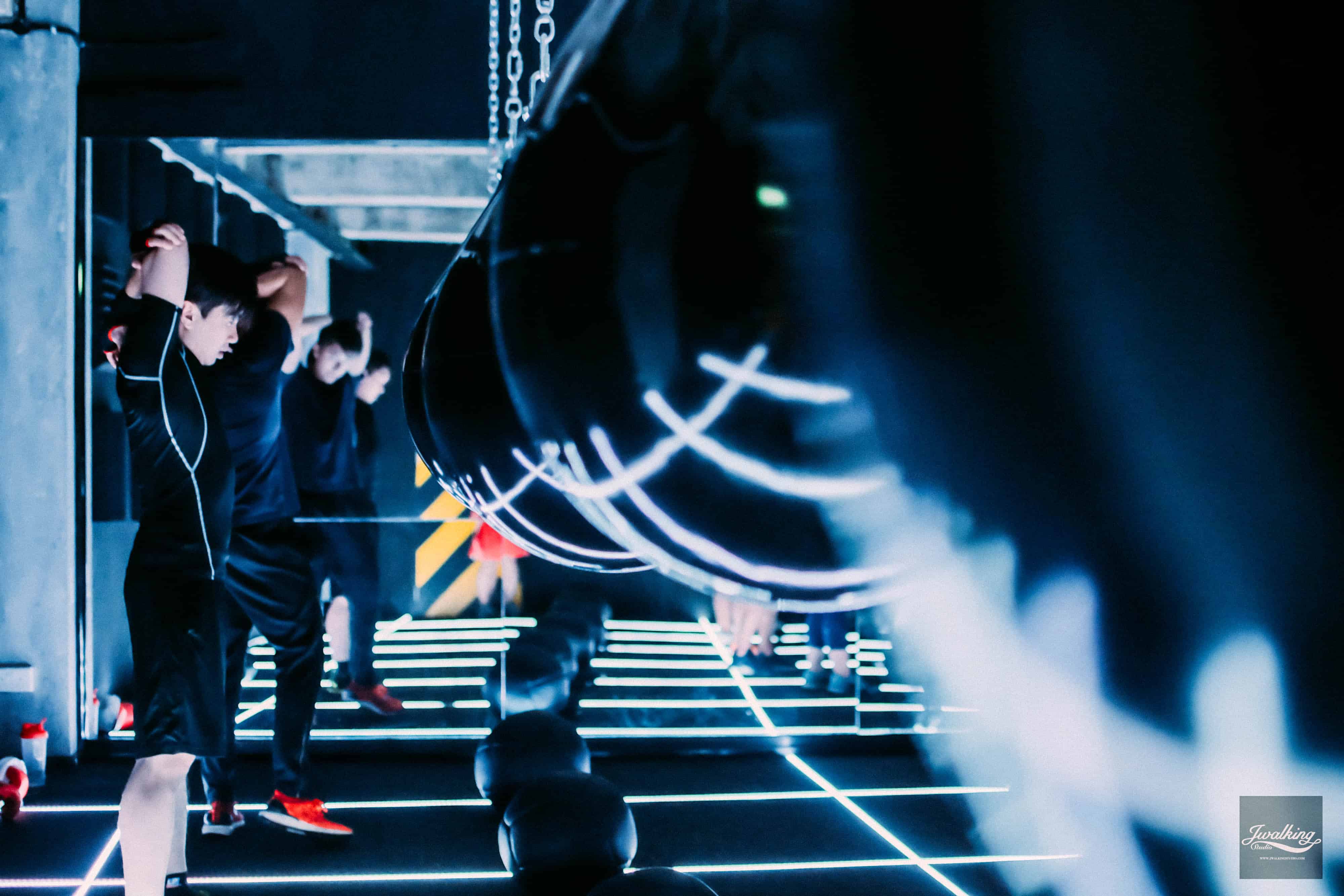 Bored by your usual fitness routine? Or are you starting out on your #fitspo lifestyle? If you're keen on trying new things and shaking your fitness regime up a little, follow us on our fitness series FUEL as we try out various fitness offerings popping up around Singapore. 
Located next to Clark Quay MRT station, Ground Zero is a boutique gym offering spin and boxing classes.
With its industrial grey walls, plush sofas, trippy neon signages, and electro beats playing in the background, one word comes immediately to mind when describing Ground Zero: Cool.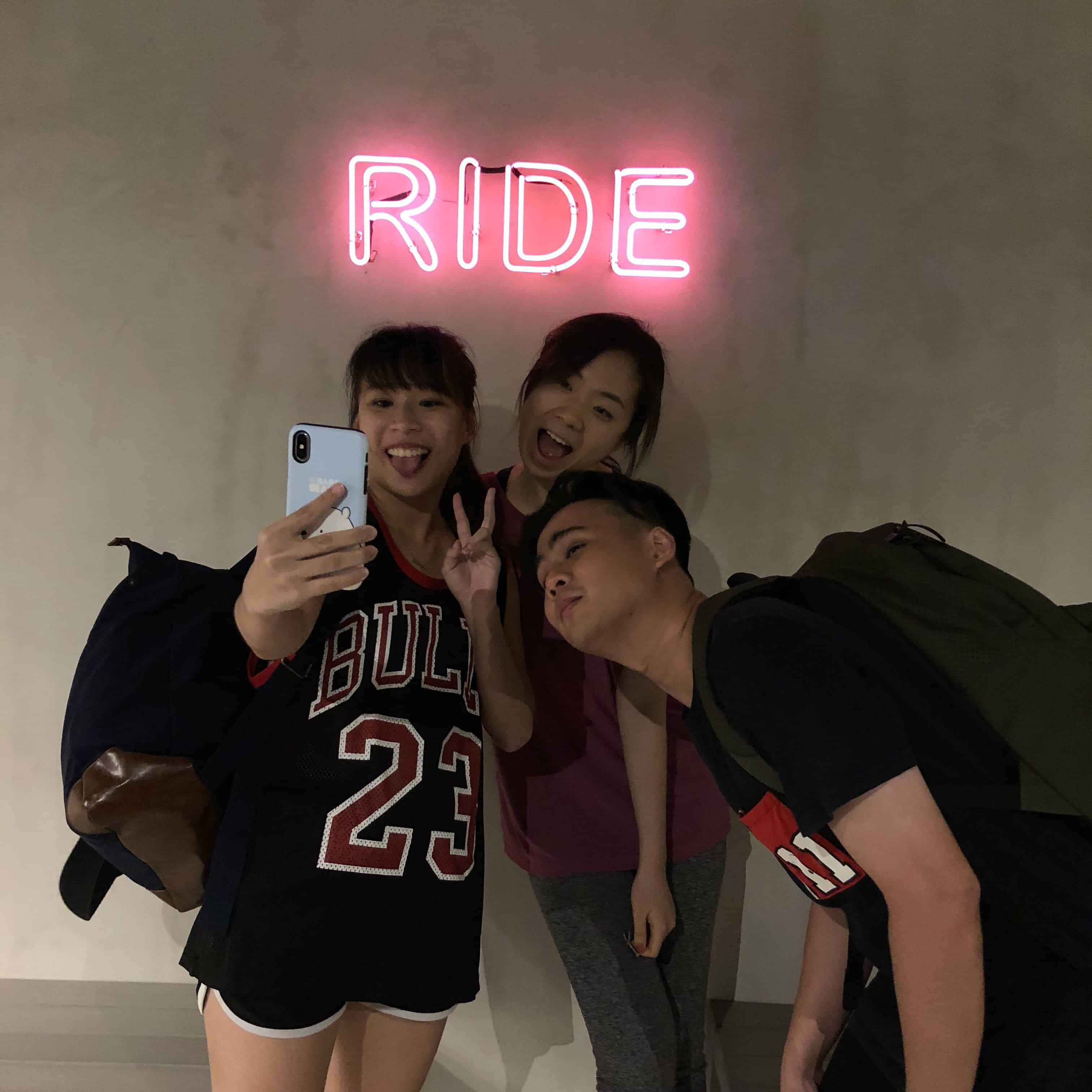 Despite the cool exterior, I'm warmly received at the receptionist's desk, and guided all the way to the point of boarding the saddle.
"Have fun!" the  Ground Zero employee says chirpily. Recalling the intense spinning videos I'd watched before, I smile weakly in return.
Ride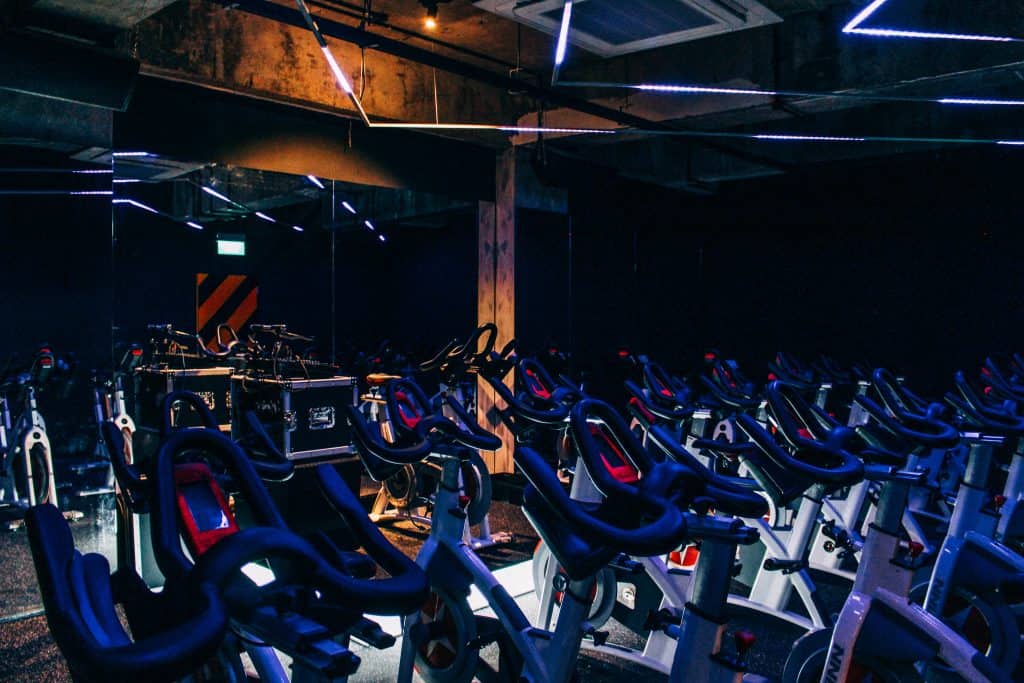 Upon straddling my bike, I take my cue from the regulars and pedal feverishly to warm my body up. The enthusiastic instructor of the night, Desiree, shows off a couple of moves – I do my best to mimic her actions.
"This feels awkward," I think, but the realization that everyone else is fixated solely on themselves in a dimly lit studio puts me quickly at ease.
Desiree looks like a DJ grooving at her sound booth, working to hype up the crowd before her. She gives a thumbs up to a person at the back of the room and strikes her keyboard.
The studio goes pitch black.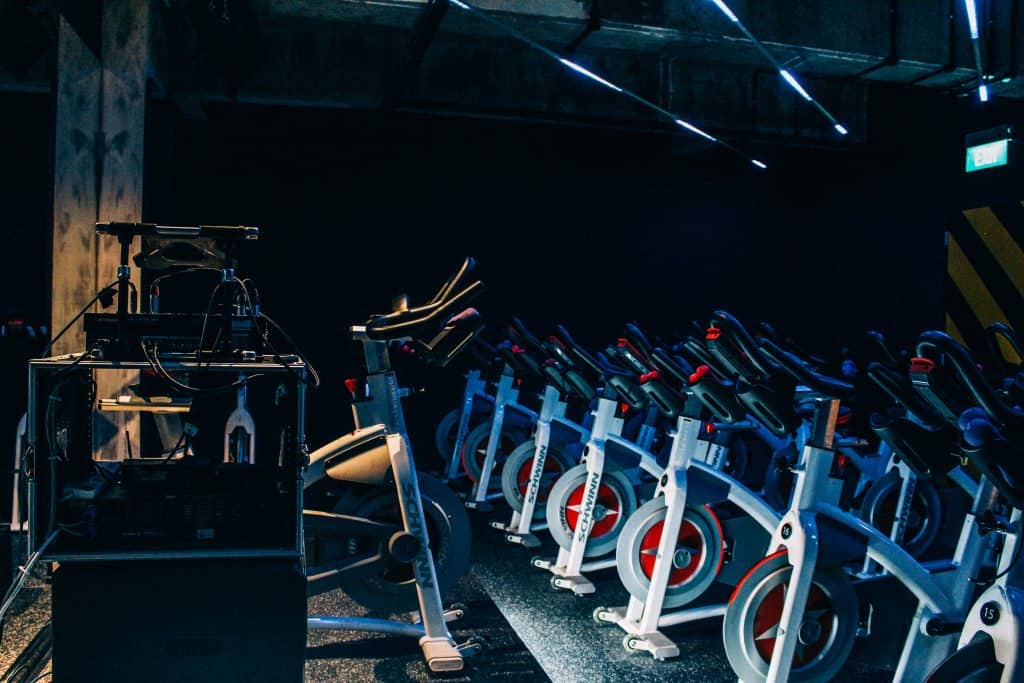 Then, a shower of neon lights across the ceiling, and an eruption of pulsating dance music. With Desiree's shouts of encouragement reverberating in the studio, the pack takes off.
I'd thought that 45 minutes of intense cycling would leave ueonly my lower body sore, but multiple push-ups on the saddle had my arms feeling like jelly as well.
About halfway through the class, it was with great relief that we got a break from the strenuous paddling – we picked up weights and followed Desiree in some upper body circuits.
Full body fatigue by the end of class is a guarantee. Even so, we decided to get ourselves to the Rumble class for the full experience.
Rumble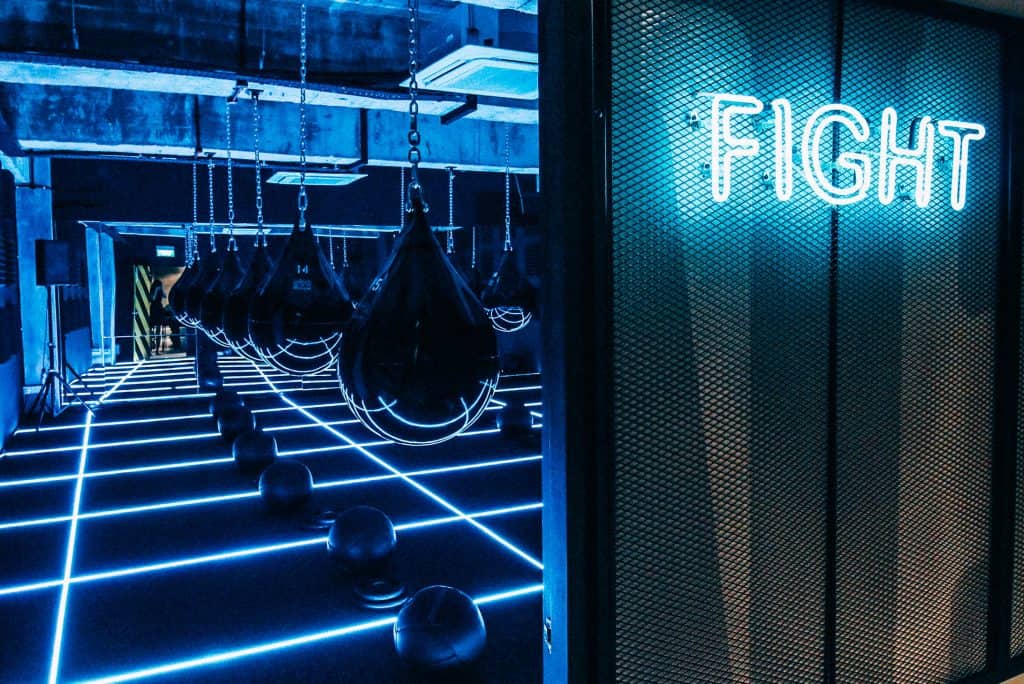 Think of Rumble as muay thai but incorporated with the EDM music aspect of spinning classes.
This new brand of boxing classes where attendees smash out routines to immersive dance tracks includes high-intensity interval training using balanced medicine balls, weights, and Instagram-worthy teardrop-shaped punching bags.
Swanky, I thought upon entering the studio.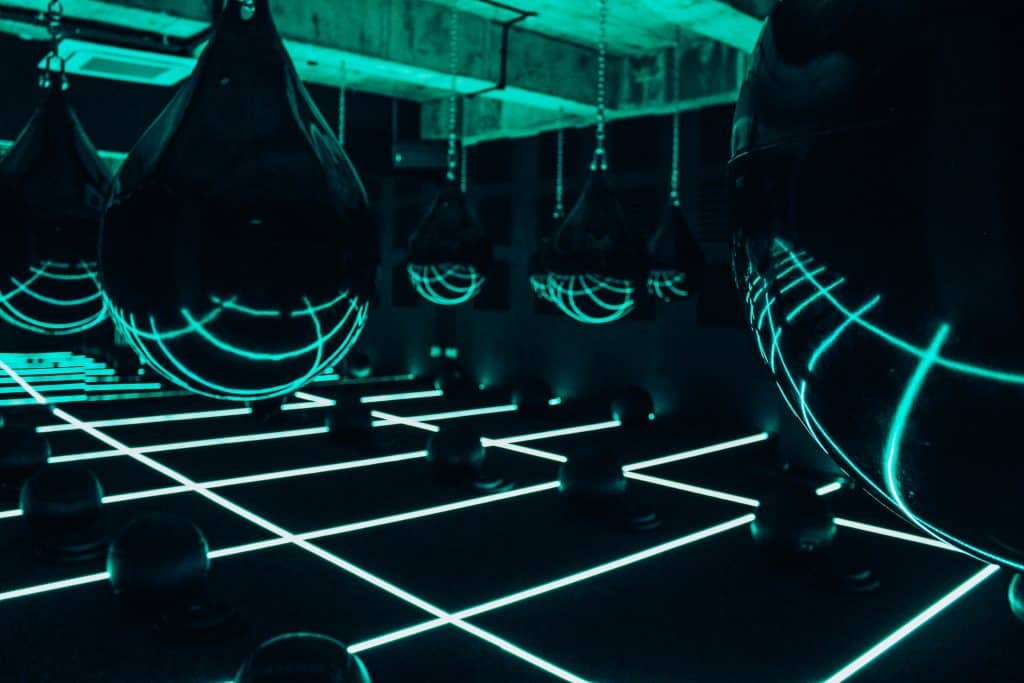 Founder of Ground Zero and also our instructor, Jeong started the session by introducing to us 6 types of punches, giving us time to get familiar with them.
After which, he jumps straight into a routine – "1-2-1-1!" he shouts, and with EDM roaring in the background, I start punching enthusiastically.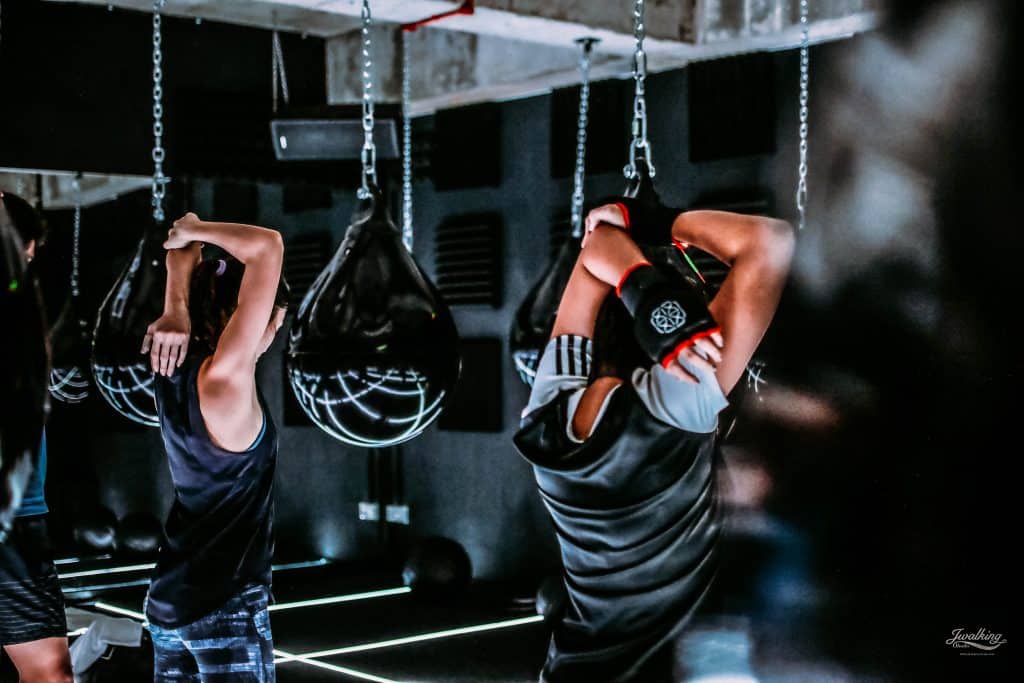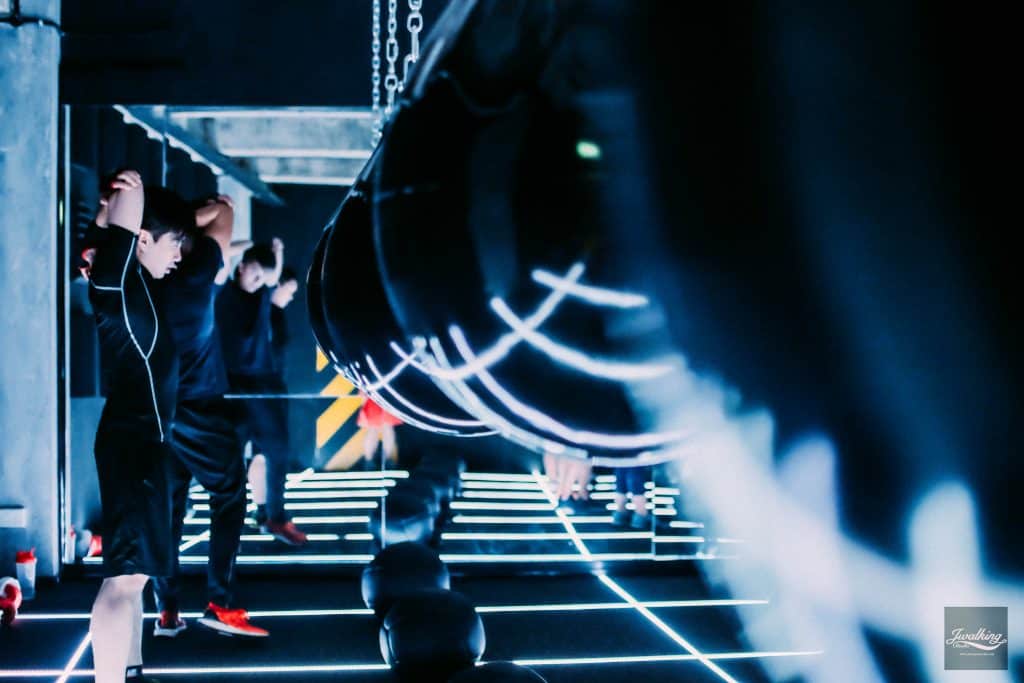 It's a good thing there are only 6 types of punches, making the routines easier to follow than the usual muay thai session that employs 10 or more different movements
The pulsating beat drives me to punch harder and move faster.
The futuristic lighting strips and cool equipment are nice perks, but I soon realise that the greatest advantage and most distinctive aspect of Jeong's Rumble classes is that participants are forced to keep pace with the music instead of going 'own time own target'.
At Jeong's encouragement, I go hard on every track, and sure enough, find myself sweating profusely by the end of class. I guess you could say the class packs a punch.
Sitting Down With Jeong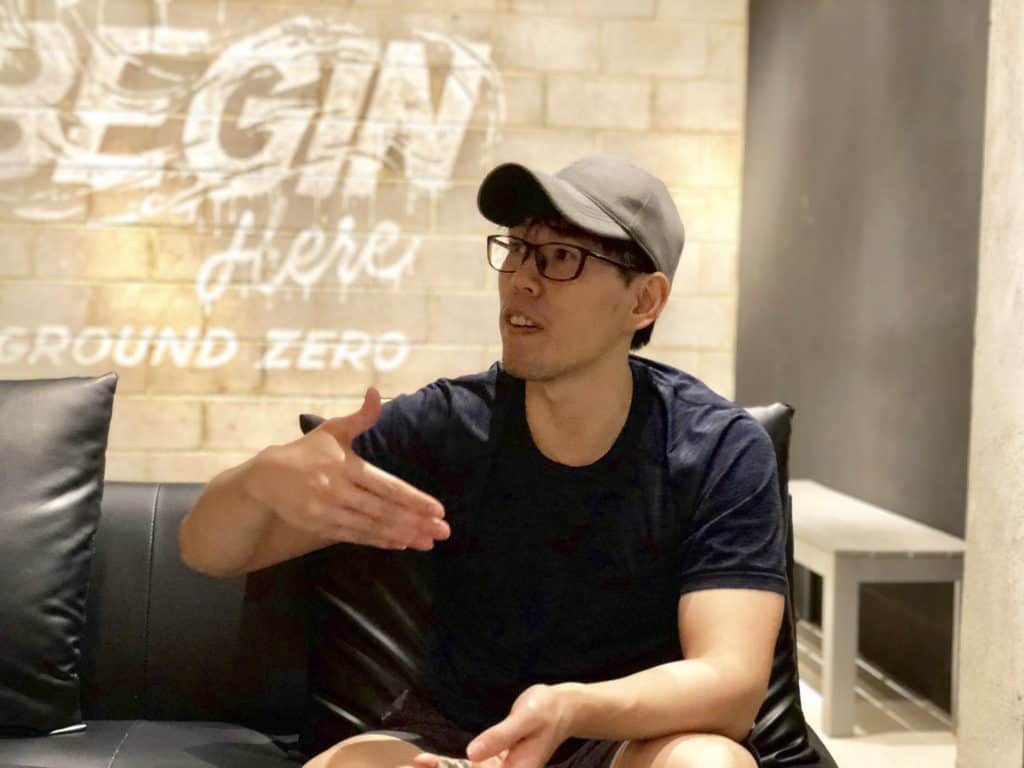 After both classes, we sit down with Jeong who tells us a little about how he envisions growing a warm and lively community here at Ground Zero.
Customers pay a premium, Jeong says, not just for a fulfilling sweat session but also for the sense of belonging in a space that encourages them to leave all external worries behind.
"I tell my instructors and my staff – even if they are tired, they better make sure their energy is high."
He adds that this is a factor which keeps people returning week after week.
Another factor? The fact that Ground Zero offers both spin and boxing classes.
Should you wish to give your legs a break, just head to the Rumble studio (though you may realise that with the floorwork HIIT component, Rumble isn't too forgiving on the legs either).
When asked about his preference, Jeong ponders for a moment and votes for the Ride classes. "Why spinning classes?" I ask Jeong curiously.
"There's nothing quite like a good indoor cycling session," Jeong grins.
I had found myself tapping my fingers to the beat of the music, revving myself up for the next set of exercises; walked out the studio with the rest of the pack, feeling an indelible sense of satisfaction.
Recalling these, I had to wholeheartedly agree. There's nothing quite like it.
Swanky, neon-lit studios, pulsating music, and marvellously competent instructors. Ground Zero stands out from its competitors with a formula that works, and you would be hard-pressed not to leave the studio on a high.