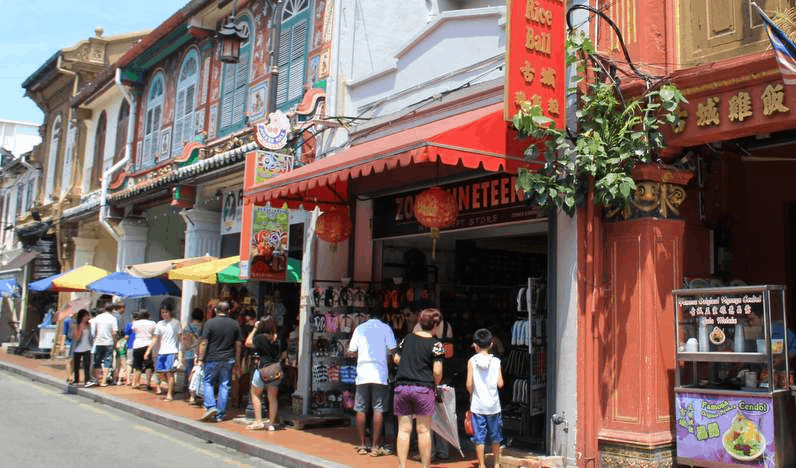 You will be spoilt for choices for your meals
Being a 3-hour drive or 5-hour coach ride away from Singapore, Melaka is a good weekend respite for the tummies. Famed for its good food, you will be spoilt for choices for your meals. It will probably take you at least 18 meals if you want to eat your way through Jonker Street, and that, is only Jonker Street.
However, if you only had that precious weekend, we are sure that you won't want to waste it on some mediocre food that is a waste of tummy space and calories. So, let us share with you 5 eating holes, that in our opinion, are much better than the chicken rice balls that everyone says to queue for. With these, you would have settled 2 breakfasts, a lunch, and a dinner, with desserts snuck in too!
Ready to feast? Lets go!
1. Nancy's Kitchen for Peranakan Food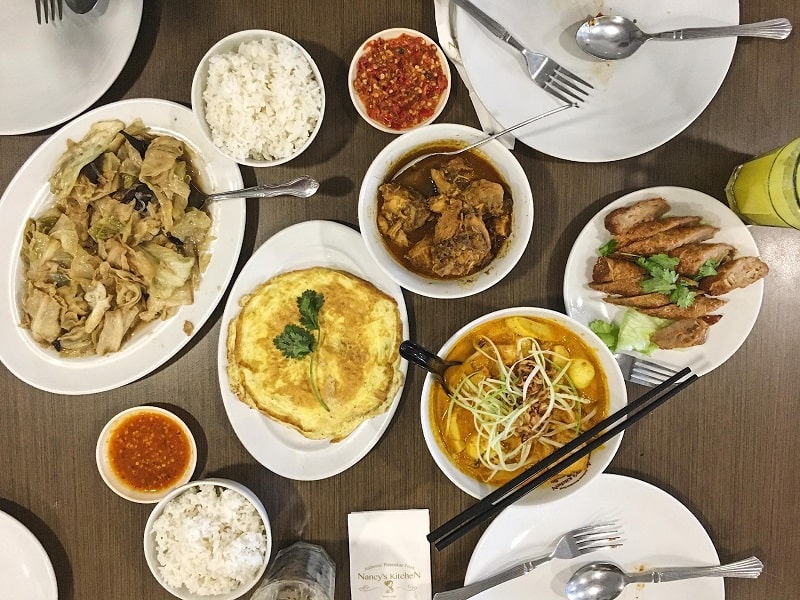 Joann Li
Nancy's Kitchen is a family-run outlet which serves authentic Peranakan food. Every dish was met with oomphs of delight and approval by everyone on the table.
We had the Ayam Buah Keluak which was really flavourful. The chicken was also tender and the meat came off the bone easily. A simple cincalok omelet was done to perfection as well. The popiah is another must-order. It was devoured within a minute.
Go early if you want to try their Kueh Pie-Tee for they sell out really fast – we were there at 3pm and they were already out of that delicious snack. The crusts are all handmade, and is one of their specialties.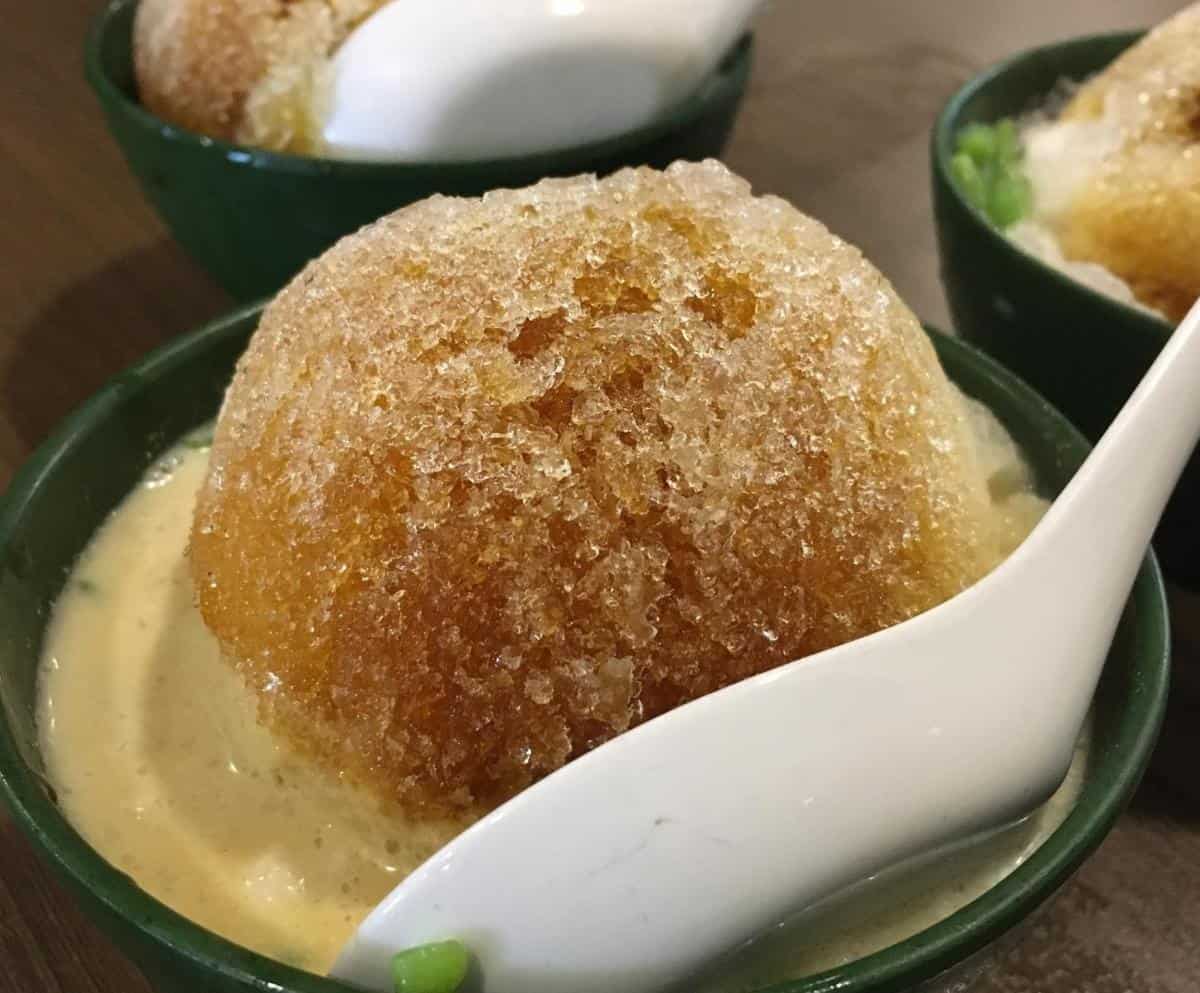 Joann Li
Order their cendol to end off the sumptuous meal. Sweet and refreshing, there is something about the Gula Melaka here which we are unable to find or replicate in Singapore. We just wished that they had put more of it in our cendols.
Nancy's Kitchen is approximately a 20 to 30-minute walk from the end of Jonker Street. You can also take a Uber, and it should not cost more than 6RM from Jonker Street.
Address: 13, Jalan KL 3/8, Taman Kota Laksamana, 75200 Melaka, Malaysia
Tel: +60 6-283 6099
Website: www.eatatnancyskit.com
2. Jonker 88 for Chendol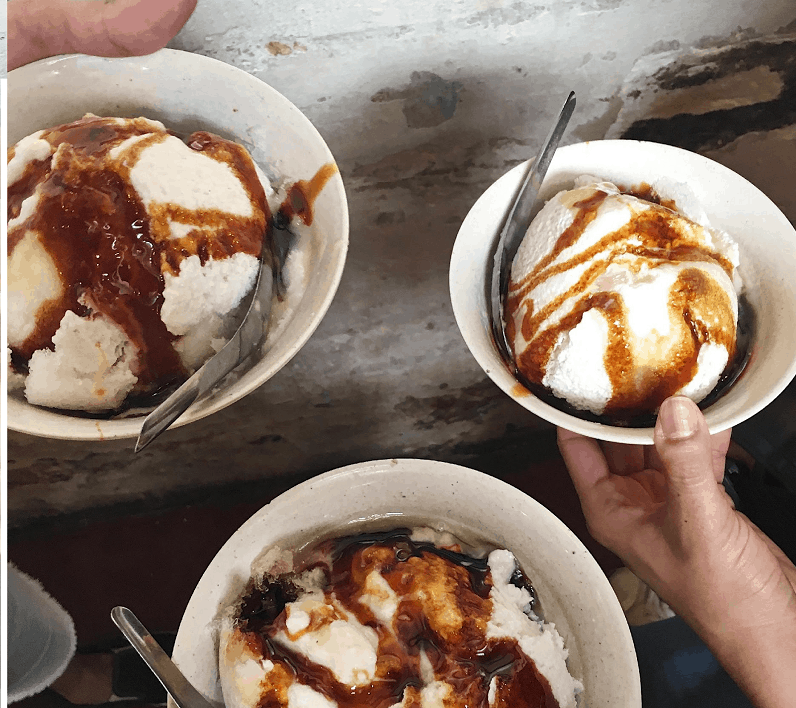 Joann Li
Jonker 88 is the place to go to if you want a big bowl of refreshing and delicious cendol. Compared to the ones at Nancy's Kitchen, the cendol here is 2 times the size, though we preferred the taste at Nancy's. We opted for durian cendol this time round, and it was a heavenly respite having had walked for 30 minutes under a 35°C hot sun. The durian was fragrant, and matched the sweetness of the gula melaka on point. You can also buy blocks of the gula melaka they use here for your cooking and baking adventures back home.
Jonker 88 also sells assam laksa, mee siam, and other local delicacies. We would love to try the assam laksa the next time we are here as every table we saw had a bowl on it. Also, be prepared to queue if you are here for the food. We had our durian cendols standing up, and it added to the rustic experience.
Address: 88 Jalan Hang Jebat , 75200 Malacca
Website: https://www.facebook.com/jonker88/
Opening Hours: Sun-Thu 9.30am to 5.30pm. Fri & Sat 9.30am to 8.30pm.
3. Heng Huat Kopitiam for Wanton Mee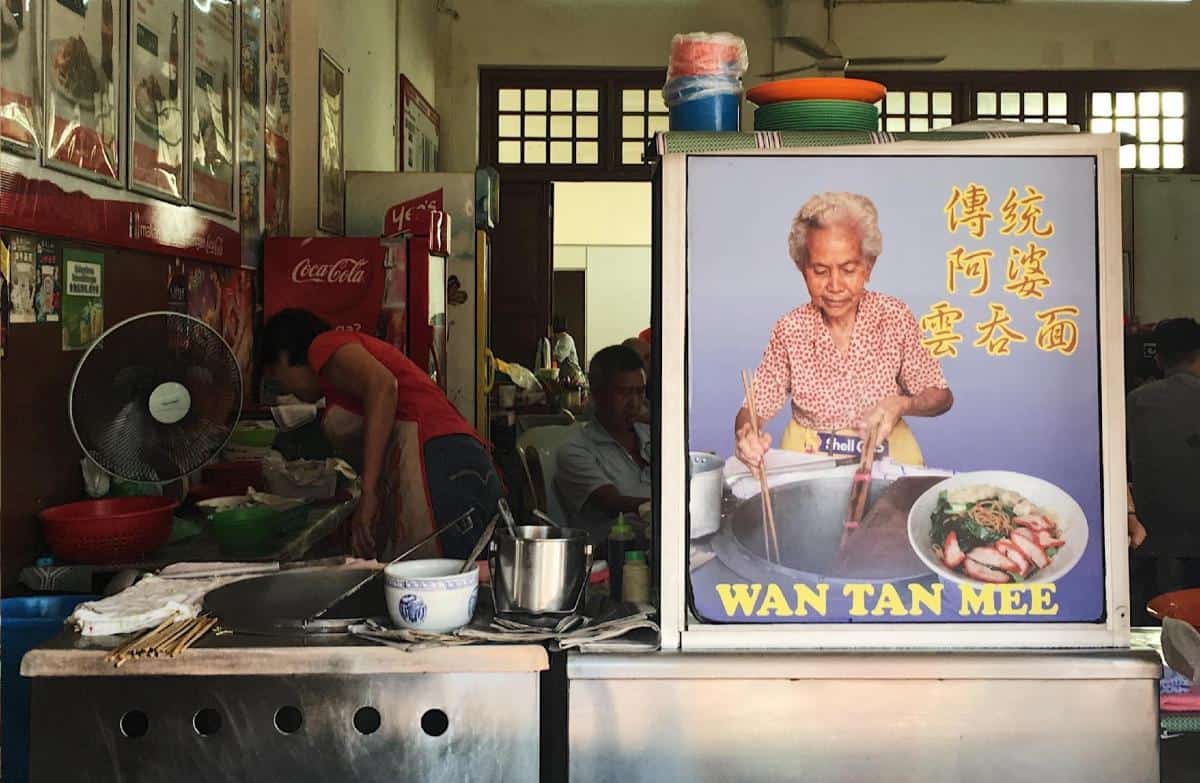 Joann Li
How can we say no to traditional wanton mee cooked by an Ah Ma? This gem of an old-skool kopitiam really spoke to our tummies, and is definitely worth a visit when you are in Melaka.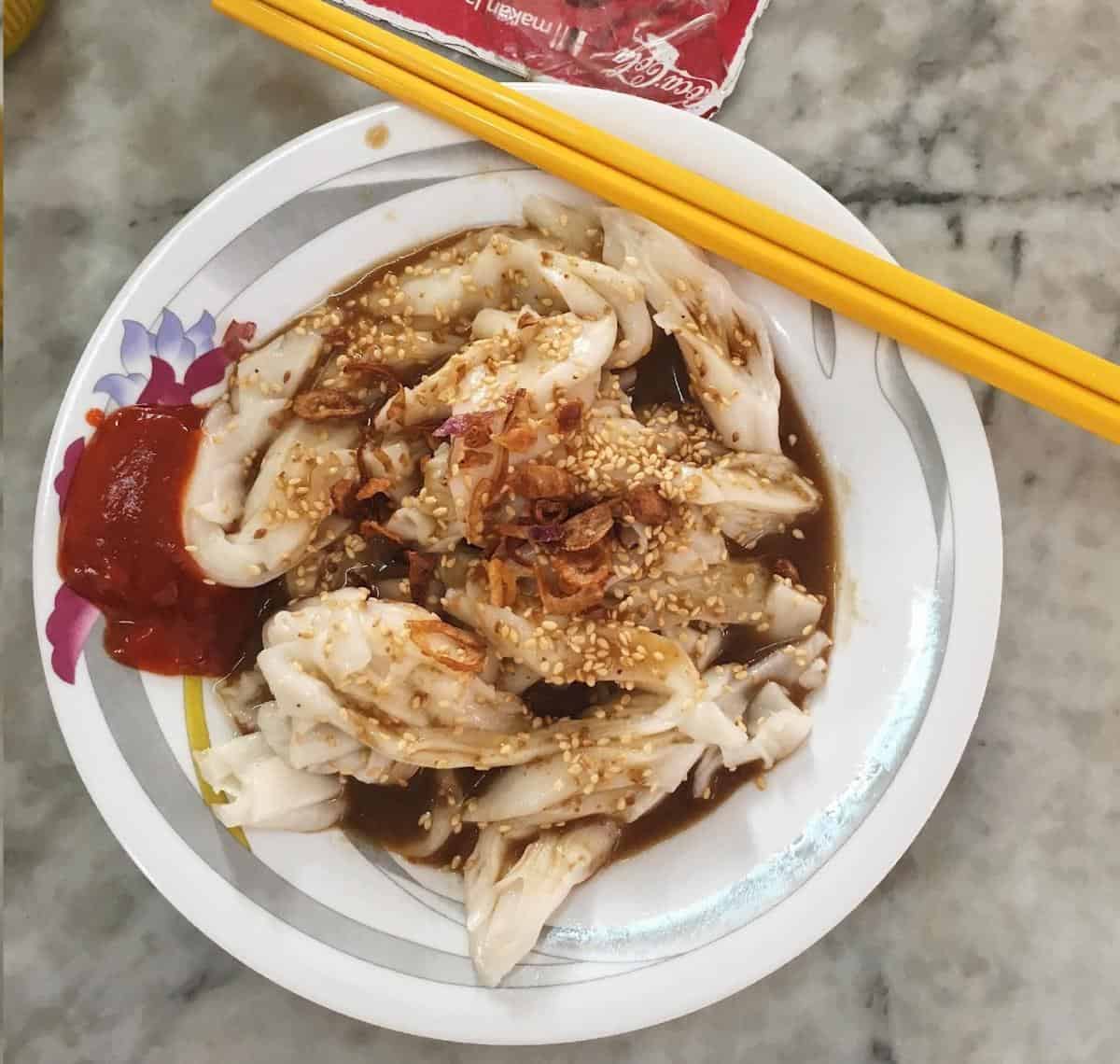 Joann Li
We walked in for the wanton mee, but ended up having much more. In this quaint coffeeshop, they also sell chee cheong fan and kaya toast as well. The chee cheong fan looked different from our usual HK Dim Sum which prompted us to order one while waiting for our noodles. Rich with gravy and sesame seeds with fried shallots toppings, it didn't have the usual charsiew or prawn fillings we are used to, yet it was tasty and flavourful.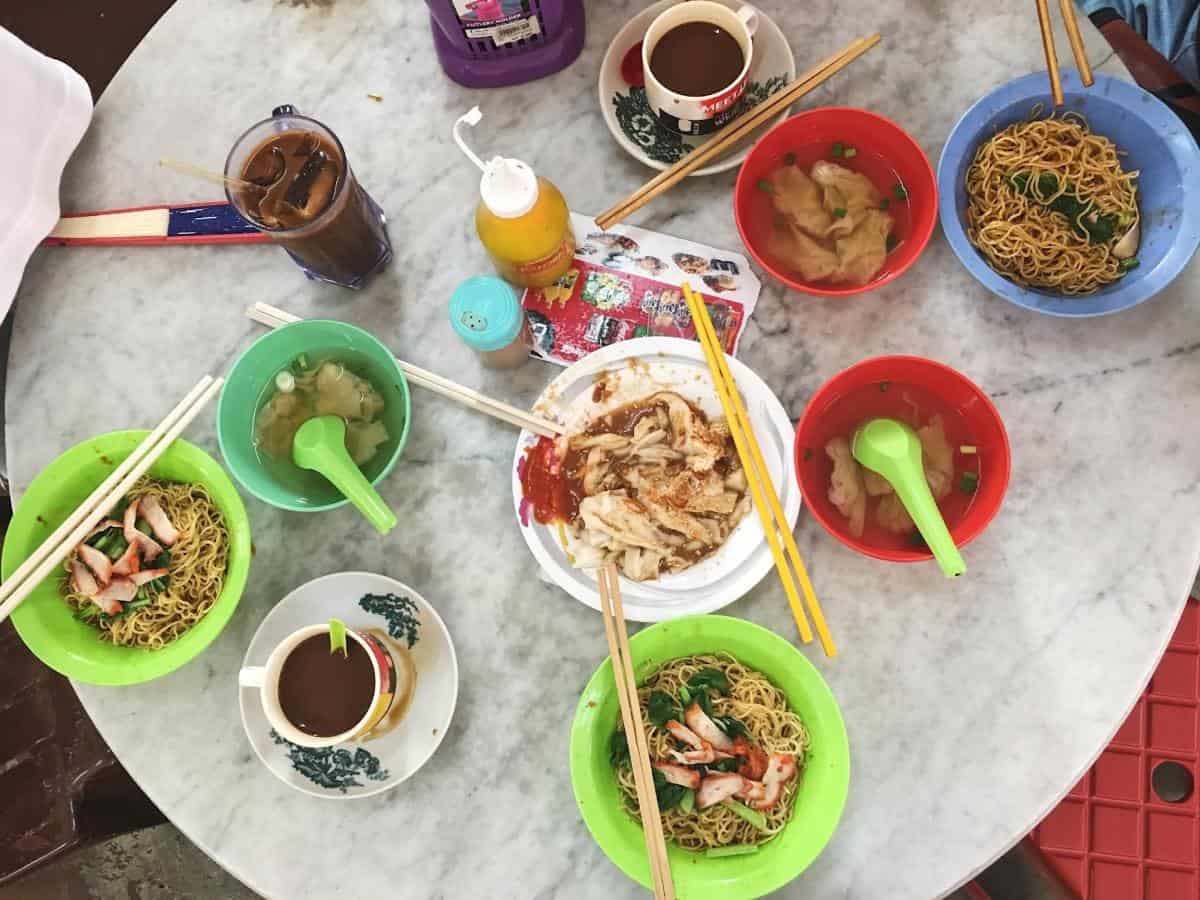 Joann Li
The wanton noodles were good! Noodles were springy with each bite and the chilli complemented the noodles very well. The wantons were tasty and packed with meat, just how we like it. The soup was lackluster as compared to the rest. We would recommend you to have the dry version instead of the soupy one so that you can experience the springiness of the noodles and its delightful combination with the chilli.
Address: 127 Jalan Hang Jebat, 75200 Malacca
Opening Hours: 7.30am to 11.30am daily.
4. Loh Yong Moh Restaurant for Dim Sum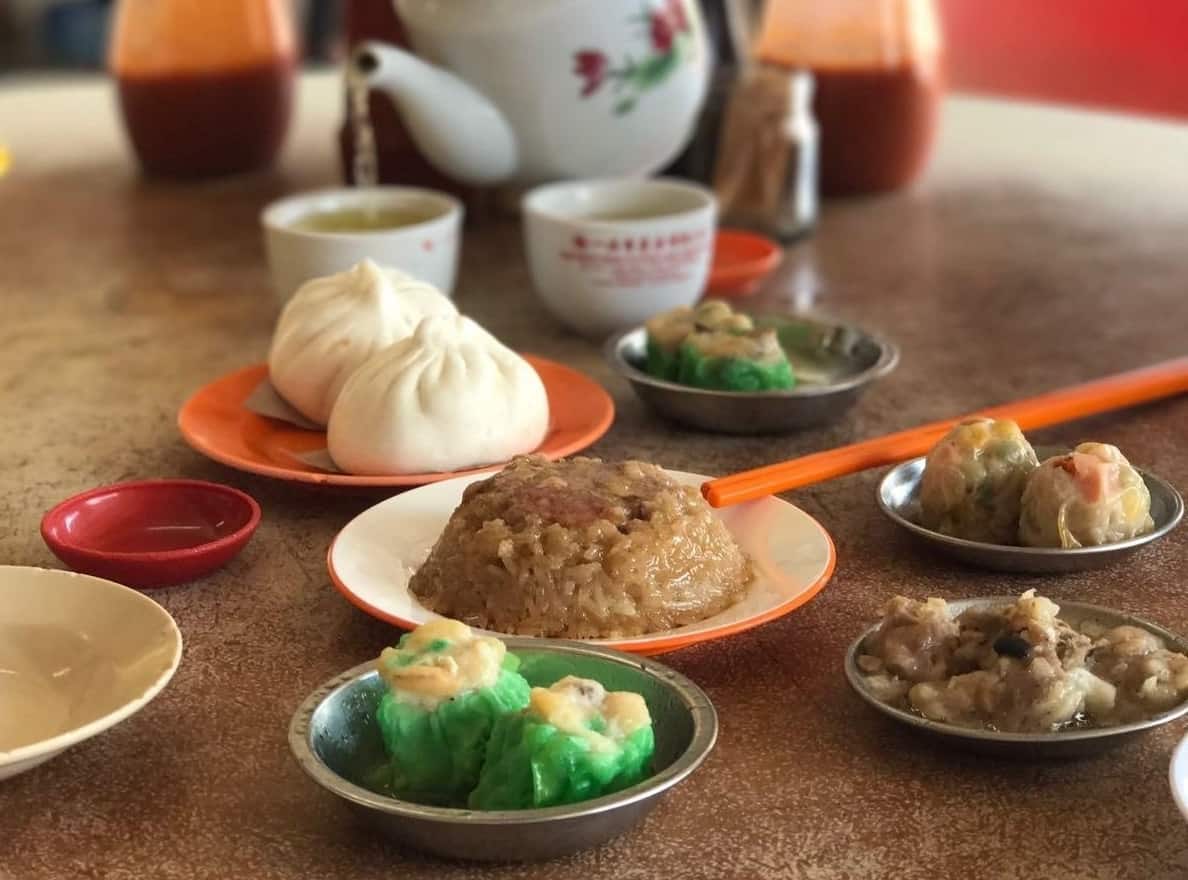 Joann Li
A non-descript kopitiam which houses good old dim sum, Loh Yong Moh has been around since post war 1947, making it one of the oldest restaurants in Melaka. We were ushered to a table and immediately asked for our drink order. A lady then came shortly after with a myriad of dim sums on a well-used and beaten metal tray for us to pick from. These dim sums were all served in cute small metal plates, and the whole dining experience totally switched on the nostalgic feels in us.
We love this place for the ambience and its Lor Mai Gai (chicken on glutinous rice) and Meat Bun. The Custard Buns were good as well.
Come here early though as most of their dim sums are sold out by late morning. If there is one tip we can impart, that is to skip or not order any hotel breakfasts, and come here instead.
Address: 32 Jalan Tukang Emas , 75200 Malacca
Tel: +60 6-2821235
Opening Hours: 5.30am to1pm daily. Closed on Tuesdays.
5. Restoran Tong Sheng for Cheese Prawn Beehoon

Joann Li
Come here for the Cheese Prawn Beehoon which you will not be able to find in Singapore at the moment. This dish is a heavenly marriage between the big succulent prawns and the cheesy gravy. The cheese did not come off as too cloying, and makes the gravy rich and flavourful. No such thing as too much cheese we say!
Restoran Tong Sheng is a famous tze char restaurant in Melaka, and all the other dishes we ordered did not disappoint. Try their Ginger Chicken Cubes – crispy chicken cubes coated with tangy ginger sauce – absolutely sedap! Their Pork Ribs were marinated and cooked to perfection too.
Be prepared to queue for at least 30 minutes (if you are lucky) though. This restaurant is a huge favourite with the locals! From Jonker Street, it is approximately a 30-minute walk away. You can also opt to come here by Uber which is about 5RM from Jonker Street.
Address: Jalan Melaka Raya 6, Taman Melaka Raya, 75000 Melaka, Malaysia
Tel: +60 6-286 7811
Opening Hours: Tue – Sun 17:30 – 23:00. Closed on Mondays.
We hope that your tummies will be satisfied with these recommendations, for ours surely are. In fact, we miss these food so much we are contemplating a trip back soon! Happy feasting!