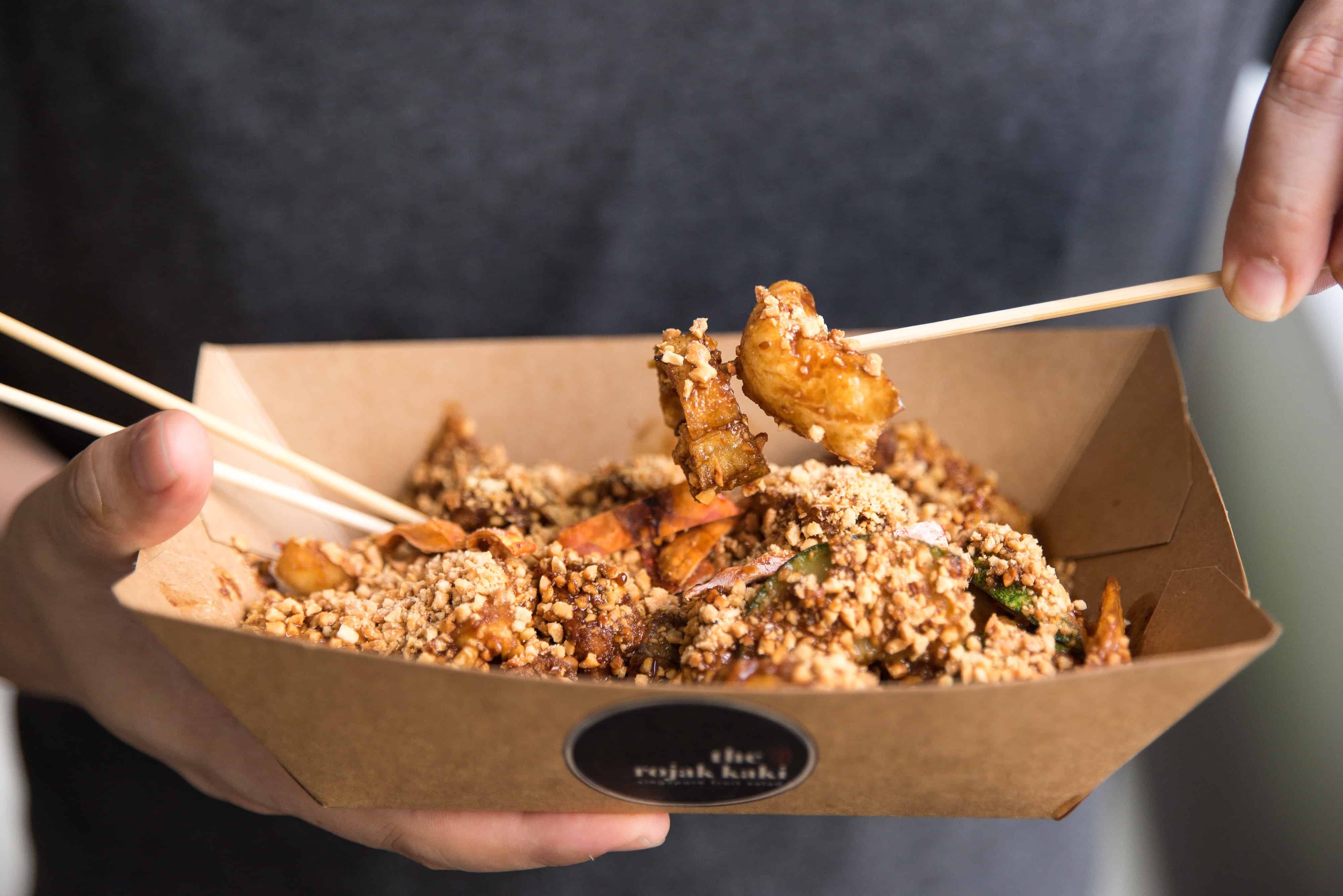 In less than a year since its inception, The Rojak Kaki has made waves with their creative spins on the all-time favourite salad dish, strategically choosing to find its home as a side-stall in the heartlands of Yishun over a large-scale outlet at hipster locations, no less.
Most of us are familiar with the traditional fruit salad that delights our taste buds with a perfect mix of sweet and spicy.
However, The Rojak Kaki sets itself apart from the old-school pack with a contemporary brand image, unique "takeaway box" packaging and alternative options for the health conscious – namely the Fruit and Vegetarian choices.
We spoke to the masterminds behind their modern-day concept to find out how they discovered their perfect mix of passion and practicality.
Better Together
Led by the married duo of Mr and Mrs Woo, the pair is enthusiastic about the creations they whip up, but remain reserved for the camera when asked for photos, instead preferring to steer focus to their mouth-watering boxes of delicacies.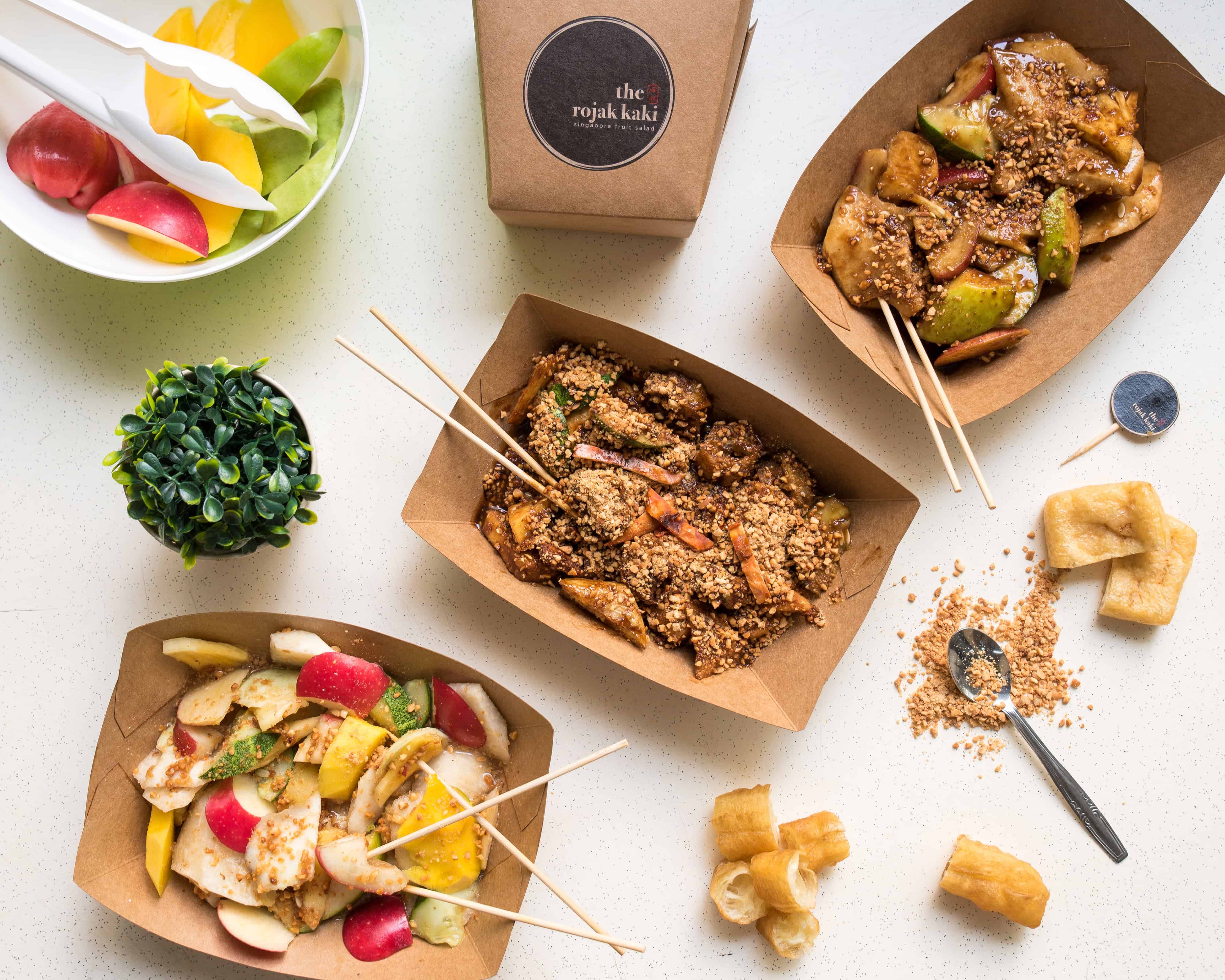 "Why rojak?" I asked them. The answer was simple for the self-proclaimed foodies.
"We are a big fan of rojak itself. My husband was a cook many moons back while I used to run a restaurant."
"That, combined with our love of rojak – we decided to set up The Rojak Kaki."
"I am an avid lover of arts and design, so that was where the packaging and décor came from. On the other hand, Mr. Woo is the creator of the unique paste and ingredients that go into our dishes," Mrs Woo quips.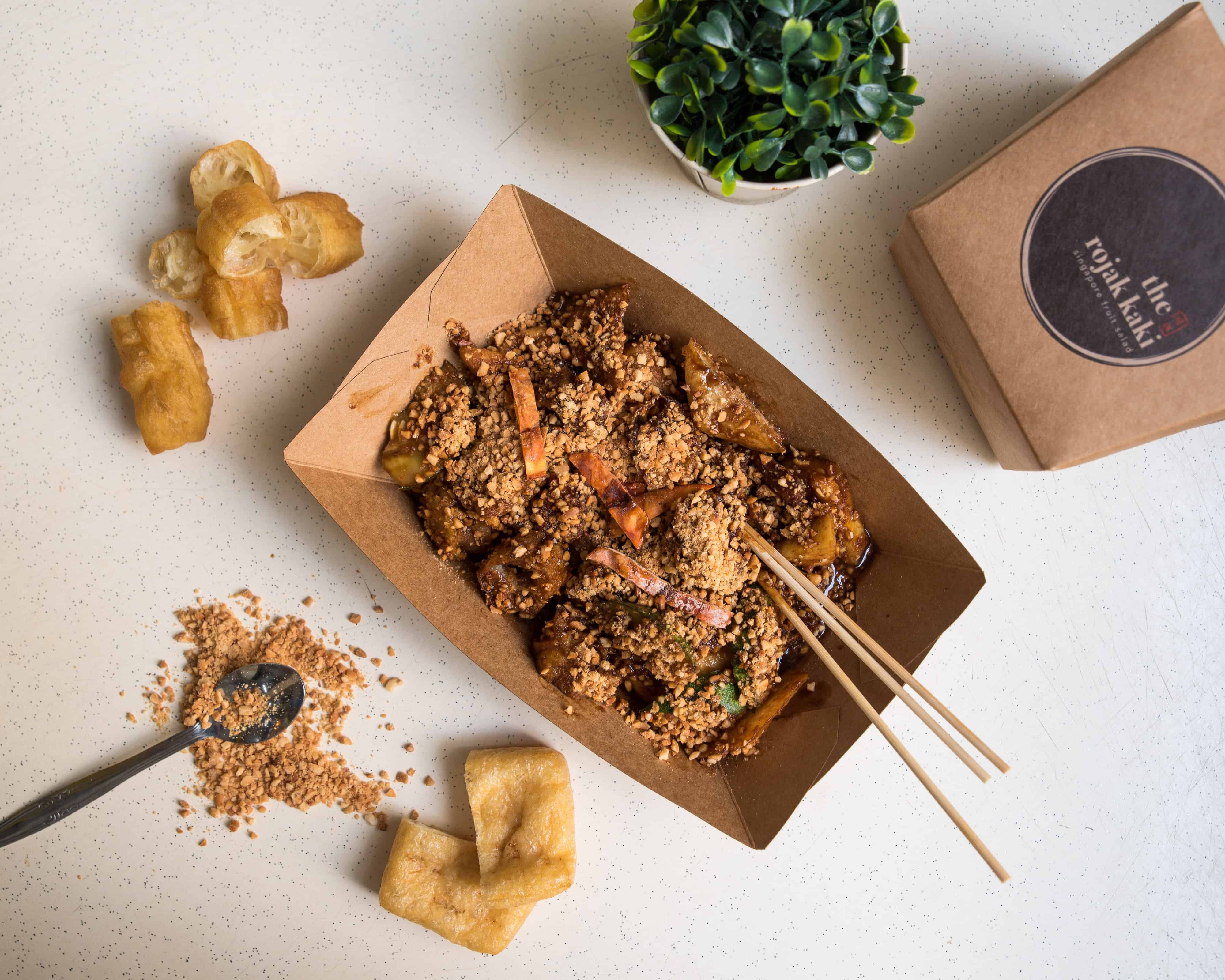 And while some couples swear by working separately to avoid potential disagreements and power struggles, this youthful twosome – who were both in the automobile industry together previously – embrace the opportunity instead.
"We are not only husband and wife, we are also best of friends. We click very well together and can collaborate well in all things. We just want to do everything together. Prior to The Rojak Kaki, we were colleagues too. So, we don't see a reason we shouldn't."
In fact, getting to work on what they love together has even taken their relationship to new heights.
Mrs Woo explains, "We are both strong and weak in different aspects but we complement and learn from each other very well", citing herself as the one with "attention to detail" while her husband focuses more on the accounts and big picture.
A Modern Take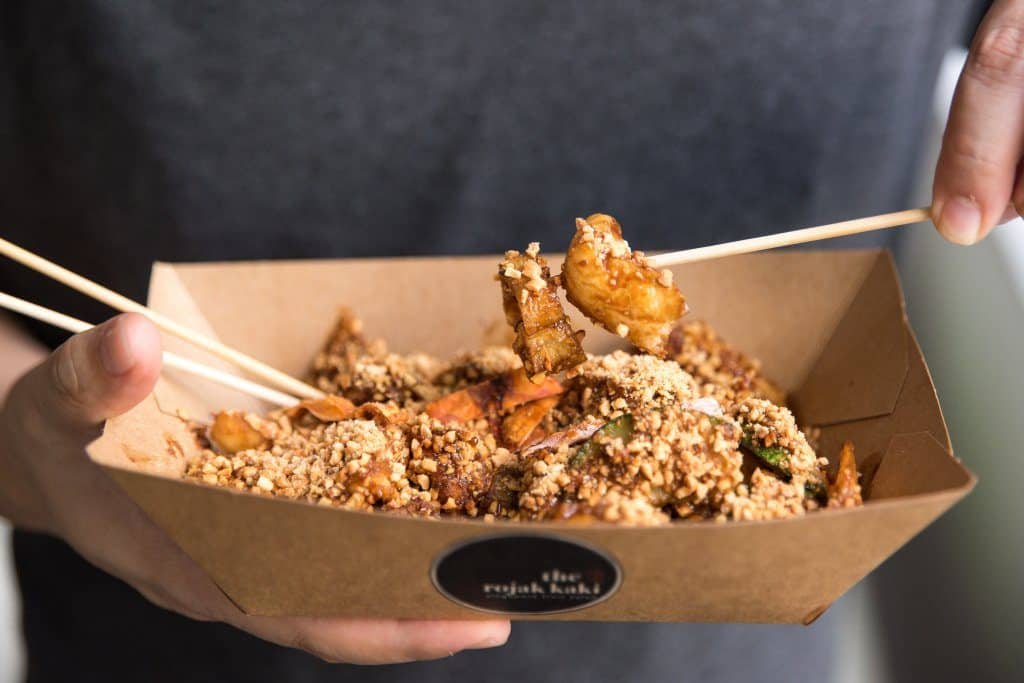 Perhaps the unique selling point is also the alternative rojak offerings they serve up – aligning with today's health-focussed conscious of society and opening up the dish to those that might have abstained from it previously.
"Before we launched, we took to heart a few requests, compliments and criticism."
"One of our family members does not eat rojak with prawn paste due to allergy issues, so we created the non-prawn paste version that is suitable for vegetarians and weight watchers."
This version consists of sour plum dressing and has no added sugar as they use pure honey instead.
For the Signature Fruit Rojak, they considered patrons who might not fancy You Tiao and Tau Pok.
"Therefore, our fruit version offers a variety of healthy replacements such as guavas, mangoes and both red and green apples. We put in a lot of thought for everything we make."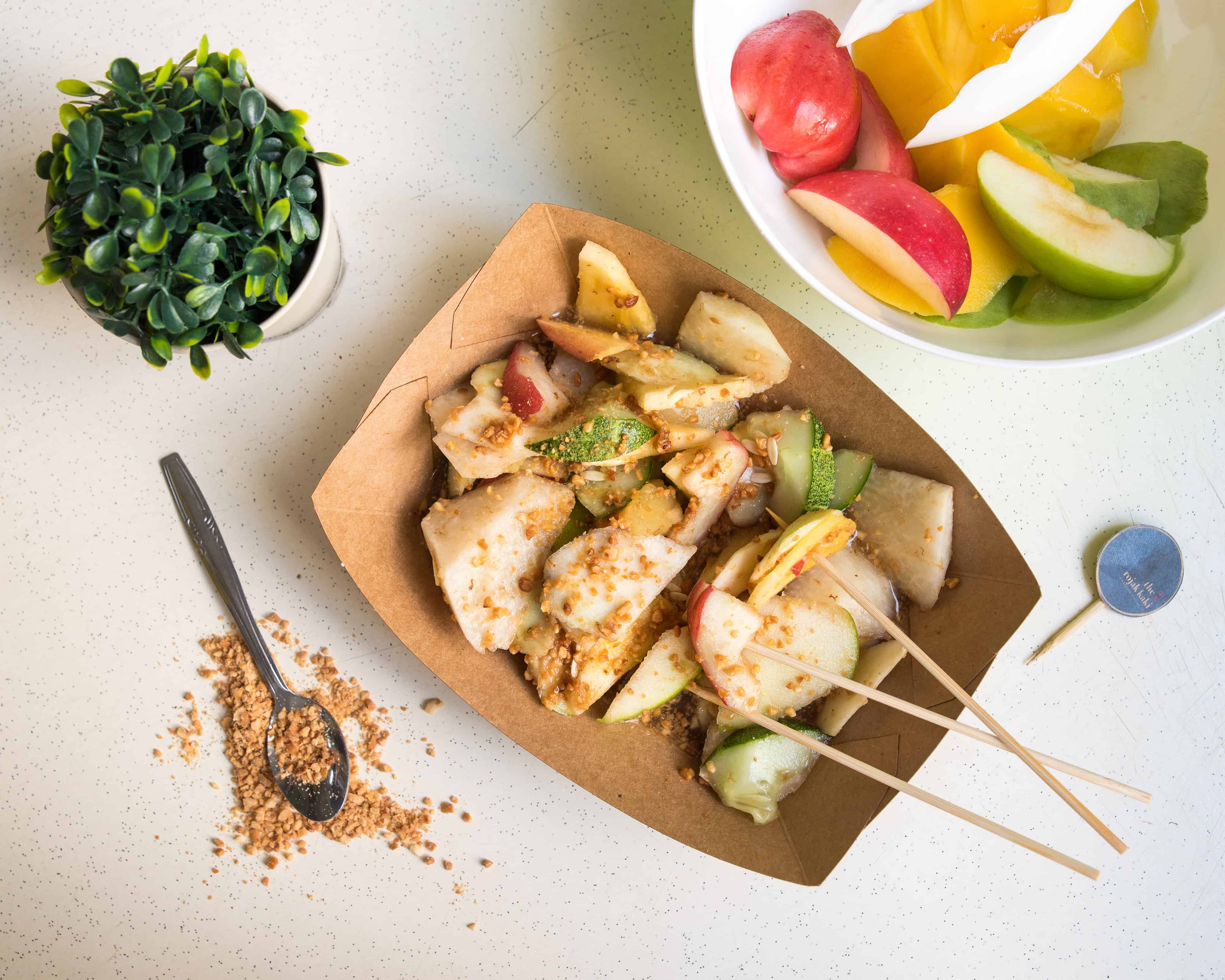 Their creative combinations have even seen the dynamic duo take their upstart to popularised flea markets such as Shine Festival and Night Festival.
It shouldn't come as a surprise then, that the stall has gained a following from the younger generation, alongside plenty curious elderly that are keeping an open mind to the modernisation of an old-school dish.
Overcoming The Odds
But it was not always smooth sailing for The Rojak Kaki either. The stall was first launched in Tanjong Pagar before moving to a humble coffee shop in Yishun, where it has picked up since.
Visit the space, and you'll bear witness to patrons opting to share a box as an after-dinner treat, or residents of the heartland area carrying a box on the way home.
Facing setbacks such as having to redesign their stall from scratch didn't stop the couple from prevailing and pursuing their dreams.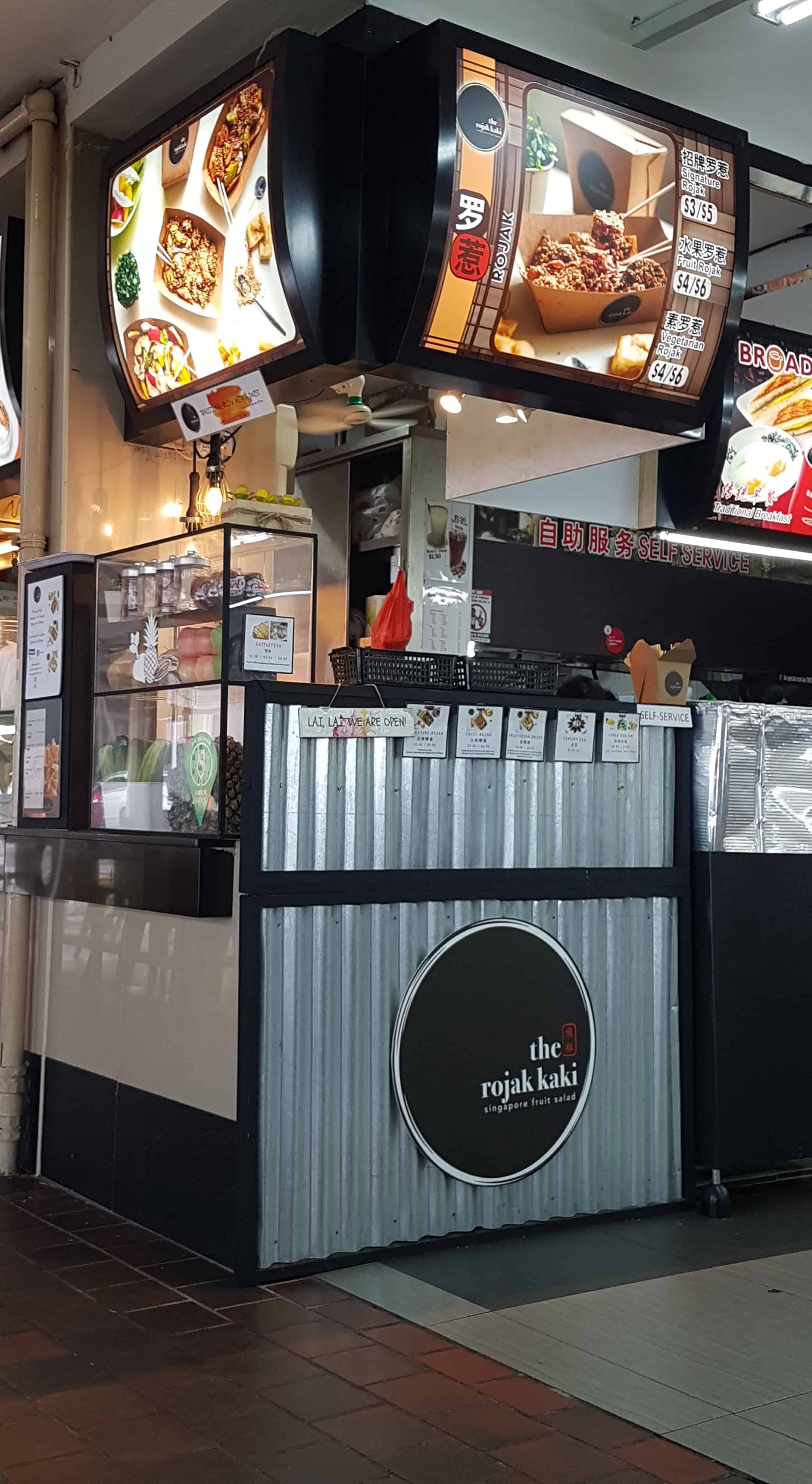 "One of the greatest challenges is the set-up of the décor, as we personally hand-crafted the design, and built them together with my brother Mark."
"We spent so much time sanding, painting, and treating the materials only to have our structure taken down within a day as it didn't meet the requirements of the premise."
Reaction to the venture from family and friends have been mixed too, with some "not taking the business seriously" in contrast to others who have been fully supportive.
But the Woos are taking it in their stride. "We always have a personal motto of "Nothing easy is memorable and nothing memorable is easy." Being optimistic and determined are one of the few things we both hold on to."
Planning Ahead
With 2018 off to a good start, it seems the only way The Rojak Kaki can go is up. Plans for expansion are in full gear, according to the couple.
"We don't see that rojak can be a stand-alone dish yet. Until we have other items added into our menu, then we will have a full outlet. But it is definitely in the pipelines! We actually have a clear for The Rojak Kaki."
She continues, "We are thinking of expansion definitely; that's ongoing at the moment. Moving forward, we are thinking of growing in the retail sector and perhaps even retailing in vending machines – why not? Everything is truly possible."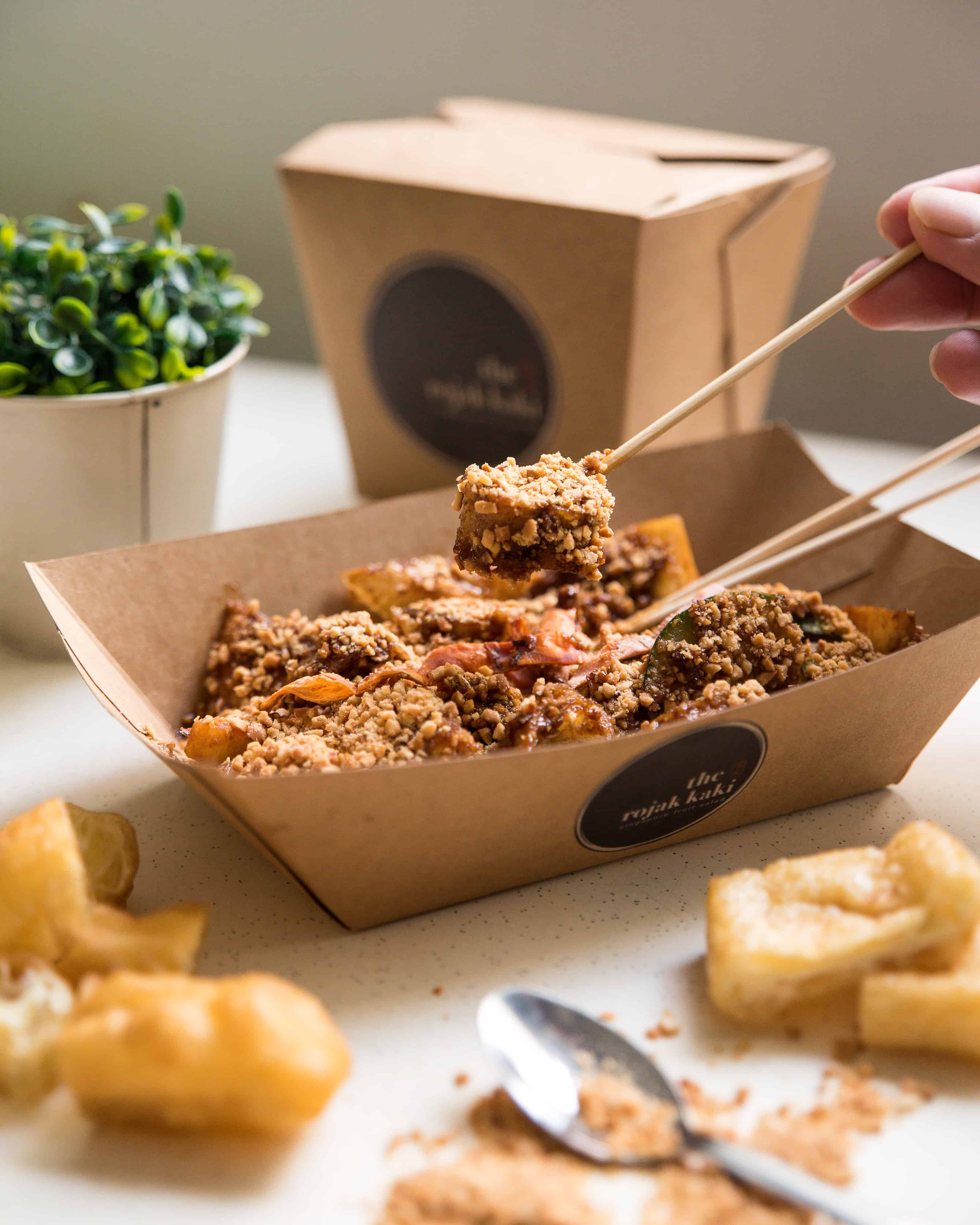 The couple's positive attitude is certainly infectious.
And while they claim the rojak paste is their favourite and an absolutely integral ingredient to their handmade offerings, it's other personal qualities that clearly contribute in making their brainchild a whopping success ­– ones that they readily share with fellow budding entrepreneurs.
"Our courage despite our fears, the strength to persevere through tough times we both share and rojak that truly taste good all play important parts to our efforts."
"Having patience, determination, courage and humility are just some qualities you can't go without in whatever you do. The right attitude brings you further than far."
The Rojak Kaki is located at:
Broadway, 848 Yishun Street 81,
Singapore 760848
To find out more about The Rojak Kaki, click here.