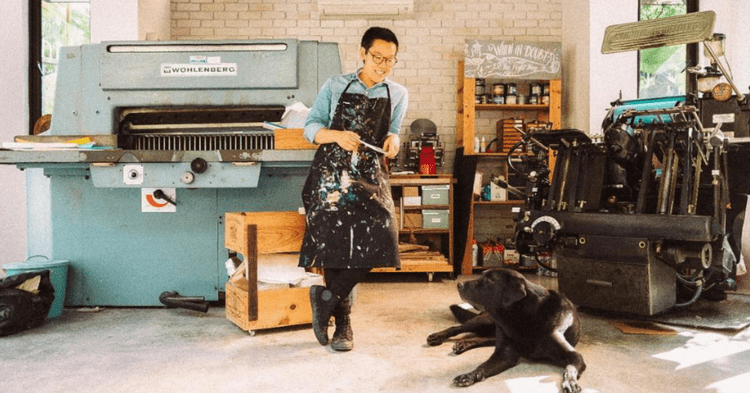 Meet Jackie – founder and owner of The Fingersmith Letterpress, a letterpress studio which has been operating out of a backyard since its beginnings in 2013.
I stumbled upon their work a few years ago while purchasing a gift for a friend – I wanted something with a local twist. Uninspired, I tried my luck with Google before chancing upon the brand.
I ended up purchasing the Things I Ate in Singapore and Things I Did in Singapore postcards. These also came lovingly packaged with a wax seal, and name card in the shape of a pointer finger – presumably a play of words on the studio's name.
Jackie, a graduate of Lasalle's image and communication degree programme, was introduced to letterpress printing during a lecture in her final year at school, where there was a short video on the subject.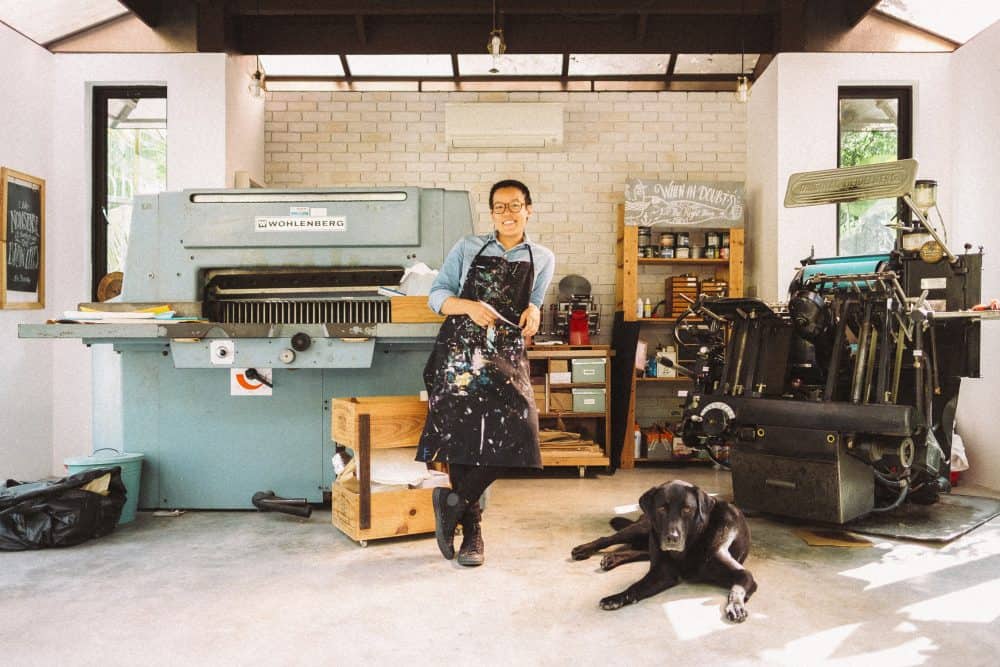 From there, as someone who "(enjoys) tinkering with old machines," Jackie's curiosity was sparked, and she desired to know more about the art of letterpress printing – a technique of relief printing on paper.
Quirky "Colleagues"
These days, Jackie accompanied by her studio dog, Sumo, spends her time with Thelma, Louise, Klaus, and Edward as she works in the studio – they are no ordinary "colleagues"; instead, these are the names of Jackie's letterpress machinery, all named after quirky characters that she loves.
Thelma and Louise are Jackie's Adana table top presses, named after the two very spunky ladies from Thelma and Louise, which Jackie considers as one of her favourite movies. Klaus, on the other hand, is a Heidelberg press, named after Klaus Heissler, the goldfish in "American Dad," whose satirical humour Jackie loves. Lastly, Edward is a gullotine, inspired by the movie Edward Scissorhands.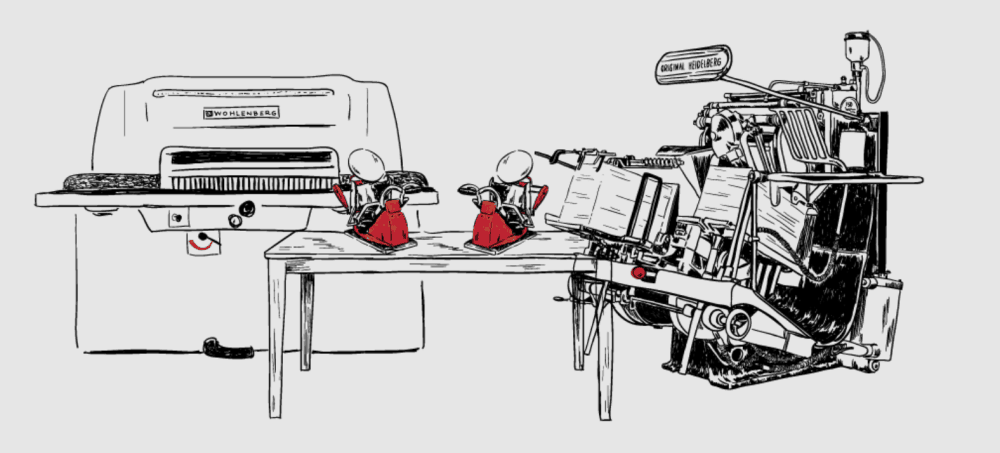 Traipsing her website, I realise that Jackie has included personified descriptions of these machines as though they are living beings – Klaus, for example, is described as "needing minimal restoration, (but) can still be a little reserved at times, choosing to clam up and refusing to print" – which leaves me both impressed and amused.
Working with these old "colleagues" and their quirks can be as fun as it is, nerve-wracking, owing to the quirks of each old machine.
"I would spend so much time tinkering and fixing it to find out what the problem is, but when (the prints) start printing smoothly, it is the most satisfying feeling ever."
Hence, for Jackie, she considers it her greatest challenge "when Klaus refuses to print," alongside the anxiety of not finishing the print job with a looming deadline. However, she also shares that these incidents have taught her to be "more patient in problem-solving."
While working with old machines has its unique charm, it also comes with its fair share of being misunderstood – for example, when price comparisons are made between the cost of letterpress printing compared to digital print.
"Sometimes, people do not understand the technicalities of the printing processes and tend to compare the prices of our prints to a digital one. Usually, we would explain the entire process of the print, from plate making, mixing the inks to ensure colour consistency and printing each colour separately.
Each step is integral in producing a piece of craft and it cannot be rushed," Jackie explains.
Gratification From A Shared Language
Although the journey of being a letterpress studio is not always easy, Jackie remains encouraged that she has been able to share her work with an overseas audience.
Jackie considers this project her biggest to date – creating as many destination postcards possible, and to have them stocked around the world. In fact, it's an ongoing project without any deadlines. In addition, carrying out this project also means Jackie travels the world for work – which she refers to as "one of the most adulting thing(s) you can say."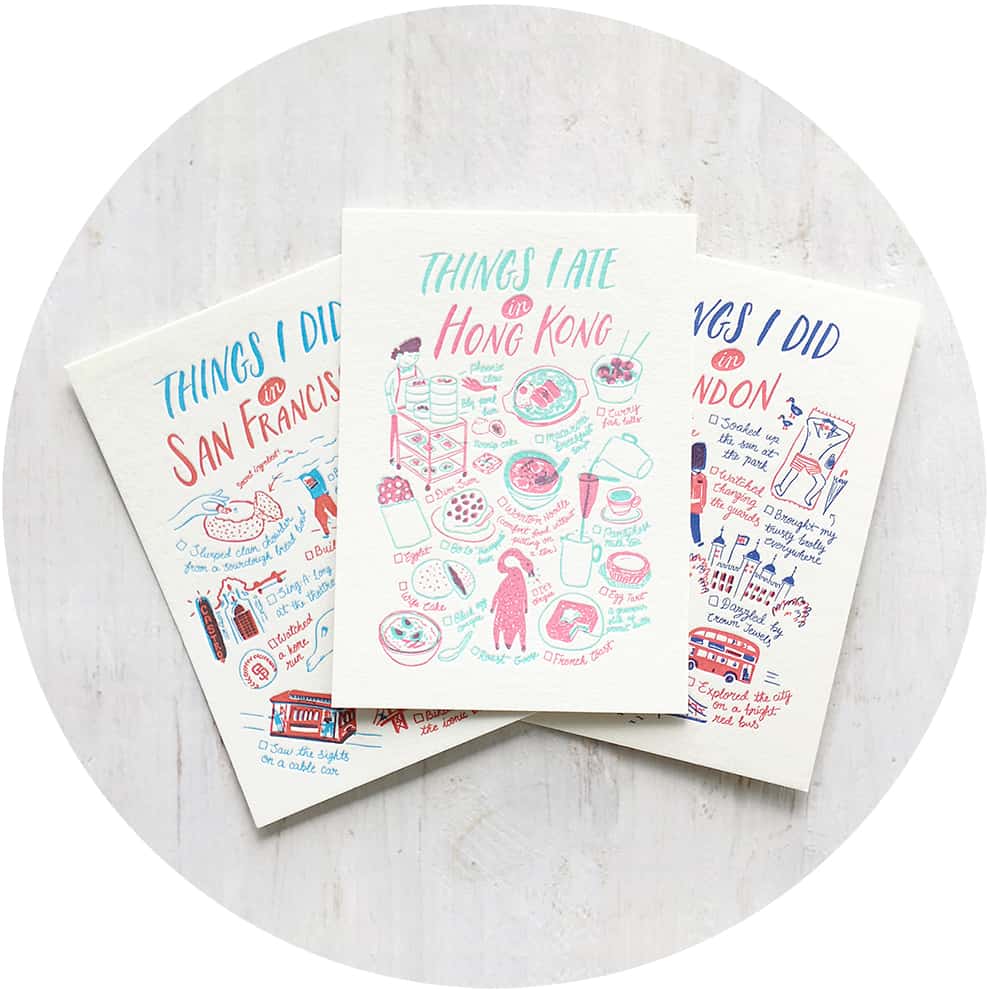 A quick glimpse on Instagram shows me that followers interested in keeping up with this adventure can do so via the #fingersmithtravels hashtag.
Jackie explains how sharing her work with overseas audiences is significant for her, as "there (have been) some instances where we do not speak the same language; however, the humour behind some of our works (have) acted as the unifying language."
In turn, this gives Jackie gratification for the work she does, and motivates her to continue creating more works. In this light, it is also Jackie's continuing goal for her business that she keeps producing more quality works.
Quoting American graphic designer Paula Scher, Jackie says: "I am driven by the hope that I haven't made my best work yet."
Evolution Of A Brand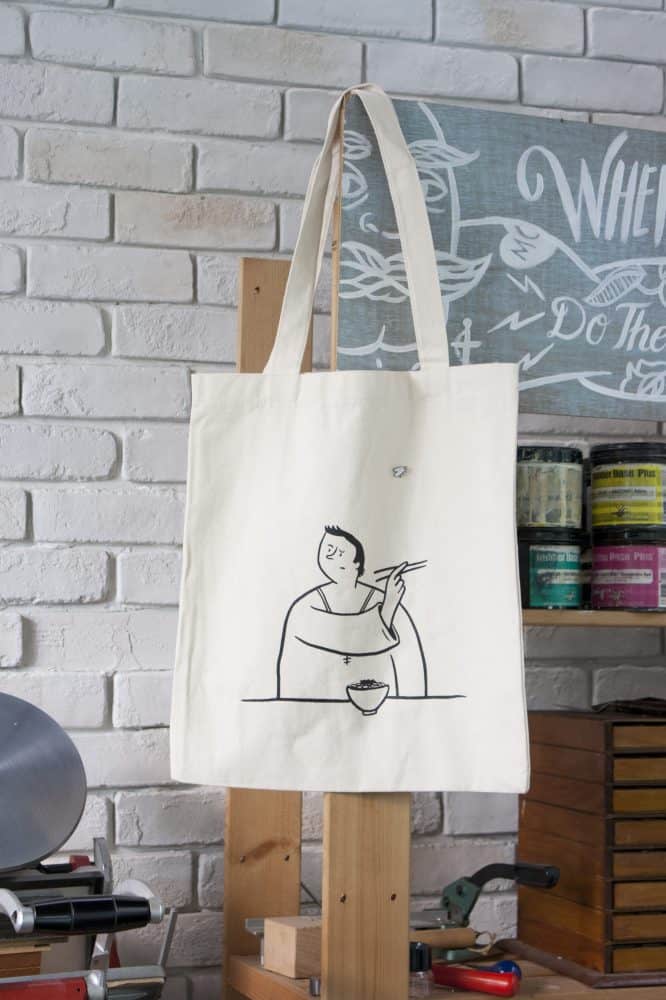 Though The Fingersmith Letterpress started off as a letterpress printer – printing name cards and wedding invitations – they have gradually evolved into taking more illustration works.
They also mostly print their own designs, which include the signature "Things I Did in _" travel postcard series that I had purchased. In addition, Jackie shares that the works of The Fingersmith Letterpress are stocked in various outlets in the city, including Naiise, Red Dot Design Museum, and the National Gallery.
The decision to extend their scope of work beyond letterpress and into illustration has been Jackie's goal from the start.
She shares, "We have been clear about our direction from day one – which was to be an illustration studio and not just a print house. Initially, we used to get a lot of enquiries for just printing services but increasingly, we have been establishing a reputation of being an illustrator and people have been seeking us out for these services."
Follow her adventures here.