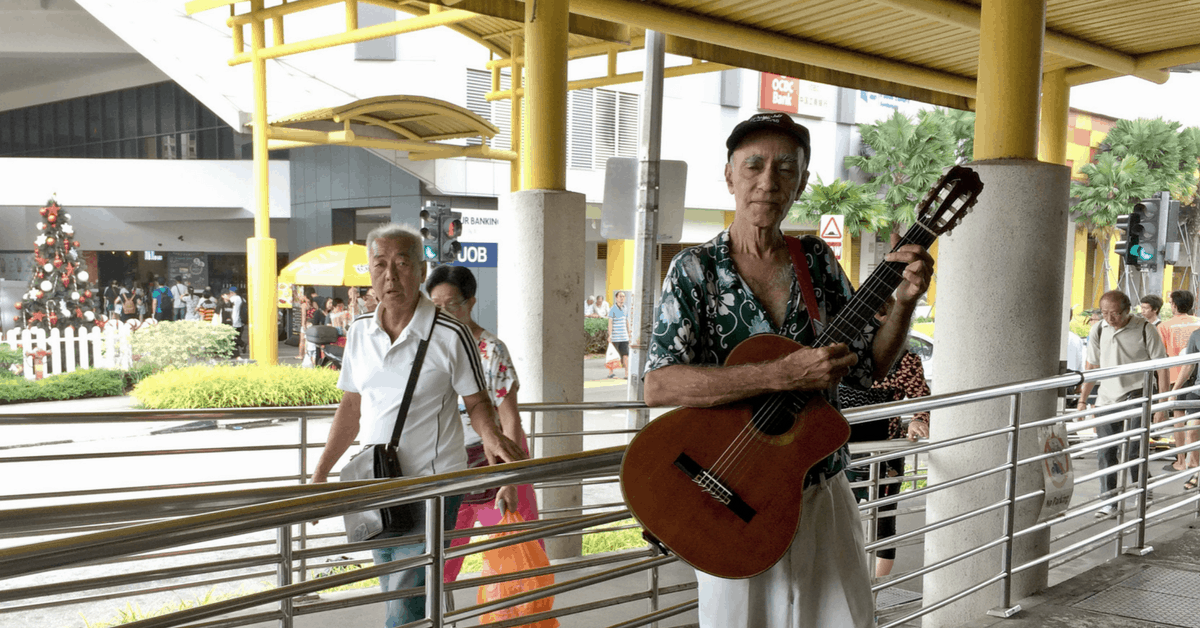 Don will be 66 years old this March and has been busking for 18 years in Singapore. He is the proud father of approximately 20 dogs and 30 cats, and is both a don and a king at the guitar. He provides private guitar lessons which have a limited availability due to a high number of requests.
Don is a strict vegetarian, a strong believer in the Lord, and doesn't fear death. These are just some of the qualities that I imagine Don would list in his life's CV if he had one.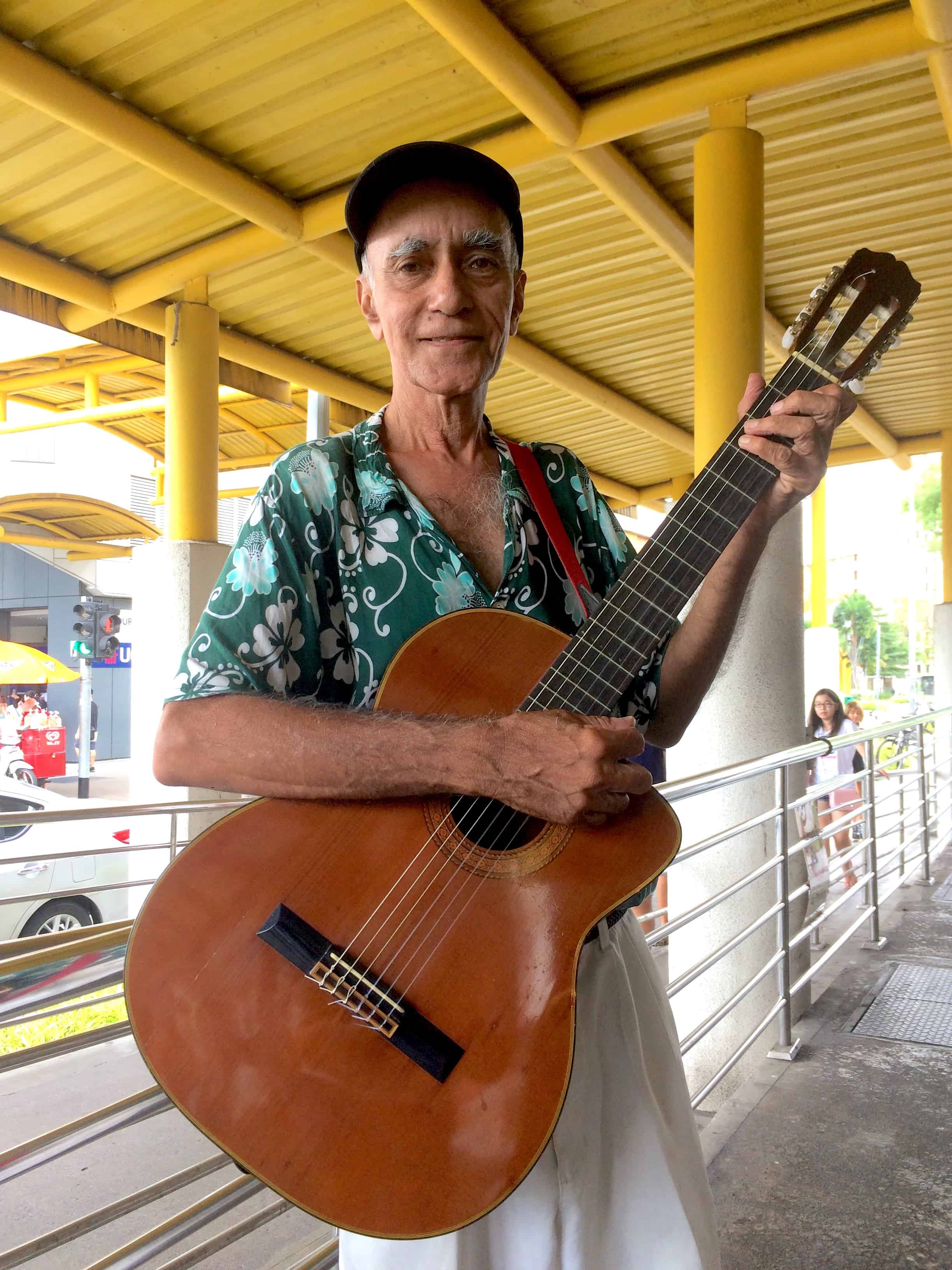 It seemed like fate that I was to meet Don – I was hoping to work on something related to music, but didn't want to painstakingly search online for an idea.
My answer stood by the railing near the entrance of my local MRT station, dressed in a Hawaiian themed shirt singing the Streets of London by John Denver.
He was incredibly thin and small framed – a sharp contrast to the voluptuous hourglass shape of the classic guitar that he gripped in his arms, and yet its coffee wood colour matched his skin tone so well that it looked like a mere extension of his body.
Don's performance conveyed his passion for his music, much like the young buskers I encountered overseas.
However, his aged eyes spoke of years of worries and therein they held great urgency as he looked searchingly at passer-by's trying to grab their attention, and hopefully a donation too.
Knowing Don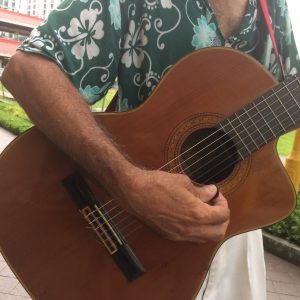 As Don shares with me his life story, I come to notice that most of his days end with a necessary trip to Johor Bahru ("JB"). I asked him what was the purpose of such regular trips; did he have family there?
He said, "yes, but not the kind of family you are thinking of."
"I have ten acres of land there for my dogs and cats – my family. It's my animal sanctuary".
Why would a man with financial  difficulties, especially someone of his age, trouble himself with running an animal sanctuary? What about the cost of feeding the animals? Maintenance?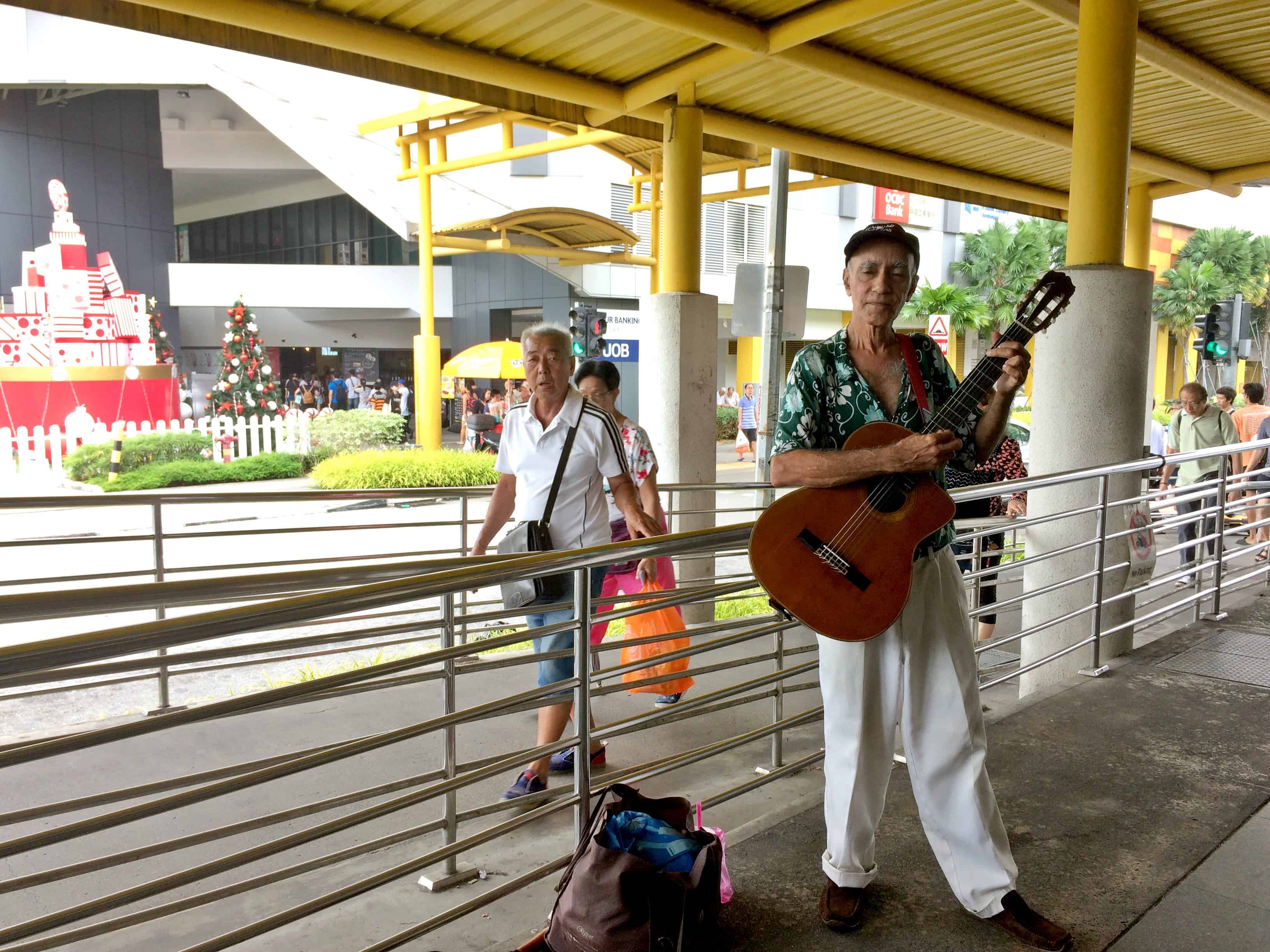 It seemed illogical and counterproductive – most people in financial difficulty would seek to 'trim the fat' in their life. Running an animal shelter would sit pretty high on that list of things to 'trim'.
When I asked just how important his sanctuary is to him, he said: "It's very important. I don't mind dying for what I am doing."
It became clear to me that this is Don's purpose in life.
Near Death Experiences
For fourteen years, Don single handedly ran his sanctuary.
He initially started out in Singapore – he came to own twenty cats in a small HDB flat. Due to space constraints, he moved out to a then jungle like Jurong West.
There, his family continued to expand until he ended up in Punggol with a total of eighteen dogs and thirty cats, which later made him decided to relocate to JB. His love for animals has made him a strict vegetarian and animal activist that he is today.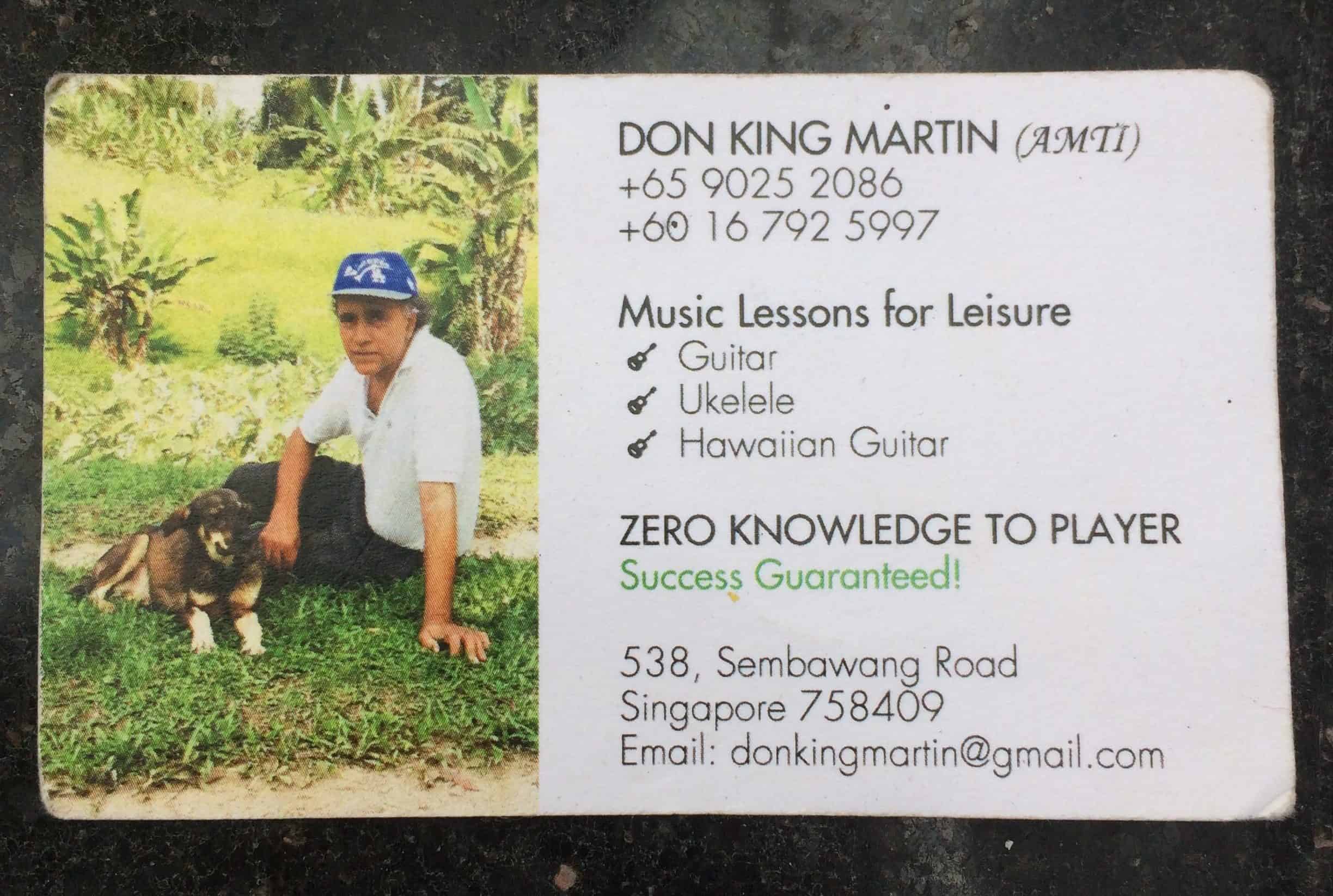 In his words, "I will not touch or eat meat, even if they give me one million dollars today. I will refuse it. I will be a vegetarian until the day I die. In fact, I almost died twice on my way to my farm."
Don recalls of an evening of his first near death experience After a long day of busking, he made his way into JB at approximately 9pm when the attack happened.
"A big sized guy asked me to stop – I didn't want to, so he started to beat me up. I was struggling but I couldn't break his hold. He dragged me into the jungle where he and another man continued to beat me relentlessly.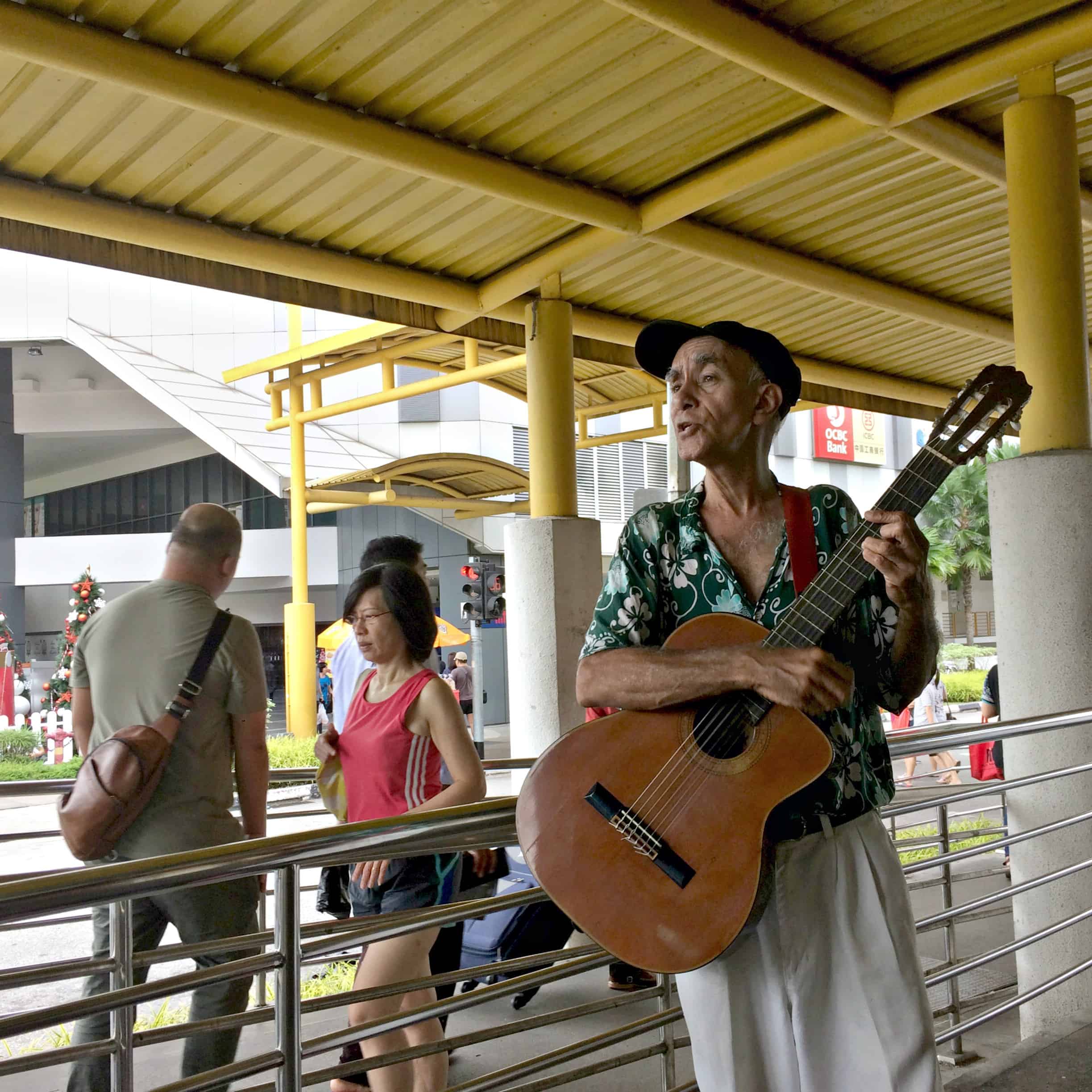 I said only one word during that time – 'Jesus'."
"He replied, 'bunuh' – you know what that means? Murder in Malay."
The attackers robbed Don of everything he had on him.
When Don regained consciousness, he found himself in a hospital with three broken bones and a hefty hospital bill. Without his wallet, money and no relatives to call to for help. Don had to beg from everyone in the hospital for the money.
This may have been the first, but it was not the last of his near death experiences.
Don continued, "The second time happened around two years ago. It was a similar situation, it was night-time and I was on my way into JB when the attack happened. This time they attacked me from behind with a parang".
Despite being brought to the brink of death time and time over, Don shows no fear and exclaims that nothing can get between him and taking care of his animals – not even death.
Don reveals that, "It was my faith in Christianity that got me through. I thank god I am still alive and that I will continue living to serve him and serve his animals."
He even confesses: "If I had to die tomorrow for my farm, so be it. I have done all that I could have done."
Finding Happiness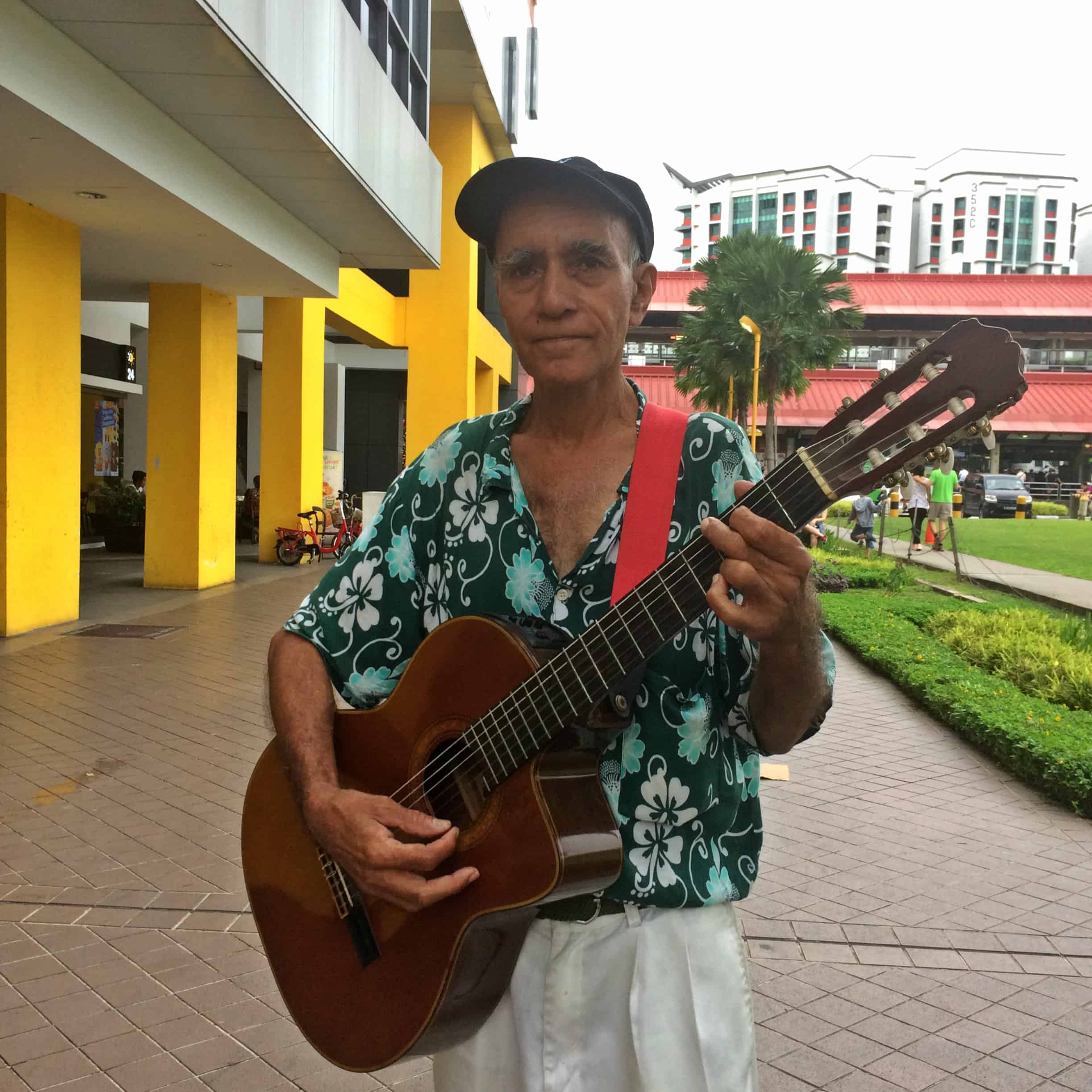 Don diligently spends around seven to eight hours most days a week diligently busking at various locations in order to raise the funds required for maintaining his farm.
For Don, busking is a "real necessity". He adds, "there is a rope around my neck and I'm standing on a platform. That's how bad it is for me."
Despite how real the consequences are for Don, he still manages to find happiness when he is performing.
This stems from playing songs that he likes and not songs that are popular.
Don exclaims, as a matter of fact, that "People hear all these songs in clubs and on the radio", and frankly, its "Boring".  On the other hand, "They don't get to hear the type of music that im playing for them."
That is why Don insists on playing his music.
"I don't go for the latest songs. What I like to sing, I sing – and I like to sing old songs".
Don believes that playing old songs have a better chance of touching his audience, and this rings true.
"People stop to tell me that they love the old songs and that they don't hear them around anymore." To Don, an appreciation for his music is most rewarding.
Don's eyes soften as he places his hands on his heart when he tells me of a girl who gave him a note during one of his performances.
It contained a 50cent coin and a message that read, "People like you are the ones that bring joy to people through art! You're amazing!"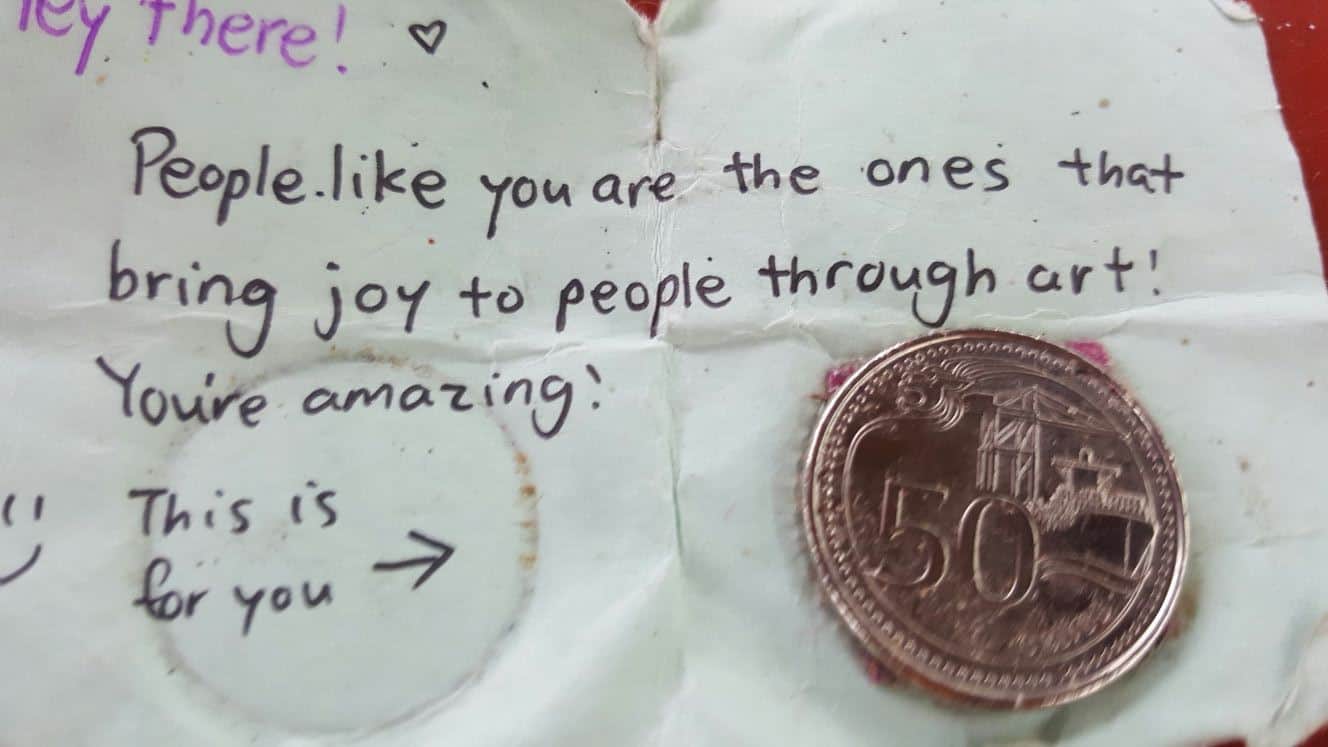 Amazingly, Don carries this note around till today. He raises it up to catch the sunlight as he says, "I am happy that I can make them happy".
A busker is a free spirit – with no needs for a stage to perform on, no restrictions to any set time, location, genre of music or list of songs. He does not need a manager or a record label for his task is simple – to bring music to public spaces.
He might perform to a group of people, or none at all.
A busker comes and goes, as one leaves his post another is sure to take up his position and continue the life of entertainment.
You can catch Don busking at Jurong East,Bukit Batok, Woodlands and all the way through to Bishan.