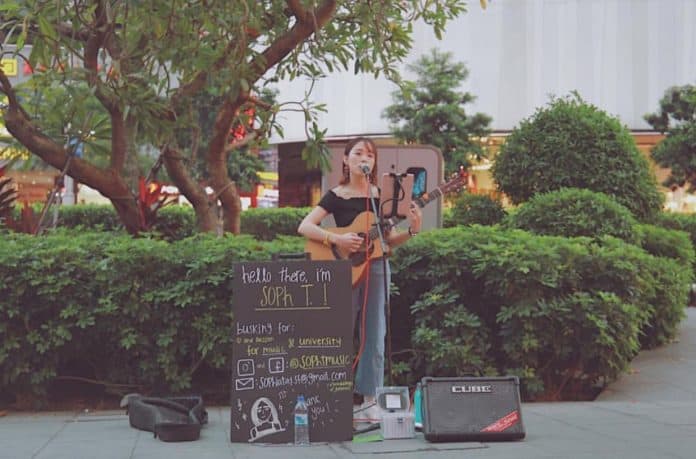 This is the first of our three part series, Busking in Singapore, where we explore the stories behind the voices we often hear but may take for granted. 
Buskers have been a part of my life since I moved to Singapore almost two years ago. From Tampines to Sentosa – I have chanced upon some extremely talented musicians on the streets here.
Buskers are an integral part of the cultural and social landscape of Singapore.
My first encounter happened while I was walking towards Somerset MRT on Christmas Eve last year. I realised there was a small crowd in the open space right next to the traffic light. Curious, I made my way through the crowd, and heard a melodious voice.
A young girl, holding a guitar that seemed huge against her petite body stood there singing with her eyes closed. The blackboard standing next to her said "hello there, I'm Soph. T".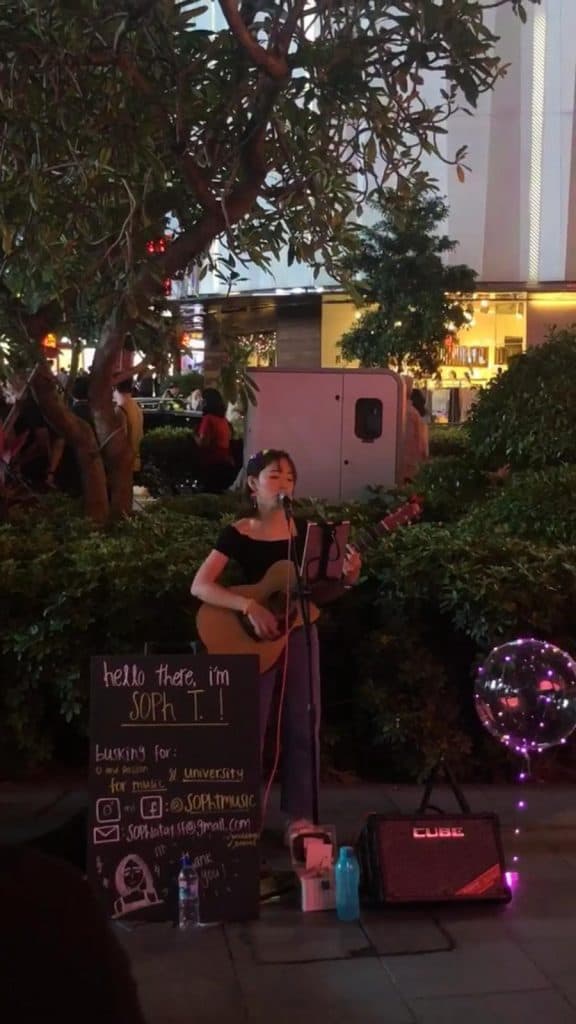 Soph inspired and intrigued me to do a series about buskers in Singapore. As I watched her singing with such passion and confidence, I knew I had to know her story. Thankfully, she agreed to have a cup of coffee with me.
The Beginning
Soph is 22 years old, a dog parent to Cupcake, and a passionate musician. In fact, she's even skipped internships because she was more inclined towards the arts. When Soph is not indulging in music, she helps her parents by managing their online business on Carousell.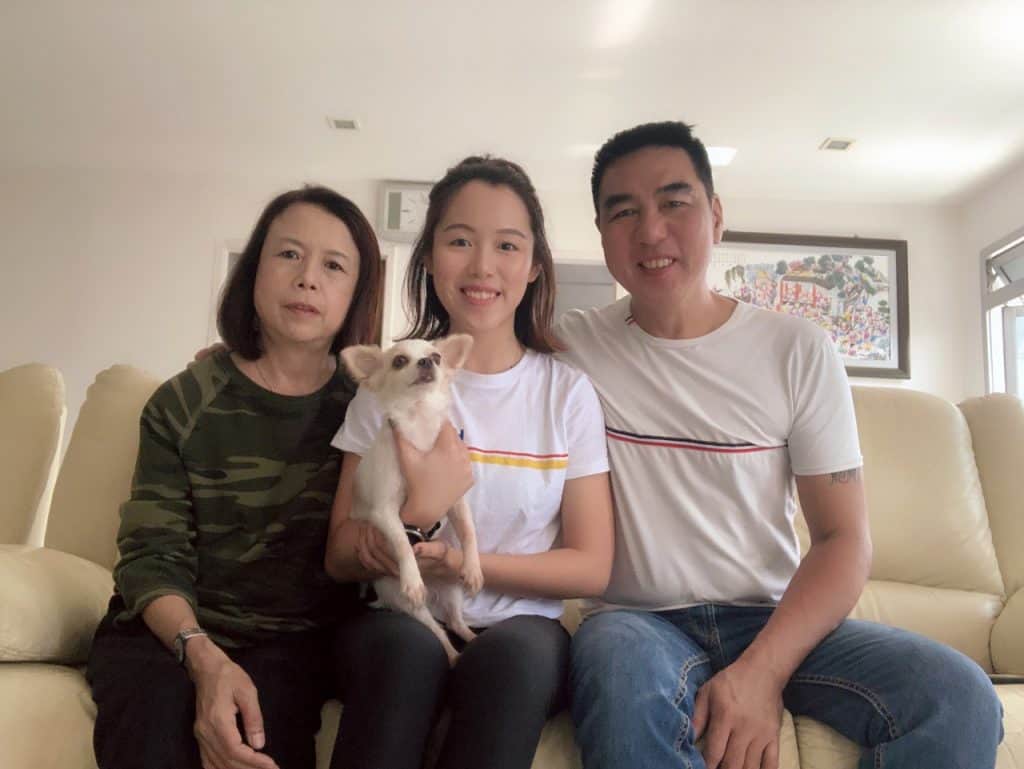 Soph's journey began when she was barely 4 to 5-years-old. Her Dad had brought home a Zhong Guo Wa Wa CD – one of the catchy tracks from the CD caught her attention, she learnt it and started singing it all the time.
As Soph grew up, she went on to navigate other interests like sports, playing badminton and even going on to become the vice-captain of the team.
Unfortunately, fate ruled out sports when Soph had a spinal injury, and her passion for music was rekindled.
From School Choirs To Busking
Soph's first public performance was at a family gathering at her Grandma's during CNY.
"My uncle installed this huge TV and a mini Karaoke where I sang with cousins," she remembers. Eventually, Soph joined the school choir as a soprano, becoming the student conductor of the choir in polytechnic, and also performing in musicals as main cast and soloist.
She then decided to take her career to the next level by forming a band. "I was confident about my guitar skills by then and I easily found the second member of the band."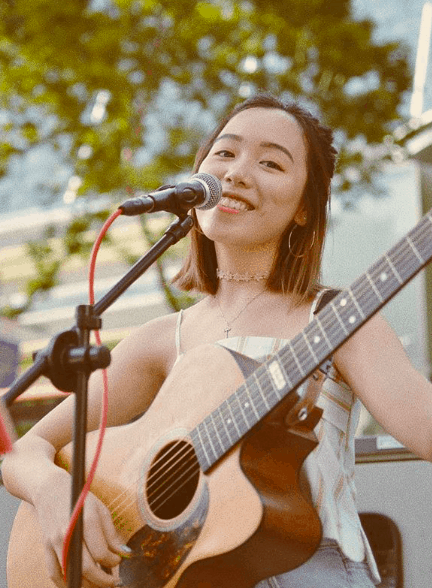 After acquiring the endorsement card for busking, Soph's first gig was with her band-mate. Her band-mate was a cabin crew and was always working, so the band was dismantled after a year.
In May 2017, Soph went solo busking for the first time at Somerset and has never looked back since.
"Busking is singing, writing, performing and engaging. You have to be ready for everything – it might rain, people might not stop, some people might stop but leave immediately and sometimes everything might turn out to be all sunshine and applauds! The key is to keep going."
The Process
Soph started getting hired for various gigs, even winning the Starker Jam 2018 competition during the Starker Music Carnival. As a winner of the jam, she has signed a management deal with an independent label and her first single is due to release this May.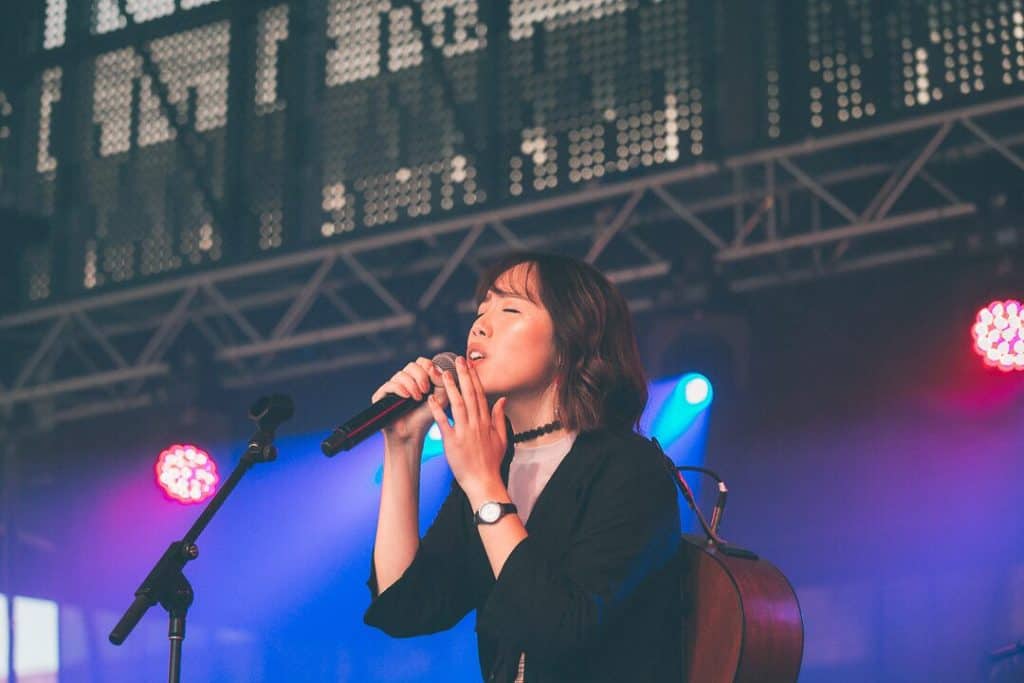 At 22, Soph is a successful musician who writes, composes, performs gigs and is now all set for her first big break. When I ask her about her writing process, she opens up.
"I need my comfy t-shirt, pyjamas and keyboard. I first get the melody, it comes to me naturally, and then after recording a voice memo, I work on the lyrics."
While Soph has had an inspiring journey, she has also had her share of struggle.
She identifies herself as a workaholic. She went through a phase of depression a few years back. With the right clinical help and support from her parents, she overcame it and got better.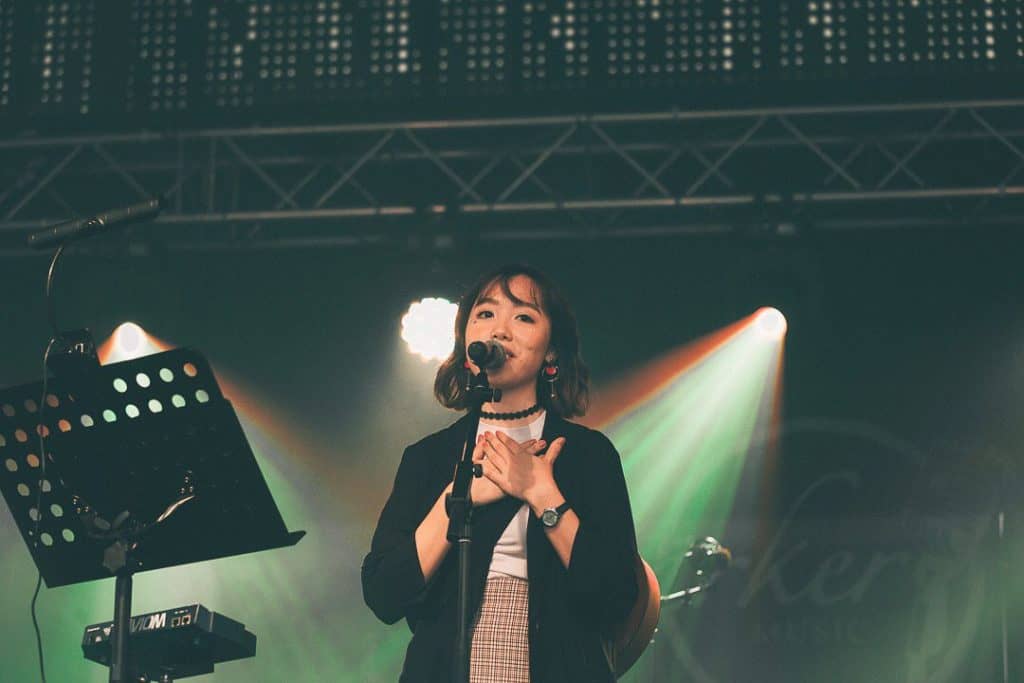 Even as a busker, Soph has had mixed experiences. She fondly remembers when a guy once approached her while she was performing near Ngee Ann City in Orchard. He was planning to propose to his girlfriend and had wanted Soph to sing a love song for them.
She agreed and suddenly found herself surrounded by heart-shaped balloons and flowers. It was like a scene from a movie – Soph singing, the guy proposing and the girl bursting into tears while accepting the proposal!
This is among Soph's most cherished memories from busking in Singapore.
When I ask her about any unpleasant memory, she laughs and says, "actually, there's a recent one." A group of drunk boys had started screaming and hooting while she was performing. She kept her grace and ignored them; they went away when they did not get much attention.
"That's all you can do," she says.
To Aspiring Buskers In Singapore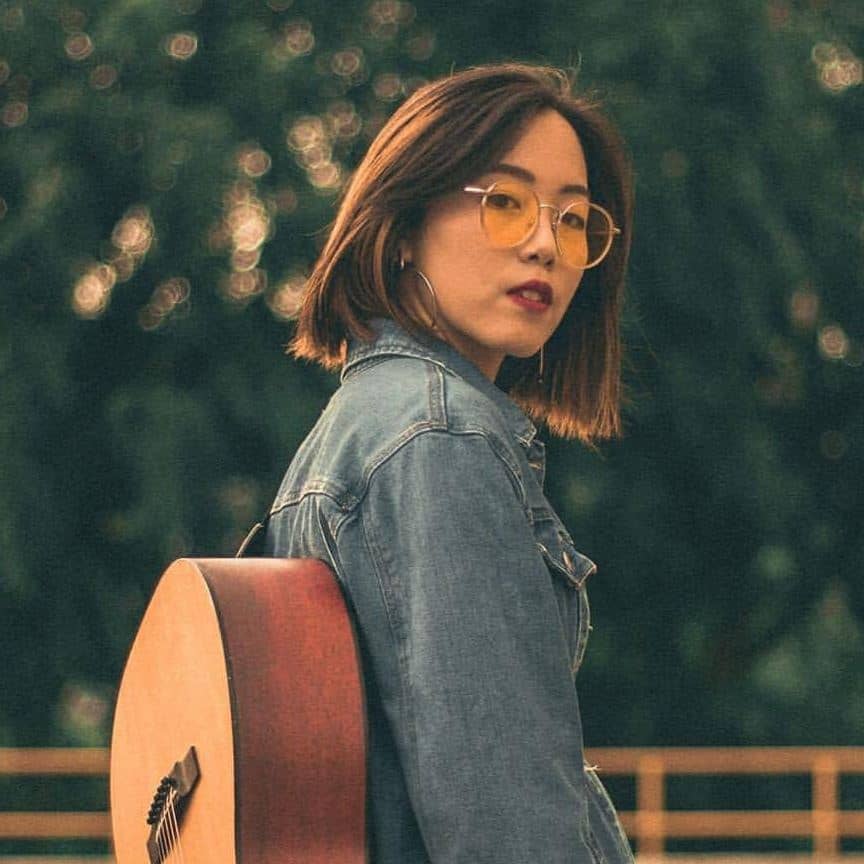 The biggest validation for Soph as a busker has been when people pause just to listen to her. Her message to all buskers out there is to keep pursuing it if they really want to make a career in music – to try and go to open mics as much as possible.
Of course, social media presence is necessary while keeping one's personal and public accounts separate.
From her experiences, she shares one secret tip – check the weather app on the day of performance and always be ready with plastic covers for equipment and umbrella for sudden weather changes. She says busking makes artists physically and mentally strong.
To know more about her, follow her on IG and FB.