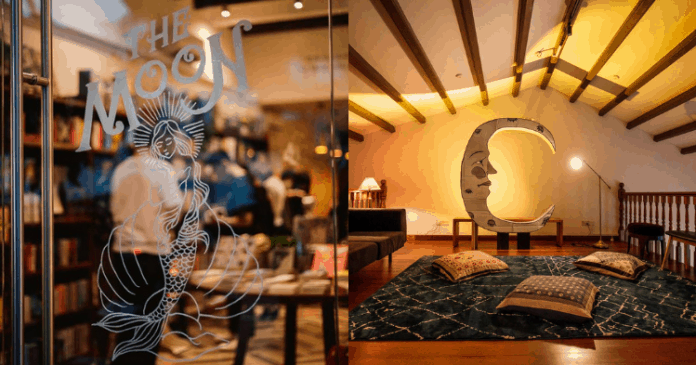 The Moon, a cosy book nook located on Mosque Street in Chinatown, focuses on elevating female writers and people of colour – and their collection of books is curated with these aims in mind.
Given that our society today is one where people are persecuted for their differences, they believe in the importance of safe spaces that celebrate – not limit – the value of diversity.
In view of this, not only is their commitment to inclusivity demonstrated in their selection of books but also their menu options – these are designed to accommodate all dietary restrictions and choices.
Having had the chance to visit the whimsical cafe since then, I also managed to secure an interview with Isabella, their assistant store manager.
A Voice For The Overlooked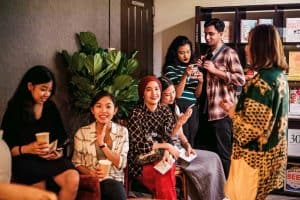 Growing up as a "brown woman", Isabella hardly saw women like herself celebrated or highlighted. As an avid reader, most books Isabella read were written by white women and white men. This meant that much of what Isabella read were stories that had happened in places she had not been to, and of characters she could not relate to.
With an establishment like The Moon being set up, Isabella was drawn to work there, given its focus on selling the works of women writers and people of colour.
"We need places like this because in our day and age, there will always be people – and more specifically, women – like me who could never find themselves represented in the things that they love," she explains.
Experiences And Community Triumph Over Challenges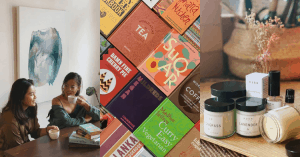 The Moon – which celebrates its first anniversary in September – has been set up in an age where publishing and the print media industry is shrinking amidst the rise of social media and other related online platforms.
Despite the increasing decline of the publishing industry over the last couple of years – from the closure of the TODAY print edition to the closures of bookstores like Booktique, Kinokuniya at Liang Court, and now, the MPH brand of stores – Isabella remains undaunted by the potential challenges the store may face.
"Every business and industry has its obstacles; however, I truly believe in the importance of experiences and community," she says.
Isabella believes in the need for spaces that foster deeper connections, beyond the transactional nature of the retail industry. To this end, The Moon structures itself as a three-part business – retail, cafe, and events – which allows them to create opportunities for various types of customers to have reasons to keep going back!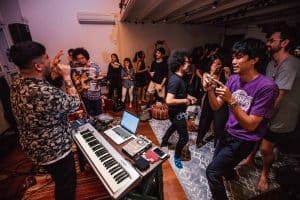 As part of a two-storey shophouse, the upper floor of The Moon is used as an event space.
Recently, they've hosted a cat adoption drive which was a collaborative effort with the community-based cat rescue group, Love Kuching Project. This fundraiser and pop-up also marked the 10th anniversary of the Love Kuching Project.
Additionally, they've also hosted Queer Central – a fundraiser event for the LGBTQ+ community featuring speakers, performers, and poets from the community, as well as an art market.
"We provided the space for our queer friends, and it was nice to see the community gather to celebrate love," says Isabella.
Hygge As A Way Of Life
Apart from its focus on women writers and writers of colour, The Moon is also designed to embody the essence of hygge (pronounced "hoo-ga"), a Danish concept that is meant as a way of life.
While hygge cannot be translated into a single word, in essence, it refers to creating environments and moods that make individuals feel comfortable and cozy, such that customers will want to keep revisiting the space, over and over again.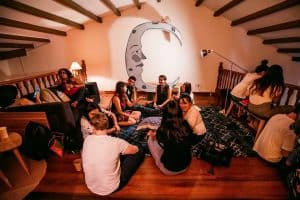 Isabella shares that her boss has always enjoyed creating moments for herself and the people in her life – The Moon is another attempt to create more of such moments to share.
If you're like me, hygge can seem like an ideal stab at wishful thinking, never to be materialized in the fast-paced, achievement-driven Singaporean environment. Isabella, however, describes the significance of embodying hygge in the household.
"It's important that the place where you go home to is a place that makes you feel comfortable and cosy. That way, it'll be easier for you to lay down your troubles and work," she explains.
The Journey: Past And Present
For Isabella, the overarching feeling she experiences towards coming to The Moon holds special meaning to her. It is intended as a safe space "for anyone who's ever been told by society or by the people around them that they don't belong", she says.
"Seeing people who never found a place in our society find a home in The Moon – and I see that every time a customer walks in – it always makes me really happy," explains Isabella.
Come September, The Moon promises an extensive anniversary celebration – one that, according to Isabella, "will showcase what The Moon is all about."
They will also be launching several exciting new products at the anniversary celebrations, so stay tuned!
Author's note: All opinions as portrayed are subject to Isabella's personal beliefs, experiences, and opinions. They are not representative of her boss nor of the collective company.