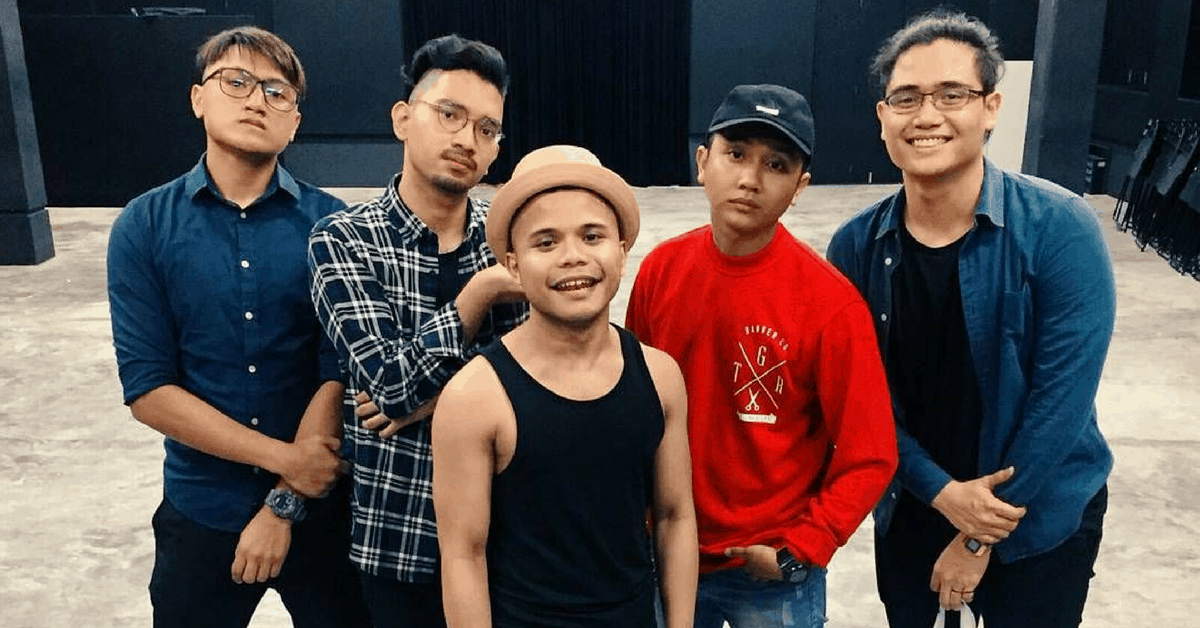 5 friends bonded together by a passion for music – local talents themselves, each individual had already made their own indelible mark on the Malay music industry.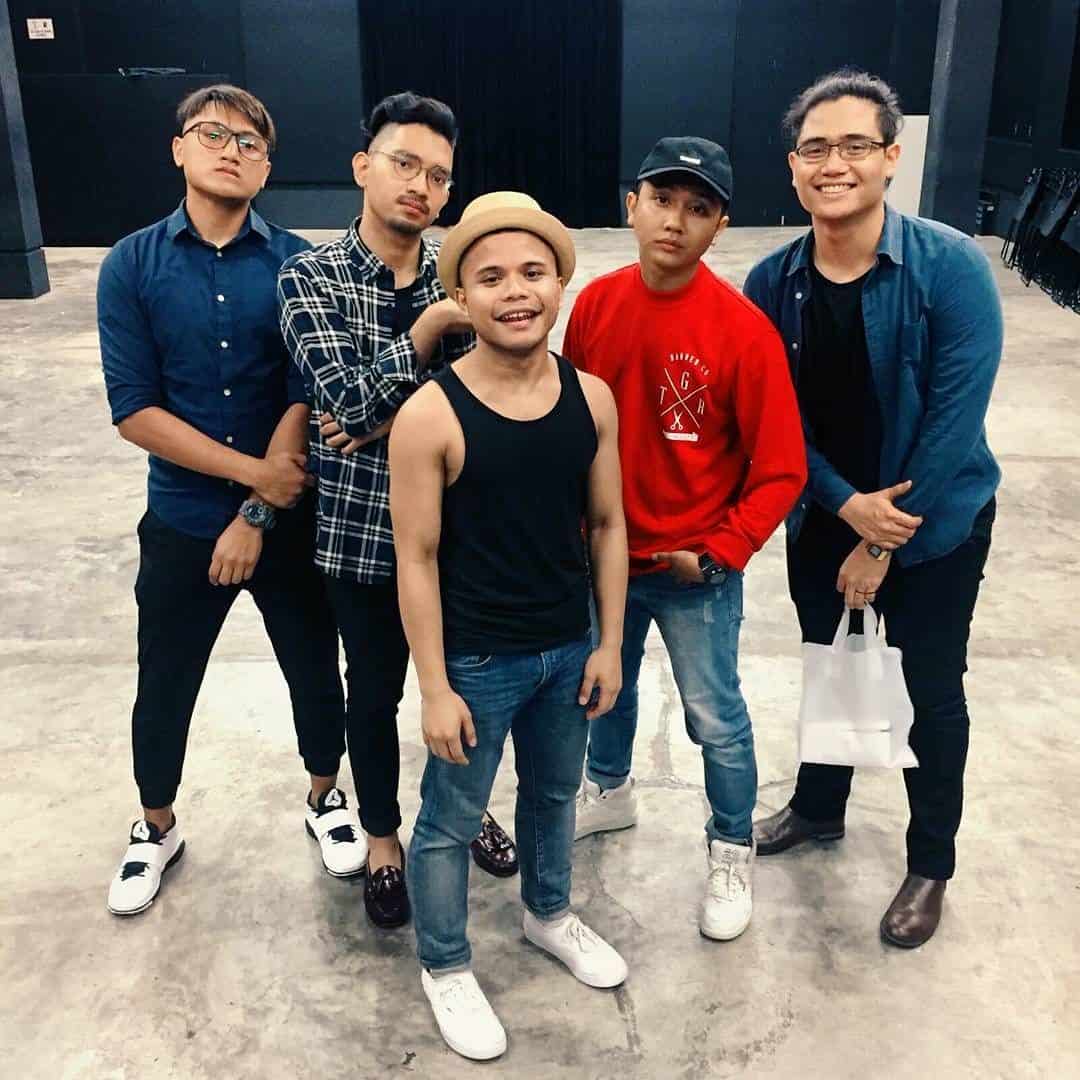 Yul Elias, the lead singer of pop-rock outfit Rendered 27, has been the opening act for Malaysian artistes such as Ayda Jebat and Fattah Amin.
Yazsar Zainal's debut single Aku Rindu Kamu (I Miss You) this year was a huge hit among the varsity crowd and he has performed for various university events in NUS and NTU.
Haikal Ali recently won the Anugerah Planet Muzik 2017's Best Song (Singapore) for his duet with popular songstress Aisyah Aziz entitled Senyum Saja (Just Smile).
R&B crooner Haqim Mokthar garnered a sizable following in the region with his soulful anthems, receiving airplay not only on local radio but also Malaysia and Brunei as well.
Meanwhile, Faridzuan Faris's powerhouse vocals landed him as a finalist on Suria's reality TV competition, SG Mania.
However, these talented individuals were not content with their own recognition. Instead, they wanted to realize a collective dream.
"We wanted to create a community within the Malay music scene. We wanted to showcase and include other talents as well"
– Haqim Mokthar
L.Y.T – Local Young Talents
In late 2016, the 5 friends – all in their early 20s – set about creating the concept of L.Y.T, an acronym for Local Young Talents.
This annual event aims to help undiscovered artistes showcase their talents, connect them to the industry and masses while also helping to grow the next generation of musical talents in Singapore.
"We thought about how a lot of local artistes weren't able to have substantial exposure as well as platforms for them to put out their music or their art," explained Yazsar.
"We understand how it is to be struggling musicians ourselves, so why not take the initiative to provide the platform for them."
– Yazsar
Haqim added. "We initially considered doing a showcase for ourselves at first. However, we decided that it would be more beneficial to include other singers as well."
With the Malay music scene in mind, the five of them willingly bore the cost of the entire event. Haikal says, "we want to put it out there that L.Y.T is a non-profit event. We do it out of passion and with our own money."
"Our aim was to create a community within the Malay music scene. And by God's grace, it is heartening to see the community grow over the past year."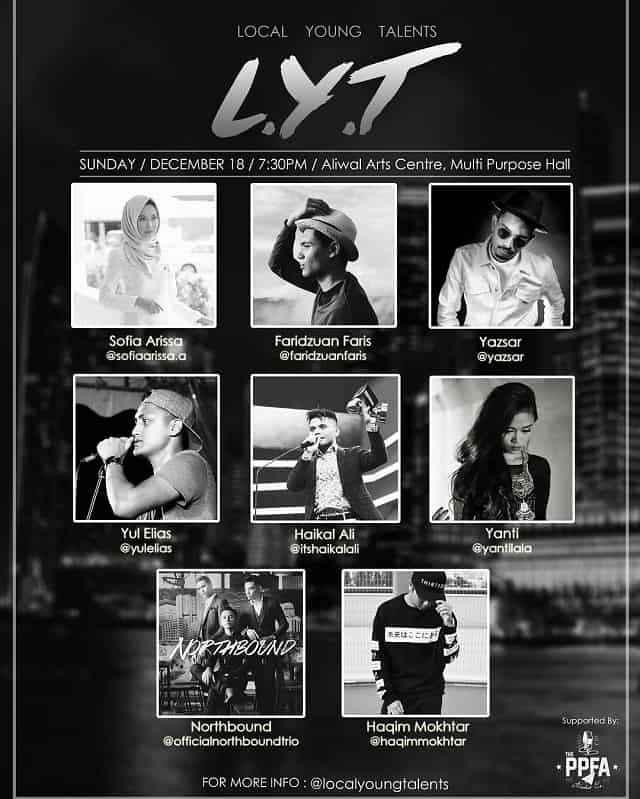 The initial L.Y.T 2016 was a resounding success.
According to Haikal, the event held in Aliwal Arts Centre sold out within a week, gaining media coverage from Ria 89.7FM and Berita Mediacorp.
Fatin Aqilah and Darlene Nasril, NUS undergraduates who helped out at the initial event felt that everyone gelled together quickly, which contributed to a smooth show.
"Everybody had a part to play. It was important that everyone had different resources and that we were all good in different things."
– Fatin Aqilah
She adds, "I ran the administrative matters, for example. When it comes to planning an event, it is easy to overlook a lot of things – what we lack in the music and creative aspect, me and Darlene found a way to contribute through the back end operations."
Creating The Hype
For the quintet, it was the first time organizing something at this scale. Another challenge was also drafting the potential artistes to bring in.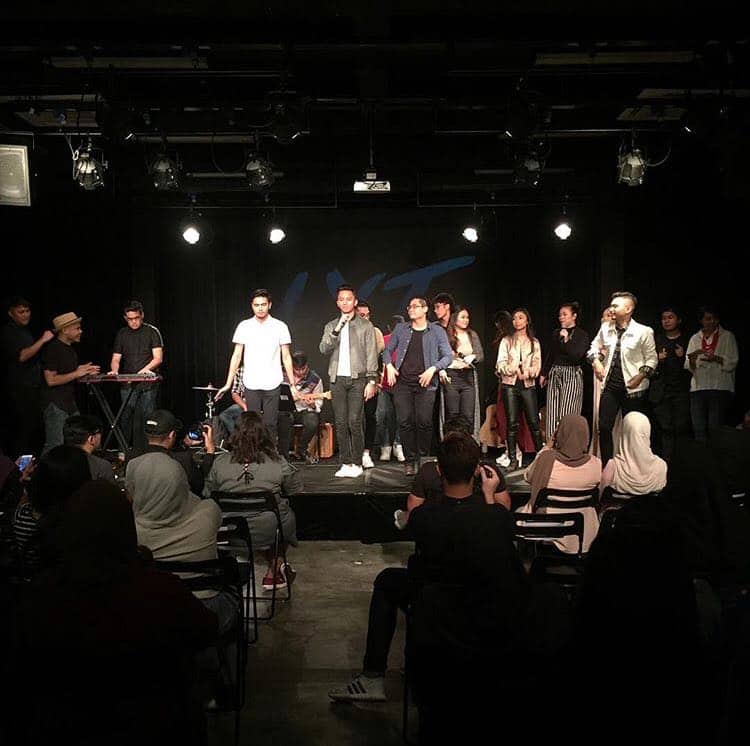 "We did not know what the response will be, what are people's views and their reception to the new, undiscovered artistes," Yul revealed.
"Promotion-wise, it was difficult as we were trying to reach out to an unknown audience and target market. Would they even come?"
– Yul Elias
Luckily, their fears were to put to rest as the crowd was highly receptive to the new singers making their debuts.
In the months that followed, there was an increase in fan base for all the artistes featured, with a spike in Spotify and Youtube views for their respective songs.
"It was a joy to see our fellow artistes come together and rise together," Haikal enthused.
It was validation for the group as it showed that the youths were supportive of the local scene. It motivated them to work even harder to give more exposure to these artistes.
It was also an impetus to make the event a yearly tradition, with the 2nd edition of L.Y.T happening this Saturday, 16th December once again at the Aliwal Arts Centre.
"The funny thing is, this year we didn't promote it as much as last year but we still managed to sell out the tickets. People are more aware of the L.Y.T brand now," Haqim confessed.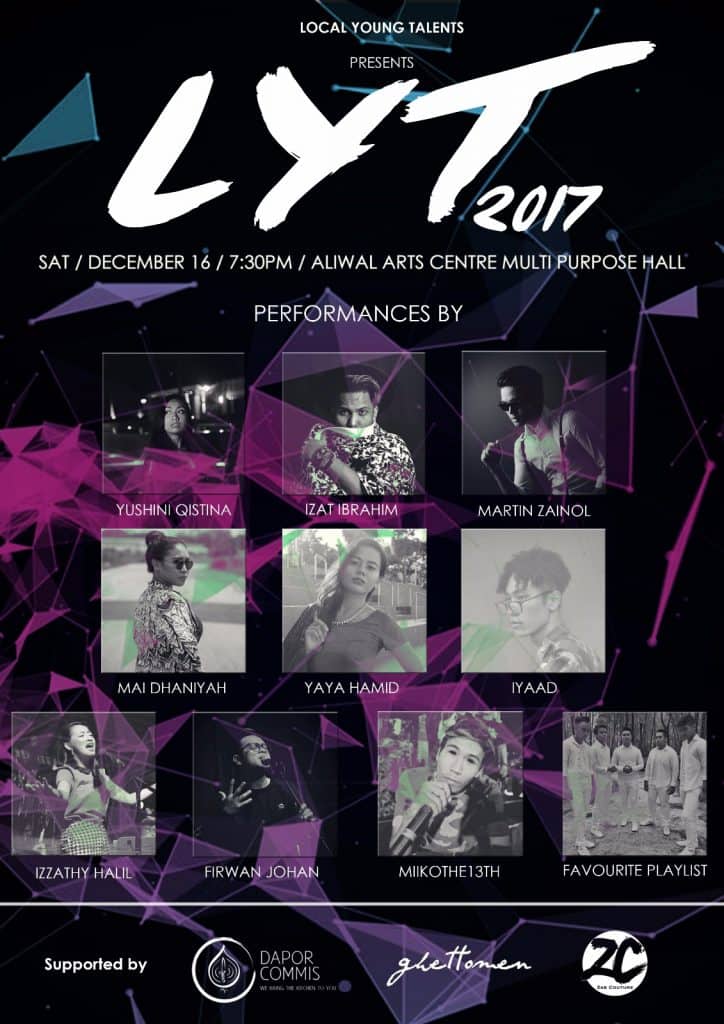 The New Faces
This year's L.Y.T promises to build on the concept and introduce a whole host of fresh, new artistes of varying genres. From the quirky, indie charm of Iyaad Salleh to the vocal harmonies of pop group Favourite Playlist, there is a little bit of everything to satisfy the palette of every music lover.
"We want L.Y.T to expand and reach the masses. We want it to be a movement where supporters from each artiste will get to know other musicians in the showcase that they may not have heard of before."
– Yazsar
"It's the one-stop destination for new and upcoming songs and artistes in the local music scene that you should look out for." 
For balladeer Martin Zainol who is making his L.Y.T debut, he sees the event as a stepping stone.
"I look forward to mixing around with other talents and at the same time get to know each other. Who knows, maybe we can work something out and collaborate in the future, whether it's through doing music or just supporting one other."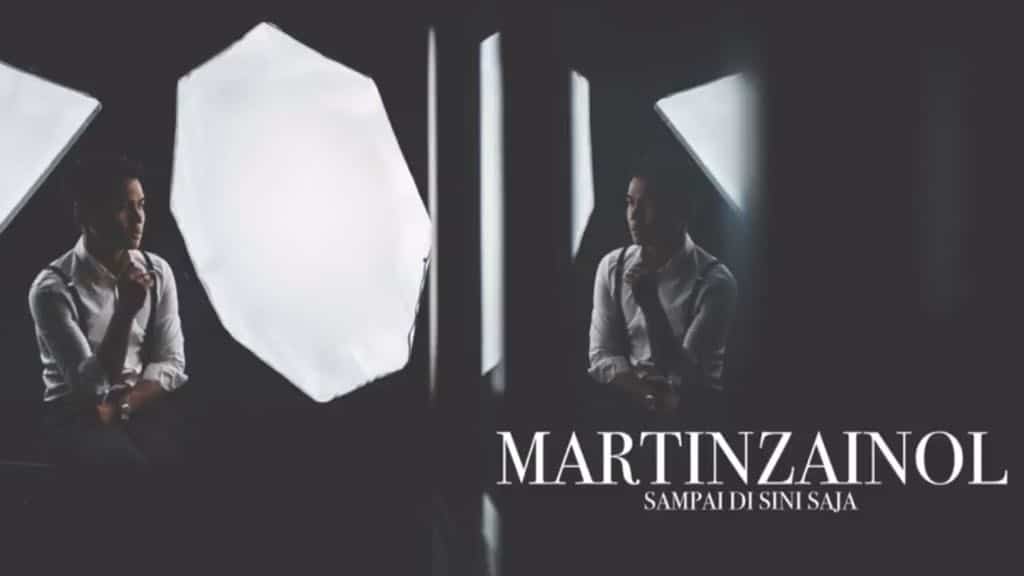 Amirah Yahya, a Suria actress, attended the event last year as an audience and was so impressed that she agreed to come on board as a host for this edition.
"I really liked how they portrayed local talents as I believe they don't get enough of a platform."
She added, "I think their talents are worth being showcased and I'm actually very happy to be part of the event this year."
"I believe that local music has the same quality, if not better, as what you would see in the region, be it in Malaysia or Indonesia.
– Amirah Yahya

"It's just that they are not pushed. But I am very proud of our local talents regardless."
Building A New Tradition
Beyond this year's show, the team hopes that the L.Y.T brand is not just restricted to the 5 of them.
"The acronym itself stands for local young talents. We hope that in the future, it grows into a movement and other young people take up the mantle, creating more events to promote the community," Haqim muses.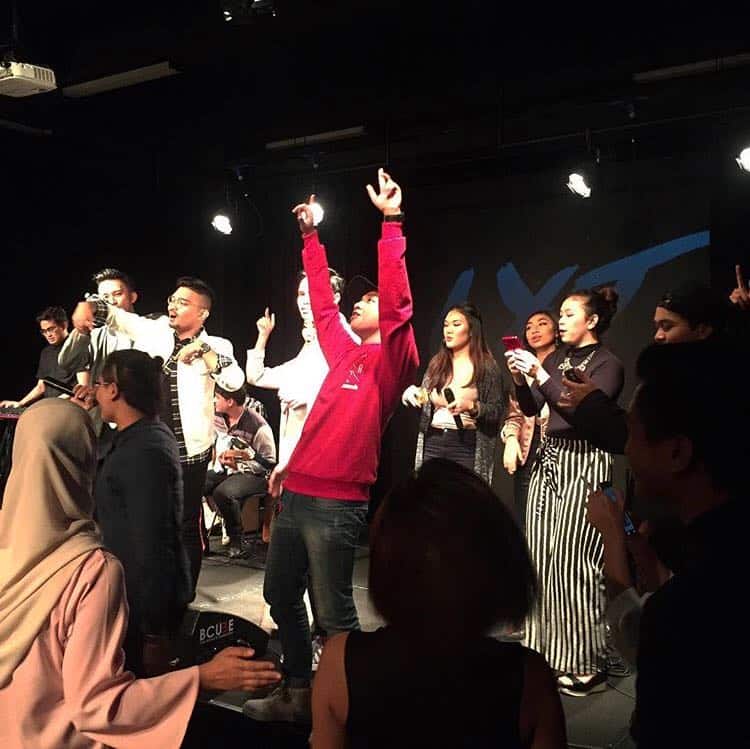 Darlene elaborated, "I hope that L.Y.T will continue to showcase all these struggling artistes, and give them a space to showcase their music. When other musicians know that there is a platform, they might be encouraged to create their own platform and it can roll into something bigger."
Fatin appreciated that there are artistes who would go out of their way to support the industry as a whole. She wants to put a stop to individualism – at the end of the day, the local consumer base is rather small, so having a supportive environment would be better instead.
"I think as a consumer, I hope to see the musicians come together more often so that we can get more traction to make this event bigger in the future."
– Fatin Aqilah
Most importantly, Haikal wants to put a spotlight on the fact that there is talent in Singapore. And it is their shared passion for music that will continue to ignite this endeavor.
L.Y.T – Local Young Talent 2017
16 December, 7.30pm-10.30pm
Aliwal Arts Centre
Walk-in tickets are still available.
For more information, check out the @localyoungtalents Instagram page.