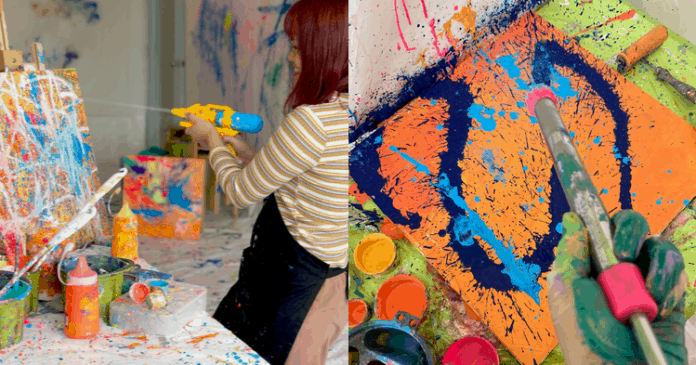 You are feeling frustrated and stressed. Maybe your schoolwork is getting too hectic or work has been piling up. You want to vent these frustrations so badly but where do you find an outlet? Well, the team behind contemporary art studio ArtFlock understands that and is here to save the day with Action Art!
Making use of a variety of unconventional and open-ended tools such as paint rollers, sponges, water guns and cleaning brushes, Action Art is an exploratory form of art jamming that allows for ultimate creative freedom.
This unique programme does not make use of traditional paintbrushes but rather, focuses entirely on creative expression and the process of art-making.
Geared up in long protective ponchos and armed with bottles of paint and tools that belong in the kitchen or playground, participants are encouraged to splash, smear or even load it into water guns and spray paint onto a plain canvas! How fun!
At ArtFlock's cosy studio located along bustling Upper Thomson Road, I had the most fascinating chat with 29-year-old founder, Sakinah Latiff, to find out more.
Lose Your Inhibitions And Get Dirty
With a team that is made up of art graduates and art practitioners specialising in different forms, ArtFlock sprung from a passionate desire to make art approachable and accessible to all.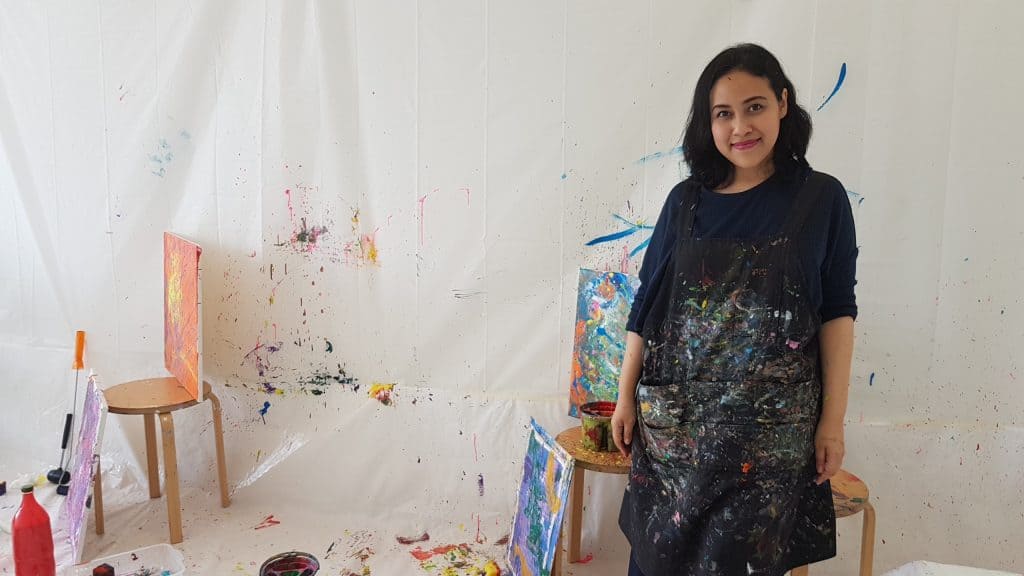 Sharing about the journey of her studio, this NAFA graduate says, "We started out as an art studio that catered to children of ages 3 – 12. Our lessons are process-oriented and involved a lot of hands-on creativity. We also emphasise a lot on contemporary mixed media artworks that are done using unconventional tools. Inspired by our students who are not afraid to get dirty when they accidentally splash paint on themselves, the idea of Action Art was born in 2016!"
"Of course, our team is also made up of playful people" she adds with a laugh.
Initially intended for kids, Sakinah thought that this would be a good activity for adults as well. So, they expanded the Action Art programme to adults and it seems that the people in Singapore are embracing this new concept because their sessions have been met with resounding success.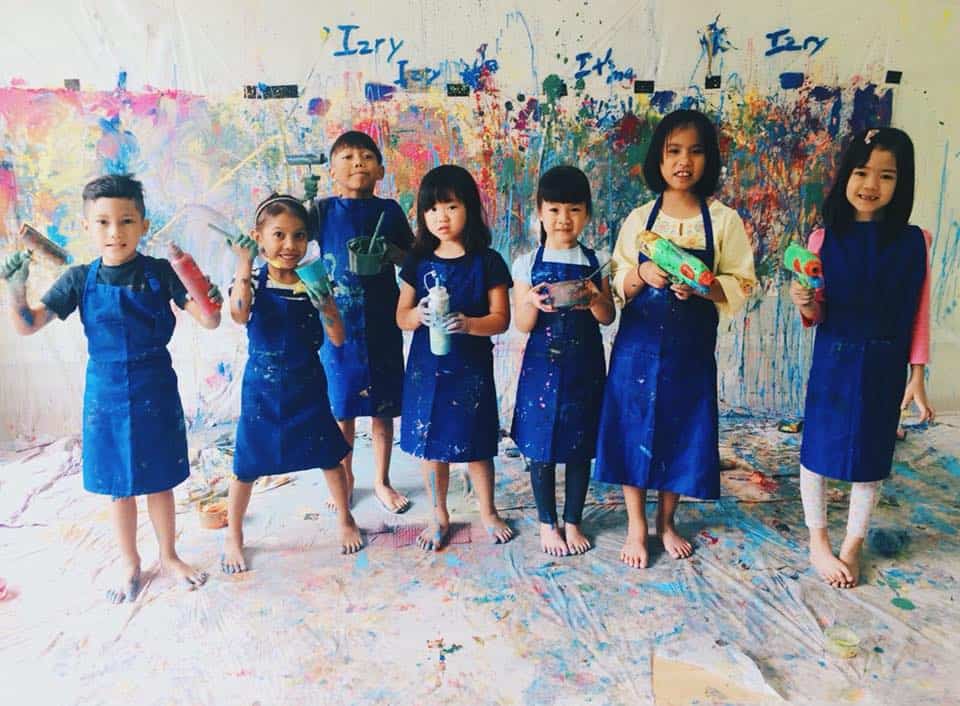 And it is not difficult to see why. Bridled by the chains of society, unrestricted playing of paint unleashes creativity and grants that little ounce of freedom that we all crave.
That being said, adults tend to be a little more self-conscious and some encouragement is usually needed to boost their confidence and kick start the spontaneity.
Sakinah explains, "Children definitely know how to have fun! However, most of our adult participants need a little help to warm up. In the adults-only sessions, we provide a more in-depth introduction to the tools and its different usage. Our friendly facilitators will also help to break the ice to get them ready for the action!"
So, Is This Art?
To the general layman, throwing paint enthusiastically on a canvas would probably not be considered as art, for the reason being that we were taught traditional art forms that focus more on techniques back in school.
However, art has evolved much under the influence of culture, politics and changing mindsets. In fact, splashing paint liberally is a form of abstract expressionism art that was only developed in 1947 by Jackson Pollock!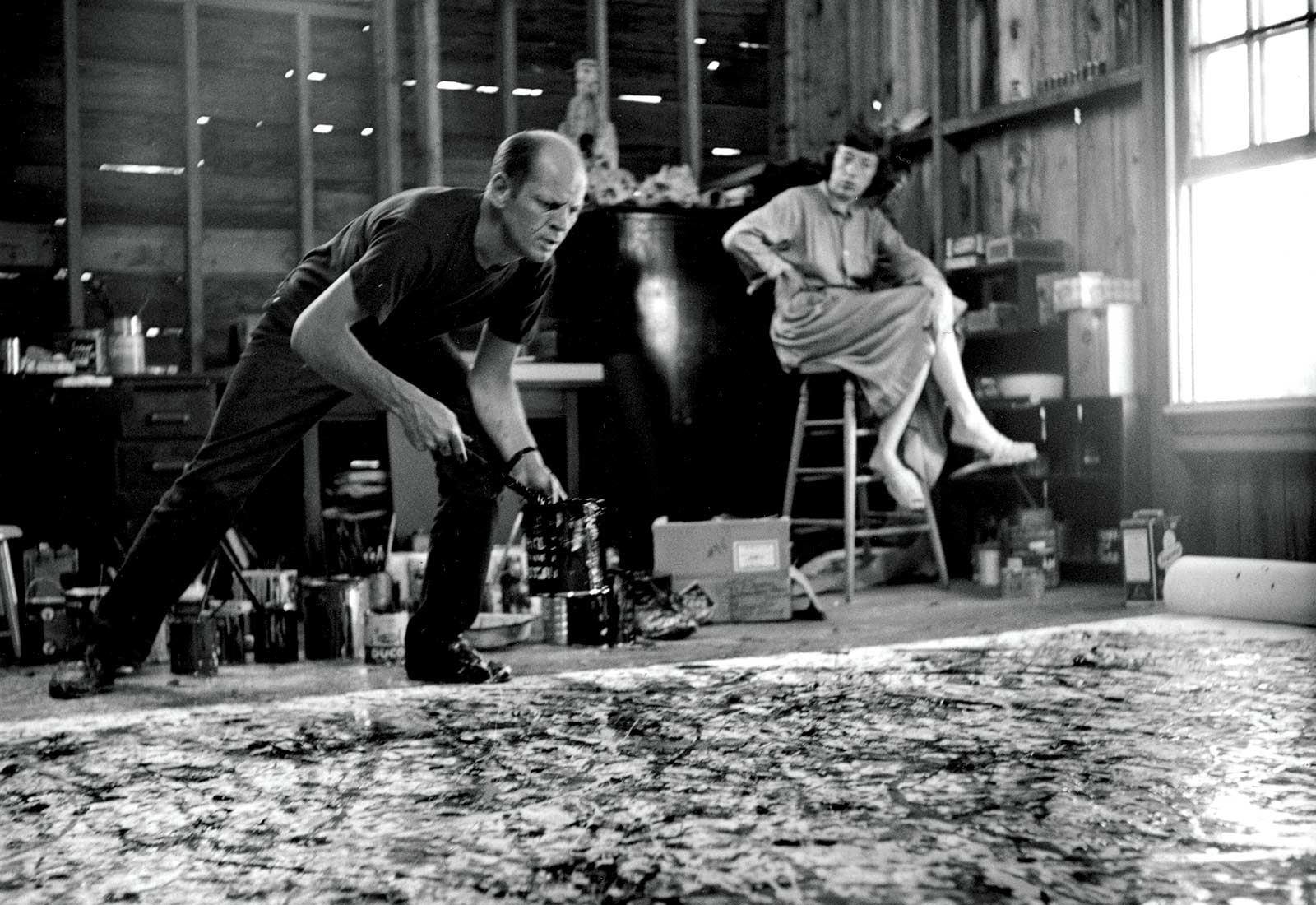 And, it comes as no surprise that Pollock is one of Sakinah's favourite contemporary artists.
Known for his technique of pouring or splashing household paint onto a horizontal surface, Pollock's famous quote "My painting does not come from the easel" explains it all, which is to create art as an expression of one's profound emotion rather than technique, structure and form.
So, is this art?
Sakina sheds further light and explains, "We consider this style as an abstract form of art where participants are free to express with colours, strokes and gestural marks. Because art has to be personally meaningful."
As a contemporary mixed media art studio, Sakinah and her team fully incorporate this idea that the unconscious mind is an important force in creating art into their classes.
Through ArtFlock's unique learning approach that is inspired by Vygotsky's concept of Zone of Proximal Development, their objective is to cultivate the progressive side of art and to bring out the creative freedom in everyone.
Basically, we want to create art that transcends the traditional barrier.
True to her artistic beliefs, some of her favourite art-making tools include the kitchen scrub, water gun, brayer and big brushes.
"Our goal is to cultivate creativity in people and we believe that mixed media is the best platform to endlessly explore ideas, manipulate the tools and materials, and experiment due to its open-ended nature," she continues.
Splashing To Greater Heights
In this competitive industry, there are so many art studios offering various types of art classes and art jamming sessions. Innovation is crucial to staying competitive and the ingenious idea of Action Art did just that!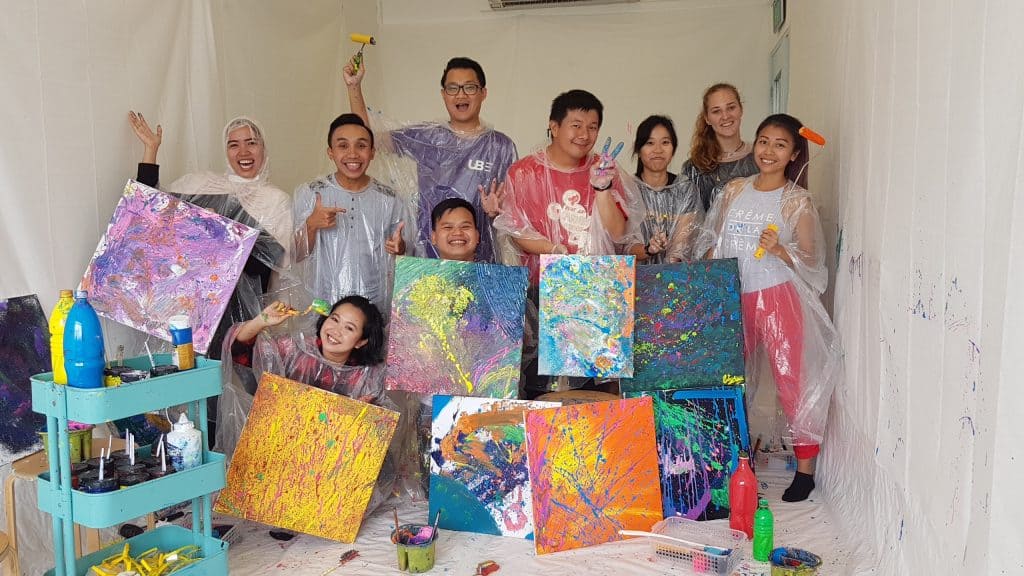 Being a new activity, the team constantly tries to improve the Action Art experience for participants.
With feedback from a previous team-building group, they incorporated music to soothe the moods of the participants and enhance the art-making process. They are also consistently on a lookout for new tools to experiment with to further enhance this unique experience.
It is a never-ending learning and development process, and it is definitely more than just fun.
"We really aim for the participants to maximise their art-making experience by encouraging them to explore different ideas and produce an artwork that they are proud of," Sakinah emphasises.
She recounts an interesting session where they hosted a kid's birthday party with a group of friends. "Completing the canvas was not enough so, at their suggestion, we decided to allow them to finish off by pouring paint all over themselves! It was a fantastic experience!"
Now, who is up for a blissful hour of spontaneous paint-splashing and art-making?
For more details about Action Art, check them out here.