Imagine a major overhaul of your flat's bathrooms, a new front door and gate, and other enhancements such as a brand-new clothes drying rack for S$630 minimum. That is what the HDB's Home Improvement Program (HIP) and Enhancement for Active Seniors (EASE) schemes promise, having been implemented since 2007.
These upgrades are aimed at increasing the value of older apartments as their 99-year lease runs down along with overall quality of life for homeowners. Close to S$3 billion has been spent since the inception of these schemes.
This begs the question: Are HIP and EASE really as good as they sound or should you save your money for future home renovation projects instead?
The Good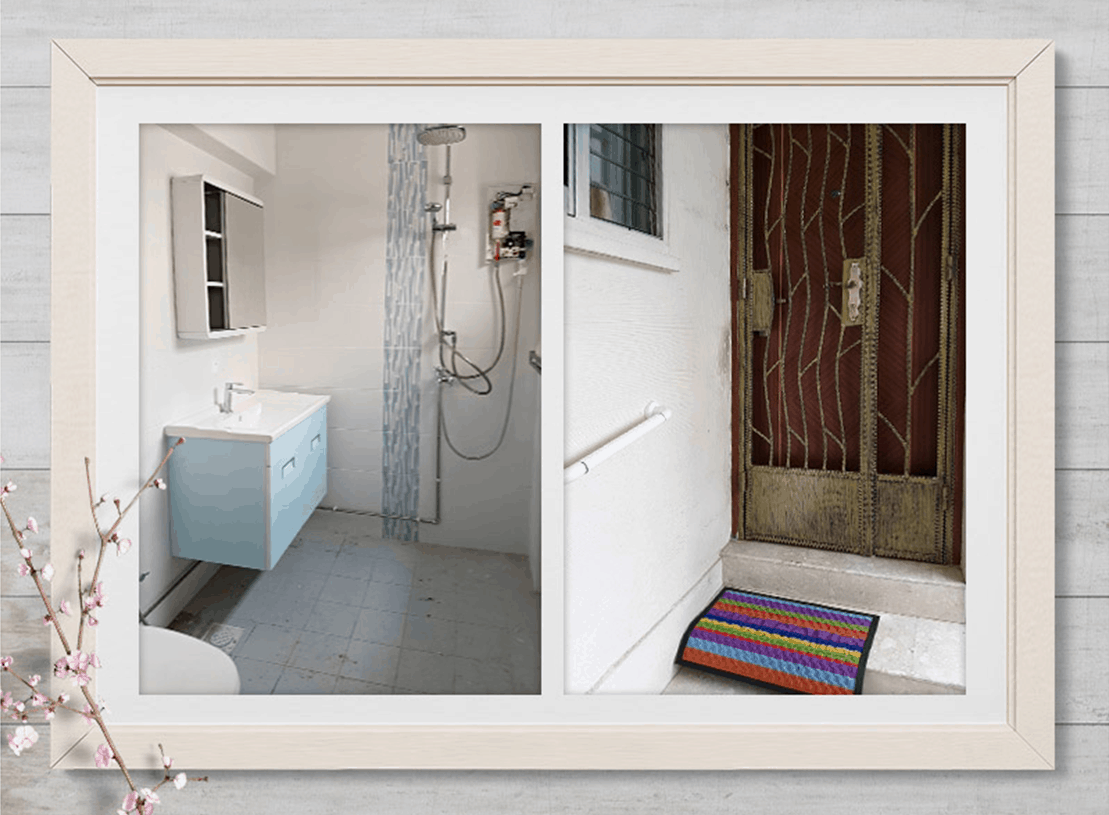 The first piece of good news would be that the renovations are heavily subsidised – up to 90% for some flat types – and that all costs including any optional extras will be made transparent to you. There is no nickel-and-diming involved and what you see in the demo units set up by the HDB is what you'll get.
Secondly, your bathrooms will look as good as the ones on display. There is also flexibility of choice as you can pick from several floor & wall tile options, potty types, and even the number of grab bars required. You also receive a new set of doors and windows for the bathrooms to boot.
Additionally, you can tell the foreman where you'd like existing accessories such as the toiletries rack or towel poles to be re-installed at no extra cost. Ditto if you'd just like to install new accessories that you purchased instead. A fresh coat of paint to the PVC pipes is a nice bonus as well.
Despite how minor the other upgrades sound – like the new front door and gate – they greatly improve your home's look and feel when added up. These doors and gates resemble the ones in newer BTO flats and it was recently announced that more options will be added to the list.

Source: Housing Development Board
A new stainless steel clothes drying rack will be installed on the other side of the house. It features retractable poles for ease of use and is a much better option than the pole sockets of old.
For folks who have physical handicaps, the options offered by EASE are lifesavers. Although these upgrades are geared towards senior citizens, they are a boon for the physically handicapped as they improve mobility within the home greatly.
Several of these installations would include ramps, both leading to the flat and within the flat, extra grab bars at home, and slip-resistant treatment for the floor tiles of up to two bathrooms.
The Bad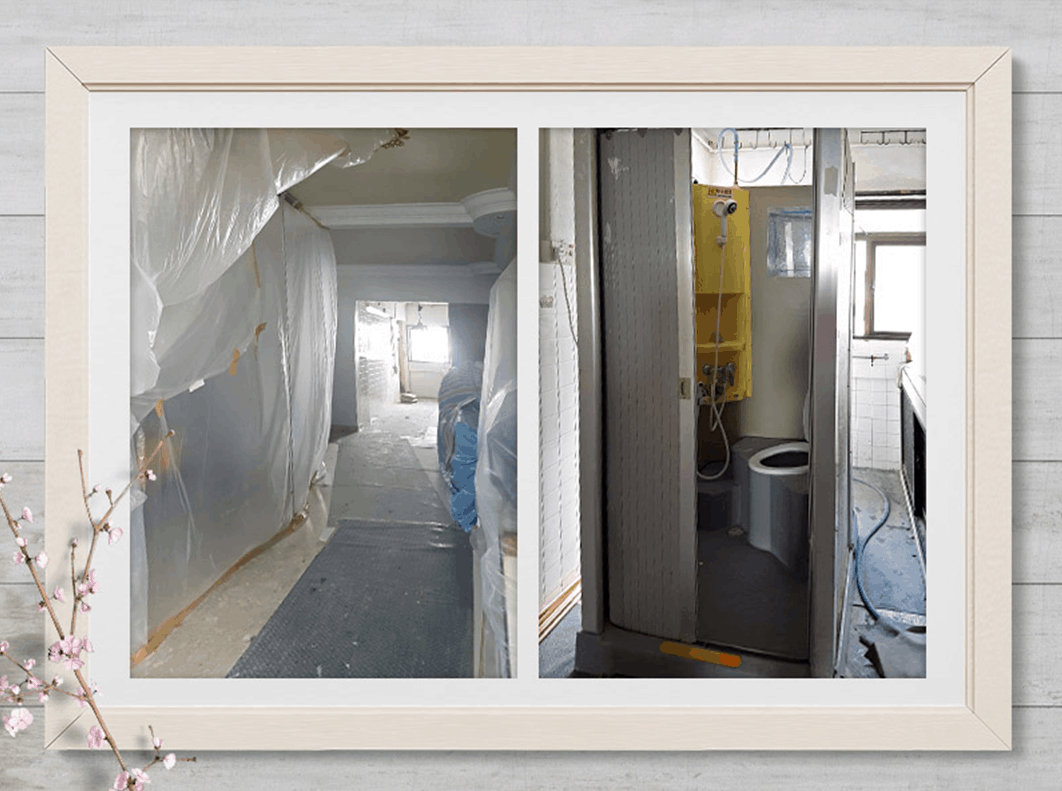 Dust, dust, and more dust. Be prepared to fork out some cash for a professional cleaning service, especially if the promised dust screens and exhaust fans aren't provided by the team working on your flat.
Already dust-proofed your home, you say? Don't get too confident because the workers might tear down the covers and move furniture around if they deem that there isn't enough space to transport things to and from the flat.
If you think that cleaning up is a walk in the park since it's just the bathrooms being renovated, think again. There is a reason why this homeowner went to the lengths she did dust-proofing and packing the various knick knacks in her home.
You'll see dirt from the works reaching the furthest crevasses of your home. Compounding the problem would be the fact that other homes on your level are being upgraded at the same time.
Another issue would be a lack of toilets and showers at home in the meantime, since all the bathrooms at home will be worked on simultaneously. Although temporary lavatories with attached showers are installed at the ground level, they aren't ideal for people with physical handicaps or for individuals who are more particular about space and privacy. These temporary toilets might get crowded at certain hours too, with people returning home from school or work at similar hours.
A final dilemma would be that at least one individual – preferably an adult – has to be home throughout the HIP and EASE duration. Although you are technically allowed to leave your flat in the hands of the construction team and head off on a well-deserved vacation, you're giving up the opportunity to troubleshoot any issues as they arise and solve them ASAP.
You can't check on the workers as well, essentially giving them carte blanche. Having to jot down a list of things to fix and deep-cleaning your home right after your return from a holiday isn't exactly the warmest welcome back to Singapore too.
But Is It Money Well Spent?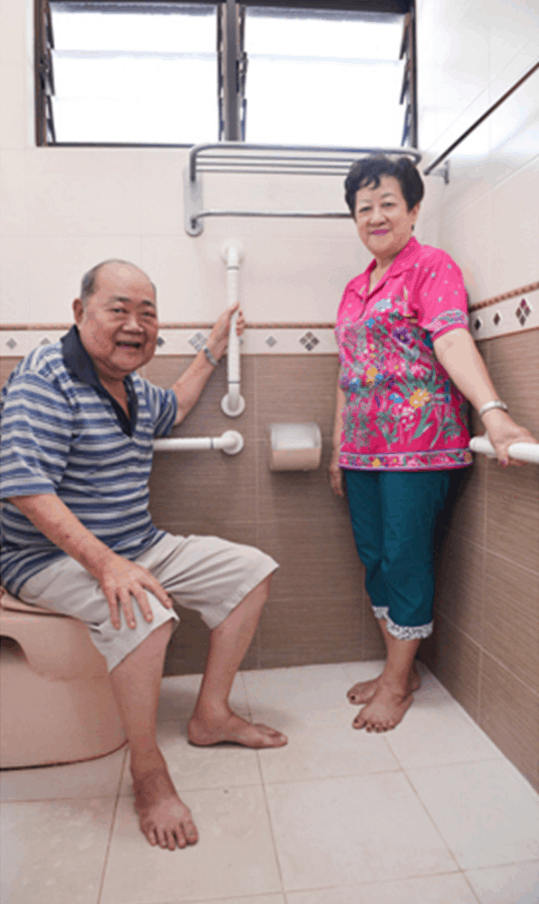 Despite the noise in the vicinity and the amount of cleaning required, the results are worth it in more ways than you think. Throughout the course of HIP and EASE, you might discover additional defects in your home. These include cracked tiles in hidden areas or a leaky tap here and there.
Embarking on the scheme gives you the opportunity to fix other issues at one go. When you're finally allowed to use your spanking new bathrooms on the penultimate day of HIP and EASE, you'll be glad that you decided to opt in.
As it is likely that the master bedroom's toilet will be part of the bathrooms transformation, it gives you the chance to change the furniture in it or rearrange the space to suit your current needs more.
If you do end up opting out of the schemes, do note that your flat's bathrooms must pass a test by HDB to ensure that water does not leak into the homes below. In addition, you may find yourself spending extra time outside to avoid the noise from your neighbour's renovation!
Lastly, keep in mind that the HIP and EASE schemes are optional and that you could always opt out to save money, especially if you've recently renovated your home.