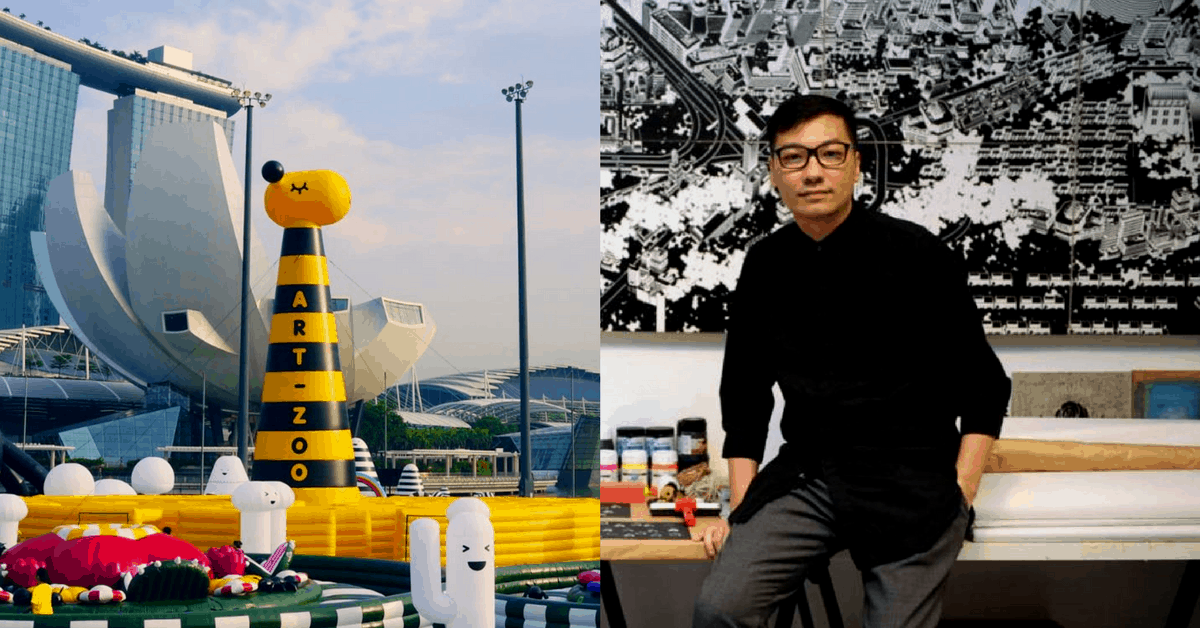 For the second year running, the family-friendly giant inflatable park is back with more.
Featuring a brand new line-up of 15 installations (compared to 11 last year), the interactive showcase was birthed with the same purposeful intent: increase public awareness towards endangered species, and environmental conservation and sustainability.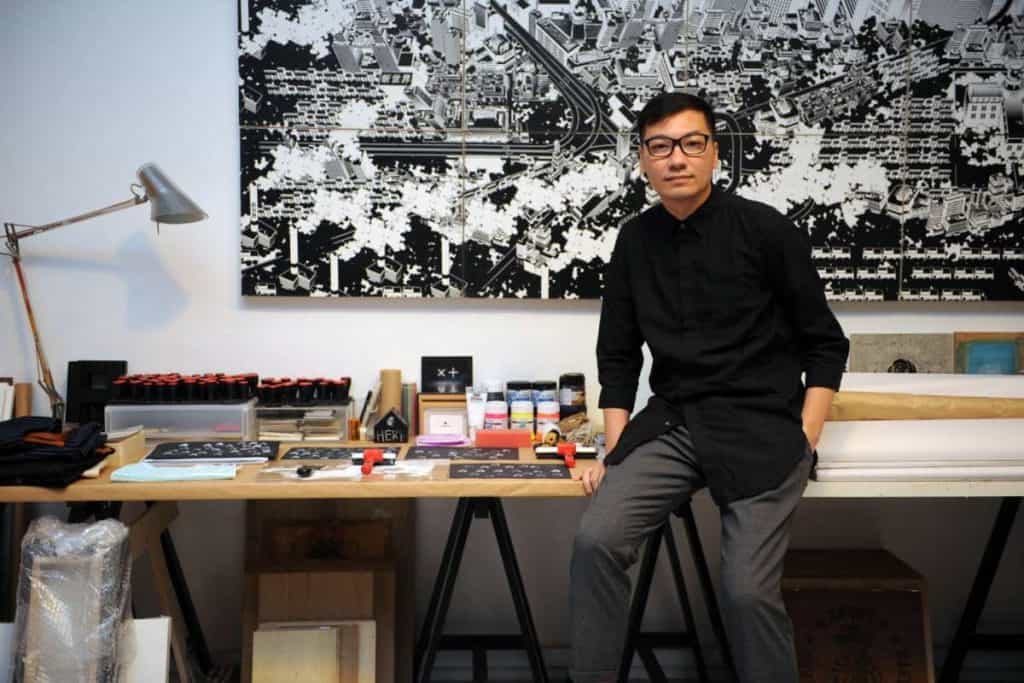 We speak to the 44-year-old creative Jackson Tan (you might also know him by the man behind the iconic SG50 logo and award-winning local art collective Phunk Studio) on all things creative and Art-Zoo, from what goes into the conceptualisation to the first overseas tie-up in Taiwan.
Main Inspiration Behind Art-Zoo
"It was inspired by my childhood memories of visiting and drawing the animals at the Singapore Zoo and the animal-inspired playgrounds."
Taking his past experiences into play, Art-Zoo reflects exactly just that. Its aim: To encourage visitors to explore nature through accessible and interactive art.
There are a total of 15 clusters, categorised in alphabetical order.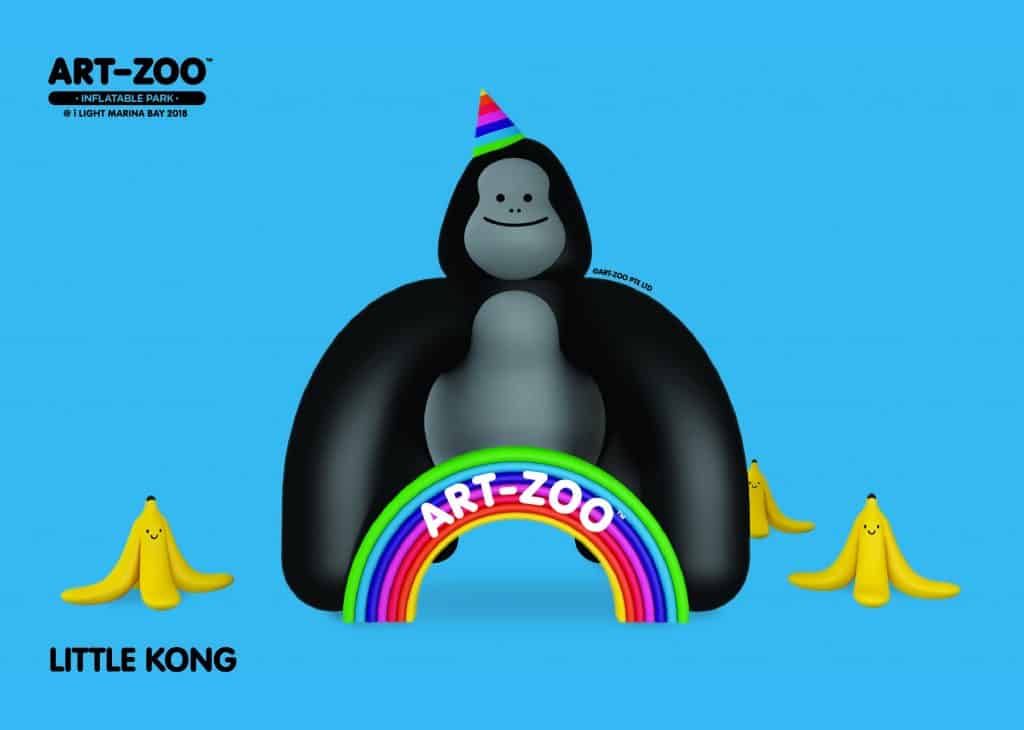 For instance, there's Black Forest (Gorillas, Quaggas, Zebras) and the Yeti's Peak (Alpacas, Mountains, Yeti). In each cluster, it is comprised of both real (and imaginative) endangered creatures within our natural habitats.
It also puts a spotlight on near-to-extinct animals like the Quagga and Vaguita ― which is written as the "most endangered species of all whales, dolphins and porpoises" ― in the exhibit.
His favourite character? The Little Kong, who was created in honour of the park's one-year anniversary.
"Little Kong celebrates his first birthday together with Art-Zoo, and I love how even though he's called 'Little Kong', he stands at a towering height of six storeys."
New Experiences To Look Out For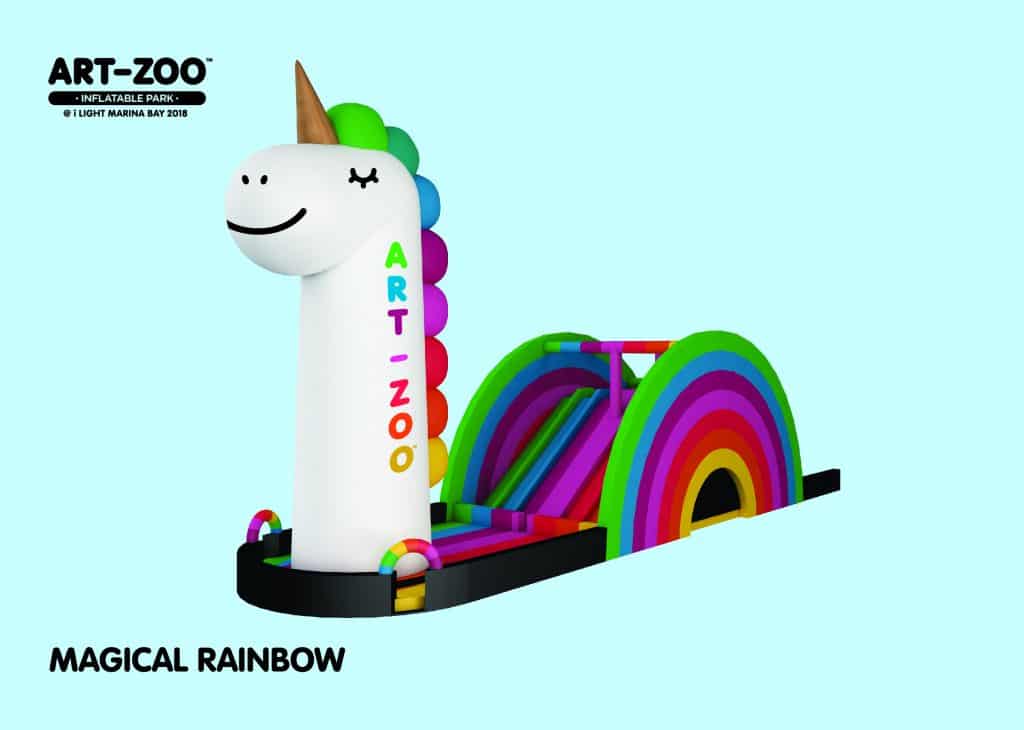 Imagine the largest inflatable park set in the heart of our beautiful garden city. Think colourful themes and an epic kaleidoscopic immersive experience ― rolled into one.
You have to get on the 19-meter tall unicorn slide (that's akin to the height of four and a half double-decker buses stacked atop one another!) that is the Magical Rainbow.
Apart from the giant slide, the creative multi-hyphenate reveals yet another exciting installation that is the Bubbly Bear Bath aka BBB, which is a giant ball pit.
"The Beetles is also where we can (expect) a fun and colourful surprise waiting inside the largest ladybird inflatable."
Venturing Overseas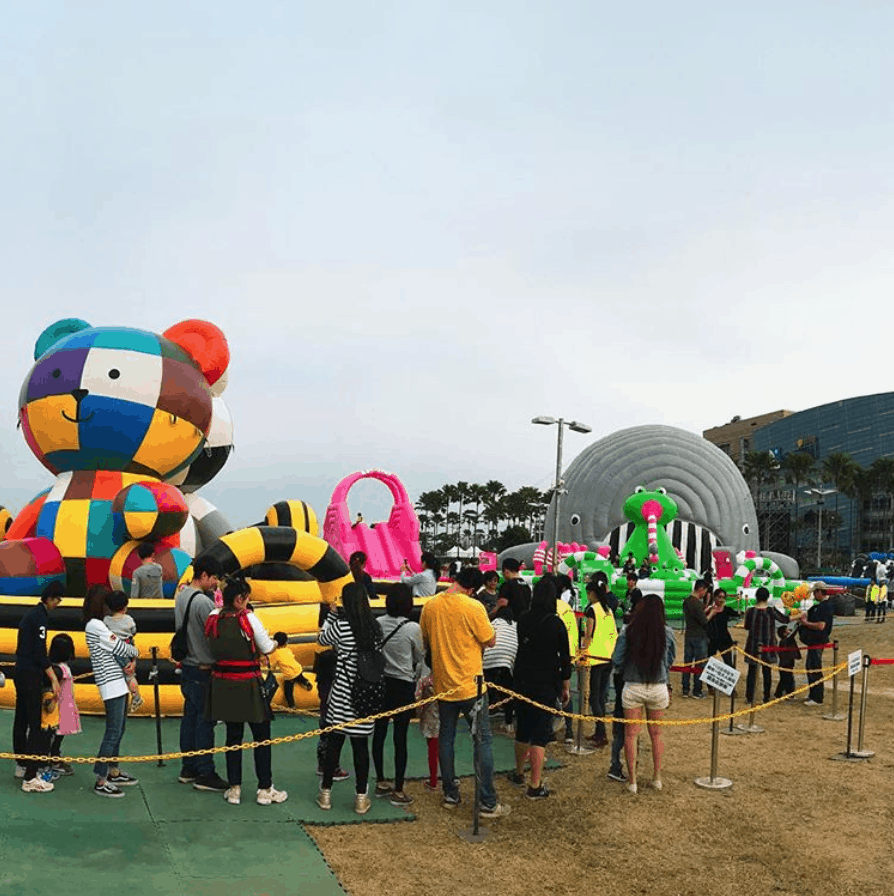 Art-Zoo embarked on its first overseas tour last year in Kaohsiung Taiwan, which ran from 17 Dec 2017 till 4 March 2018. Tan expressed his excitement and joy in being able to share such experiences with friends from around the world.
"Taiwan is like my second home, so seeing the warm responses from the Taiwanese to Art-Zoo is extremely heartening."
Tan also shared that Art-Zoo was specifically designed to be portable and logistics-friendly for travel. There are also differences in the habits and weather that the team has to be mindful of.
To illustrate, Art-Zoo opens in the evenings in Singapore (that is when the weather tends to be cooler) while it is (generally) cool throughout the day in Taiwan.
"Also, the Taiwanese children typically have dinner at home and won't leave their homes after that. As such, Art-Zoo in Taiwan opens its gates earlier in the day."
Ups And Downs Of Creating Art-Zoo
As with all creative work, it isn't always easy and smooth-sailing. For Art-Zoo, its biggest challenge would be its size. It took about a year to conceptualise, design and produce a new series of inflatables.
Tan related that their shortest inflatable cluster this year is three meters tall. And the inflatables were made by stitching individually-cut fabric together. Case in point: Purple Meadows alone comprises over 2,000 pieces of fabric.
But of course, the joy of completing the work is immense, too.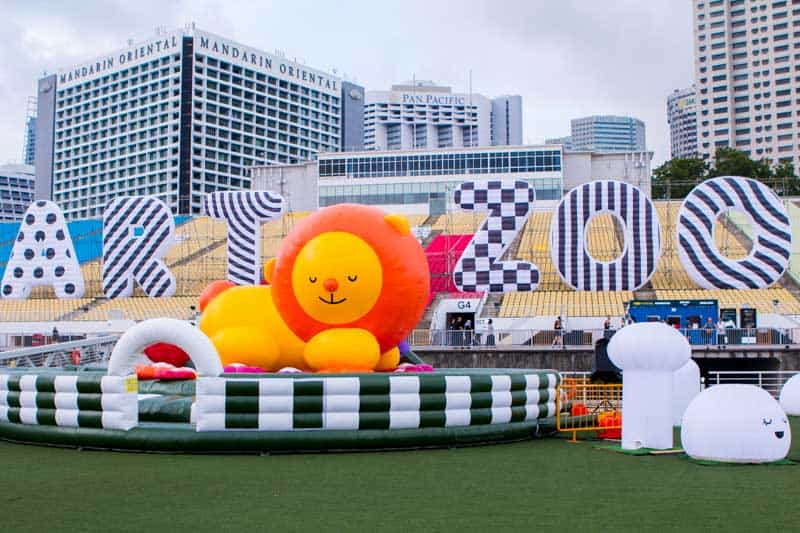 "I will always remember how my family and friends came together to bounce and play on the inflatables last year at our first edition. Art-Zoo was born from my daydreams, it was something I wished I could do, and eventually worked to make it happen."
At the end of the day, it is all about how Art-Zoo makes a go-to space for families and friends to make new memories together.
"To see my loved ones enjoying themselves in the inflatable park was like the cherry on top of my entire Art-Zoo journey."
If there are three tips Tan could share with the local budding artists, they would be: Dare to dream, believe in your instinct, and don't be afraid of failure.
Art-Zoo Inflatable Park @iLight Marina Bay 2018, $18, is open to the public daily from 9 March – 1 April, 3-10pm (including weekends and public holidays).