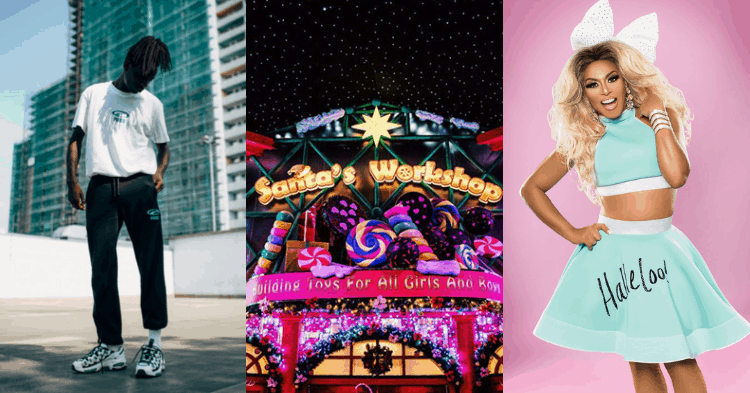 Raise your hands if you're wondering where 2018 went. But we've got zero time to waste –December is drenching us sweet, sweet fun. From festive markets to beach parties and New Year Eve blowouts, we've got you covered!
1. Christmas Wonderland 2018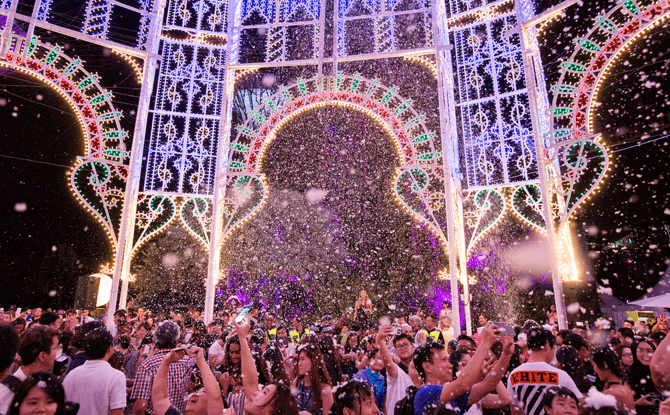 Christmas Wonderland, Singapore's biggest yuletide affair, will be back for its fifth edition with brand new highlights and a whole new take on crowd favorites.
Make a beeline to SG's coolest garden for the tallest Luminarie Christmas Tree in Asia, kinetic light installations and a mirror maze. But you if really want to get in the festive mood, don't leave without taking a stroll 'round the Festive Market or visiting Blizzard Time for ice skating under the stars.
Carnival games and kid-friendly rides will also be making a comeback.
30 Nov to 26 Dec
Gardens By The Bay
2. GTFO! Singapore
Adults, listen up – it's time to retire those business suits for the weekend of December 7 to 9, and put on some comfy (and stretchy) threads because the world's largest inflatable obstacle course is going to be at Sentosa's inaugural beach festival.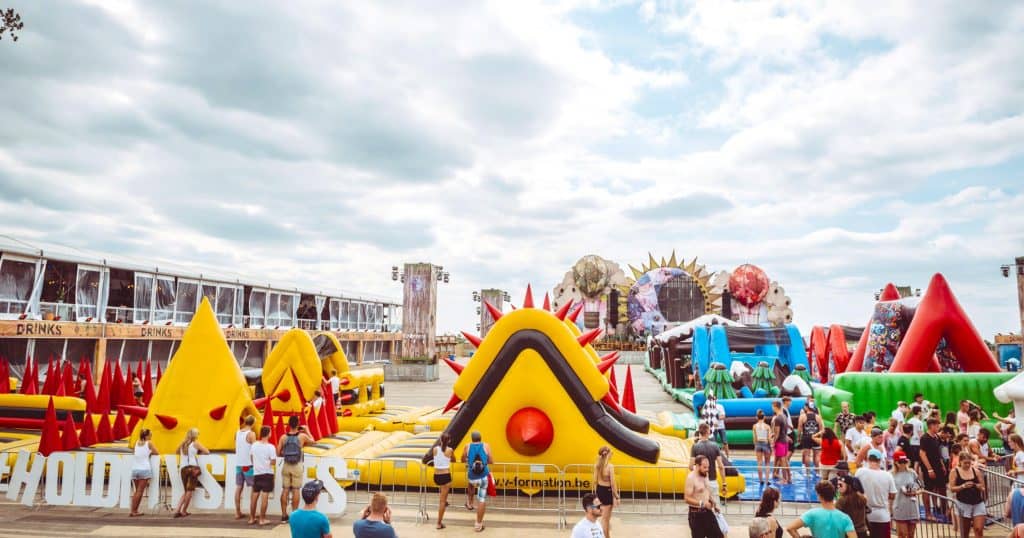 The main highlight of this event is THE BEAST which holds the record for longest inflatable obstacle course in the Guinness World Records. This bouncy masterpiece is traveling the world with stops at London, Paris, Amsterdam, LA and Melbourne.
Amping up the fun-o-meter at the beach festival, the highly-raved traveling inflatable is twice as large as a football pitch with a plethora of obstacles for you to channel your inner Ninja Warrior. Think of it as a bouncy castle where you get to crawl, bounce, slide, climb and run around this inflatable maze.
This shindig is also loaded with a bunch of fitness workouts, street food vendors, live DJs and bands for you to show off your best dance move.
Get your tickets here
Palawan Green, Sentosa
3. A Universal Christmas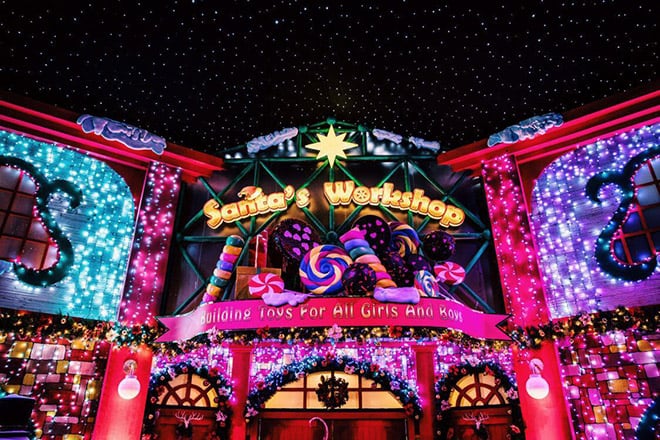 You can count on Universal Studios Singapore to do Christmas as just as well as horror. After a smashing Halloween Horror Nights, the folks are back with over 11 exciting Christmas events.
Come nightfall, look out for the brilliantly illuminated show at Santa's Christmas Light-Up Party on New York Street, as the Minions, Sesame Street friends, and many more come decked out in their Christmas outfits.
Psst – come on New Year's Eve and on select nights to witness a spectacular fireworks display.
1 Dec to 1st Jan
Universal Studios Singapore
4. Santa Run For Wishes
Kickstart the festive season by doing good and burning some calories with the annual Santa Run for Wishes. Choose from the 2km Fun Run or 5km Run and spread a little Christmas cheer with the Make-A-Wish Foundation, a community that helps children with medical conditions.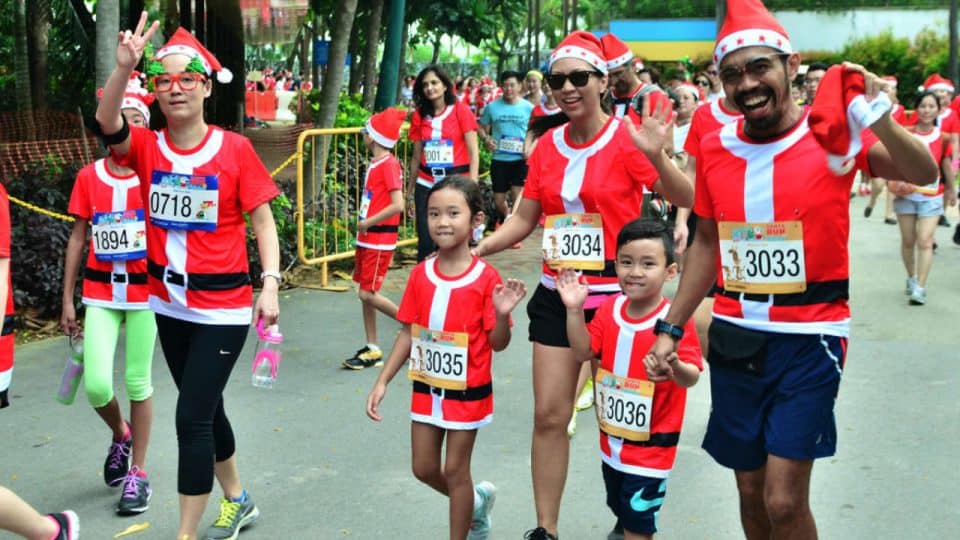 Not in the mood to sweat it out? Join the festive fun at the Christmas Carnival and stand a chance to win prizes at game booths or catch ol' Saint Nick for a photo.
2 Dec
Singapore Sports Hub
5. Loop
While indulging in some festive shopping is no cardinal sin, why not do so more consciously at this upcoming plastic-free, sustainability-focused event that seeks to enrich your life at the same time?
Taking place The Incubator, expect it to be a gathering of over 100 local craft makers, food and beverage vendors, as well as other eco-friendly beauty and household brands that all share one common vision – championing sustainability awareness.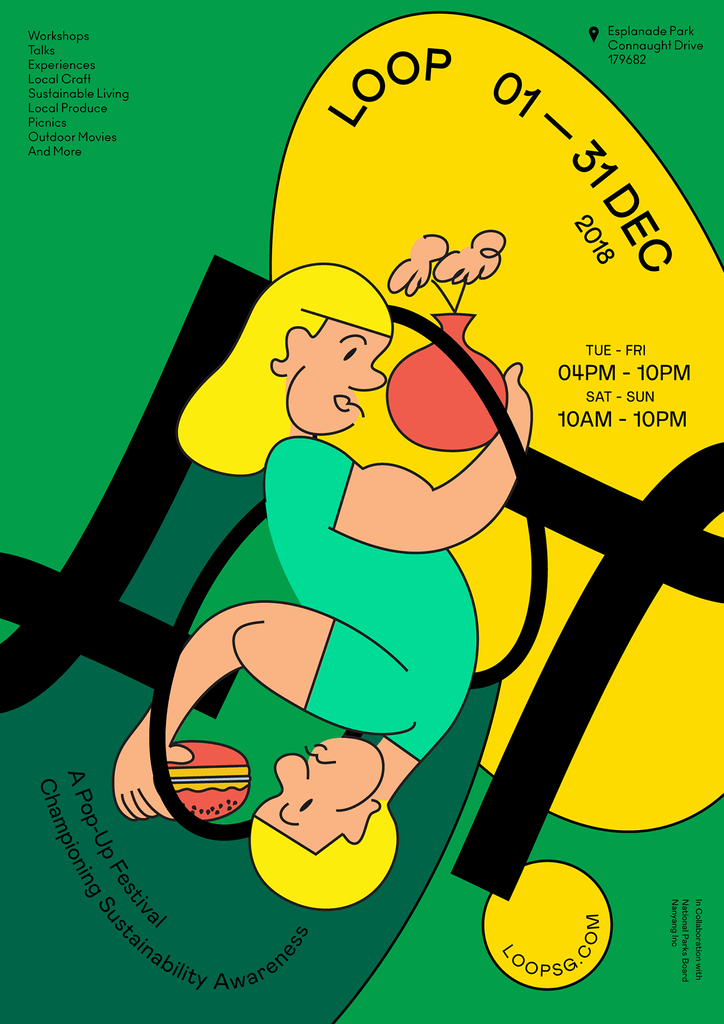 Be sure to bring your own bags to carry your purchases, and your own mugs even, for pours of coffee going for a dollar if you do so.
For those who still haven't caught on the metal straw craze, not to worry. Posting something on your socials with #loopsg will get you one, so you never need to request for plastic straws ever again.
1st to 31st Dec
Esplanade Park
6. Minimalism: Space. Light. Object.
Championing the art of 'less is more', National Gallery Singapore and ArtScience Museum team up to debut the biggest minimalism exhibition in Southeast Asia.
Held within the confines of the two iconic museums, the experiential exhibition gives visitors the freedom to view, interpret and experience the immersive displays in a variety of ways – allowing for different ways to appreciate the aesthetics of Asian and Western minimalist art.
For a comprehensive understanding of how minimalism progressed, start at the National Gallery Singapore. Your tour opens with entirely black works like Mark Rothko's No.5, intended to move away from Victorian ideas of painting; then, cubic forms and straight lines grow into less rigid textures, and 3D objects made from progressively softer materials.
Now till 14 April 2019
Island Lights 2018
7. Island Lights 2018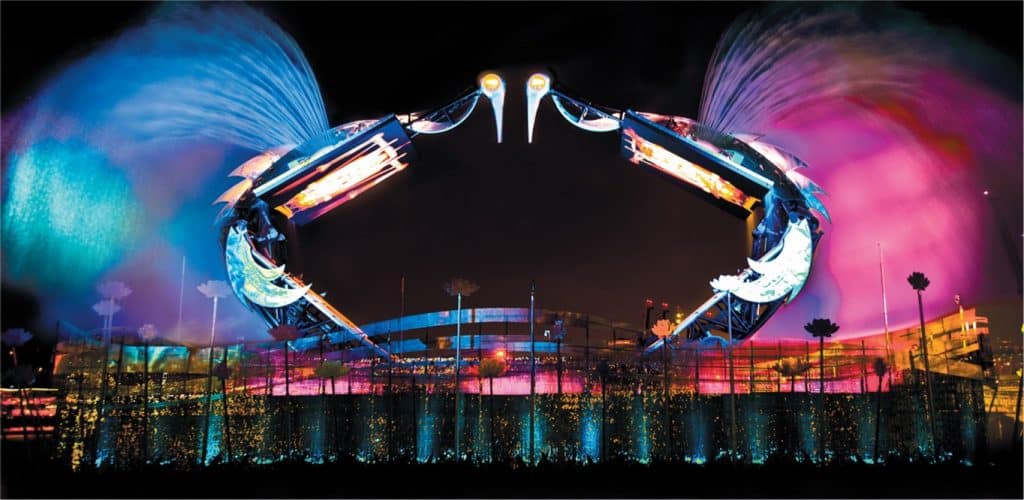 If the great Disney-themed Christmas lights (and crowds) of Orchard Road aren't for you, take a detour down south to Sentosa instead. This supersized second edition of Sentosa's pop-up art festival, is back with 10 photo-worthy installations scattered around Palawan Beach.
For something truly immersive, step into ASMR Wonderland by multi-disciplinary artist Yang – the only indoor installation at the festival. The multi-sensorial experience brings social media trends to life, with an original ASMR soundtrack wafting peacefully over the enclosed room of tarp-covered sand. It's like a crowd-favorite ball pit; but relaxing.
Now till 31st Dec
Palawan Beach
8. A $ingapore Carol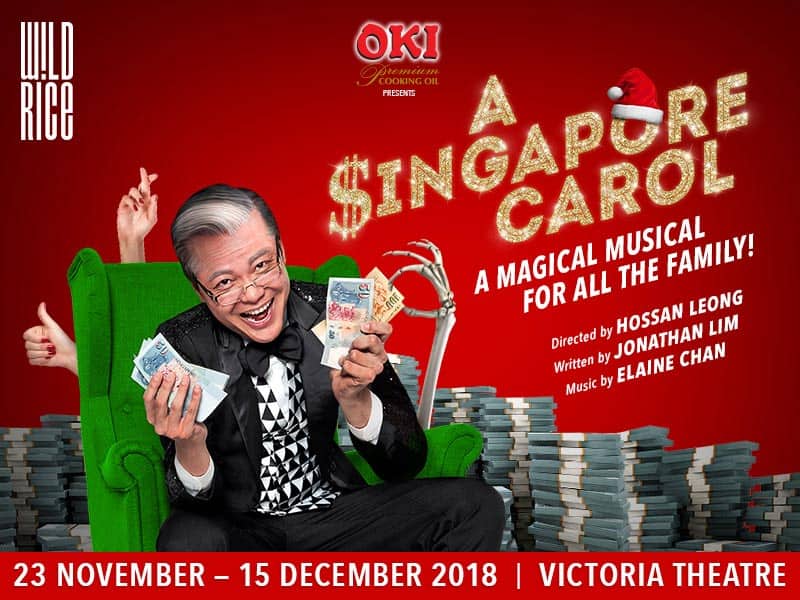 This holiday season, W!LD RICE brings you its heartwarming, hilarious take on Charles Dickens' classic tale about love, compassion and the spirit of giving. Helmed by comedian Hossan Leong, the musical charts the story of a multi-millionaire Singapore Scrooge who receives a surprise when three unexpected spirits appear before him to thaw his cold, frozen heart.
Now till 15 Dec
Victoria Theatre
9. Shangela Is Shook
Oh Shangela – where do we begin with this notorious RuPaul's Drag Race drag queen everyone loves to hate?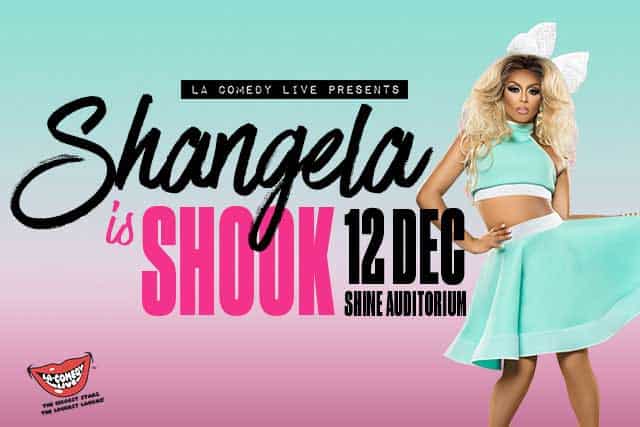 On Dec 12, Shangela will be bringing her brand new show "Shangela is Shook" to Shine Auditorium, in her debut performance in Singapore.
Since her time on RuPaul's, she's also guest-starred in various television shows like 2 Broke Girls and Glee, as well as films like Hurricane Bianca (starring fellow RuPaul's alumni Bianca Del Rio) and Lady Gaga biopic A Star Is Born.
Will she arrive in a cardboard box? We hope so.
12 Dec
Shine Auditorium
10. Culture Cartel
If you think street culture festivals are synonymous with hypebeasts and hypebaes flexing their streetwear gear, hold that thought. The inaugural Culture Cartel shines a spotlight on street culture, featuring everything from art and tattoos to fashion and toys, on December 1 and 2 at the F1 Pit Building.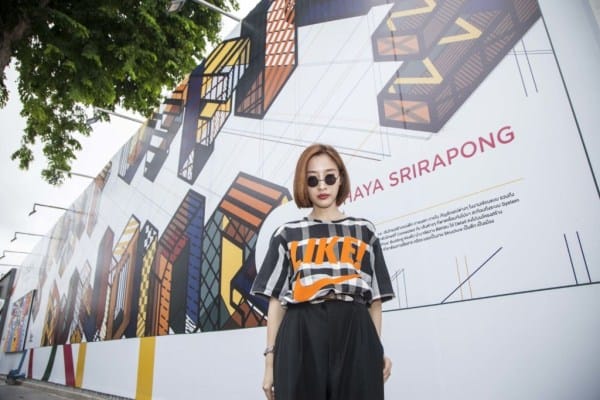 Culture Cartel looks set to unite the street and urban communities over one exciting weekend, and will bring you the best of all things street culture, including original and limited edition art prints, live art performances, designer toy collectibles and sculptures, rare sneaker and apparel releases, as well as pop-ups from the world's top tattoo artists, masterclasses, and after parties galore.
Don't bat an eye – artists like Jahan Loh, Rukkit, Beerpitch, Dub Williams, Phunk, Yok & Sheryo, SKL0, Mightyellow, Erikatoon and the folks behind Obey Giant and Kult Studio & Gallery are also set to invade the space with attention-grabbing street art, so get those cameras ready to feed the 'gram.
1st to 2nd Dec
F1 Pit Building
11. Zoukout 2018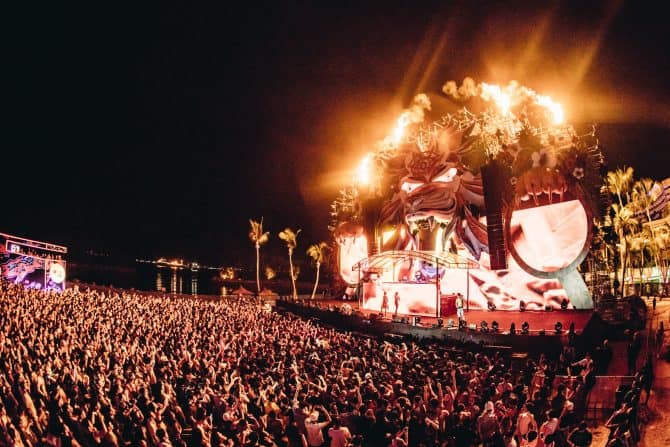 Zoukout returns to its home at Siloso Beach Sentosa for two nights of the best dance music from around the world.
Headlined by internationally acclaimed DJs such as Australia's Timmy Trumpet, legendary producer Jeffrey Sutorius and electro-house giant KSHMR, this year's beach blowout is set to be bigger and better than before.
This year's line-up also includes DJ superstars DVLM, Galantis and W&W, so you can expect a weekend of non-stop partying for sure.
1st Dec
Siloso Beach, Sentosa
12. Virtually Versailles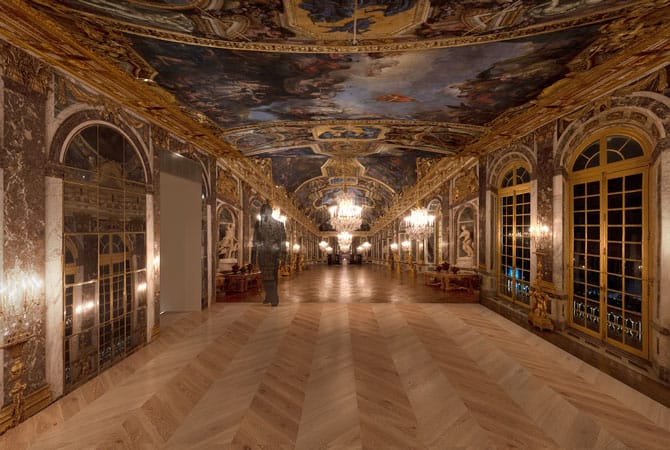 Save that trip to France – the Palace of Versailles is coming to Singapore.
Making its global debut, Virtually Versailles is the world's first digital exhibition to showcase the historical landmark in all its golden glory through immersive and interactive technology.
Explore the splendors of the finest in French art, culture, and history dating back from the 17th century up to the present day.
Now till 16 Jan
ION Art Gallery
13. The Quayside Pup Club
To all the pooch lovers and puppy parents out there, you can now treat your pets to some dog-friendly ice cream this weekend.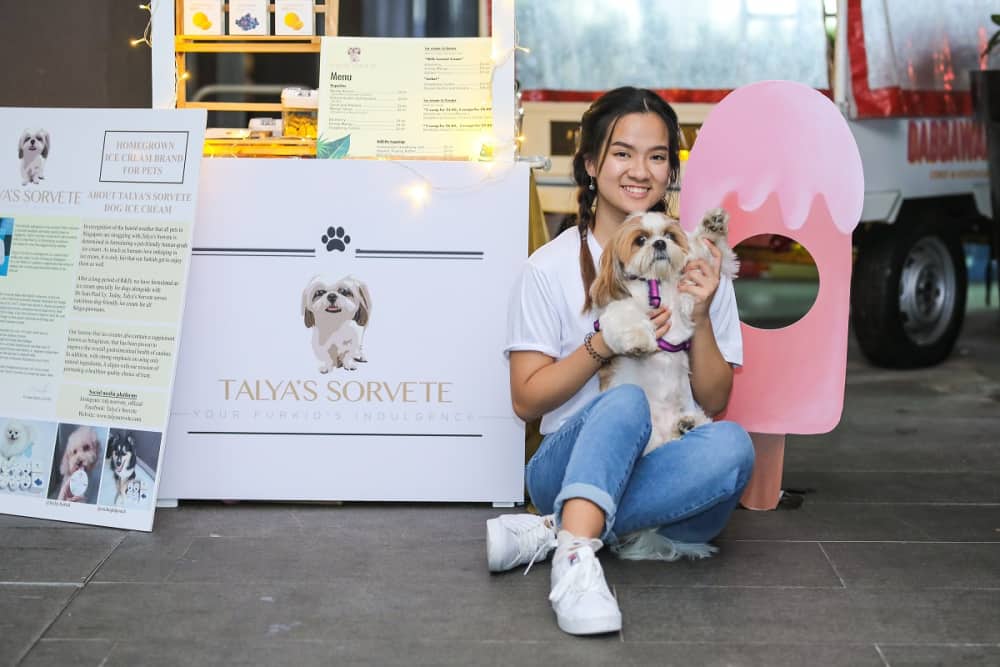 Menu highlights include three nutritious mixes of Blueberry, Honey Mango and Strawberry ice cream Pupsicles ($5) – the ideal hot weather indulgence for dogs of all ages and breeds.
Talya's will also be debuting the newly launched homemade Peanut Butter and Strawberry toppings ($0.70) – both flavors are in line with the brand's philosophy to be free of preservatives and artificial sugar.
Alternatively, the lactose-free delicacies can be purchased in boxes ($15.60) with servings that will feed two hungry pups – perfect for takeaways and working beautifully as a post-walk treat.
9 to 23rd Dec
Quayside, Raffles Place