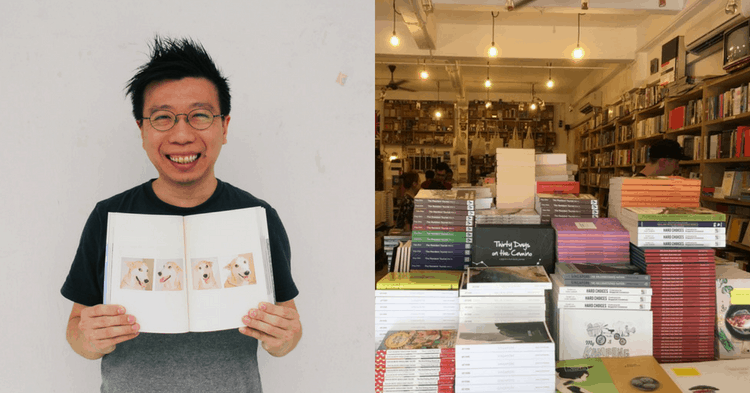 It might not take a village to run an independent bookstore, but it takes a village to sustain it.
The village (or in this case, city) is Singapore; the bookstore is BooksActually, celebrating its 13th birthday this October. With chain bookstores like Borders and Page One closing down over the years, it's no small feat that BooksActually continues to not just survive – but also thrive for so long.
In addition to stocking a diverse range of books by international authors, it is home to the largest selection of Singapore literature, most of it published under its own imprint, Math Paper Press. BooksActually proves that, yes, local literature sells.
The bookstore's three adorable cats – Cake, Pico and Lemon – don't hurt sales either.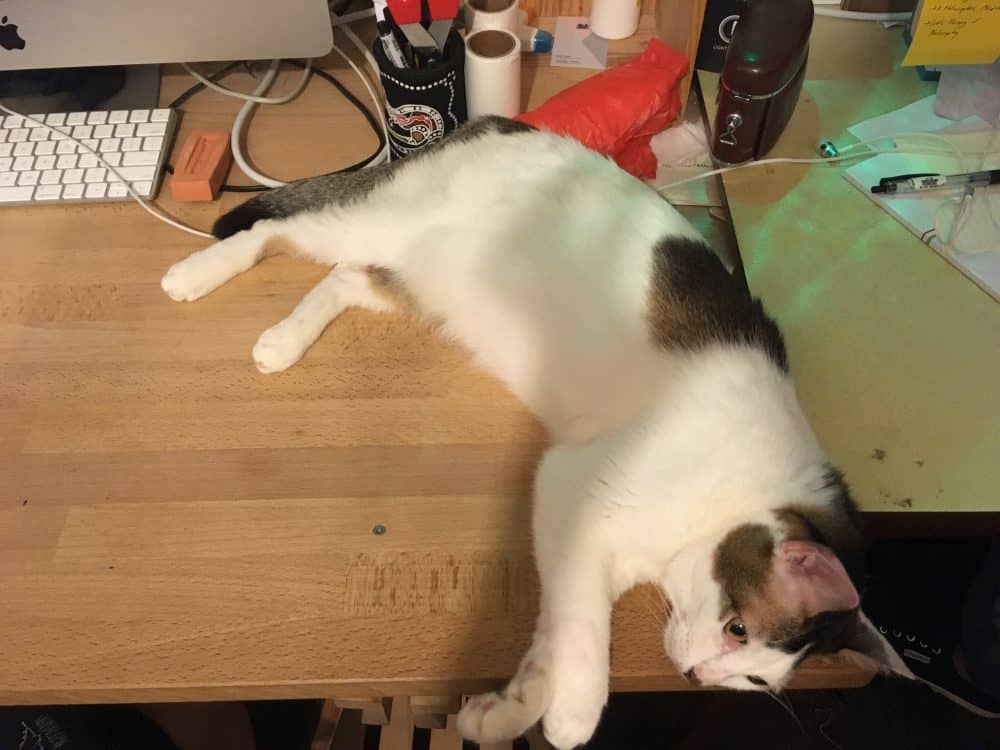 Their diversification into publishing and handstitched stationery brand, Birds & Co., shows how hard the booksellers have worked to get to where they are today.
However, all these commitments also mean that BooksActually cannot afford to be bogged down by financial difficulties like rising rents. And rent is constantly at the front of owner Kenny Leck's mind.
"As a bookstore and as a business I think we're doing decently OK, where we can definitely make a living out of it. But I think going forward, we know that if we're to continue renting it's just impossible to do it. The fact that rents are always going to be higher… that offers you instability."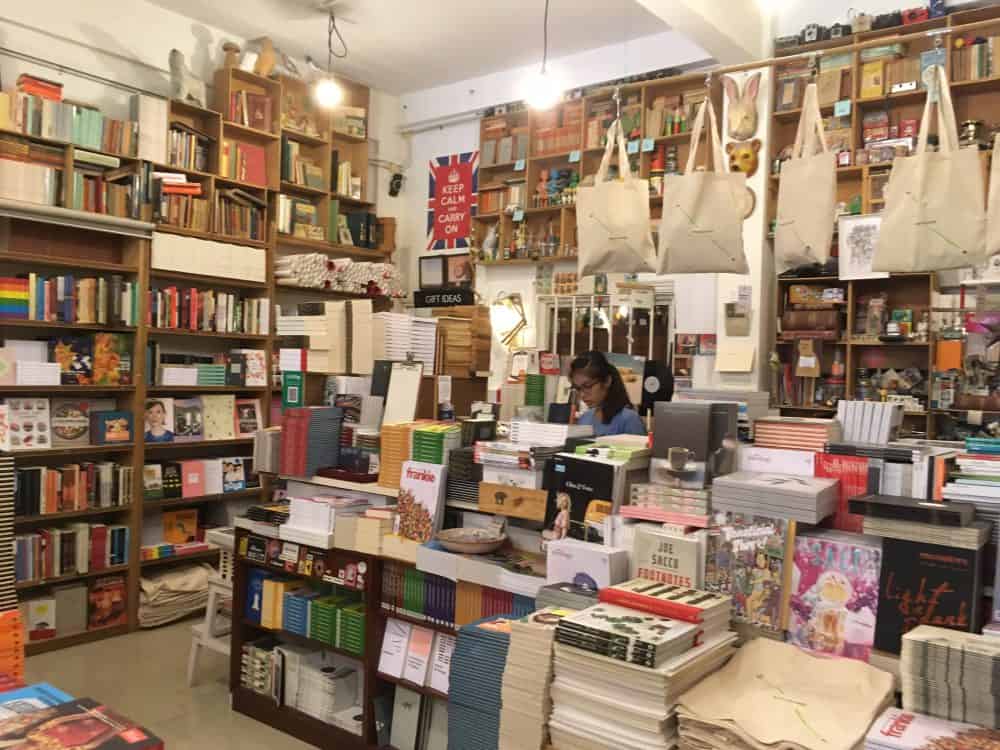 He's been dealing with rent instability for 13 years. Since the beginning of its operation in 2005, BooksActually has shifted three times before coming to its current location at Tiong Bahru, well-known for its stretch of hip cafés and specialty art shops. Although the space was cheap when they first arrived, Kenny says that "now rental has gone up like crazy."
His neighbours are feeling the pressure too.
Kenny brings up Grey Projects, a non-profit art space on Kim Tian Road for exhibitions and residency programmes: "They just got recent news that the whole block is going to be enbloc-ed so now they have to move. After spending close to seven years to build that following to go for their shows, they have to move."
"We're trying to avoid this sort of uncertainty by trying to secure our own permanent space, so that we can continue to just keep growing in that area."
They are looking to acquire their own shophouse – and you can help.
The Shophouse Fund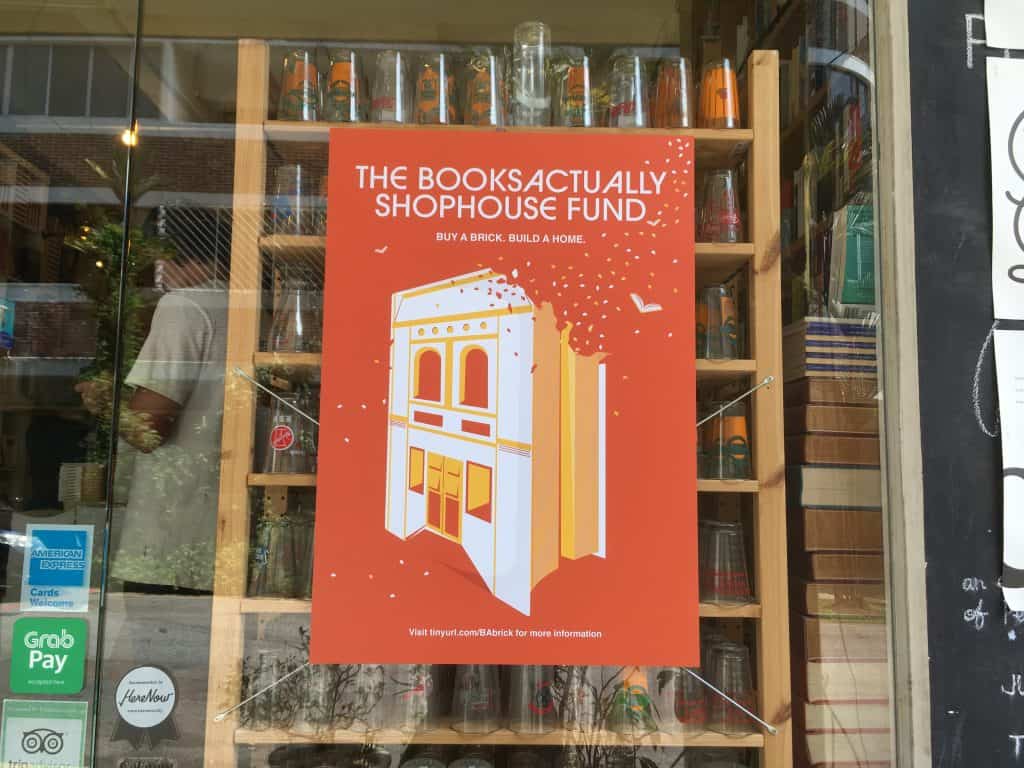 In the middle of May, BooksActually announced their Shophouse Fund, a fundraising campaign that will run until the end of the year. Raemae Kok, marketing manager of the bookstore, shares that the target is about 2 million dollars.
If your eyes bugged out at that figure, you're not alone.
Kenny and Raemae share a laugh about the probability of hitting that target. "We're just trying to push it as much as possible," Raemae says.
All things considered, they are setting their sights on Balestier as their new home.
This isn't the first time they have tried to raise funds for a new, permanent space. Efforts began in 2014, and then again in 2017 – yet BooksActually remains at Yong Siak Street, paying higher and higher rent each year.
Brick By Brick
This year, they are trying a different approach: selling miniature bricks.
At $10 or $50, you can purchase a miniature brick that the BooksActually staff actually moulded by hand themselves, using clay and studio space provided by Mud Rock Ceramics. After they have raised enough funds for a shophouse, the staff would ask everyone who bought the bricks to sign them and send them back to the store for something special.
"We're going to make a structure so that their commitment to the store is never forgotten," Raemae says.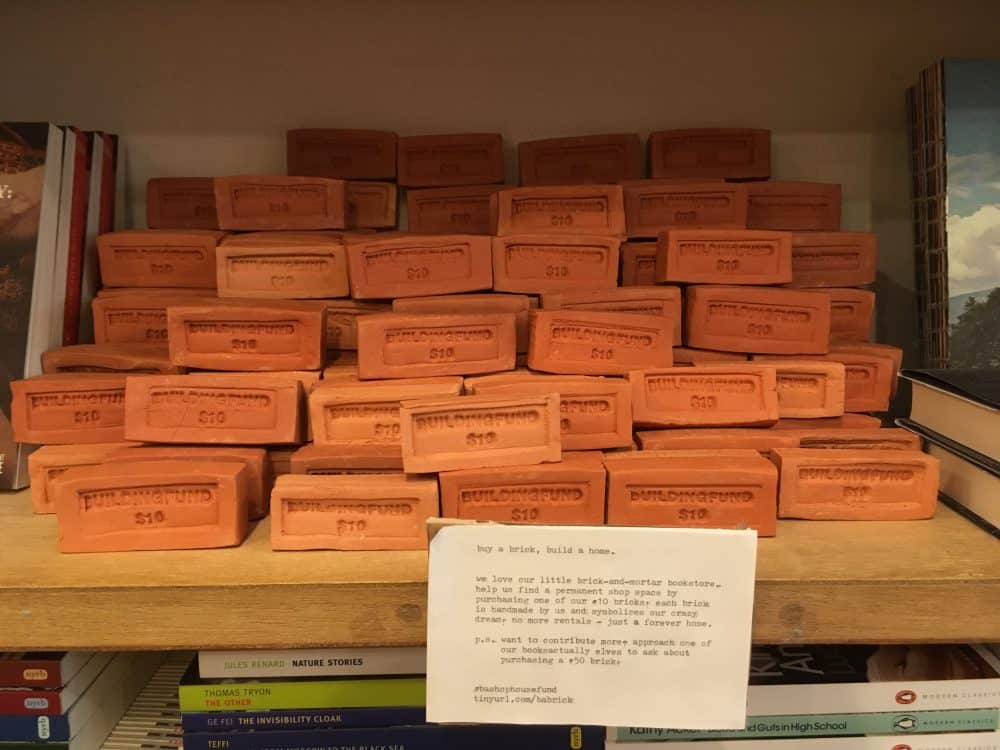 "We've always relied on sales," Kenny explains. "We have a lot of people who want to support us, but sometimes it's hard for them – they just want to support but they don't want to buy a book, or sometimes they come in and they just can't find something that they want, and they end up finding it a bit hard to support us."
"But with the brick itself it carries more of, like, a purpose. A significant symbol of support."
Raemae believes that hitting the 2 million target is "entirely possible." Her optimism is not completely unfounded. In less than a month since the campaign began, they had already raised almost $10,000 from the sales of the bricks.
It's All About The People
One thing remains unchanged about the campaign strategies since 2014: Kenny's adamant refusal to try crowdfunding. Friends and customers have suggested running the fundraiser on Indiegogo or Kickstarter to reach wider audiences, but Kenny feels that the meaning he's trying to make through the bricks would be lost on those platforms.
"It's very pigeonholed in that sense where I'm actually selectively telling you how you want to support, how you can support, and this is what you're getting. And at the end of the day it feels very transactional."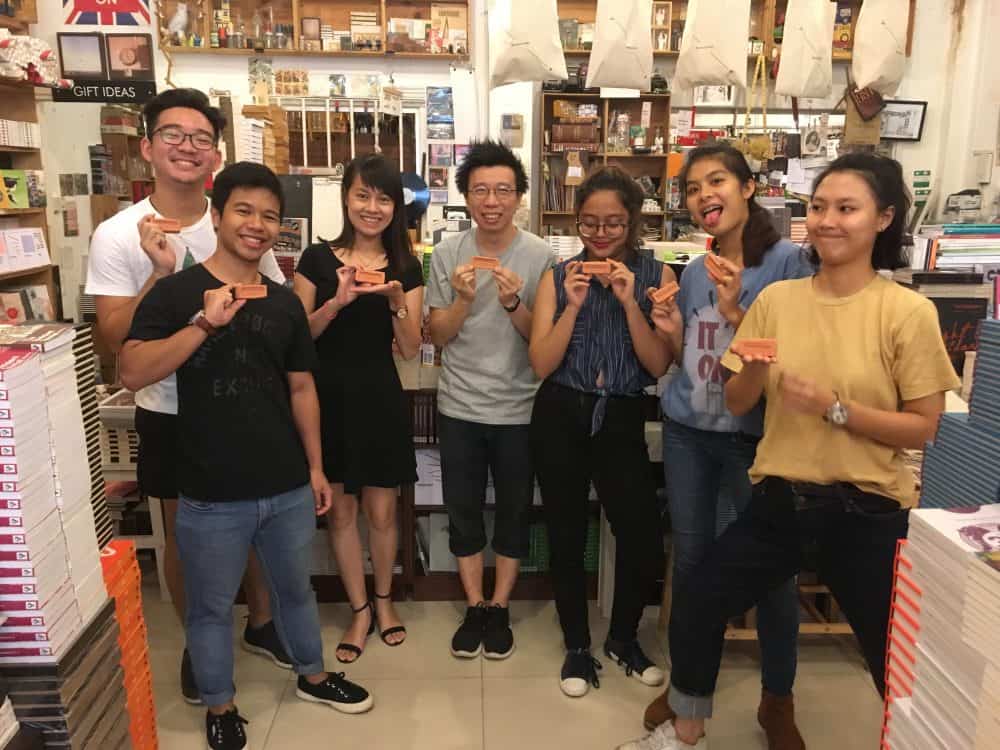 At the heart of BooksActually is the relationships formed over the years between the customers and the booksellers. To Kenny, the sustainability of BooksActually means watching regular customers grow up with the bookstore, and giving Singaporeans and expatriates who leave Singapore something familiar to return to.
He is visibly moved recounting one story:
"One of my customers from way back – from Ann Siang, so it would have been ten years ago – she left for university studies, then she ended up working in the UK and getting married. She visited us two weeks ago with her two kids, and that was the most amazing thing."
"That's what having a bookstore is all about."
Guardians Of The Local Arts Scene
The ethos of BooksActually also makes the bookstore's growth even more important. As a champion of independent local artists, BooksActually has been buying and carrying music records, zines and more by new artists.
"I want to make sure we continue doing that," Kenny says. "To have the luxury and budget to do that, the space has got to be permanent."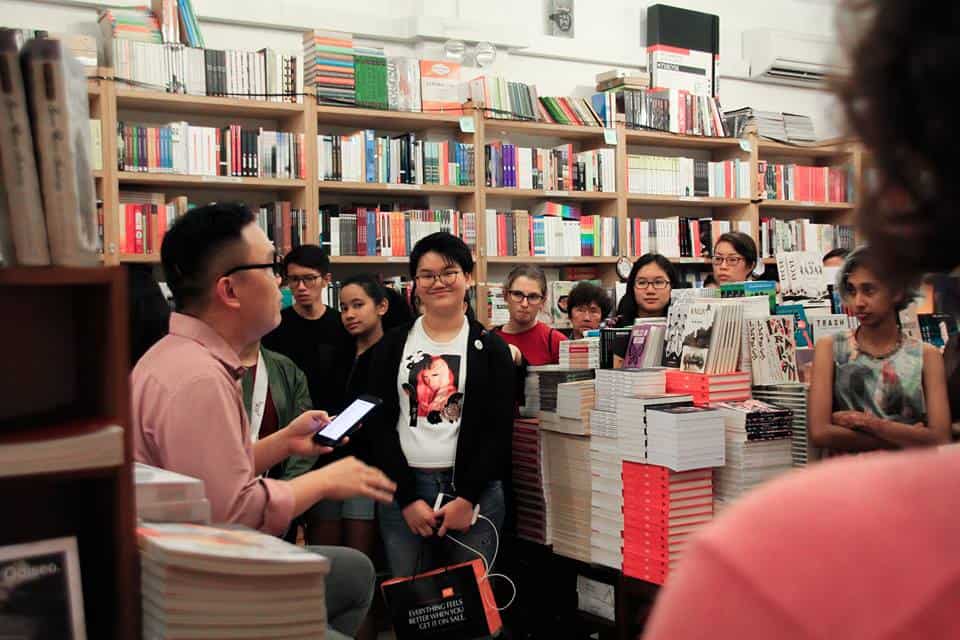 The support goes both ways. Many Singapore authors have a close relationship with BooksActually, visiting the bookstore frequently as guests at book launches, readings and other events.
For this year's Shophouse Fund, the authors are eager to show their appreciation. Check out the BooksActually YouTube channel for interviews with different authors each week about what BooksActually means to them.
In August, BooksActually will be holding an auction at Gillman Barracks to raise funds, and several local artists will also be donating objects of value to them.
Sean Lam from Hanging Up the Moon is contributing three signed copies of his vinyl albums. Poet Cyril Wong dug out two rare copies of his first book few people know exists. Author Tania de Rozario, who also sells handmade cushions on her Etsy store, is auctioning off two animal cushions.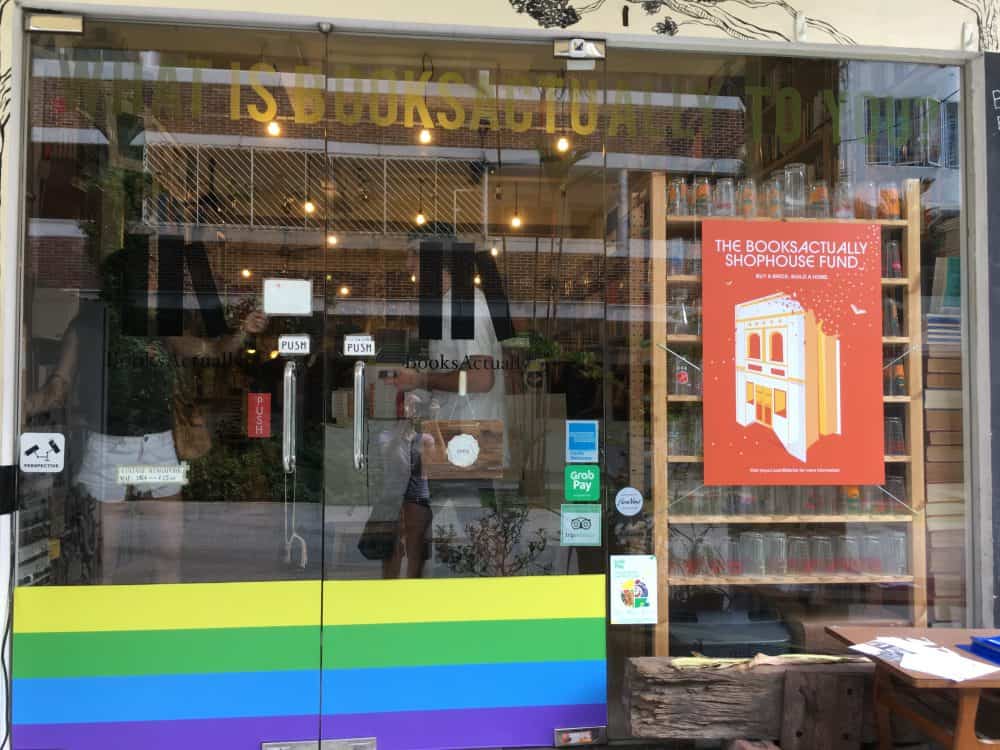 With more exciting events coming up, there are many ways to support our favourite indie bookstore's growth at their own space. But if you're looking for a unique way to add your name to a monument celebrating local arts and culture, consider buying a brick.