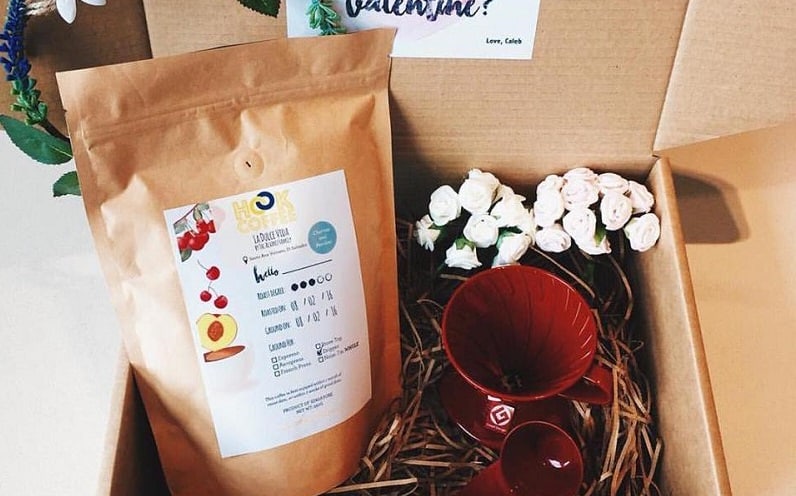 Specially handpicked products, packed in a gorgeous fancy box and you get them delivered straight to your doorstep – what's there not to love?
Specially handpicked products customized according to your needs, packed in a gorgeous fancy box and you get them delivered straight to your doorstep – what's there not to love about subscription boxes? It's like getting a gift, from you to you, every month! Whether you are looking to up your fashion game or trying to get fitter, there is a subscription box for almost everything.
1. Food Matters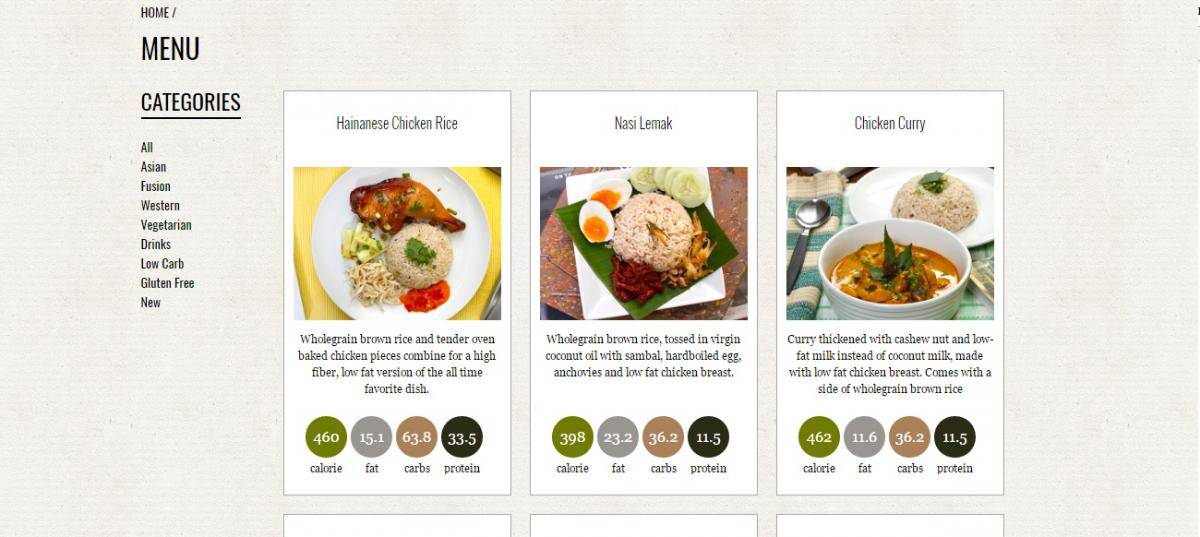 Source
Counting calories but still crave for that delicious plate of Chicken Rice? Food Matters whips up a healthier version of local favourites like Chicken Curry and Nasi Lemak. Certified nutritionists at Food Matters plan each meal such that you are getting full flavour without additional calories or fats. Think: Chicken Curry with cashew nut milk and Chicken Rice with wholegrain brown rice.
Subscriptions at $7 to $10 a meal
Get started on your subscription here
2. OHHMYBOX

Source
OHHMYBOX is catered to all the modern gentlemen out there. Based on a particular month's theme, subscribers can expect to find facial products, grooming essentials and accessories like cufflinks and ties. Additionally, to ensure these products are suited to your needs, anyone who subscribes would have to fill up a questionnaire on personal style and likings.
Monthly subscriptions starting from $49 per month.
Get started on your subscription here
3. Batterful

Source
Batterful wants you to get baking by removing the hassle and doing all the ground work for you. This subscription box includes an original step-by-step baking recipe each month and pre-measured packaged ingredients, so all you have to do is mix them all together and bake! And if you are nowhere near Martha Stewart standard, don't fret – Batterful uploads videos on their site to guide you along so you can create your own masterpiece as well.
Subscription starts from $18, depending on your choice of recipe.
Get started on your subscription here
4. Boxgreen
If you are guilty of snacking too much in your office or while studying, Boxgreen is here to help you snack better – by sending you tasty and healthy little snacks for $19.90 per box. Each box contains four different snack packs and you can choose from a variety of nutritionist-approved snacks featured on their site – from Sawadee Tom Yum Crunch (tom yum flavoured puffed rice) to Soya Crisps (soya bean chips)! Perfect to stash away a box, or two, in your office desk or your hall room for when the munchies hit.
Subscriptions at $19.90 per box
Get started on your subscription here
5. LOWINSKY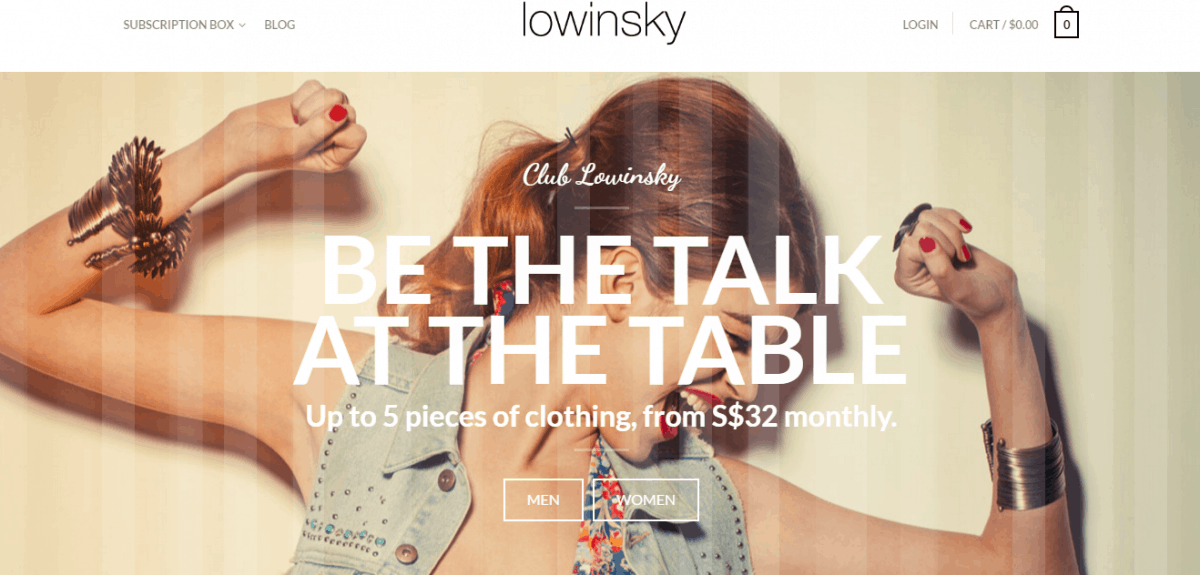 Source
If you love fashion but loathe shopping, or if you are still trying figure out your style, Lowinsky might be the solution to your problems. Lowinsky is an apparel subscription box that caters to both men and women. For a small sum, you will be shipped up to 5 pieces of clothing, specially hand selected for you each month. An easy way to keep in trend without having to do all the work. All you gotta do to get started is fill up a form regarding your size and style preference and wait for your subscription box delivery!
Subscriptions starting from $38 per month for women and $58 per month for men
Get started on your subscription here
6. Fit Three
Fit Three is a food delivery system for health aficionados. All the meals provided by Fit Three are carefully planned by professional dieticians to ensure they fit the dietary requirements of those who lead an active lifestyle. All the meals are also prepared with non-GMO foods, fresh ingredients sourced locally whenever possible, and do not contain any additives. Fit Three do not deliver directly to your doorstep, but has pickup points all around Singapore.
Subscriptions start from $12.90 a meal.
Get started on your subscription here
7. Gryphon Tea

Source
Gryphon Tea subscription box will make the avid tea drinkers really happy. This subscription box comes in two varieties- the Artisan Box and the Gourmet Box and you can choose between a 1,3,6 or 12- months plan. The Artisan Box offers 30 tea sachets while the Gourmet Box offers three different types of loose tea leaves. These are not your run-of-the-mill flavours. With flavours like 'Pearl of the orient' and 'White gingerlily', rest assured you won't get bored with the selection!
Subscriptions starting from $28.80 per month for the Artisan Box and $32.80/month for the Gourmet Box.
Get started on your subscription here.
8. Hook Coffee

Source
It is only fair that I include one for the coffee connoisseurs, right? If you love coffee, and just cannot stand the 3-in-1 coffee mixes, this subscription is for you! Hook Coffee offers you high-quality coffee in the form of grounds or in drip bags so you can make artisanal coffee right at home. Their beans are also sustainably sourced and ethically produced, so you can enjoy your cuppa guilt-free.
Starting from $14 for one pack, which contains 10 drip-bags/ 250g of beans.
Get started on your subscription here.
9. StyleTheory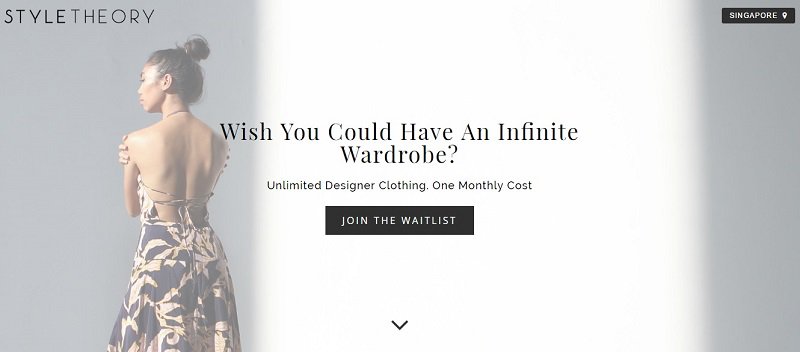 Source
At $129, this luxury apparel subscription box may seem pricey, but you are getting amazing value out of this. Each month, you can get unlimited number of clothing, in sets of 3 packed in a box. Each clothing piece could cost up to $600. So, if you are eyeing that designer dress that you don't want to shell out full price for, or have a dressy event coming out, Style Theory can help you out!
1 month subscription for $129.
Get started on your subscription here
10. BooksActually Box

Source
The BooksActually Box is for the voracious readers and bibliophiles. In the monthly subscription box, subscribers will get one book, handpicked by the BooksActually staffer whose reading profile they most identify with. Founder and owner of BooksActually Kenny Leck, for example, has "books that will make you a better person", while part-time 'elf' Natalie Wang offers short story anthologies and books about magic realism and fantasy.
In addition to the book itself, the good people over at BooksActually also throw in a little gift in the box to complement your reading experience, like a sachet of tea leaves or an aromatic candle.
3 month subscription for S$ 129.
Get started on your subscription here.