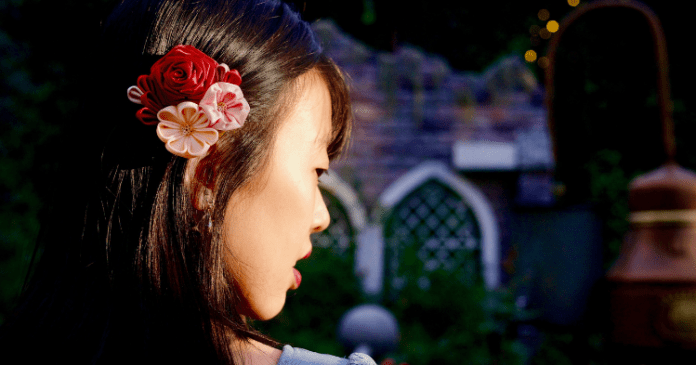 After spending close to two hours at Starbucks conversing with Jane, I realise that the best way to define her craft is this phrase: more than meets the eye.
At first glance, her flowers seem unassuming – but that's only until you find out more about the effort and time taken to create each petal.
Jane practises a technique called tsumami zaiku, which refers to the traditional Japanese art of pinching and folding squares of cloth together to form petals. These petals are then transformed into flowers for hair accessories (known as kanzashi).
The traditional technique uses rice starch as glue for their kanzashi, but Jane has incorporated the modern tool of using fabric glue which is best suited for the material she uses.
Her Blossoming Love For Japanese Culture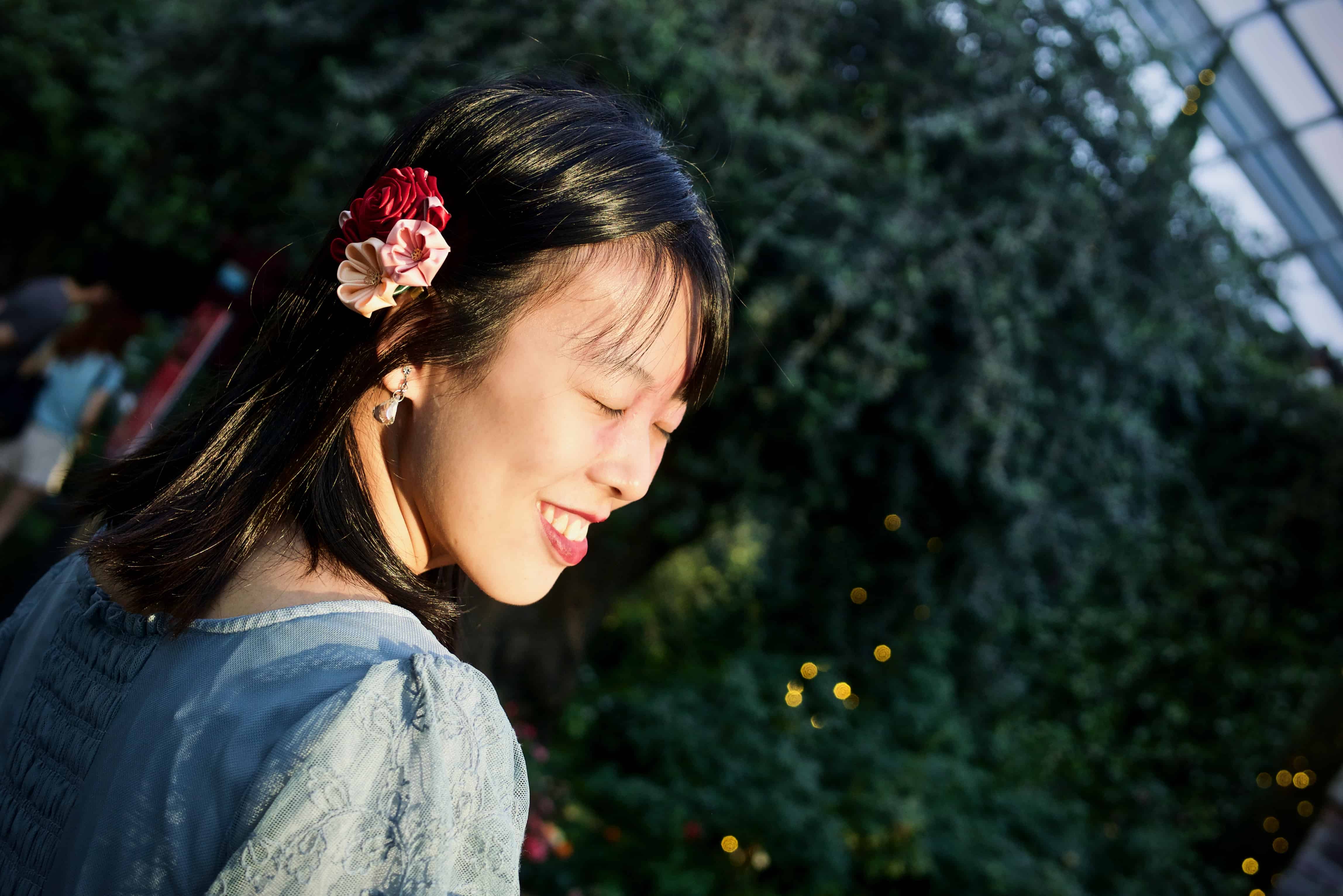 Jane's love for the Japanese culture began since she was in primary 4.
As with many who grow to love the Japanese culture, Jane started with anime. She recalls being in love with Sailor Moon, eventually saving money to buy textbooks to learn the Japanese language on her own.
"During that time, I didn't know that Japanese culture could be more than anime – I was pretty narrow minded. One day, I watched a documentary about ancient Japan and the Geisha subculture caught my eye."
Not missing a beat, she goes on to share about the history of Geishas – did you know that the geishas of ancient times were men?
In fact, the geisha culture used to be very popular in Japan: "They had free liberty to design their own style – hair accessories, make up, and the way they carry themselves. Maiko (geishas in training) were allowed to be flashy – in fact, the flashier the better – but the moment you become a real geisha, everything about you has to be more toned down."
While Jane personally loves flashy kanzashis, the ones she makes are simplified to make it easy for the modern day woman to incorporate them into her lifestyle.
Through Trials and Errors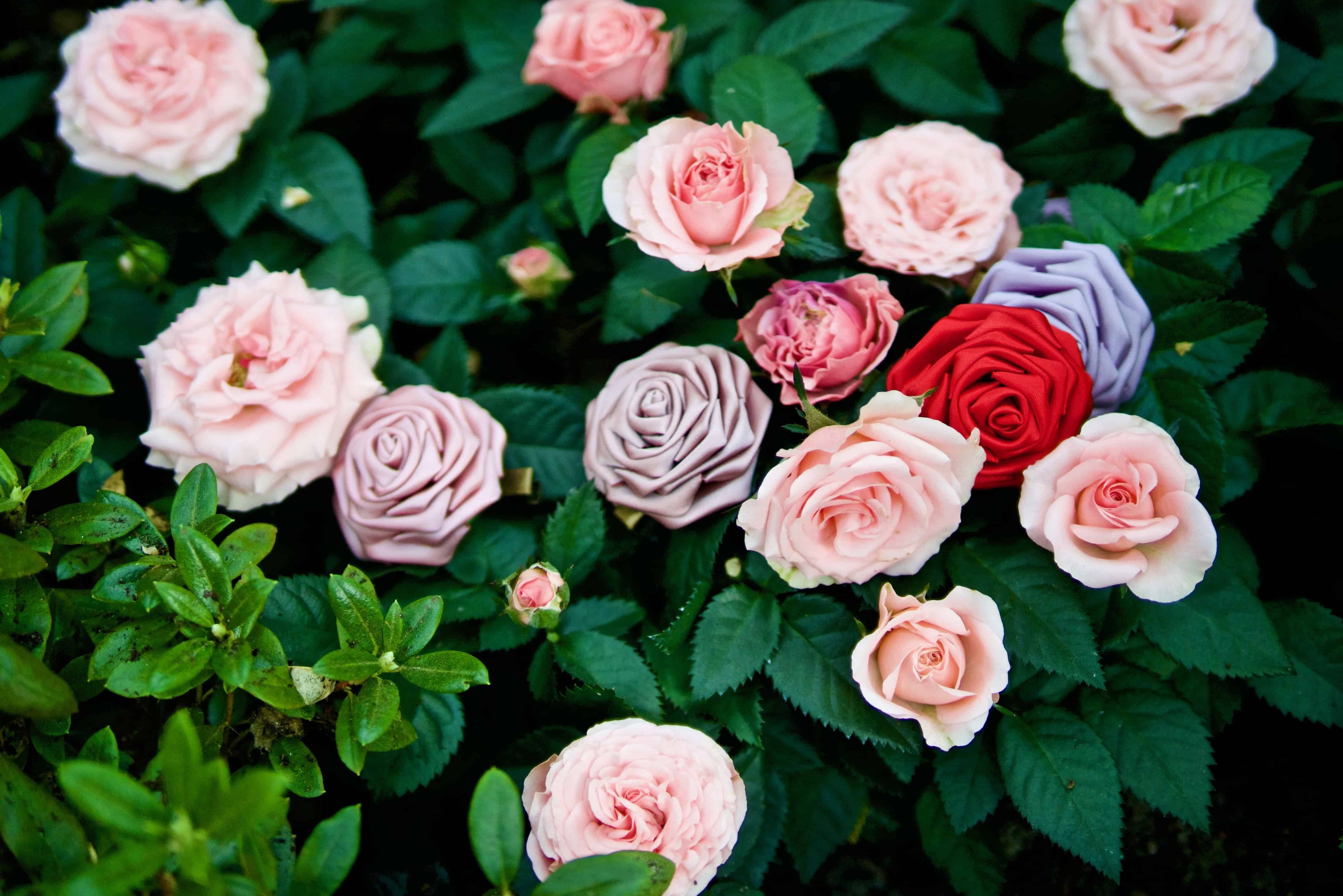 Jane handpicks the colours of the flowers, and if you take a closer look you'll notice that they glisten under the light.
She explains that this is because it's double-faced satin – she doesn't skimp on her material as she believes that every flower is not just a product; it's an experience.
For someone who picked up the craft only 2 years ago, Jane has come a long way. While she used to take 4 hours to do one flower, she now does it in an hour.
Displaying two large boxes of flowers of a spectrum of colours, she says, "I came from not being able to make a single petal properly, to this."
When she first started out, her roses didn't look like roses – they resembled cacti. Those made with green ribbon turned out looking like cabbages.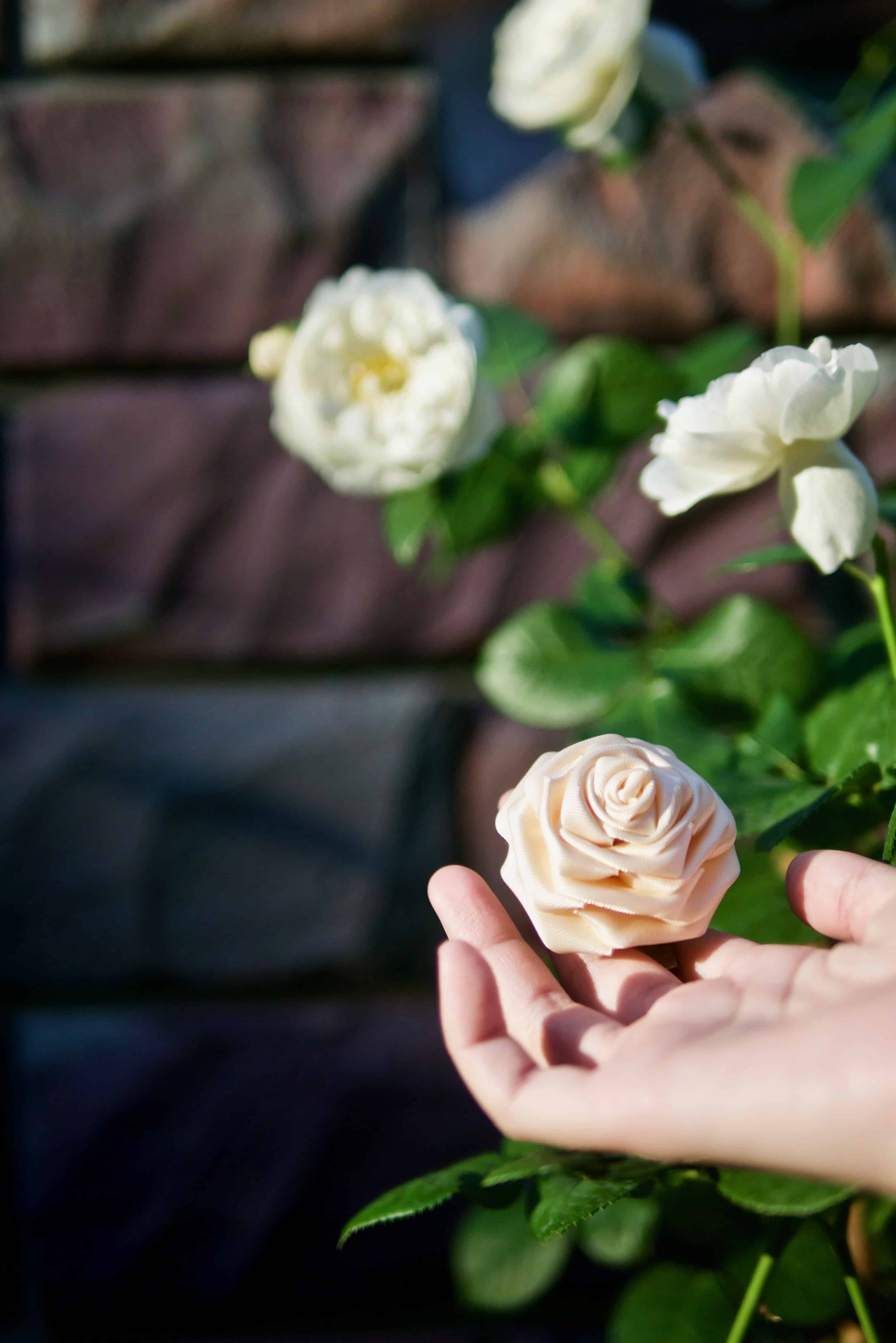 She later found out it was because the size and number of petals had to be exact.
Given the effort she has put into perfecting her craft, it's no wonder that she feels personally attached to all her flowers, naming them.
Jane introduces me to Summer, Spring, Autumn, and Winter that is incomplete.
Jane then recalls her first booth that she had at the 2018 iLight at Marina Bay Sands.
"Everything was a terrible rush, and I later realised that one of my larger scale kanzashi was missing."
While normal business owners would have been upset at the loss of revenue, Jane was instead upset that she didn't get to say goodbye to her kanzashi.
"I made everything myself, so I would still like to say goodbye. I hope that that one is doing well."
A Drive To Succeed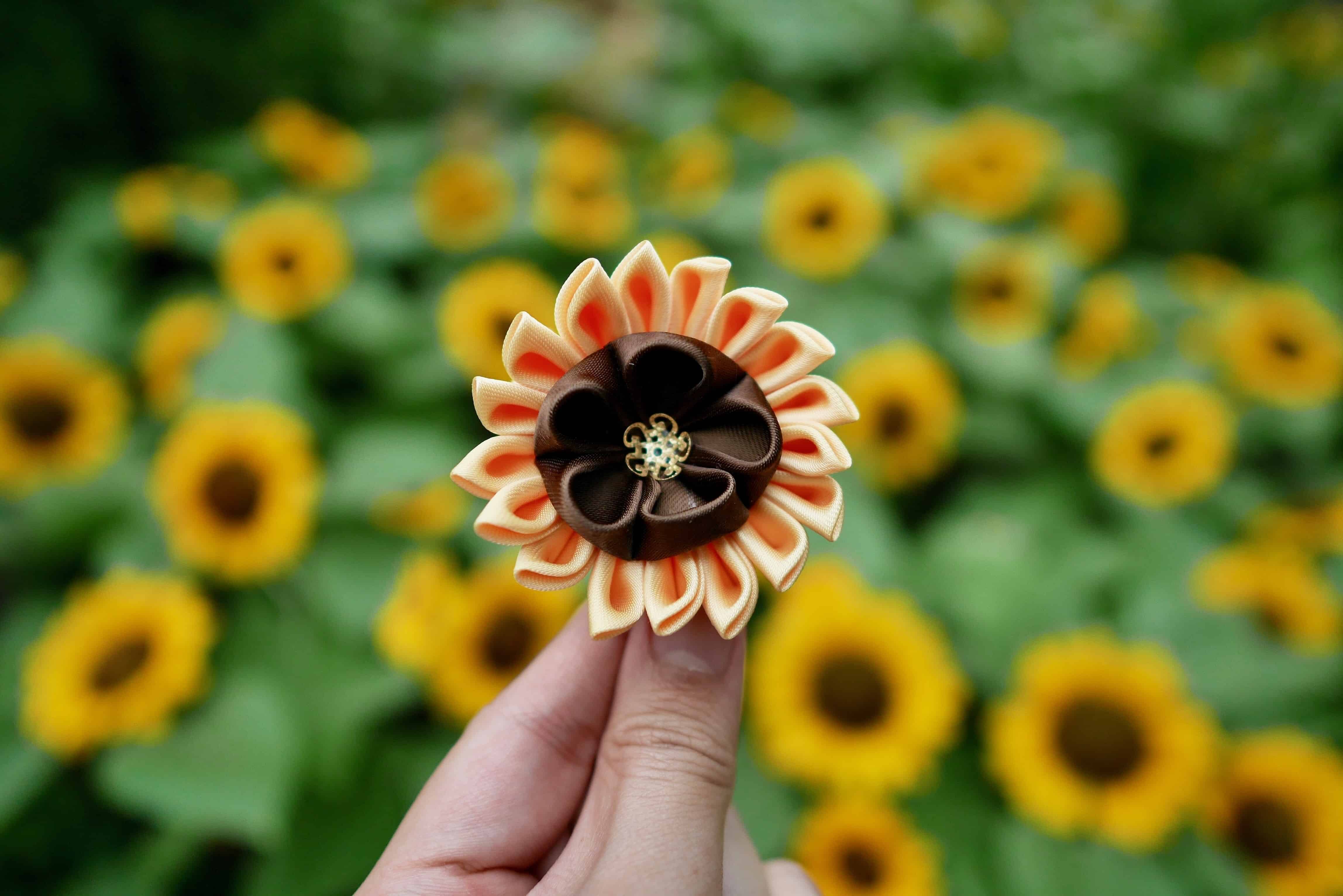 For those who are passionate about a certain craft or art form, turning it into business often means taking a risk – one could end up focusing on the dollars and cents at the expense of the love for the craft.
Jane reveals that initially she wasn't keen on turning it into a business.
"I just wanted to make stuff and enjoy making stuff. For me, the fine line between business and crafting out of passion starts to get blur after a while."
She brings up the example of Van Gogh, whose fame and riches only came after his passing. Many of us romanticise it, but we do not consider things from his perspective – that he passed away harshly criticised and penniless.
"I don't think I am Van Gogh, but I do wonder what will happen if I were to find myself in his position one day."
Jane's main motivation for turning her craft into a business is that she wants to set an example for the younger generations.
Singapore focuses greatly on academics, and the rhetoric that we need to study hard in order to have a good future is drilled into us at a young age.
Jane therefore hopes to show that "following what you do can bring you to great heights and great places – it may not be the same places as where the university degree will get you – but it's fun too, when you get to create something that belongs to you entirely."
Making It Worthwhile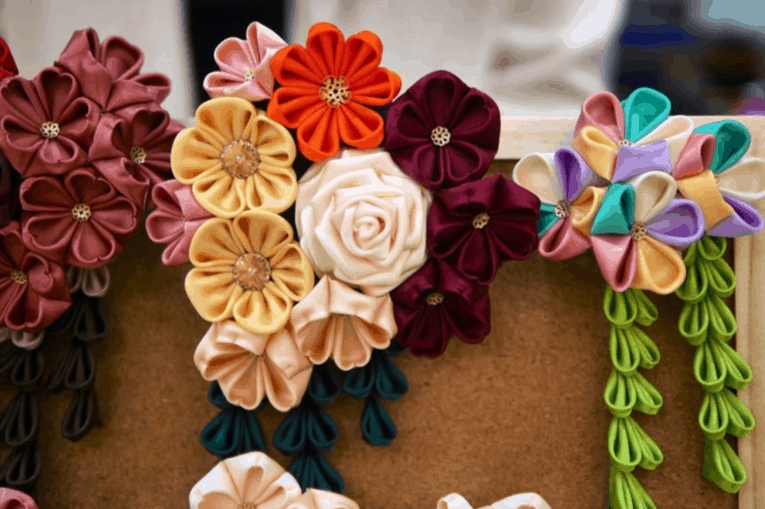 Jane's inspiration for her flowers comes from everything around her – it could be a particular woman's outfit, flowers at Gardens By The Bay's Flower Dome, or certain colour tones she spots at Sephora.
Rather than thinking about what will sell well, she aims to have her flowers connect with others.
Of these connections, one remains particularly close to her heart.
A guy had seen her stall from afar, walked over and blurted out "kanzashi".
"That was when I knew that we had a lot in common."
He pointed to the centre piece, one of Jane's larger kanzashis and asked for its price.
"He bought it as a display piece, and still sends me photos of it. I cried after that, because I only succeeded in making that kanzashi after many, many failures."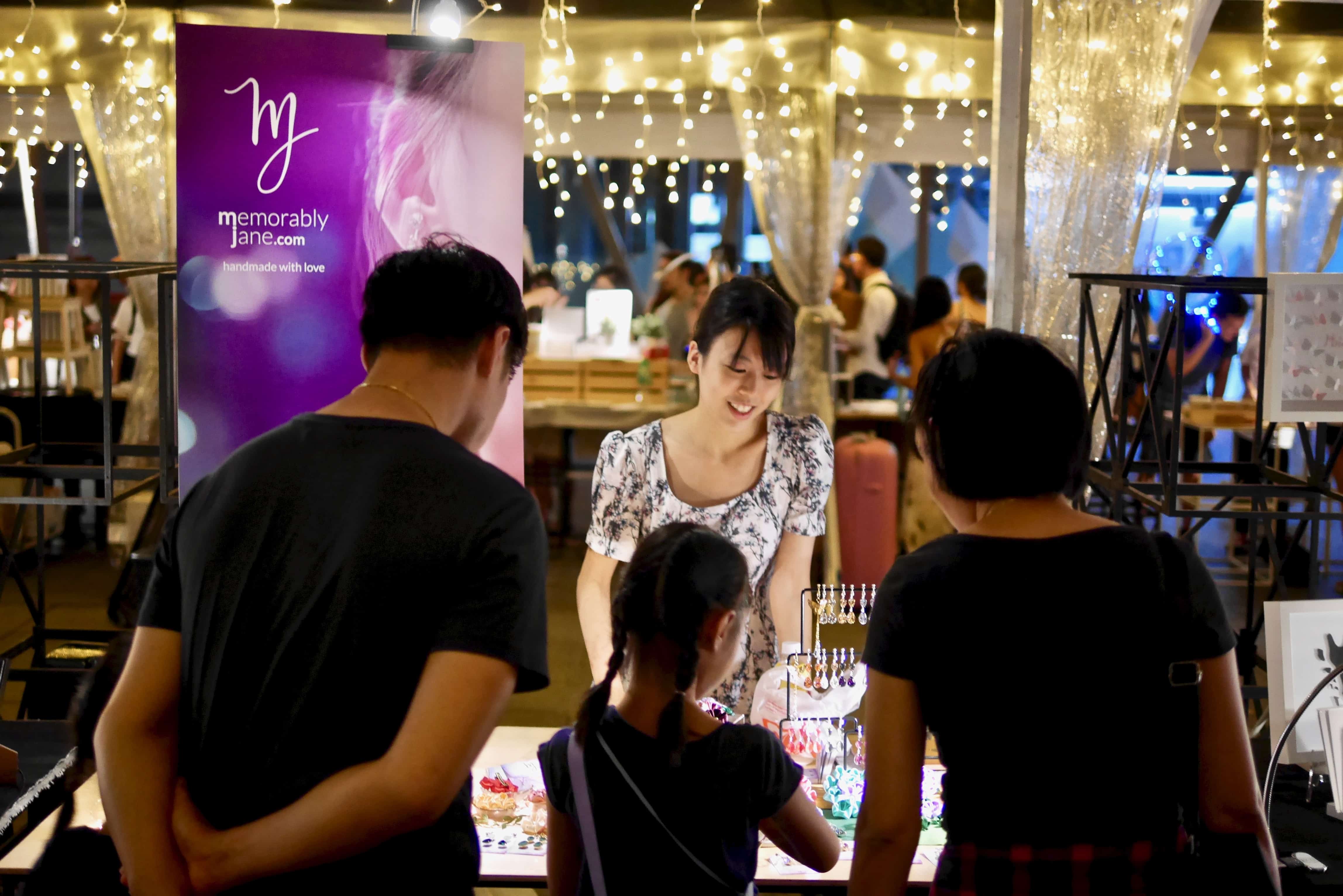 While crowds visiting Jane's booths have increased, sales has not seen a huge jump yet. She recognises that this is because the art is still considered foreign in Singapore, which is why she maintains her full-time job as a private tutor.
"It is so that I do not impose any money-mindedness – this [craft] is here because I love doing it. If I did it for the money, the vibe from the products, and how I talk to you would be very different."
Even so, she has gained something far more valuable – friendship and a chance to inspire younger ones.
As she reminisces her personal experiences, it's clear that the memories make this worthwhile for Jane.
Looking Ahead
Apart from pre-made kanzashis, Jane accepts customisation requests as well, if it is deemed suitable.
Jane reveals she has had to turn down a few requests for extremely heavy kanzashis, because the weight will pull on one's hair and the kanzashi will end up drooping down.
For those who are looking to customise, Jane will meet you to help analyse if your request suits you (certain flowers suit different head shapes better), and if not – she'll suggest accordingly.
To check out Jane's flowers for yourself, you can head down to Carouselland, happening this weekend from 16 to 18 August at Marina Bay Sands Halls A&B.
You can also head to her Instagram and website to find out more.