Nestled under a residential block along Crawford Lane is a neighbourhood gem serving specialty coffee. That's right — this beautifully decorated space is located below a HDB block.
We caught up with founder and barista of Tolido's Espresso Nook, Douglas Tan, and are almost immediately tempted to grab a hearty mouthful of their savoury Laksa Pasta.
Snack Bar Turned Specialty Coffee Joint
Tolido used to be a snack bar run by Douglas's mum in the Omni-theatre years ago. It was eventually closed down as the building was set to be demolished, and they moved out. That situation, coupled with Douglas' passion for making good coffee, led to the birth of Tolido's Espresso Nook.
Intially, the young and passionate entrepreneur was teaching himself how to make coffee mainly due to his interest and appreciation for latte art. However, as he continued in his pursuit of perfecting latte art, he came to understand "the art and science of pursuing flavour in coffee".
He found it "so much more fascinating (compared to latte art)", and says that that was when he "really got into the business of coffee".
While Tolido's Espresso Nook is located within walking distance of Lavender MRT and the bustling Bugis precinct, it is unlike the usual brunch suspects, in terms of its location. Not many would think of venturing to a residential HDB block for a hearty brunch and a decent cuppa Joe.
Douglas explains that its current location is "a place that we love with rent we can afford", adding that the residential environment gives it a "homely charm."
A Steep Learning Curve
"There were so many challenges, and there are still challenges," recalls the founder , who turns 25 this year. He has no qualms admitting that he was "unfamiliar and inexperienced" when he first entered the F&B industry, and considered it to have "a steep learning curve."
If there is one thing we can really learn from him, it would be that obstacles should not hinder progress.
"I'll never stop learning," said the self-taught barista.
Judging from his passion, I had assumed that Douglas always strived towards running and heading his own coffee establishment. However, this was not the case. When I asked Douglas if running his own cafe was a childhood dream, "No, not at all," was his response.
Clearly, passion is a crucial factor when running your own business. "I never knew what I wanted to do and I was always so laid back. At this point of time, I definitely see myself doing this in the long run; i've fallen in love with what I do."
A Local Take On Brunch Food
Apart from serving the usual brunch offerings, Douglas goes the extra mile to incorporate local flavours into daily brunch items. Pasta at Tolido's Espresso Nook is never boring, especially with the Laksa Pasta pictured below.
"Just imagine your local laksa you love in pasta form," he says, when we ask what diners can expect from this tasty fusion dish. The Laska Pasta is also topped with fresh shrimp, making it a delectable choice you can have even for lunch.
Solace From The City
Step into the cafe, and you might feel like you've wandered into a little cottage cabin.
The interior adopts a somewhat rustic vibe, with plants hanging from the ceiling and dimmed fairy lights. The shopfront seems to beckon you inside to take a breather from life with a sign that reads "but first, coffee".
"I just hope to create a genuine and warm environment where people can feel it as an escape from the stressful country we live in," comments Douglas about the aesthetics of the cafe.
I ask Douglas if he can recount a particularly memorable day at work, and I receive quite a heartwarming response.
The cafe recently did a Mothers Day collaboration with a Christian mission home known as The Hiding Place. He explains that they "displayed a huge bouquet of flowers in the centre of the cafe" so that "customers could pick a few flowers and make their own mini bouquet for their mom."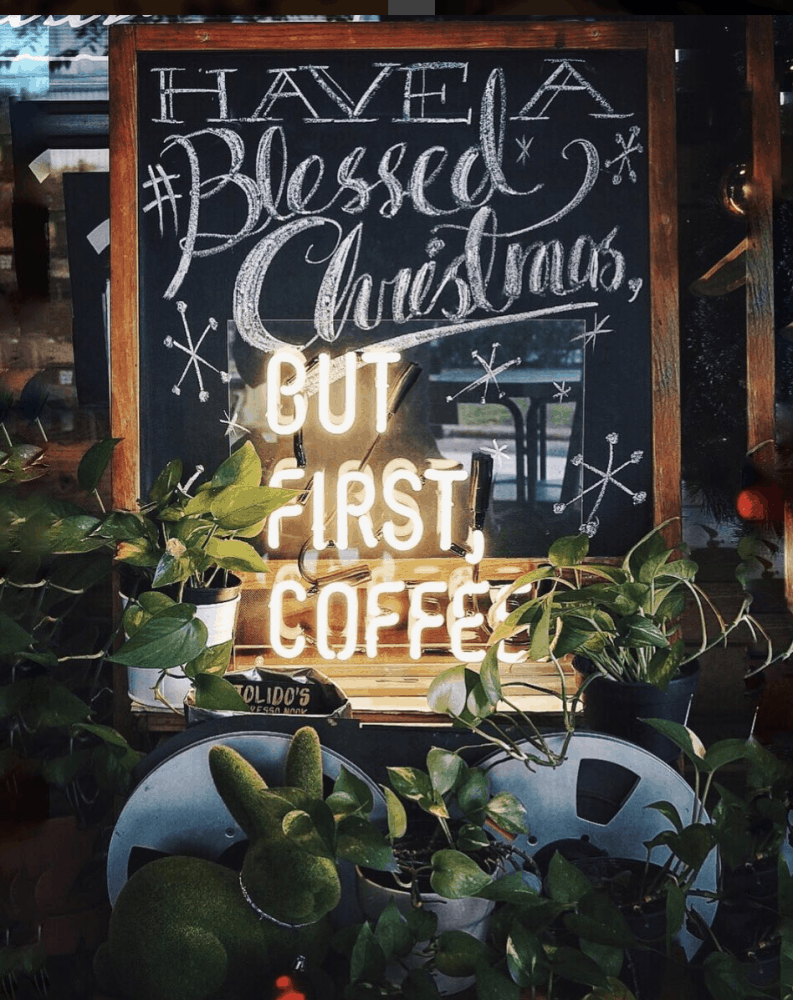 Customers simply contributed any amount they liked. All proceeds were donated to The Hiding Place, a home which works with beneficiaries such as drug addicts, ex convicts, troubled youths and even homeless orphans.
"It was a huge success," recalls Douglas, "customers were having fun presenting flower bouquets to their mothers and we managed to raise so much for charity, it was so fulfilling."