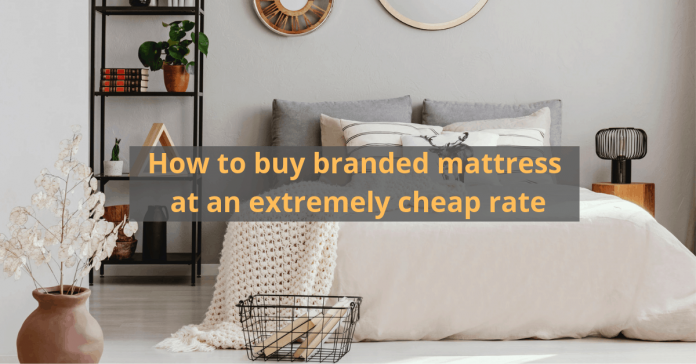 Why is getting a premium-quality mattress so important?
After a long day at work, all you really want is to fall into deep sleep once your head hits the pillow.
But that's the problem – you can't seem to clock in the full 8 hours of sound, undisturbed shut-eye.
Did you know?
According to sleep experts, comfort is the key to getting good sleep and factors such as posture, body weight and sleeping position should all be considered when purchasing your mattress.
In fact, getting the perfect mattress would help to increase your focus and boost your day performance. On the flip side, health issues such as lower back and neck aches will arise if your mattress is sub-par at best.
Therefore, we have created a guide for you to get a bang for your buck when purchasing premium mattresses – one that can last a decade or more and is worth your every penny.
Why are mattresses named differently by different retailers? 
In the past, many mattress retailers have seen to numerous tactical buyers taking down their desired mattress models to compare prices with online stores. This has hence led to endless give-ins to price haggles to match the rates online.
Thus, to gear up the competitiveness in the industry, all mattress stores (retail and online) have jumped on the "name game" bandwagon.
In other words, mattresses that have similar or exactly the same features are named and priced differently to prevent a direct price comparison.
This is why the industry has long been known for their marketing stunts and unreasonably inflated prices that cause consumers to overpay.
Useful resources:
Why Mattress Names Vary by Retailer
Mattress stores want to rip you off. Here's how to fight back.
Now that you're aware of this, it's time to see how you can avoid falling into the trap.
What to look out for when buying your perfect mattress?
Since mattress stores make price unnecessarily difficult and tedious to compare, one way to tackle this is to look out for charts online that tell you which mattress models are identical.
Useful resources:
Beautyrest Mattress Comparison Guide and Review 2017
Sealy 2017 Mattress Comparison Guide 
Another way is to directly compare the features and specifications of each model. If they are not readily available, request for the information from the staff.
Here are some factors you can consider when looking at mattresses:
The basic sizes available are king, queen, single and super single.
Be sure to think about things like space constraints in the bedroom, number of people sharing the bed and growth if you're purchasing it for a child.
Decide on the firmness level
To determine the most comfortable firmness level for yourself, it is recommended that you lie on each bed for about 15 minutes to see if you are satisfied. Once you're sure, inform the store staff of your preference and carry on your search from there.
Bonus tip:
Always check the return policy of the store. While lying on the mattress for 15 minutes may give you a rather good gauge of the comfort level, it is not a fool proof way of confirming it.
Also, longer warranties may indicate high quality, but it does not necessarily have to be longer than 10 years since mattresses are advised to be changed every decade.
The suitable firmness level is also dependent on your typical sleeping position.
Based on the scale:
Side sleepers should be looking for something that is 3-6/10 in firmness, in order for the bedding to be able to outline the curves of their bodies. Any mattress that is firmer than that will result in body aches from the lack of support.
Back sleepers need mattresses within the 4-7/10 range, which will offer an ideal amount of support to prevent back problems while being soft enough to eliminate pressure points.
Stomach sleepers should focus on getting an equal amount of support throughout the entire body. A mattress with a 5-7/10 firmness would prevent lower back pains and curving of the spine.
Useful Resources:
How To Shop For a Mattress
How to Choose a Mattress – 6 Step Guide
Top 3 premium mattress brands and how much do they cost typically? 
Simmons
Simmons's long-standing history and global impact on the mattress industry have vastly contributed to its premium branding.
Sealy
Established in collaboration with top orthopaedic surgeons in the 1950s, Sealy quickly became one of the largest bedding names.
TEMPUR
TEMPUR has developed a one-of-a-kind open cell structure in its bedding to ensure uninterrupted, quality sleep. It is ranked number 1 for overall customer satisfaction and overall quality of sleep in 13 European countries.
Price comparison* across the models
 
Singapore retail courts (SGD)
US online prices (SGD)
Shipping fee from US to SG (SGD)
Potential savings
Simmons
$3155 – $9727
Source
$914 – $5112
Source
$500 – $1000
Lower tier: ~55%Higher tier: ~37%
Sealy
$2899 – $7688
Source
$1048 – $2421
Source
Lower tier: ~46%Higher tier: ~55%
Tempur
$3998 – $6839
Source
$2824 – $4978
Source
Lower tier: ~16%Higher tier: ~12%
*Price comparison is done based on the information that is available online and is only an estimate for visualisation purposes.
*Prices are based on a king size mattress of medium firm level.
Where to buy branded mattresses at extremely cheap rates?
Here are some US online stores we have found that sell these premium mattresses:
Bonus tip:
If you are making your purchase on Amazon, be sure to change the delivery address to a US address first before browsing.
Otherwise, you will not be able to see the full list of mattresses available because Amazon retailers do not ship to Singapore. You can arrange with your freight forwarder to get a US warehouse address for the mattress to be delivered to later!
How to go about shipping the mattresses? 
Method 1: Get the US store to ship to Singapore
Disadvantages
Unable to ship internationally
Some US stores do not provide the option of shipping internationally.
High international shipping fees.
Even if they do, it will be expensive for them to ship internationally and the costs will be passed on to consumers.
No door-to-door shipping option


Some stores may do international shipping but not door-to-door shipping. This means that you will have to engage a local mover to transport your mattress from the shipping port to your home – it may be a logistical nightmare to settle on your own without much shipping expertise.Method 2: Engage a freight forwarder to handle the shipping for you

Advantages

Hassle-free shipping process
A professional freight forwarder will settle the paper work, import and export licence and cargo insurance on your behalf. It would be ideal to find a freight forwarder that has had experience in completing similar mattress shipments for their customers.

Is it worth it to ship a mattress? 

The shipping cost ranges from $600 – $1200 for a queen/king size mattress to be shipped from US to Singapore.

The exact price depends on the following factors:

Weight of mattress
Dimensions of mattress
Pick up address
Drop off address
Whether you want to get moving insurance for your goods
How urgent you need it

Note that these are the information you need to provide the freight forwarder. Typically, it will take about 30 – 55 days for sea freight.

Shipping mattresses from US to Singapore 

Getting the perfect mattress is vital to getting the deep sleep you need to recharge for the following day. That is why many are willing to go for premium branded mattresses – after all, 8 hours a day translates to spending about 1/3 of your entire life in bed.

Let us know what other mattress shopping hacks you have in the comments section below!

This article on shipping mattresses from US to Singapore was first published on M&P International Freights.