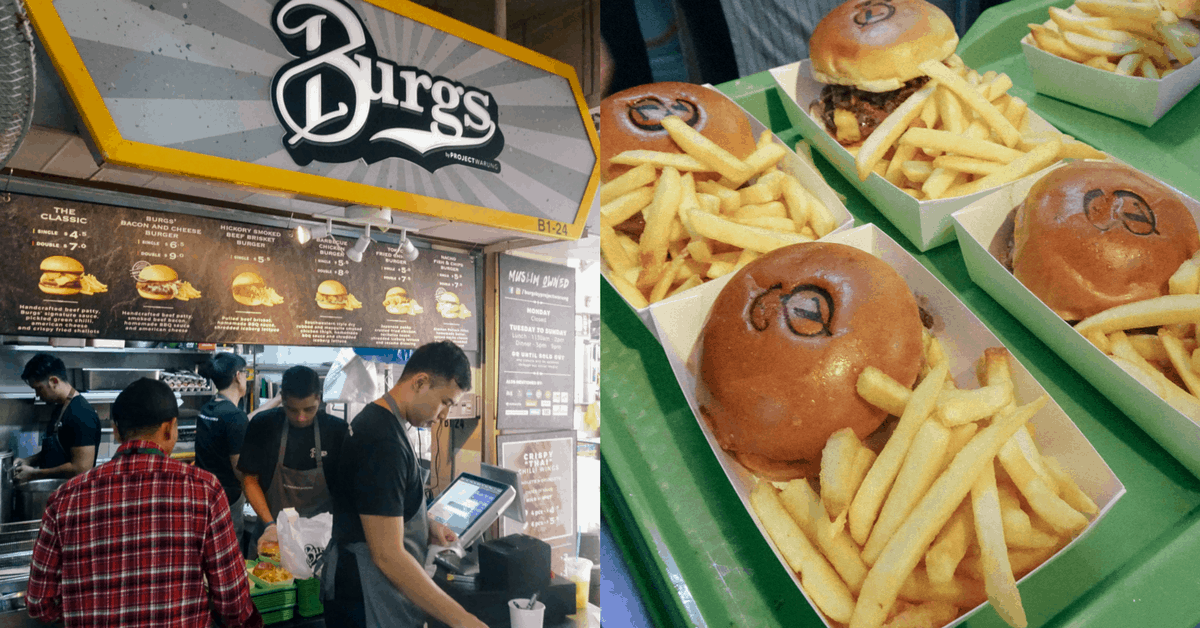 Don't be surprised if you find a stall selling fine gourmet burgers for as low as $4.50 at a hawker centre.
Nestled in Golden Mile Food Centre, Burgs by Project Warung speedily works away to satisfy the demands of a constant queue.
Officially open since May 2017, the Muslim-owned stall is run by fine-dining trained chefs Shah Indra; Lee Syafiq, both 26; and Mohammed Ridzuan, 24.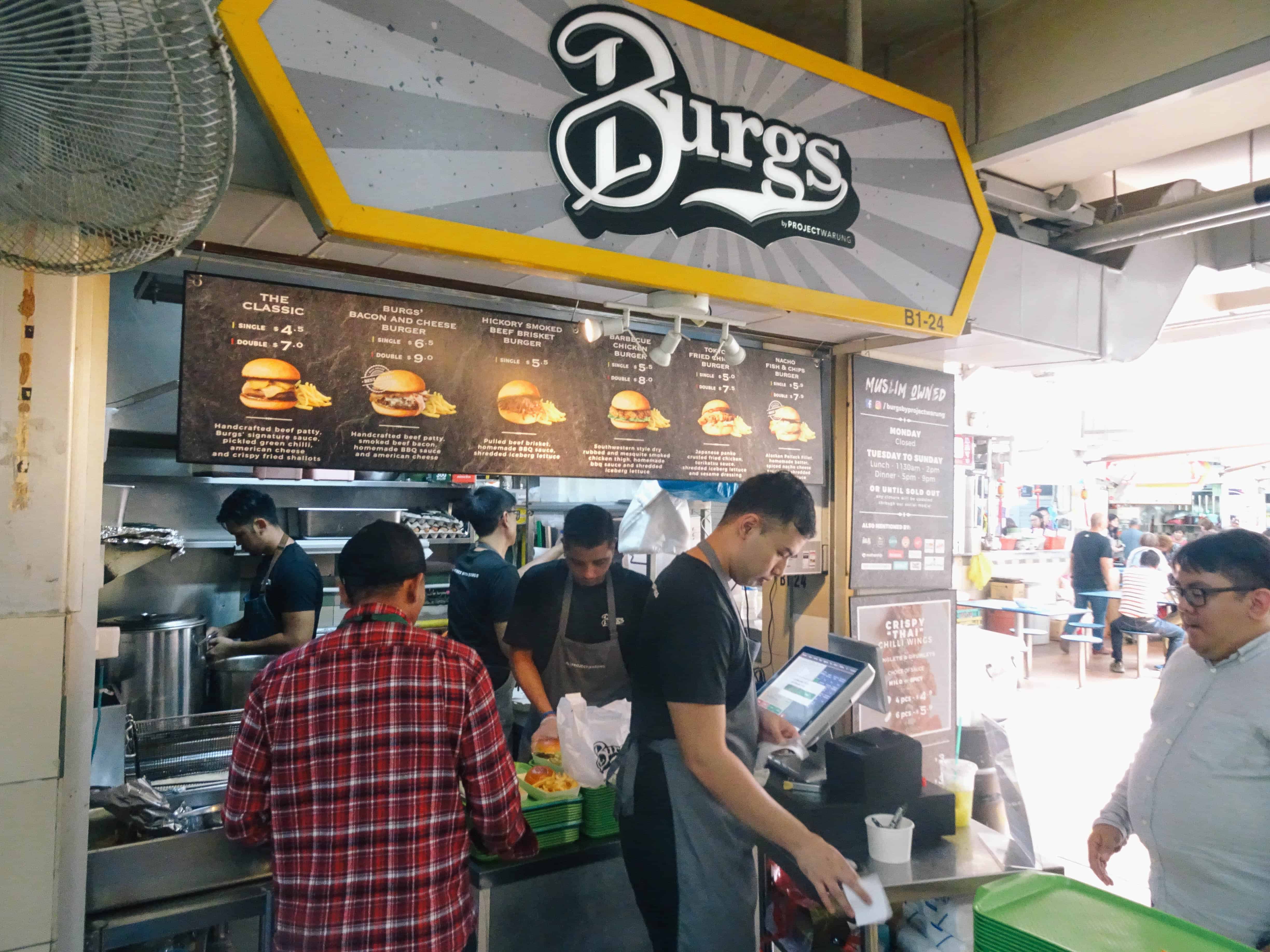 Burgs rose to fame just after a month of opening, with multiple articles on the tasty American-style burgers and influencer reviews that made it wildly popular. Recently, Burgs came up first on the list of Burpple's top 100 hawker stalls in the central area.
"The one that came in second place is actually a Michelin Star hawker. We were shocked that we took first place over them," said Syafiq. With the unexpected spike in popularity, Burgs barely had to spend on marketing.
The Burg-inning
While Indra and Ridzuan were not around, I had the honour of hearing from Syafiq on how his journey in culinary began.
Both Indra and Syafiq officially started learning cooking fine dining foods in ITE at the age of 16 and are proud to be the first batch of students with the Diploma "Restaurant Management".
Syafiq had gained an interest in cooking when he helped his aunt out in canteens at a young age.
"I used to wake up at 4AM to accompany her to the market – her canteen was located in Tuas. We had to serve breakfast and lunch, so we had to go to the wet market early in the morning to prepare the necessary, and that is where it all started."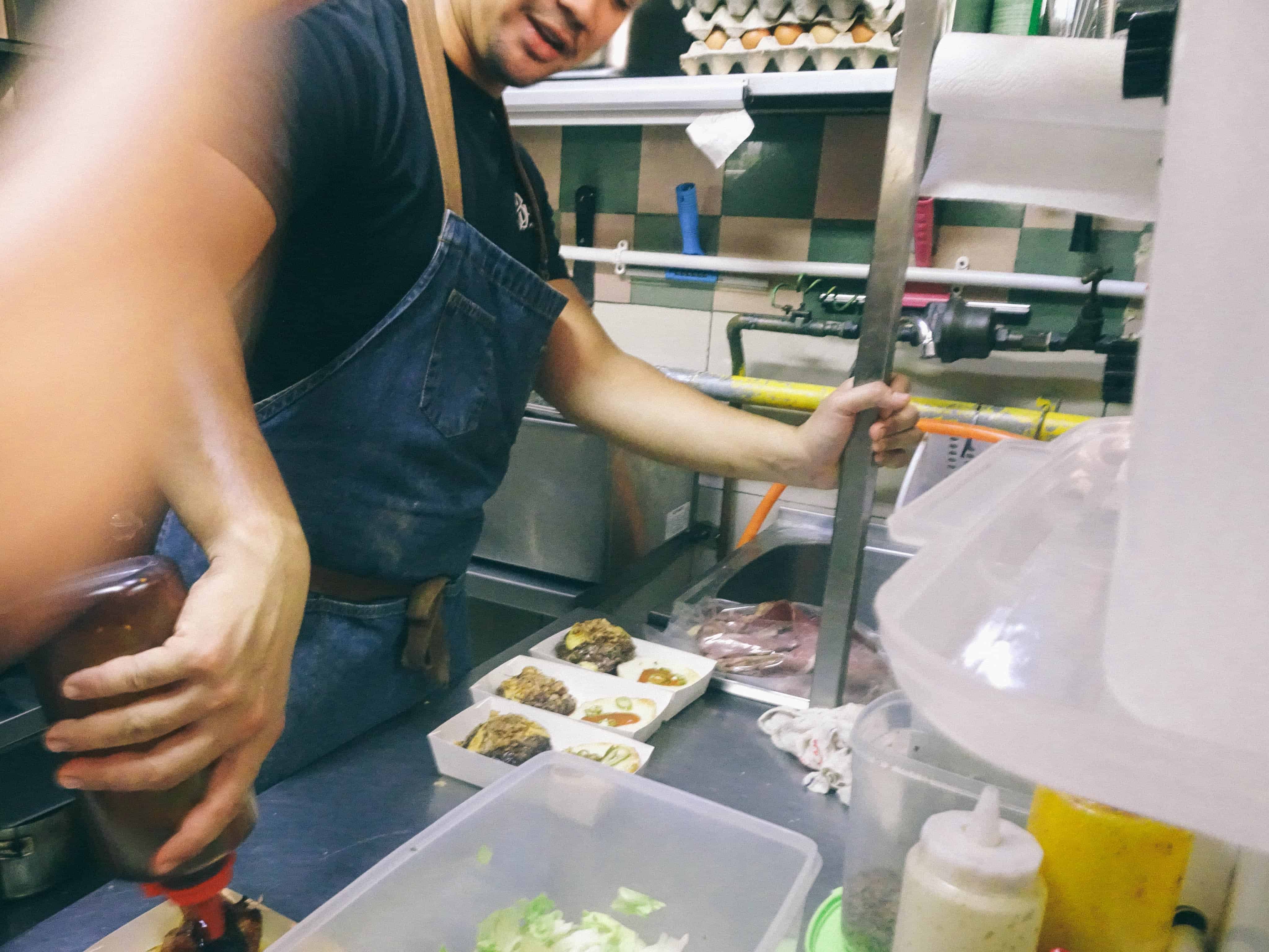 With their vast experiences in cooking French food instead of fast food, they decided to make gourmet burgers.
"Fine dining is usually meant for those who can afford it. But we were thinking; why not bring gourmet burgers to the middle-income people or to the masses, where everyone can eat?"
While the non-halal sector had more than enough burger joints, the three realised that there were no food outlets in the halal sector focused solely on burgers, allowing the Muslim community a limited choice of burgers.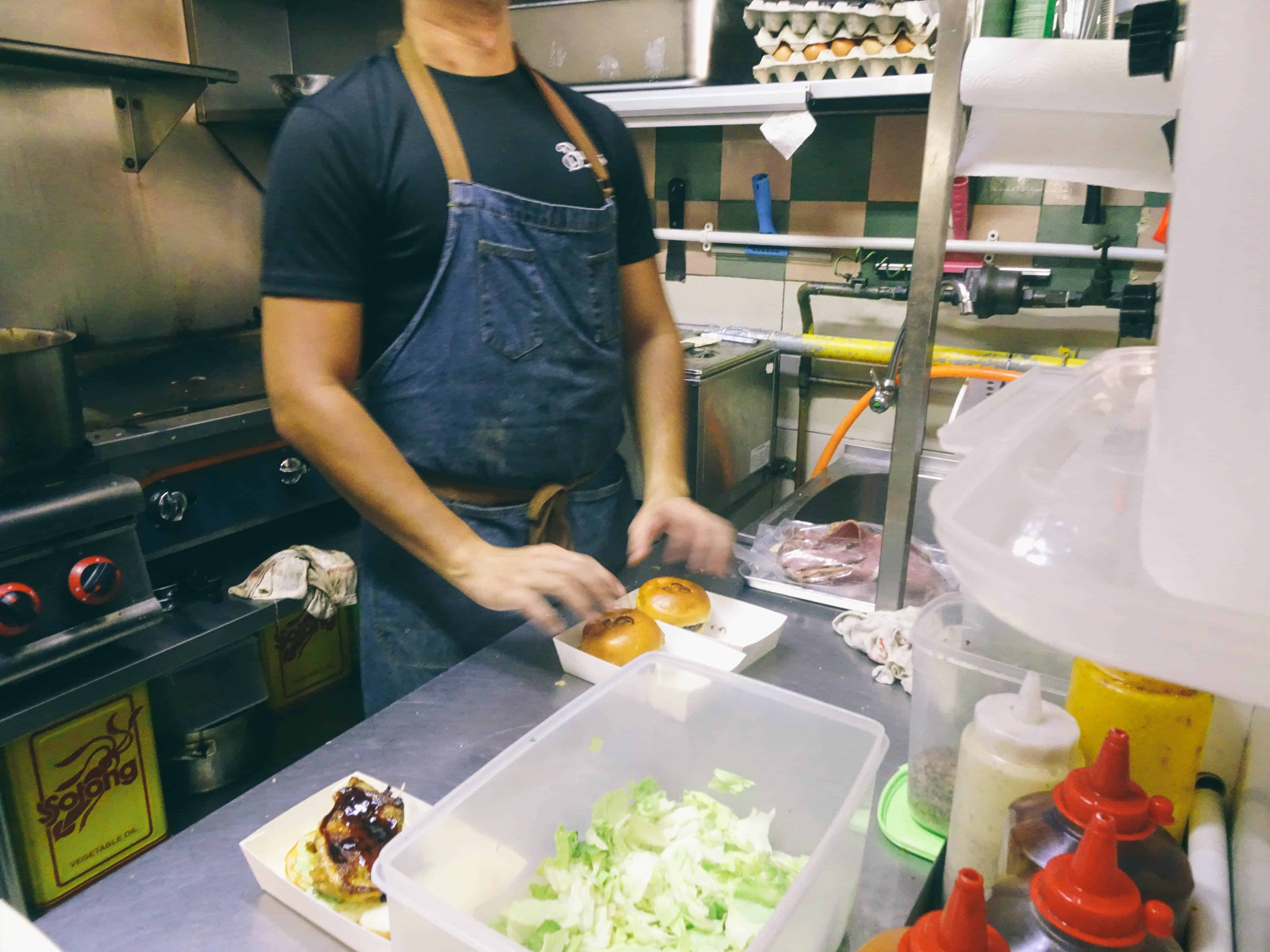 "Sure, halal cafes had burgers, but they don't really focus on burgers themselves. You have other things like pasta, starters and main courses. No one really specialised in burgers."
With these in mind, they brought their delicious halal gourmet burgers to a humble hawker stall in Golden Mile Food Centre and at affordable prices starting from $4.50 – their main selling point.
"Our highest priced burger is about $9 – still more affordable than some cafes which serve only single patties."
They hope to be able to keep their price range around the same even if the food costs and rentals start going up.
Through The Fire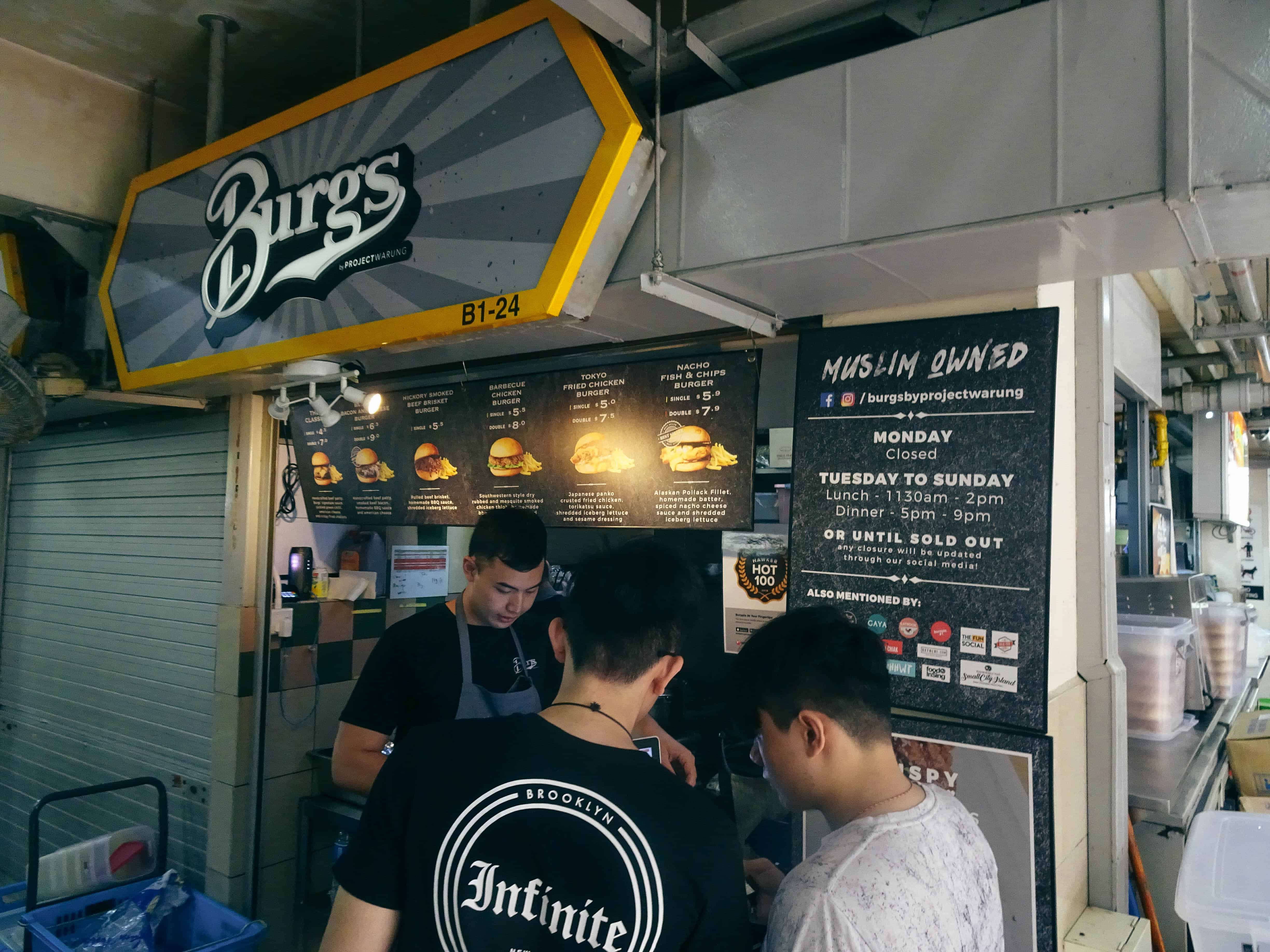 Achieving this success at such a rate was not easy for them. Finances posed as a huge difficulty – all of them poured out their life-savings and did not take up any loans because they did not want to owe anyone money.
"I wouldn't say that we forked out a lot, but we gave up everything for it."
"This company was a "Make it or Break it" sort of thing for us, and we knew that if we didn't make it, there goes our life savings."
To start this company, they had to leave their full-time jobs, which meant that they had no income while they were spending money.
Syafiq adds that in order to save up, they had to skip meet-ups with their friends and go home to eat instead. For some of them, they had to sacrifice dates with their significant others, all for the business.
They also worked sleepless nights, even after a long 14 hour work day.
At first, shopping malls and hawker centres rejected their applications. But now, they are the ones rejecting the offers from malls.
Syafiq tells me that Burgs is currently on their third menu now. They change their menus every quarterly or half a year to keep it fresh, with rotations of their best sellers in their previous menus.
Due to space restraints, their menu size is limited. In the first six months of operation, Burgs had changed their menu twice.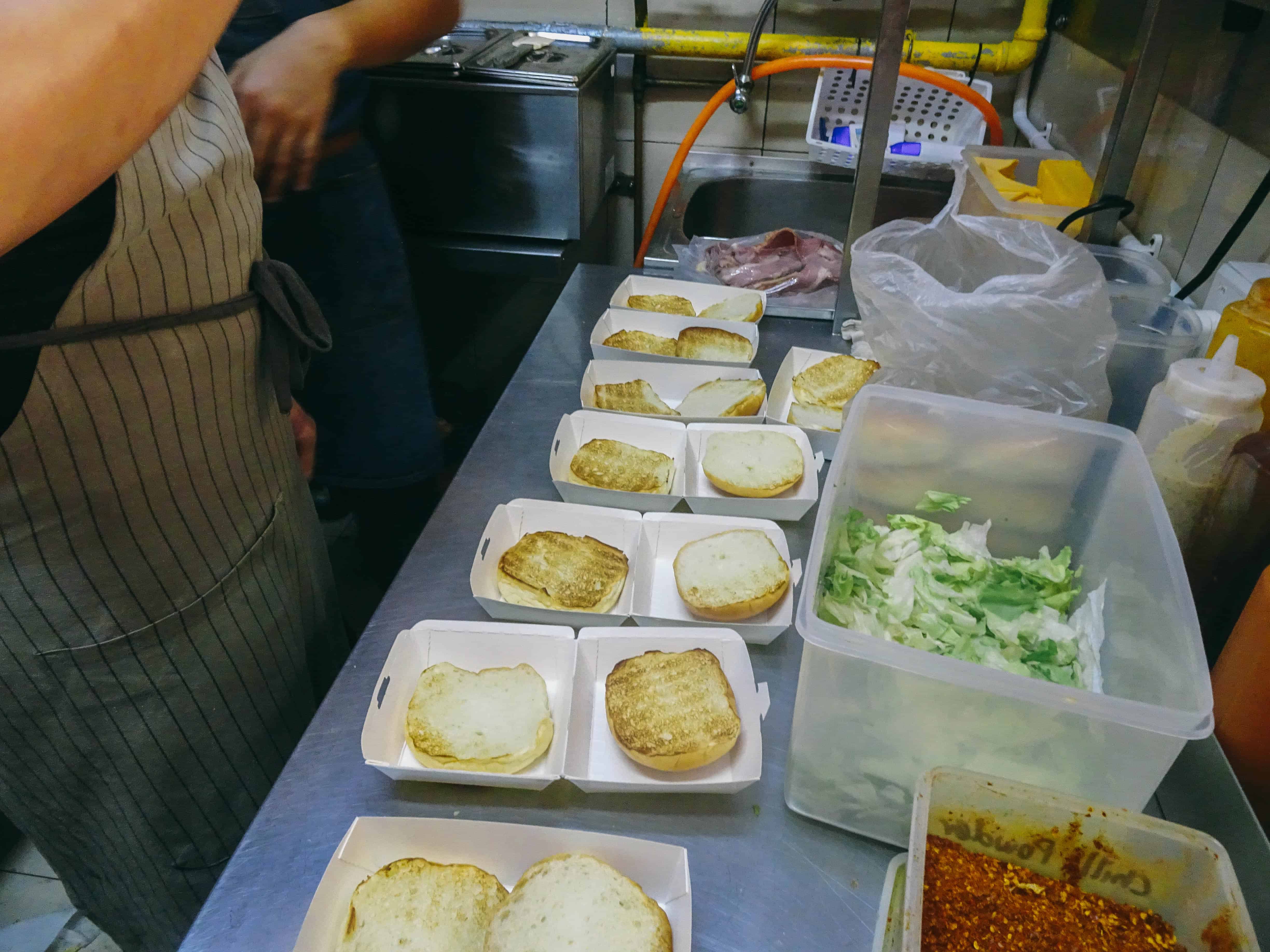 Initially, they had 10 burgers in their starting menu with countless sides, but then they realised that that was too much for the three of them to handle.
"We didn't expect the overwhelming response from our customers. We didn't want the quantity to affect our quality, so we shrunk our menu to focus on quality, and yet be able to deliver the quantity."
Burgs' bestseller, the Nachos Fish and Chips, has been launched again this year.
Always A Dream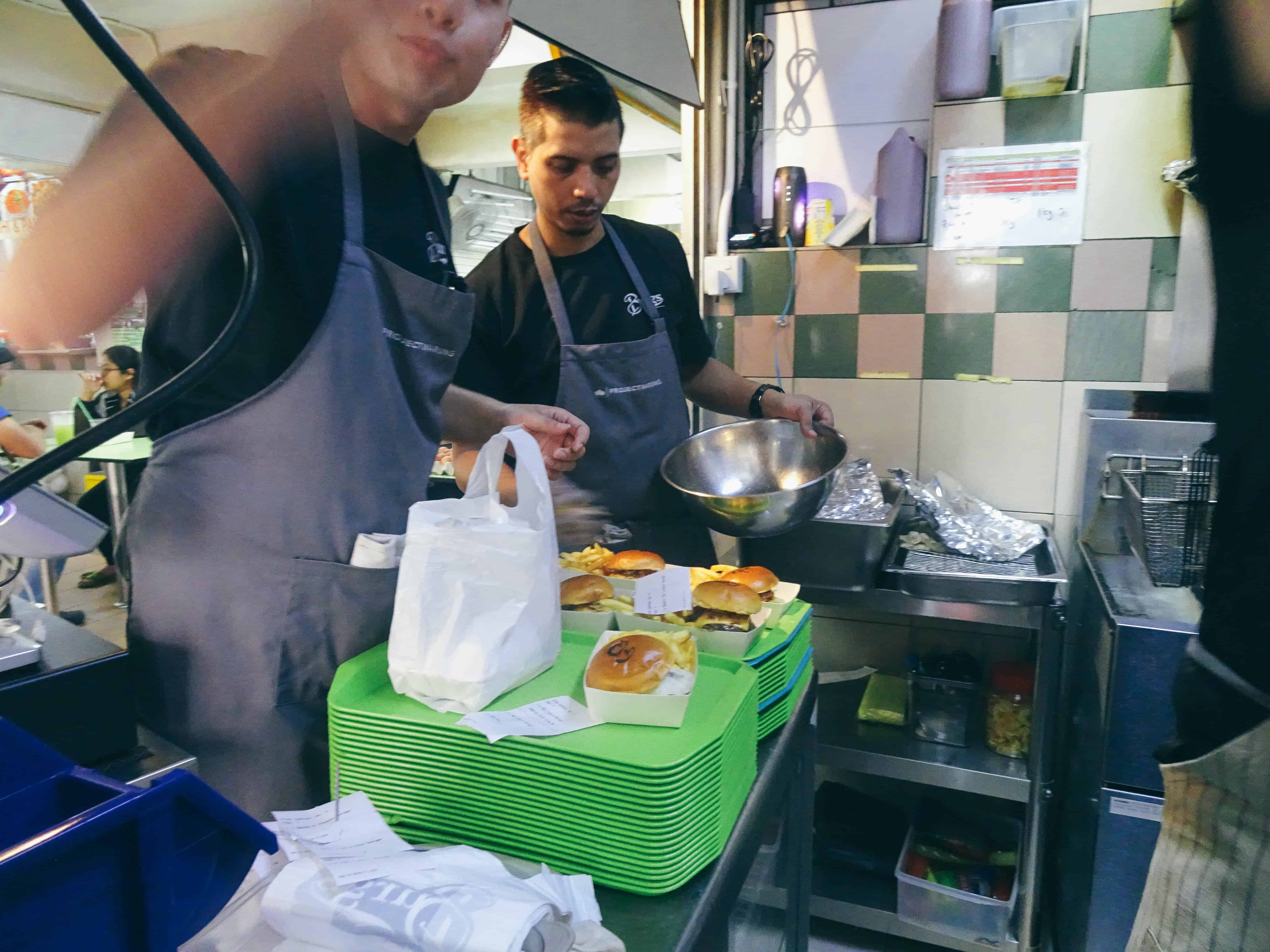 Syafiq says it is a dream to be able to serve customers in your own restaurant and personally receive compliments from the guests themselves – a motivating factor to keep going forward.
"We want to make an impact on someone."
He adds that Burgs is motivated to make their customers enjoy the burgers, and not just eat them without enjoying it. Reminded of a previous encounter with a happy foreign customer, he gleefully recalls how a foreigner had shouted out of joy and ordered 3 burgers in the end.
Despite getting requests from foreigners to bring their food over to the Western countries where they would appreciate it more, Burgs chooses to stay and build their brand as a Singapore brand.
Syafiq tells me that they want the people in Singapore to be the ones appreciating them at the end of the day.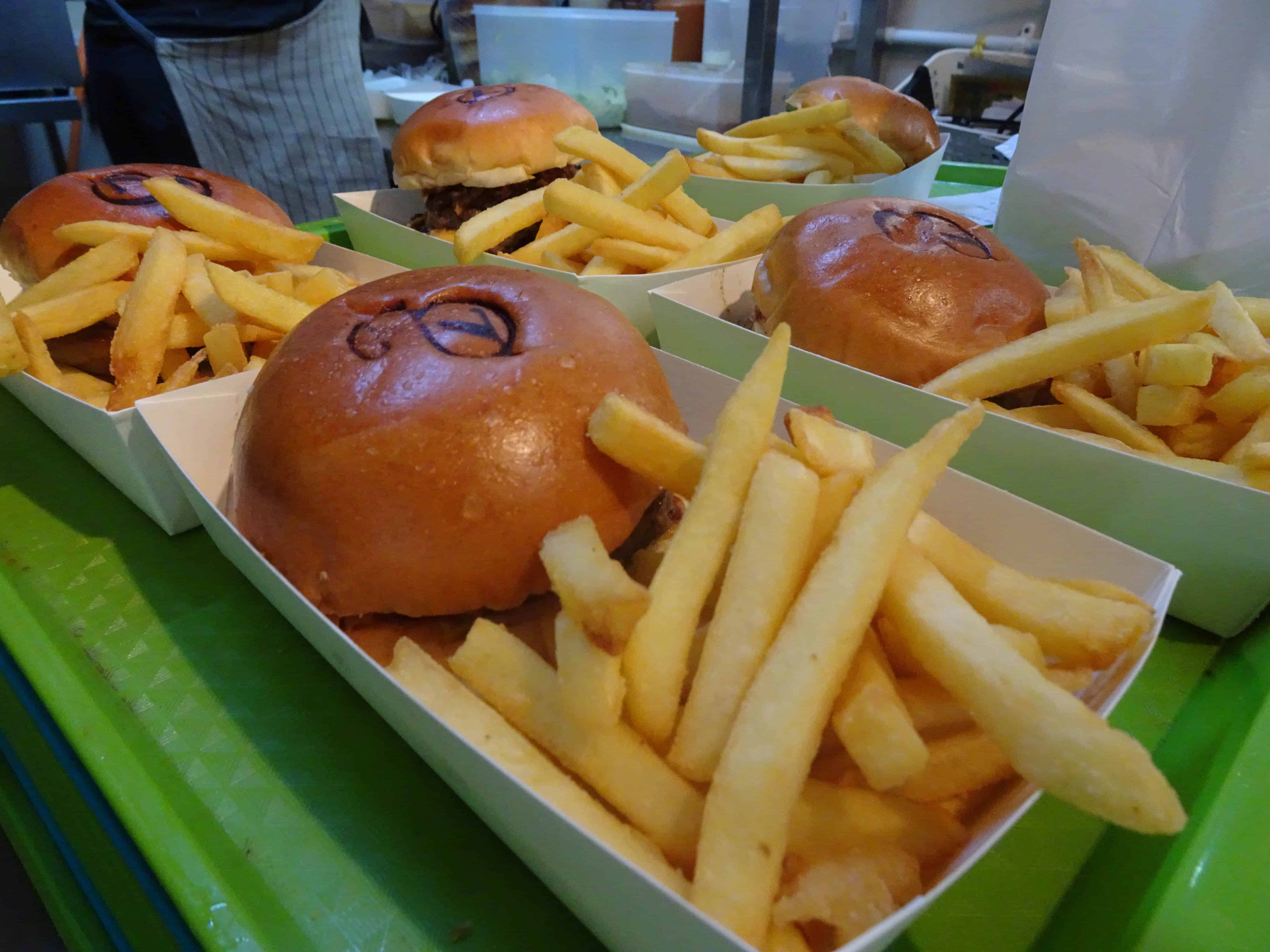 "Not many young entrepreneurs are daring enough to start up their own business, so we hope that when we are successful in the future, we will be an example to the younger generation," said Syafiq.
When they had first started, their family came by every week to support them through buying their food and inviting their friends over for meals. Through word of mouth, Burgs began to gain traction.
Syafiq thanks his father for being an inspiration. Having started from the bottom with no formal education, his father worked all the way up in his trade through pure determination and hard work.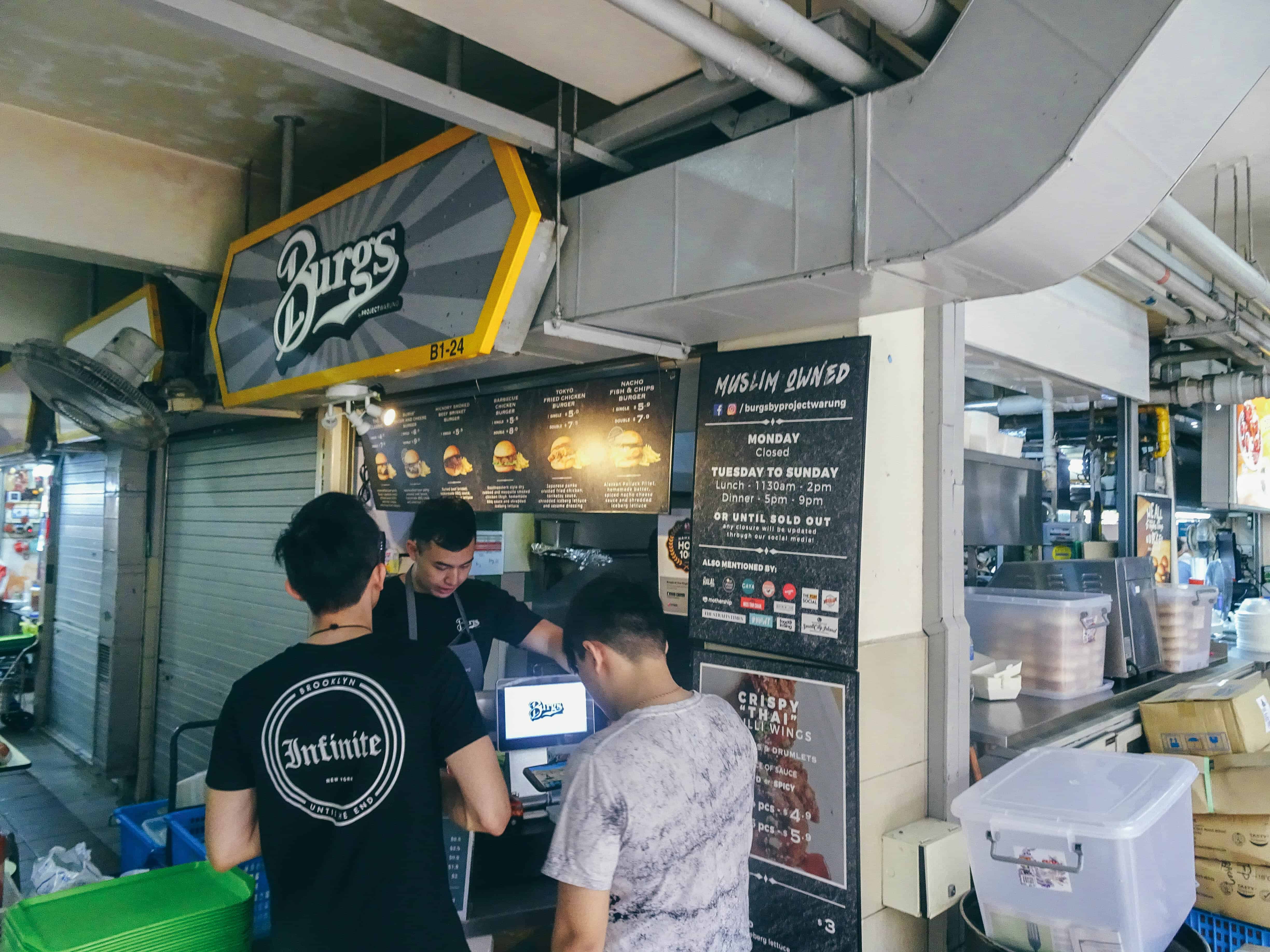 "I take him as an example, to put in effort in your business and be patient with it. Don't lose hope, and always remain humble."
When I ask about the team's motto, he says: "To just bang the wall, and whatever obstacles that we had, we just go. Chiong only."
Expanding Burgs  
Burgs has been going in the right direction. "We're hoping to expand before our One Year Anniversary," Syafiq says. They have been receiving requests to open a second outlet because many of their customers have to travel very far to get a taste of their burgers.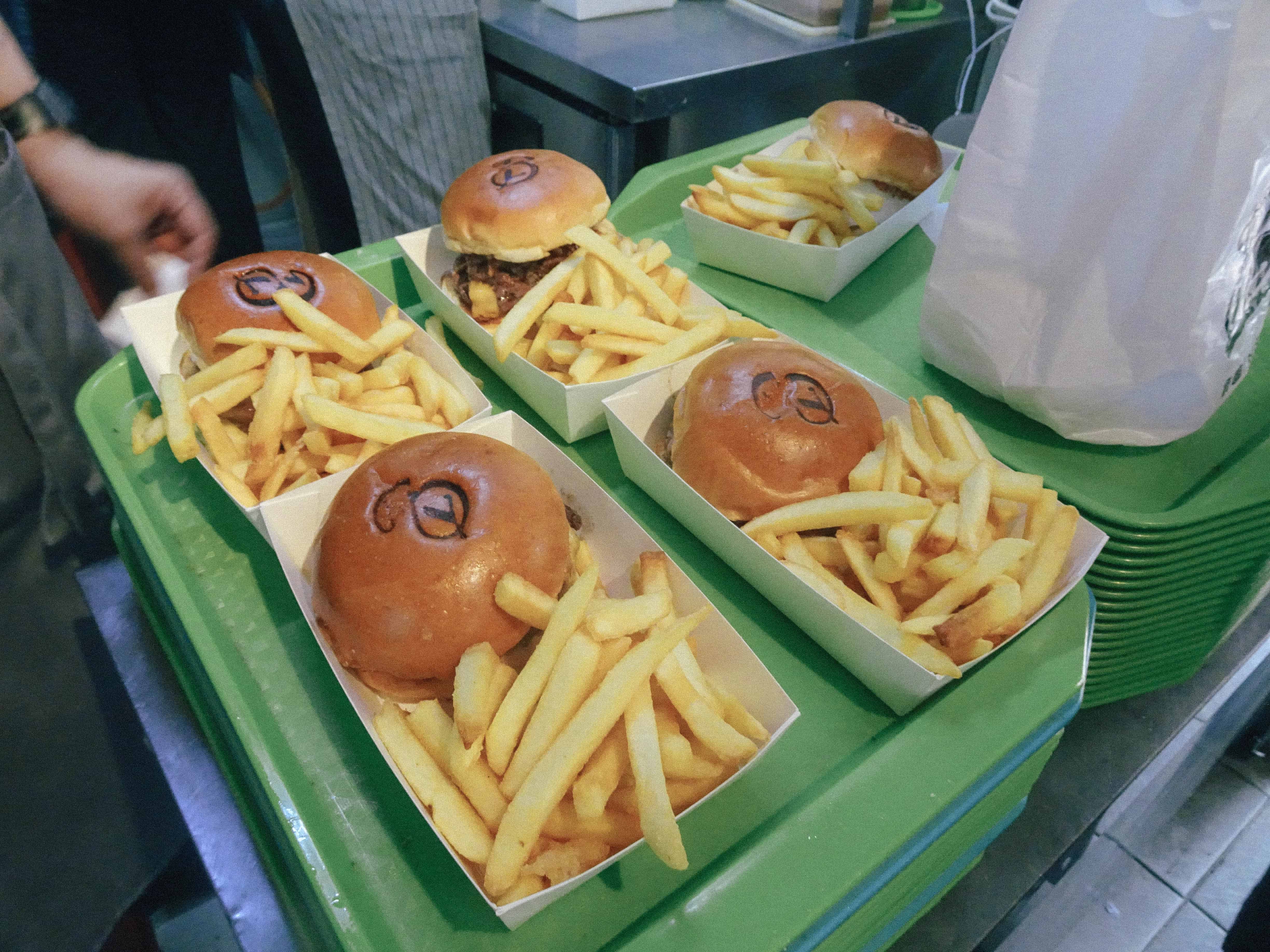 He adds that he feels bad when the burgers are sold out by the time they arrive.
"We hope they understand that we are serving fresh burgers daily despite having space constraints," said Syafiq.
They believe that they would be able to keep up with the overwhelming responses and serve a lot more people in Singapore. Eventually, Syafiq shares that they aim to be a local fast food brand with different small stalls throughout Singapore.
Burgs By Project Warung
505, Beach Road, #B1-24, 
Golden Mile Food Centre
11.30am-2.30pm; 5pm-9pm 
(or till items are sold out)
Tuesdays to Sundays. 
Closed on Mondays.