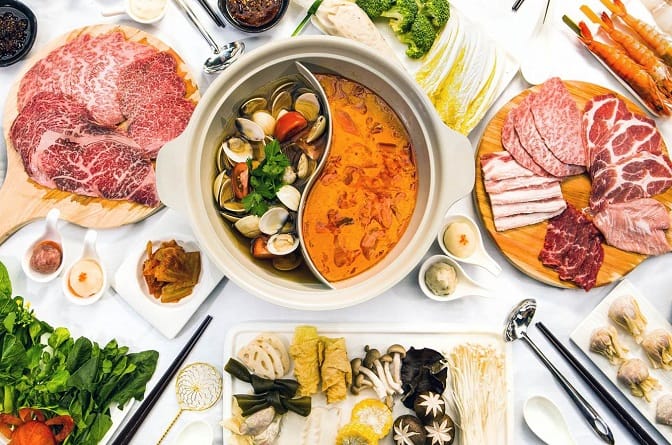 Chinese New Year is stressful enough. Try using these amazing Steamboat delivery services instead and actually enjoy your days off.
The CNY season is coming up sooner than we expected and the preparations are starting to roll in. As much as we love the authenticity and heartwarming flavours of homemade steamboat, the option of a stress-free and no frills dinner may often be too tempting. Well, that's where steamboat caterers come in. They offer customised "special and differentiated" steamboat sets in complete packages for your family's convenience.
Orders have started to flock in (since December) so you better hurry up to ensure that your orders are ready for the celebrations. Mr Steamboat has reportedly seen their orders doubling to 80 this year and the Steamboat Specialist has had an 80% increase in orders.
Here, we'll make your celebrations less stressful by collating some of these steamboat caterers.

1. Mr Steamboat
Ratings: 4.7/5
Price: $$
Mr Steamboat is one of the oldest and most popular steamboat caterers in Singapore, so expect the quality and consistency of their dishes to be top notch; it is sure to keep your family and friends satisfied this CNY season. Their menus are simple yet attractive enough to keep your palette enticed throughout.
Ala-carte orders are also available for your premium choices if you have any particular cravings. Mr Steamboat CNY Promotions come with yusheng sets as well. Be sure to order before 20 January—you'll save yourself on the $30 CNY surcharge.
Prices start from $208
Free Delivery applies for local address only
Delivery time:1pm till 11pm daily weekdays; 1pm till 12midnight on weekends (subject to availability)
Rental of cooker and wok is at $20 per day
Contact: 81027520
2. The Steamboat Specialist
Ratings: 4.1/5
Price: $
The Steamboat specialist stands out with their service and convenience by delivering on CNY days itself. Their popular products include fish cakes, fish and sotong balls, spring rolls, dumpling, yong tau fu, ngoh hiang and otah, just to name a few. Their soups are also delightful as they are known for producing premium Surimi Base products.
For those who prefer to place your order by personalising your choices, Steamboat Specialist will be more suitable for you. All orders need to be made before 23 January.
Prices start from $88
CNY eve delivery timings:9am to 11am, 11am to 1pm (limited timing left)
The CNY delivery surcharges range from $15 to $5, decreasing by $5 after the first day of CNY. (ie. 28th-$15; 29th-$10; 30th-$5)
Electric Stove priced at $45
Contact: 9824 9948
3. Reunion Steamboat
Ratings: 4.5/5
Price: $$$
If Steamboat Specialist was "extraordinary" in terms of their services, then Reunion Steamboat is extraordinary for their choices of delicacies. Reunion Steamboat is not your "mainstream" steamboat caterer with basic ingredients like chicken, pork or beef.
A look at the menu and you will see a vast difference. Ranging from US Wagyu shortribs to Fresh king mackerel slice to green mussels, (plus free abalone?!), Reunion Steamboat is one to go for premium steamboat experience at home. You are truly paying for quality and executivity!
The only bummer is that there will be no delivery from the 1st day of CNY onwards.
Prices start from $288
Last day of delivery is on the 27th with a surcharge of $25; 12-5pm.
Equipment rental at $25
Contact: 6243 7243
4. One Paradise
Ratings: 4/5
Price: $
Beauty in a Pot is what they call it. Featuring nutritiously-brewed soup stock, this steamboat set is not only a hearty but healthy meal. (When "healthy" is the word probably almost unheard of during CNY, or any other celebrations). It features a wide variety of freshly prepared ingredients such as US Angus Prime Short Ribs, fresh Sea Prawns and many others that awaits you.
They offer a dual-soup bases so if you're stuck for choices, One Paradise and their steamboat is the one to look out for.
Prices start from $208
Delivery fees are $50 ($53.50 w/GST)
Equipments are provided
Contact: 6465 6565
5. Hao Di Lao
Ratings: 4.5/5
Price: $$
Just like One Paradise, Hao Di Lao's steamboat offer 2 soup choices in one.
The menu is as extensive as it gets. From sliced fish to handmade mashed shrimp to chicken slices, swine throat (half portion), lotus root, black pork and sweet potato wide vermicelli, you will be spoilt for choice!
Hao Di Lao have a wide selection of seasoning for you to choose from—offering a grand total of 10 seasoning (Sesame Sauce, Sesame Oil & Crushed Garlic, Soya Sauce, Fermented Beancurd Sauce, Soyabean Sauce, Seafood Sauce, Barbeque Sauce, Haidilao Sauce, Mushroom Sauce, Featured chili sauce). Your taste buds will definitely feel the heat.
Prices start from $98
Last day of delivery left available before CNY on 24th January; or 31th January
Delivery charges: $4 every 1km away from 313/IMM; capped at $50.
One free cooker for each pot you order
Contact: 6509 4111
6. Neo Gardens
Ratings: 3.2/ 5
Price: $$
If you're looking for something a little special this Chinese New Year, instead of the typical steamboat, try the Auspicious Hot Pot. Known otherwise as Pen Cai, this hot pot is filled with layers of richness and palatable goodies that will keep your energy bustling through the whole day. This all-in-one pot includes abalone, dried scallop, sea cucumber, prawn, roasted duck, fried chicken thigh and more. A picture is worth a thousand words – we'll just let the photo do the talking.
Prices start from $208
Delivery charge from 9 Jan – 26 Jan 2017: $30 per trip, 27 Jan 2017: $40 per trip
Full set of disposable wares and serviettes provided
Contact: 6896 7757