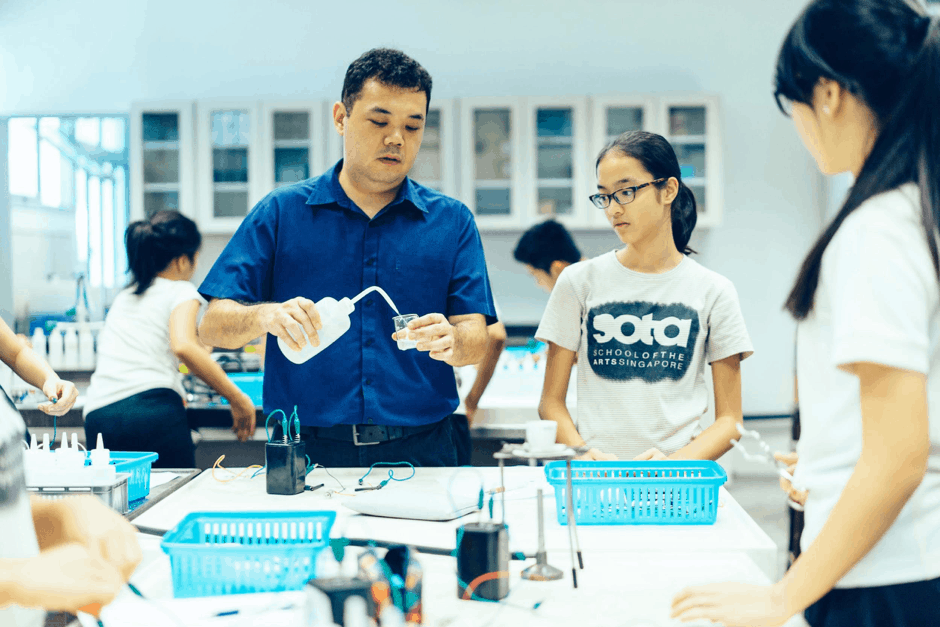 We spoke to 4 SOTA graduates regarding the highly debated issue
Does an arts education necessarily mean a future in the arts?
This question caused quite a stir online after the Minister for Culture, Community and Youth Grace Fu revealed in a speech to School of the Arts Singapore (Sota) students that more than 70% of their graduates were pursuing a further education in non-arts related fields.
This revelation has unsettled both Sota students and the local arts community, who have come out to defend and lament this growing trend.
"Fickle Youngsters"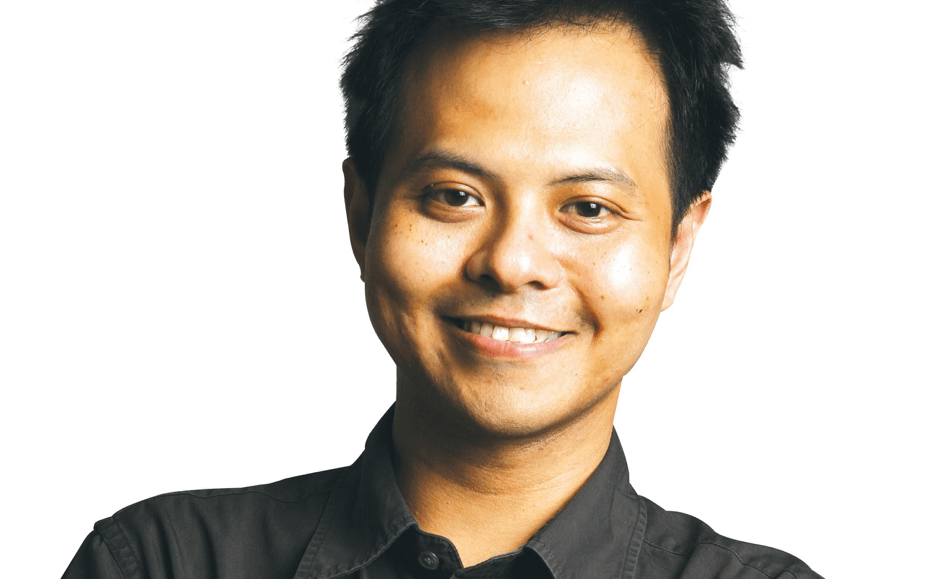 One of public figures leading the critique camp is local playwright Alfian Sa'at.
In a public Facebook post published yesterday (25 May), the provocative writer "registered his disappointment" with the response from Sota students and expressed the worrying effect the numbers will have for the arts scene in Singapore.
"Sure, you're young, you're idealistic….but I also want to tell you that unless you start according an arts career the respect and commitment that it deserves…we will never reach a stage where professionalisation is possible, and we will never create a real industry, the kind you might aspire to be part of one day."
Founder of socio-political website The Online Citizen, Andrew Loh, also came out in support of Alfian to criticise Grace Fu's statement and for ignoring what the statistic meant for the arts industry.
A Straits Times forum letter by Jeffrey Say also expressed concern over the pressure placed from society and parents to pursue a more pragmatic path.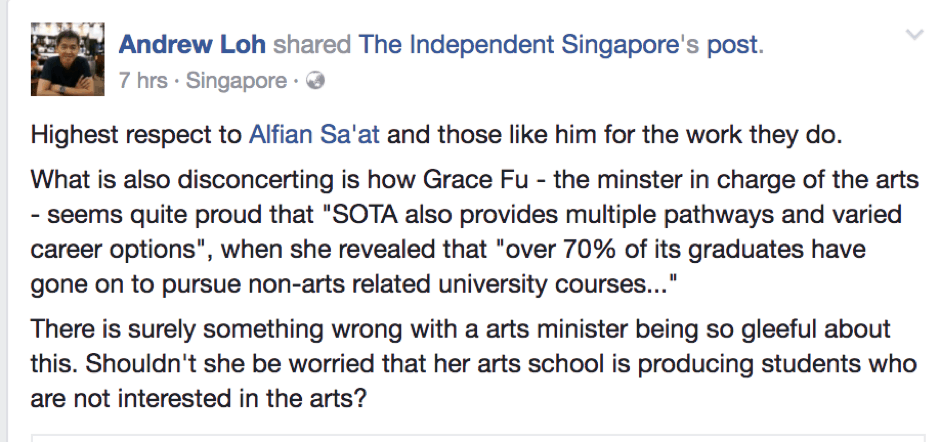 Later on, Alfian also replied on the Facebook post of Claire Chung, a 2016 Sota graduate, where he criticised the indecisiveness of young arts students.
"…given all the resources that those of a previous generation had no access to, (I would like to know why Sota students) would turn their backs on an arts career.

So, forgive me for thinking that all that training and money is spent on a bunch of fickle youngsters whose only use of their education is to construct ever more convoluted arguments to rationalise their risk aversion."
Give Them A Break
To gain an additional perspective, YP Singapore spoke to a few Sota graduates on their thoughts towards the issue.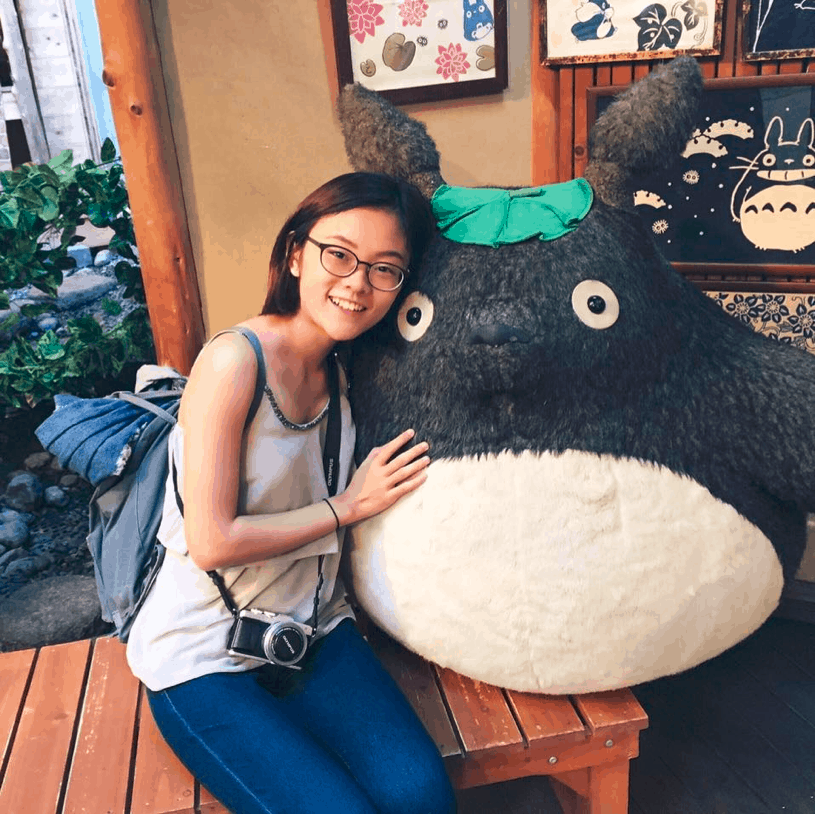 Photo courtesy of Valerie Ng
23 year-old Valerie Ng, who graduated from Sota in 2012, disagreed with Alfian's view towards arts as a one track mindset:
"We don't make 100% guaranteed decisions when we are in our teenage years – at least that's what I think. I think the critics need to give the 17/18 year olds a break.

To be honest, at least for myself, I don't think many of us at that young age would have known what career path we would want to take in future.

People change along the way, as they grow up and have more mature thoughts."
Upon graduating in 2012 with a specialisation in ceramics and visual arts, Valerie went on to pursue a degree in marketing. After a stint in the corporate sector as a management trainee, she is now returning back to the industry to teach art.
So, Valerie advocates for a more practical approach:
"For me, when I was thinking about what to pursue, my initial thoughts were to take up something that can earn me a decent salary first, and then continue pursuing what I like when I have the ability to after earning.

I also thought about how much burden I will put on my parents if I wanted to pursue the arts…whatever I want to do, I want to earn it by myself."

As an arts student, I can safely say that arts is a lifetime passion which will always stay. We might be tired of doing the arts along the way, but somehow, it will always come back to us."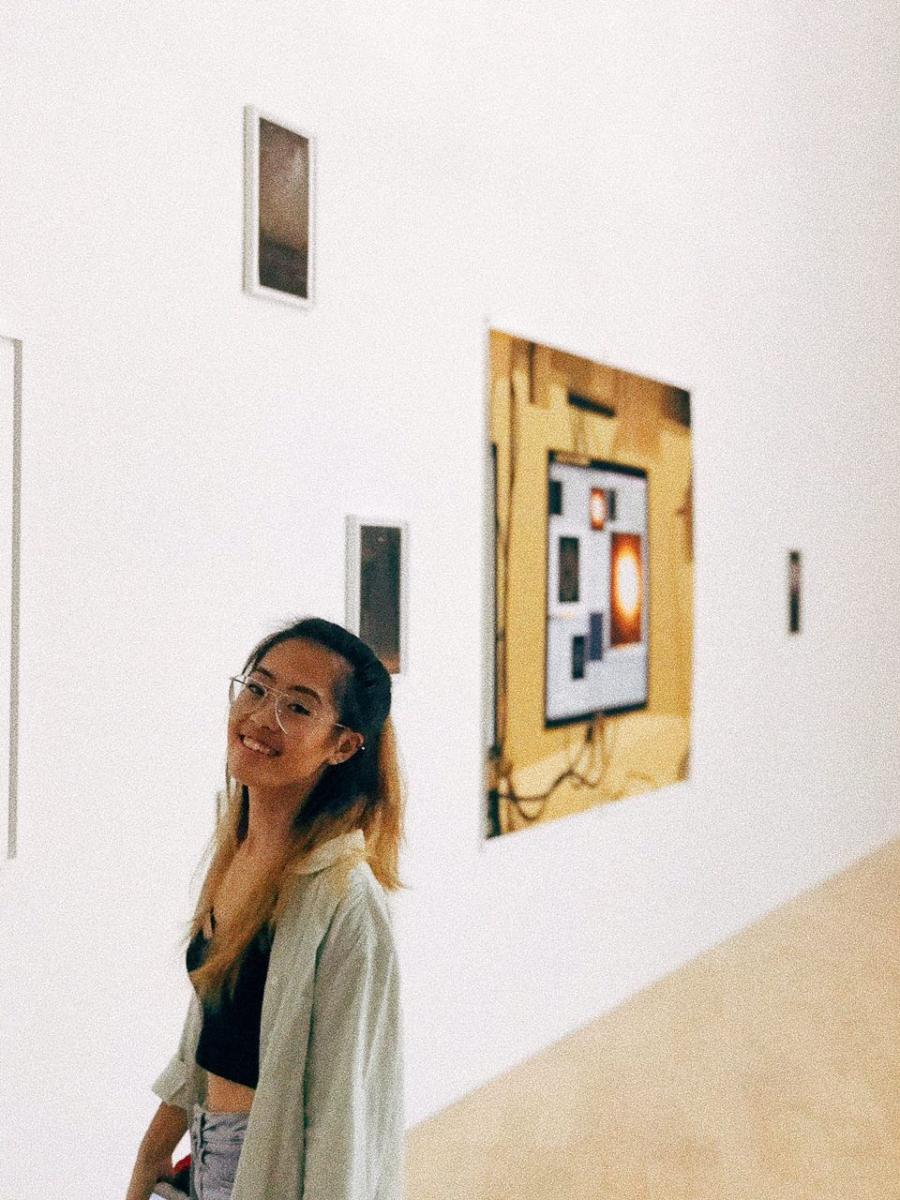 Photo courtesy of Francesca Yang
Likewise, 20 year-old dance graduate Francesca Yang, who will be studying speech therapy, agreed:
"Even if arts students pursue another field of study, we can still contribute to the arts scene in different ways by attending performances and dance classes and by creating the audience, support and demand for these artists."
Not A Vocational School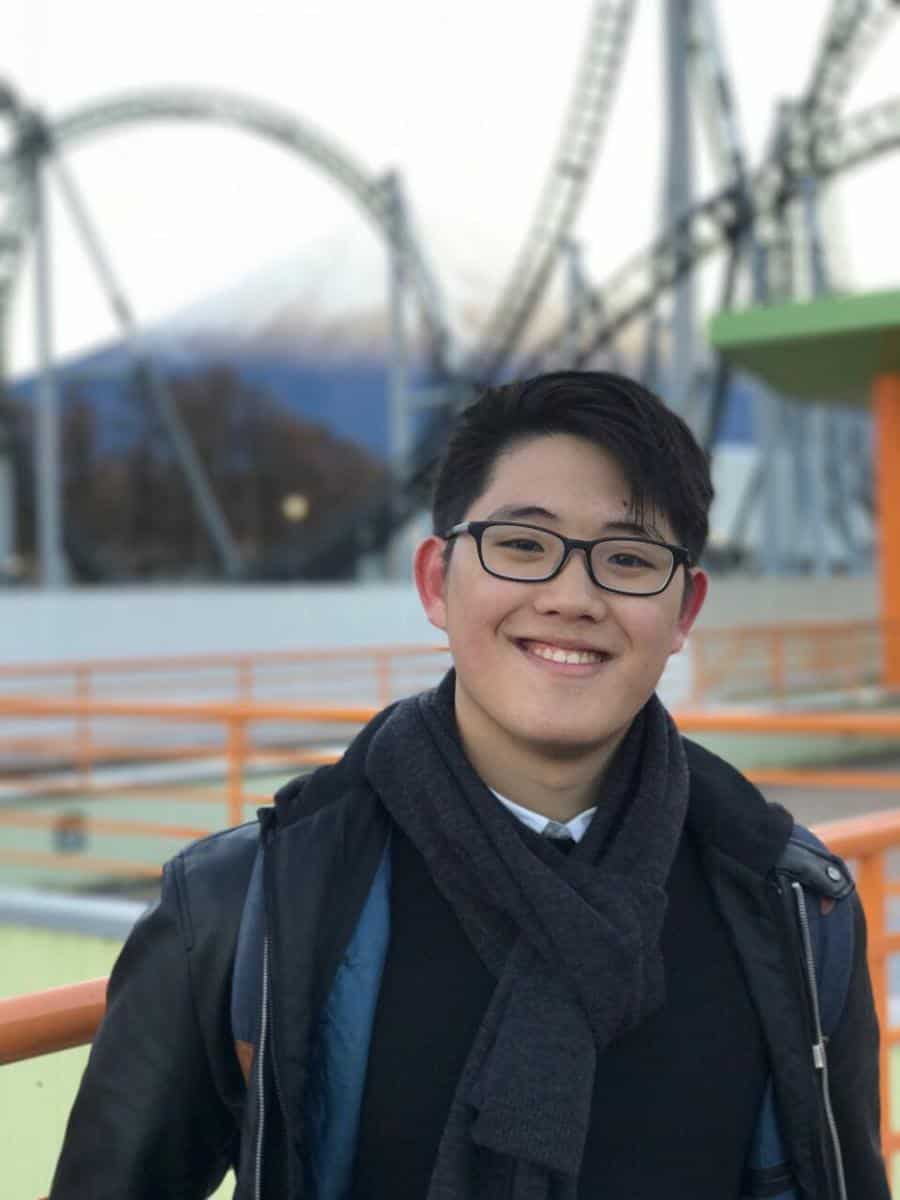 Photo courtesy of Jarrell Yang
19 year-old graduate Jarrell Yang, who plans to further his studies in an arts related course, took a more neutral stance and shared that there was a need to reframe the conversation and look at the school's syllabus.
"Sota is in fact, not a vocational school as evident from its educational structure.

It mainly includes building up students and their passion for the arts while at the same time nurturing them to becoming ready to take on the International Baccalaureate Diploma (IBDP), a mainly academic course."
According to the Sota website, students are required to undergo a 6 year course where they can experience academic subjects like the social sciences, mathematics, and science, along with artistic programmes like dance, film, and theatre.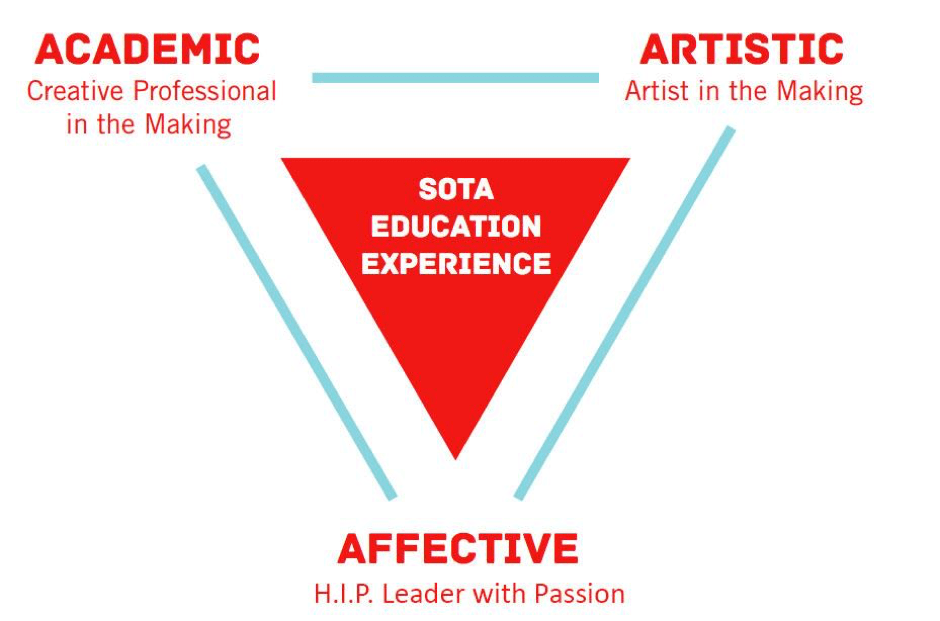 These subjects will result into two possible outcomes – the academic focussed IBDP, or the International Baccalaureate Career-Related Programme (IBCP), which imparts more vocational and practical skills.
Jarrell, who graduated in 2016, added:
"(So), instead, what Sota does offer are two different programmes with two different objectives. The objective of the school is not to produce young inspired artists but instead to give students the safe space to learn, nurture and develop their various skills and passion in the different art forms while still being able to further their academic journey."
Holistic Education
Ruby Thiagarajan, a former theatre student at Sota, echoed Jarrell's views.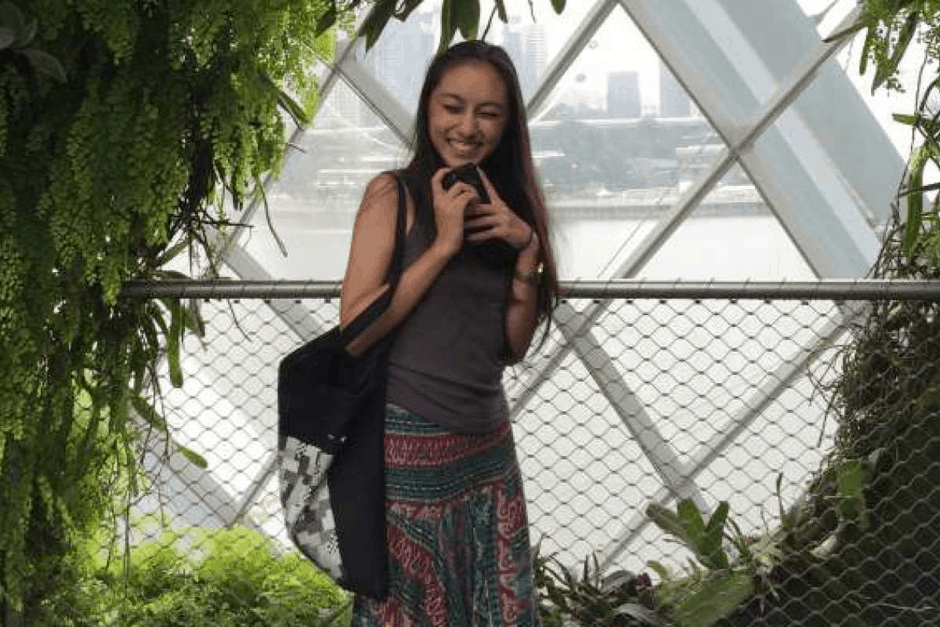 Source
Specifically, she believes that the flexibility to explore different topics – and to not just be limited to art – was what made her education meaningful:
"SOTA was a great school not just because of its arts focus. The school has a nuanced and sensitive approach to service learning – one that I have yet to encounter in another Singaporean school.

(For example), students from all across the PSLE T-score spectrum were allowed and encouraged to pursue challenging academic subjects"

The 23 year-old is currently pursuing a degree in the social sciences at Science Po, a university in France. That said, she has managed to create Mynah Magazine, a publication that focuses on long form journalism.
Ruby also offered several solutions to the economic concerns expressed by Valerie:
"If we're talking about wanting more career artists in Singapore, there are better targets.

(We could look at) The reluctance of the NAC to provide full scholarships for overseas arts degrees, the opacity of the arts scene, the mindset that Singaporeans need to pursue conventional careers, the lack of economic safety nets for individuals who "fail" in their endeavours."
Future of Arts?
The next day (26 May), Alfian posted another update on Facebook clarifying and apologising for his earlier statements.
Specifically, he acknowledged the sensitivity of the issue, apologised for his perception of Sota as a school for "grooming" artists, along with engaging students who had not chosen arts as a career.
If you would like to view his full statement, you can view it here.
With Prime Minister Lee Hsien Loong's recent statement that a "civilisation is defined as much by its arts and culture", this debate certainly brings up a new perspective on the future of arts in Singapore.