You can expect delays for the next few months.
If you were stuck on the train on the way to work, or perhaps on the way home after a long day – prepare to deal with it for the foreseeable future.

SMRT Has "No Choice"
SMRT claimed that it has "no choice" but to conduct checks for the new signalling system on both the North-South and East-West Lines throughout the entire day.
SMRT Trains' CEO Lee Ling Wee said in a statement on the company's website that the new system had to be tested throughout the day as it is currently being added to an MRT line that is already operational.
According to Mr Lee, it would supposedly take "years" if it were to be tested only during times of the day which are less busy.
"This is why we have no choice but to conduct checks throughout the day, including weekday peak hours, when trains are running at high frequencies with heavy commuter loads," said Mr Lee.\
The non-peak periods are usually the weekends or engineering hours from 1.30AM – 4.30AM.

Dissatisfaction Amongst Commuters
Anger and dissatisfaction seemed to be at an all-time high with many commuters left feeling frustrated with the uncertainty and unreliability of the public transport system even during the morning rush hour.
Multiple disruptions during the testing period thus far have left many commuters adding extra minutes, and sometimes even hours to their commute.



Why Is It Taking So Long?
"The system hardware and software we have are customised for the unique local environment," Mr Lee said.
"While the system supplier had experience working with other operators in the world, they are unable to simply replicate the well-oiled systems of Taipei, Hong Kong and London, and import those here."
As there is no two railway system that is identical, and hence the systems used overseas cannot be directly emulated here in Singapore.

SMRT Is Aware Of Feedback From Commuters
Mr Lee has also assured commuters that SMRT is "working hard to get over with this phase of system renewal on the NSEWL".
Safety is of "paramount importance" and no change will be taken with regards to safety.

"Planned" Approach
Drawing the Circle Line incident in 2016, Mr Lee has said a "planned" approach is used this time.
In September and November 2016, extensive tests were done by SMRT to find out the cause of the intermittent signalling issues.
"This is unlike the Circle Line incident in 2016 when we dealt with unknown unknowns," he said. "We are adopting a planned, systematic approach to identify and rectify the issues in our signalling trials."

Suggestions From Commuters
Commuters have taken to social media such as Facebook to give their take on the entire situation.


Expected To Take A Few More Months
Brace yourselves for a "few more months" of train signalling tests on the North-South Line. Meanwhile, get yourself updated regarding train delays with SMRT's twitter account before you step out of the door.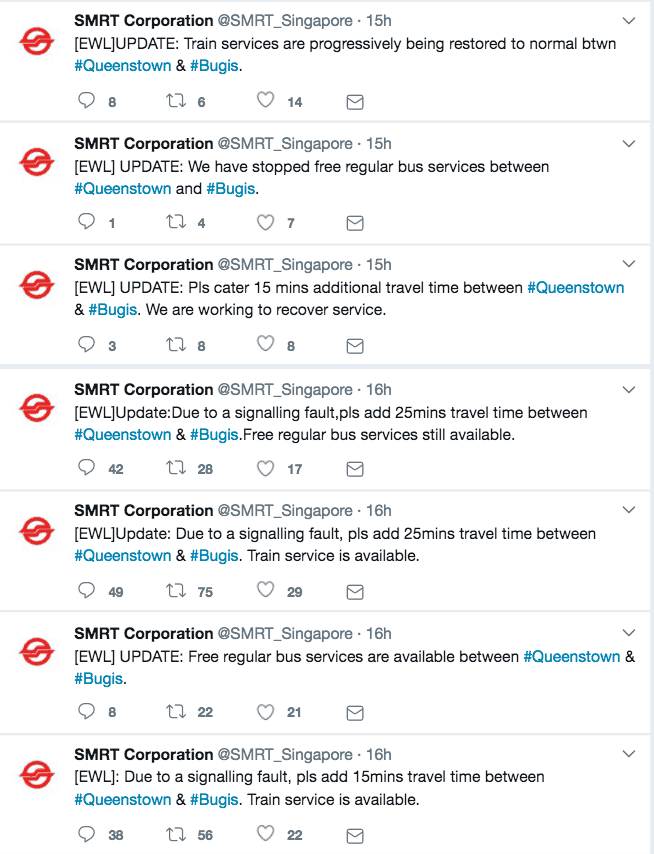 We suppose that we will be seeing angry Instagram stories and Facebook posts for the foreseeable future while being squished on a halted train on the way home.