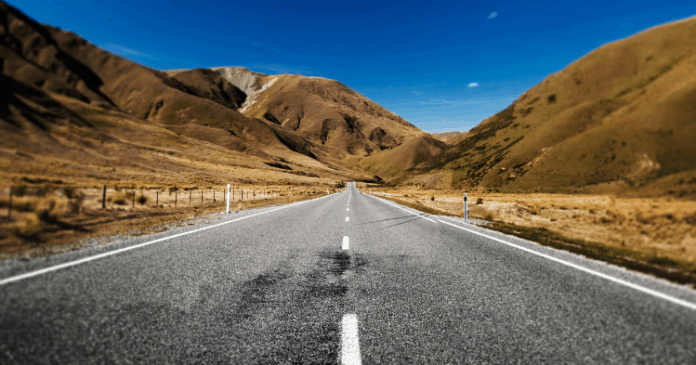 We all had lofty aspirations when we were young, wild and free. We wanted to be astronauts, celebrities, or even save the world as superheroes – the possibilities seemed endless.
However, according to a study, only a measly 6 per cent of us end up achieving those crazy childhood dreams. The rest of us had vowed to chase our dreams when we grew older, only for them to fade into fond memories that live in the past.
For these three Singaporean friends, they couldn't imagine their imaginations simply turning to dust. For the past 3 months (and counting!), Alvin Goh, Andy Goh and K.A. Chua have been living their childhood dream.
En-route a 25,000km drive from Singapore to London, they document their journey in real-time on their Instagram account @sgtolondon.
The trio set off from Singapore on 11 July 2019, embarking on their road trip to their final destination in the United Kingdom. Armed with their vehicle of choice, a Toyota Land Cruiser Prado, some comfort food of Maggi mee and Milo packets, and the magic ingredient – the company of one another, they began a self-funded journey that would take an estimated 4 months by land.
The Arduous But Fulfilling Journey
A quick scroll through their Instagram page and you'll immediately see that these 3 friends have been on the road for a while.
Never failing to update their followers on the journey, the account keeps to a schedule of daily uploads detailing their current location along with pictures of their day. Occasionally, they end up in a place with a poor network connection and are forced to have a digital detox and postpone that day's update. Instead, they'll spend their time connecting with the locals and immersing themselves in the culture of the country.
The route planned by the trio first took them through destinations in Southeast Asia that are more familiar to us, where they explored the likes of Malaysia, Thailand and Myanmar.
From there, the real journey began as they drove onwards to uncharted territories for many of us, like Iran and Azerbaijan.
Although they were in an unfamiliar land, Alvin, Andy and Chua were never short of good company in strangers turned familiar faces.
While on the road, they also met fellow overland travellers who hailed from all over the world.
It wouldn't be an ambitious travel experience without being struck by Murphy's Law, that anything that can go wrong, will go wrong.
The trio, too, encountered their fair share of mishaps.
In Istanbul, Turkey, the three friends found themselves one man down when Andy suffered an accident – he was admitted to the hospital after a nasty fall off a slope.
The team had faced a dilemma if the duo should proceed with the planned route and regroup with Andy at a later time.
Alvin and Chua eventually chose to stay with Andy and support him together as a team until he recovered fully – understandably so since they had been childhood friends all these years after all.
After a week of recuperation, Andy was fit to travel again!
With the bump in the road behind them, the team could look forward to achieving their next milestone – setting foot in Europe in the next few days after almost 3 months of non-stop travel.
From Turkey, they made their way through the Balkans into Western Europe as it transitioned into autumn.
Adventures Of Being Grounded 
As trite as it sounds, when Alvin was asked to single out particularly memorable moments that the three friends have been through, he answered that the journey in its entirety has been unforgettable. If he had to pick just one, it would be the experience of overland travel and the unexpected situations that followed.
Land travel meant a lot of driving, and much of it was spent in unfamiliar terrains.
Bid farewell to the luxury of paved concrete roads which we're accustomed to in Singapore. Instead, they had to get used to their new normal of dirt tracks and incoming cattle crossings. They also embraced the moments of roughing it out with the occasional roadside lunch.
His recount of driving in India resembled that of an obstacle course, where they had to avoid potholes, cows, pedicabs and even trucks who drive into your lane from the opposite direction.
Many of us can agree that we trust the GPS to guide us in the right direction, but in many instances, Google Maps led the trio into bazaars and small lanes where they end up getting stuck. As a result, Chua and Andy often had to get off the car and direct traffic in order for the car to get out of tight spots and continue on their journey.
The kind acts of Pakistanis and Iranians had also touched the hearts of the trio, as Alvin recounted that the locals offered to buy them meals on multiple occasions.
Although they faced language barriers, they were united by something they had in common – taking selfies. A fun fact he divulged was that Pakistanis really loved to take selfies! To their surprise, the friends were approached to take 'wefies' together with locals when they were in Pakistan.
Over the course of their exciting journey, they also witnessed unparalleled scenic views like having breakfast facing a view of the snow-capped mountains of the Himalayas.
No trip is complete without ticking must-see experiences off their lists, like the flag-lowering ceremony at the Wagah-Attari border between Pakistan and India.
The friends were also able to access places that were off the beaten path, like driving through the Karakoram Highway that links Pakistan and China. Commonly known as the Eighth Wonder of the World, the highway is one of the highest paved in the world.
Why Drive All The Way From Singapore To London When You Can Take A Plane?
You may be wondering: among all the countries in the world, what made London so special that they chose it as their final destination? In addition, flying long distance has become so much more affordable these days at the rate that budget airlines have been sprouting up. What convinced them to take the gruelling option of driving all the way to the British capital instead?
Alvin shared that he enjoys a good road trip ever since he was a child. Travelling by land has always been fascinating to him, and this trip definitely took it up a notch.
While there's no doubt you win in speed and convenience when choosing to fly, he finds that with land travel, you get to see more of the country and be fully immersed in the journey.
To travel to London by car has always been on his bucket list. He chose London as it would have been his dream location for tertiary education if finances had allowed then.
Back in the day, studying abroad was relatively unheard of, since it would have cost an arm and a leg. Fast forward a couple of years, Alvin would finally make it to London and with this trip, can proudly check off this item off his bucket list!
Travelling for A Cause
What truly inspired me to share Alvin, Andy and Chua's story was them going above and beyond enjoying their adventure of a lifetime.
Besides travelling purely for themselves to see the world, the trio made their trip more meaningful by raising funds for Mercy Relief, a local NGO that provides humanitarian aid and disaster relief.
Just like their Instagram bio states, this was their journey for a cause, and they wanted to pen down their voyage for whoever that found it interesting.
Their goal is to raise S$100,000 by the end of their trip, and you can donate to a good cause at their campaign page.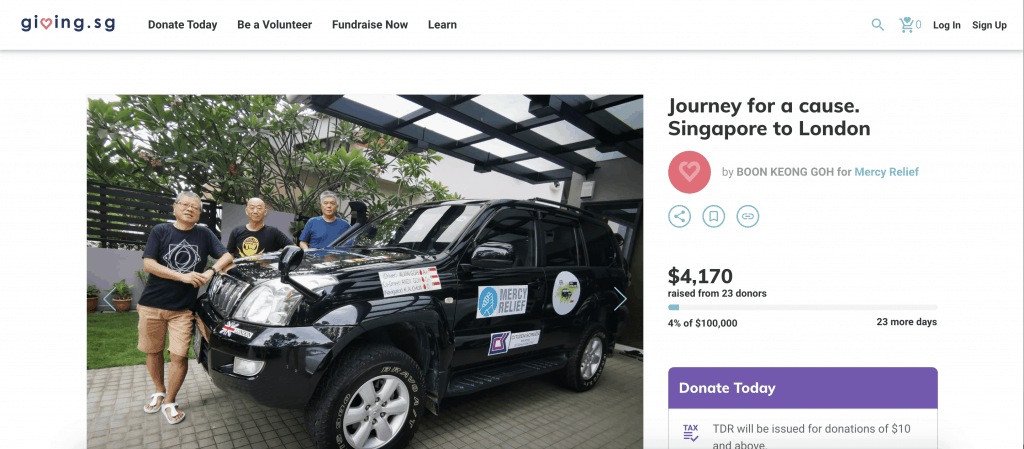 Staying true to their mission to travel and make a real difference, the trio also made pit stops to visit local Mercy Relief projects in Kathmandu, Nepal.
Mercy Relief also supported several NGOs in Kathmandu, where they got in touch with local representatives to arrange visits when they were in the country.
What's Next?
According to the trio's latest update on 15 October 2019, they're currently in Hallstatt, Austria and are mere weeks from arriving at their ultimate goal of London. They're also set to surpass their estimated 25,000km of travel to clock a final mileage of 30,000km.
What struck me as the most interesting conclusion to the #SGtoLondon journey is that London is separated by a body of water from the main block of Europe as seen on the world map.
What further adventures lie in store for our three Singaporean adventurers? I guess you and I both can only stay tuned to their Instagram page to find out!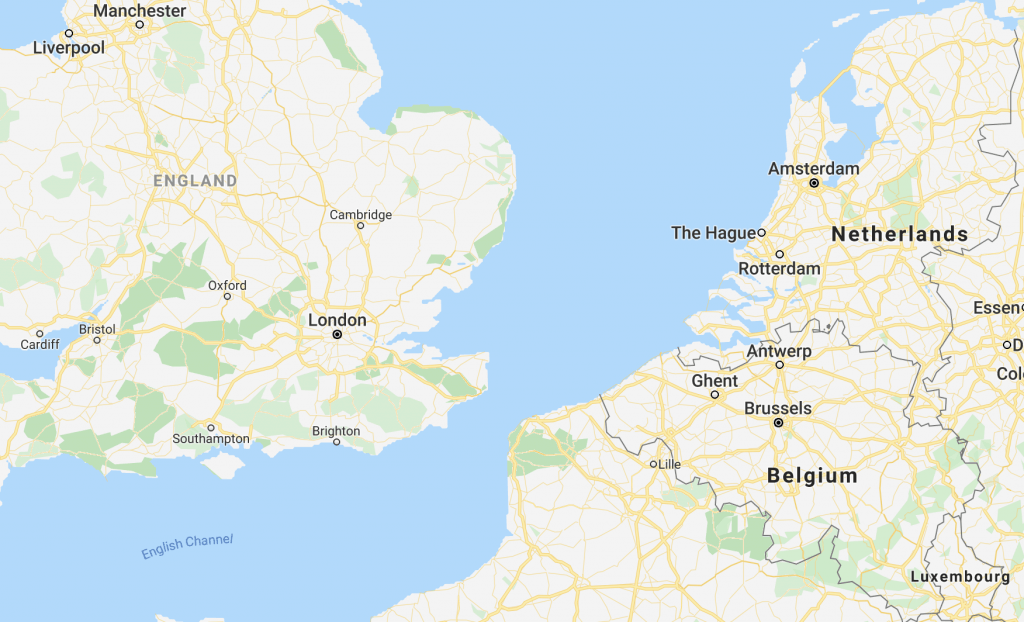 They might be older than the usual adventurer-seeking YOLO traveller you're used to seeing on the news, but these three Singaporean childhood friends truly embody the spirit of staying young at heart. Despite the daunting unknown, it never deterred them from the road less travelled.
They wanted to see the world, so they did.
Follow Alvin, Andy and Chua on their journey at @sgtolondon and donate to their cause at their campaign page.