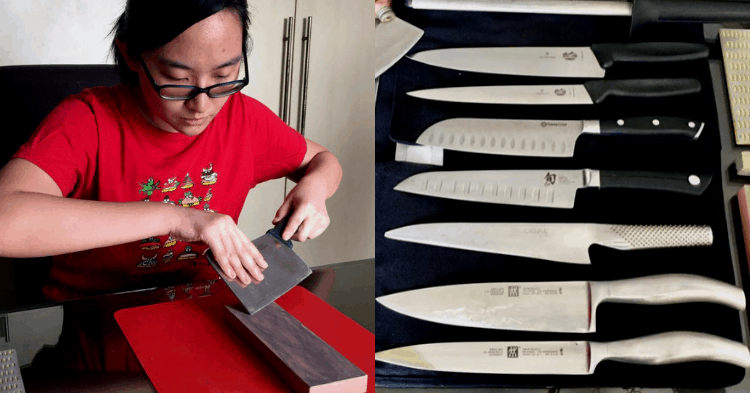 About a year ago, a video from Jun's Kitchen went viral, which was a pleasant surprise as I have been following his cooking adventures for a while. But this particular video showed how he got an old 300 yen Japanese knife polished and sharpened until it was given a new life.
In the video, he said that the seller originally intended to ket it go for 30 yen at the recycling shop, but when Jun approached him, he jacked up the price to 300 yen.
By giving new life to an old knife, Jun was, in a way, getting back at the seller for increasing his price tenfold. The video itself was a satisfying look at an investment of time and patience, where we first saw a rusty, blunt knife polished and swiped under different coloured whetstones, until it was able to cut precise strokes on a variety of vegetables.
Meeting My Unexpected Teacher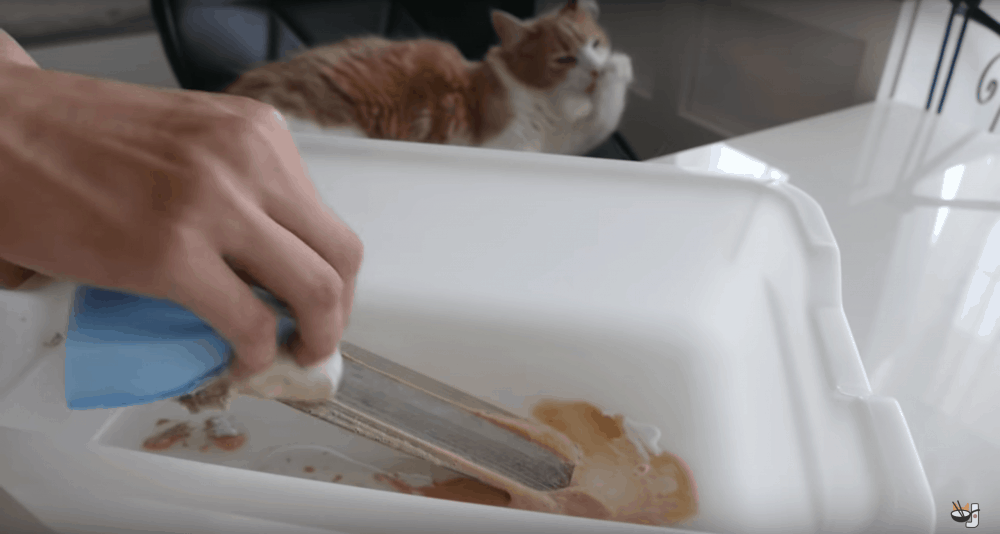 Since returning home from my university exchange programme, I rarely use the kitchen. But to my surprise, I had the opportunity to meet Gerald Gordon Oei, co-founder of The Chadu Chefs with 16 years of experience. He once had a five-year contract with the American Embassy in Kuala Lumpur.
We had just ended a meeting at his co-founder's home kitchen one late morning when he then took out a familiar shape that I saw from Jun's viral video. Placing the cream-coloured whetstone carefully on a rubber mat, he slid a knife across repeatedly, producing the familiar timbre of metal meeting stone. Out of curiosity, I asked if this was a skill that an average Joe with subpar cooking skills could pick up.
To my surprise, he said yes, and proceeded to give me a hands-on tutorial on sharpening knives on the spot. I was lucky, having met him when he does his monthly ritual of sharpening his blunt knives.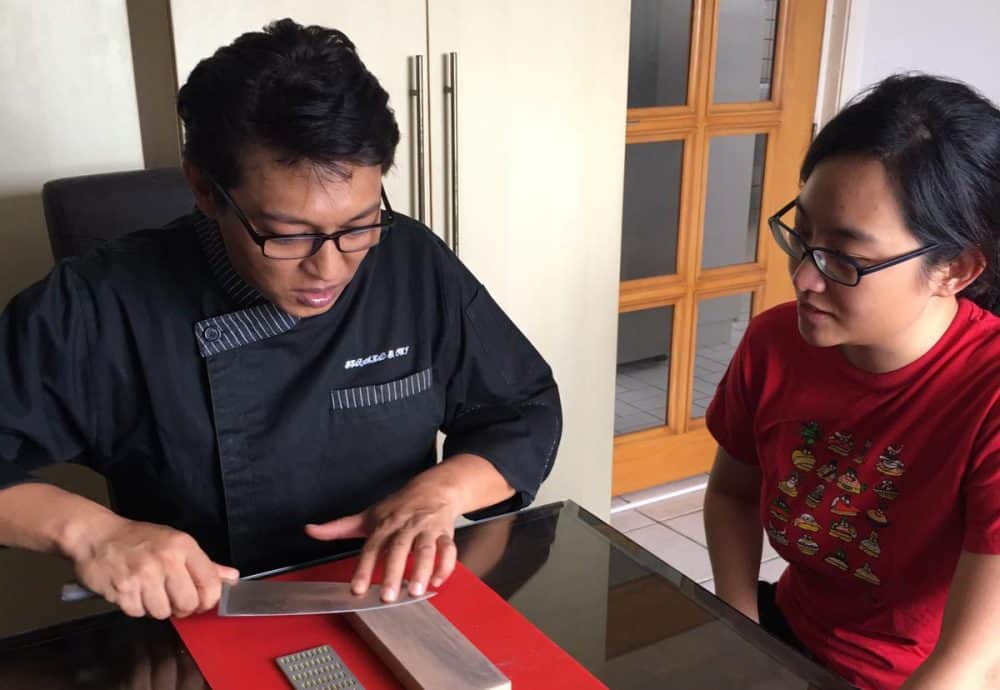 Knife Sharpening Basics
Most knives need to be sharpened at a 22.5 degree angle, which is estimated by halving from a 45 degree angle. Using the slicer knife he gave me, he then asked me to put some pressure on the blade as I glide it across the whetstone. That pressured stroke gave out a nice gritty ring. However, when I pushed the knife on my own for the first time, there was hardly any sound.
Gerald explained that I needed to exert continuous pressure and watch out for when I would lift the blade up subconsciously. According to him, such mistakes were common among beginners.
"I've also seen students who might not hold their knives properly, and hold them at a wrong angle," he said. "Sometimes these mistakes would cause the knife to be blunt again."
After giving the knife ten passes on one side, I had to switch to the other side. He first suggested that I flip the knife and use my right hand to pull the blade towards myself, but I proposed an alternative that made use of my occasional ambidextrousness – using my left hand to hold the handle while still pushing the blade away.
Besides, I was still afraid of accidentally cutting myself.
Thankfully, my left hand proved to be just as useful, if not, superior to my right hand. He remarked that my knife's angle stayed more consistent in the push with my left hand, which made for an interesting way for me to sharpen knives in general.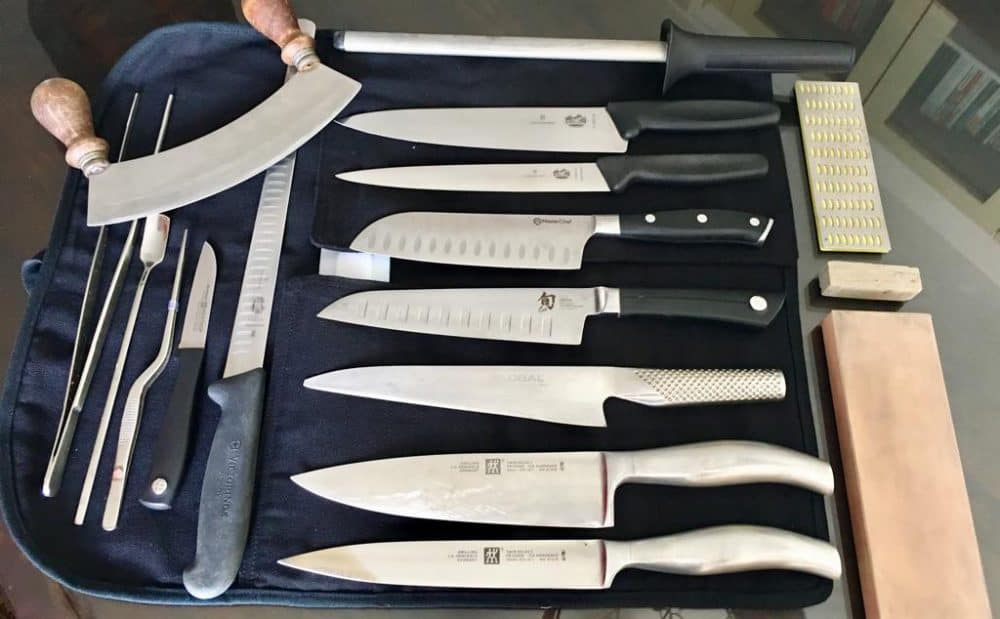 Gerald then placed a diamond cutter on top. This time, the patterned stone produced a sound that was much coarser compared to the whetstone, and I asked why knives have to go through different stones before it is sharp.
"When sharpening knives, there will be some metal particles lodged in the blade. Using a diamond whetstone helps to remove the bigger metallic particles first," said Gerald. "The last step would be to hone and polish the knife."
He points to a smaller stone and swiped the edge once on each side. "This should remove the metal particles and give the blade a clean edge."
Getting Over The Fear Of Cutting Myself
Once the slicer knife had gone through all three stages of polishing, he examined the blade by gripping the edges with his exposed fingers. I thought he was going to accidentally cut into his skin, but he asserted that this was a necessary step in determining how much work had to be done. "You really have to get to know the blade in order to know how to sharpen the knife. Sometimes you can tell that there are some parts are sharpened and some are not," he said.
He beckoned me to try it myself with another unsharpened knife. Once I got over my hesitation, I pressed against the blade's edge. I was surprised to find that the edge was blunt enough that I could exert some pressure as I gripped it. As he said, I could also feel the different levels of sharpness, and the ends of the knife felt sharper than the middle.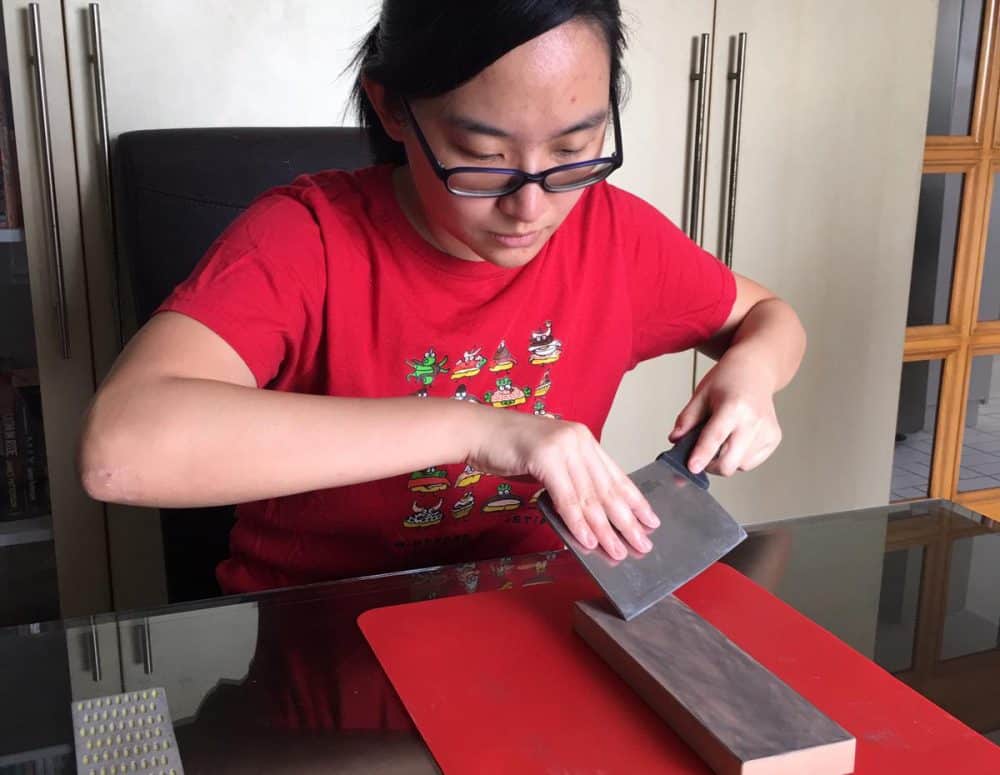 Happy that I was making some progress, I went to work with the second slicer knife he had, completely unguided. Before long, I was going through his whole array of knives, including those whose shapes were a bit trickier to handle.
When it came to the chef's knife, Gerald had to step in occassionally because I held the blade at an odd angle. The chef's knife was more challenging because the tip of the knife was curved, making it harder to estimate the angle of the knife. Cleavers were also a different challenge, as the angle had to be held somewhere at 30 degrees instead.
Its heaviness eventually got to my fingers and I began to feel sore, so my knife sharpening adventures came to an abrupt stop. Even so, I can't deny that it was therapeutic – an hour flew by with a blink of an eye.
For more info on Gerald and The Chadu Chefs, visit their Facebook or website.