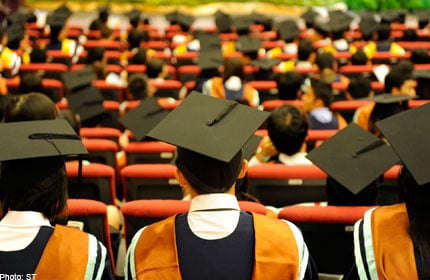 We complain but many of us are still proud of our education system's international reputation.
Despite being a tiny nation, Singapore is well-known globally for many reasons—with our education system being a notable standout. Despite the endless complaints from parents and students about the immense pressure and "ineffectiveness" of repetitive work, many of us are happy with the international reputation our schools and education system have gained overseas. Our national tertiary institution has gained another accolade with Times Higher Education's World's Most International Universities 2017 data.
National University of Singapore ranked the 4th most International University
Given the globalised age we live in, the desire for students to live abroad is not uncommon; universities also hunt for talent globally. This movement of talent across the globe is what forms the basis of the rankings. The data is drawn largely academic from the tabulated scores of the demographic of the Universities' students and the University's reputation globally.
NUS exceeded international benchmarks with 8 out of 10 students travelling abroad for exchange programs in Singapore. This is highly common in the local education track with most schools offering exchange programs around the world.
Our regional partner, Hong Kong, made it in the top 10 as well, placing above Singapore in 3rd place.
International University score reflective of the bigger picture
The original article by The Straits Times received some backlash because top ivy league schools from the US and UK did not fare as well in the charts, causing many to doubt the legitimacy of the study.
Institutes like Harvard and Cambridge placed low in this ranking (while normally, obviously, placing top 10 in the World University Rankings) at 33rd. The University of Cambridge and Imperial College came in 6th and 5th respectively, staying in top 10.
However, given the large talent pool and sheer size of the US, there seems to be less of a need to attract academic talent overseas. This might the strong standing in World University Ranking but not so much the strength of international diversity.
This will likely remain unchanged with the current Trump administration and their isolationist stance, which will likely discourage the flow of foreign students into the US. Similarly in the UK, anti-globalization sentiments, coupled with their decision to leave the European Union, will likely lead to less internationalization of universities.
This might explain the high ranking of countries like Singapore, Hong Kong, and Switzerland to a certain degree, as we tend to be "big, global trading hubs" with the use of English as our "global lingua franca".