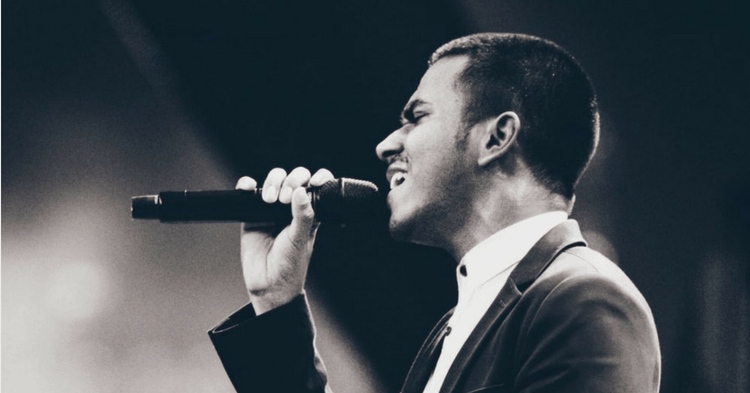 In a country with a rather small music scene, there are so many paths one can take to pursue a professional singing career. Yet, each one is laced with uncertainty.
It's no mean feat for a Singaporean who can say that they have performed alongside the international legends David Foster, Nat Adderley Jr., and the Duke Ellington Orchestra, all before turning 25. That impressive track record belongs to Nick Zavior, who's been called one of Singapore's most promising soul singers.
These few years, our local music has been taken over by the R&B/soul groove, led by the likes of Sam Rui and Sezairi. But unlike these artists, Nick has been stacking up praises and incredible stage experiences before he's officially released any original music.
He's currently working on his debut EP, but he's also been busy performing cover gig after gig. It's at one of his regular gigs, the Shangri-La Hotel Origin Grill & Bar, where I meet a dapper-looking Nick for our interview, just a day before he turns 25.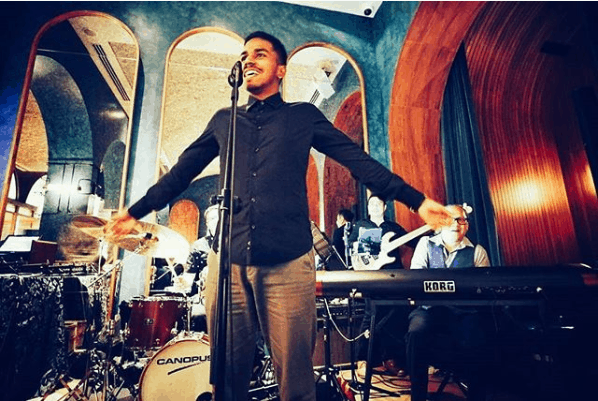 Sounds like a fancy regular gig to have for someone so young? Well, Nick is no stranger to singing at bars and clubs, for such opportunities had come as part of his formal music education.
College Crooner
Ever since he was fifteen, Nick was set on becoming a singer. At his parents' request to get a degree, he enrolled in LASALLE College of the Arts to study a diploma in Jazz Performance and later, a degree in Popular Music. Even at a time when more and more singers are using YouTube or going straight to doing gigs to break into the music industry, Nick has no regrets about taking the time to study music theory and have aural training first.
"For me, I felt it helped more as a means to network with fellow musicians," he explains. "Getting to meet like-minded individuals aided my path to achieving the goals I set for myself."
It definitely didn't hurt his early music career to have been awarded LASALLE's prestigious McNally Award for Excellence in the Arts when he graduated in 2016 too.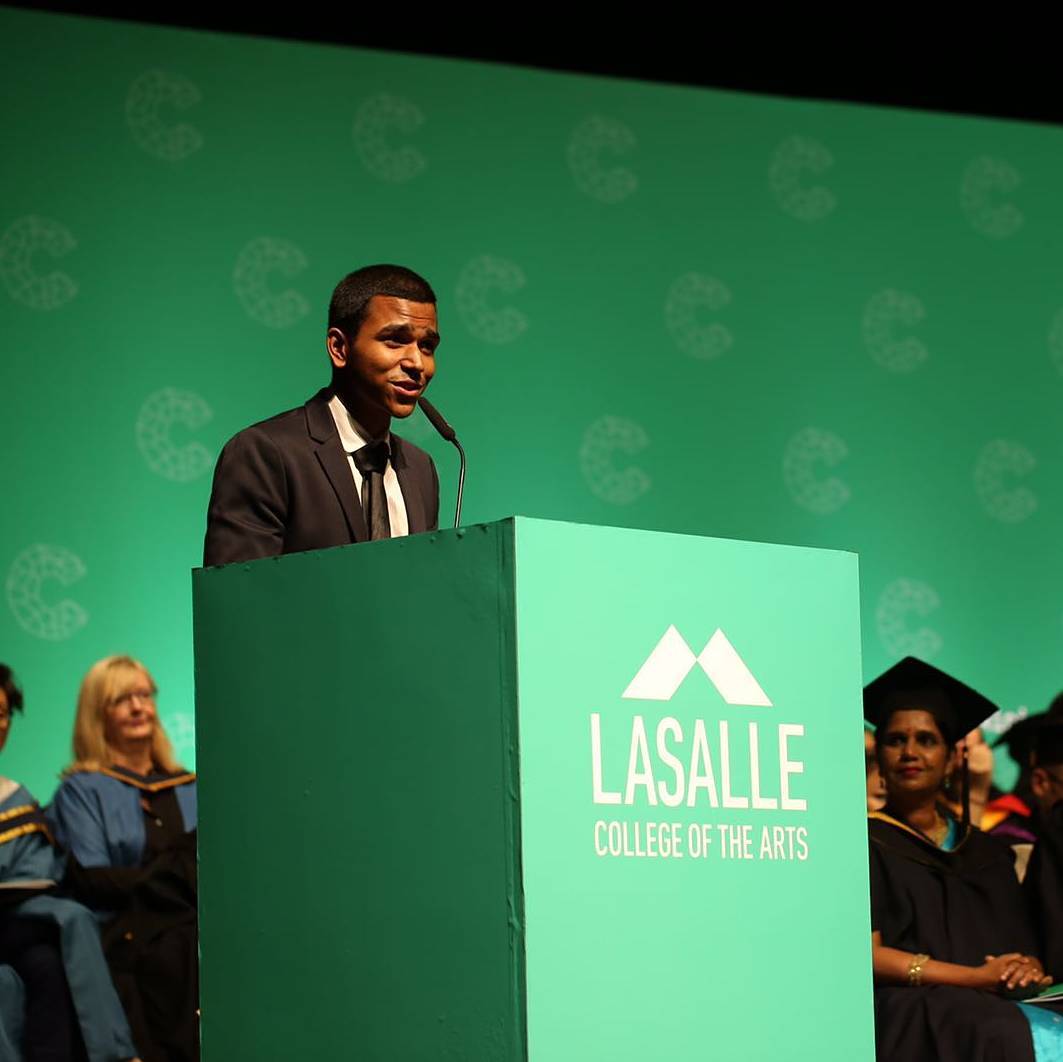 His time as a student at LASALLE also helped him to chart his future career in the direction of R&B and soul music. Going from jazz to popular music was not simply a change of academic specialisation for Nick; it was a whole personal journey that shaped his identity as an artist and performer.
"In school, when I started learning jazz, I was bored by it. When they give you opportunities to go and sing outside, at jazz clubs and stuff, you just see people mostly not interested. So, I wasn't enjoying that so much."
Just as I start to wonder why he had chosen to study jazz in the first place, he seems to read my mind and tells me plainly that he does like jazz. "It's just, I didn't like that it's so disengaged currently from the audience."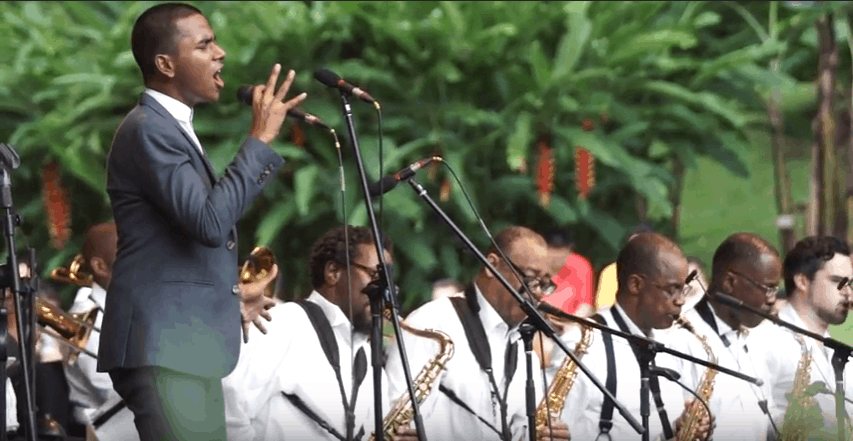 For Nick, who loves performing on stage because he loves seeing an audience get excited by what he does, this first-hand understanding of jazz's reputation as background music was a wake-up call.
"I wanted to find something that had a mix of both, really cool but still has jazz elements." His face lights up. "So that's where I found soul and R&B, people like Sam Cooke, Luther Vandross, and those similar kinds of artists from the 80s. I just started doing my research and working my way from there.
"That's when I really felt like R&B is that perfect blend for me."
Jazzing It Up With R&B
Nick wouldn't call himself a jazz singer.
This, despite the fact that his notable big break came when he shared the stage with David Foster at last year's SingJazz Festival. That's also the show where The Straits Times mentioned that he "made Singapore proud." National representation is a very high compliment, and Nick knows it.
"I'm very honoured," he says. "It's a good kind of pressure because I don't like to be content with where I am. I'm happy with all that but it's always about what's next. I like the challenge."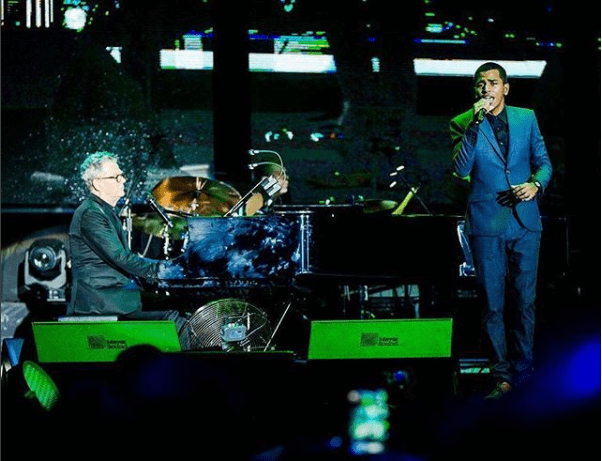 But the idea of representing Singapore in jazz – a genre that's not very popular among our younger generations – has him anxious. He admits that what he does with R&B tends to largely fall within jazz. But he also believes that some Singaporeans have the misconception that almost everything outside of mainstream pop would be considered jazz.
He shares a funny story where someone posted a video of him singing Bruno Mars' "Versace On The Floor" at the Esplanade on National Day, describing it as a "smooth jazz song."
"It's an R&B song, right?" he says, laughing. "But some people associate those sounds with jazz."
"That's why I'm tilting more towards R&B now: these genre names can pigeonhole you sometimes. I definitely wouldn't want to do very generic pop – the kind that's out there in the market – but something with a little pull of R&B and soul."
But while the diversity helps him experiment with styles, Nick is approaching his song choices with more caution now that he's working on his own sound.
"Sometimes being too versatile can hurt you," Nick says. "Because people don't know exactly what you're all about."
"Hence I'm really trying to take as much time to narrow it down, make it so I am connecting with my listener, really finding out things like, 'What do you want your audience to think of you?' I'm really asking myself a lot of these questions, and it's getting clearer; the more questions I ask myself the more clear it's becoming where I would want to go."
Hitting All The Right Notes
Nick may still be figuring out where he wants to go with his sound, but in terms of his career, he has his mind set on the world.
He envisions his music connecting with audiences who come from far and wide: "When people come to see a Nick Zavior show, they're not just there to watch someone sing; you're going to be taken on an experience of world-class quality."
Then, taking his ambitions down a pragmatic notch, he adds that he knows 'making it' globally is not a given.
"Of course I dream of that all the time, but for me it's more important that I enjoy the process of everything around currently, to enjoy every performance on the big stages and smaller ones like this." He gestures towards the Origin bar.
That's something he reflected on when he met Nat Adderley Jr. a few weeks earlier. The eminent music director for Nick's idol, Luther Vandross, amazed Nick with how he went from playing sell-out arenas to playing the piano at clubs, and enjoying it.
If that kind of contentment comes after many opportunities to keep doing what you love, Nick is well on his way in attaining it. He's kept himself busy doing shows all across Singapore – you can catch him next at the Tampines Youth Festival on 8 September.
His goal of touring the world is also inching closer in little but significant steps: besides getting invited to perform with David Foster a second time at Kuala Lumpur, Nick also recently visited Jakarta for a show.
But for the next few months, his top priority is his EP.
What's That Sound?
Though it might take another year before the EP gets released, there's much to be excited about already. Nick's currently managed by David Foster's manager, and early this year, he flew to Los Angeles to record trial demos at the enormous and world famous The Village Studios.
Those demos are his biggest concern right now. He plans to use what worked well with those demos to create an identity that's consistent for the whole EP.
"I think the most important thing is figuring out a story," he says. "There's so much good music out there so to really compete, I feel like you got to have something else to offer, like a full package. That's what I'm currently trying to work out."
Everything is pretty hush-hush now, but Nick reveals that there's an upcoming project related to the EP that would be huge. "I don't think Singapore has ever seen anything like this," he says. "It's going to be exciting."
To tide us over until that comes, Nick kindly agreed to sing a little a cappella for us. Above is YP SG's exclusive video of Nick Zavior singing a beautiful version of "(You Make Me Feel Like) A Natural Woman," in tribute to the late Queen of Soul, Aretha Franklin.
You can follow Nick on Instagram and Facebook.