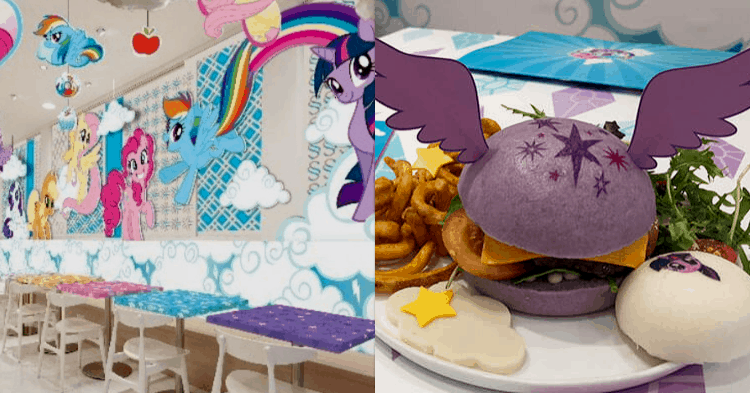 The creative dining collaborations between Shirley Wong aka Little Miss Bento and Kumoya seem to be quite on a roll. After vibrant themes like Tokidoki, Care Bears, Miffy, and Mr. Men and Little Miss, the team has brought the iconic brand My Little Pony to life in the form of a pop-up cafe in Singapore for the very first time.
Launched on September 27th, this is actually the first My Little Pony Cafe in Southeast Asia and will be open till 30th December.
The last time when I was visiting Kumoya to interview Little Miss Bento, it was decked in Tokidoki-themed interiors, menu, and food. It looked amazing and so this time my hopes were even higher. As I approach the Kumoya Cafe at Jln Klapa, I see a beautiful photo op right outside urging me to click pictures with it.
After taking a quick selfie, I walk into the world of dreamy unicorns and beautiful ponies, and of course to meet the brain behind it. I see Shirley waving at me from a distance; this place looks like happiness personified.
Bringing Equestria Home
I settle down on a table with Pinkie Pie, Fluttershy, and Miss Bento. "Were you an Equestria girl growing up?" I ask Shirley.
She smiles and says, "Of course. My Little Pony (MLP) was a significant part of my childhood. From playing with the toys and watching the characters come alive on screen – I was way into the MLP world."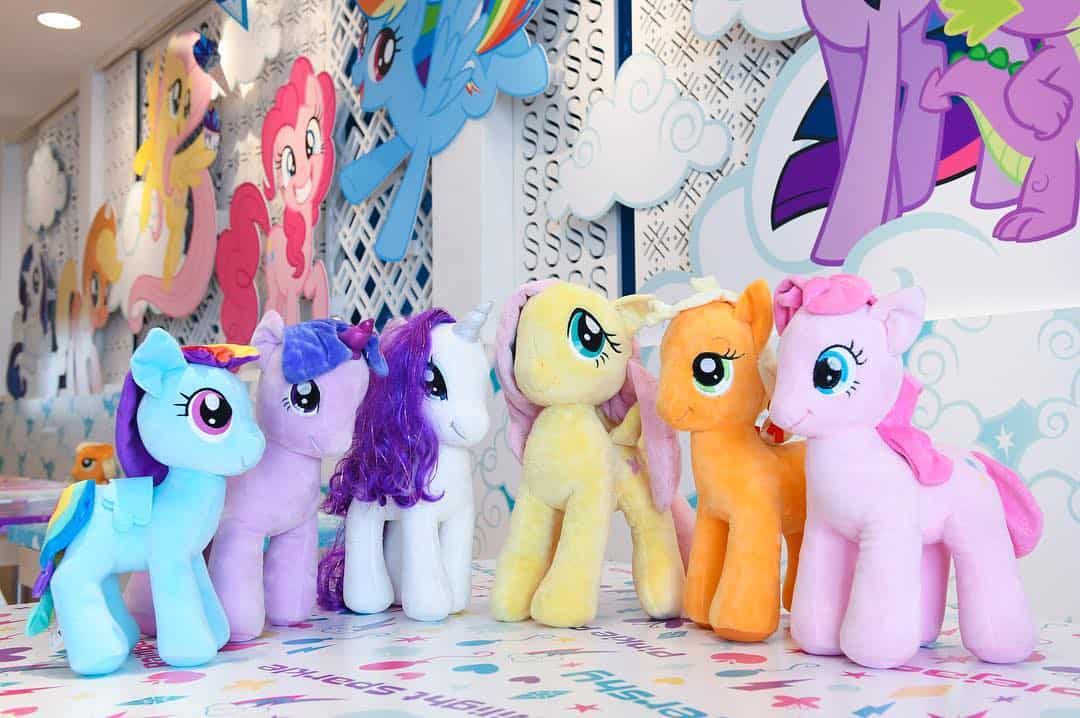 In the past few years, Miss Bento has collaborated 5 times with Kumoya to bring different popular themes to life in this pop-up cafe. Every time I visit a cafe done up by this team, it looks better than the previous one.
This time around, they have gone the additional extra mile with fluffy clouds, an explosion of rainbows and beautiful MLP stars.
While it can be challenging to up your game each time round, Shirley reveals that each new project gives her the chance to accomplish new milestones.
With every different franchise, people have different sentiments and expectations. She explains the MLP has a unique design, feature, and color scheme. "The main challenge lies in maintaining the signatures while giving it a different look."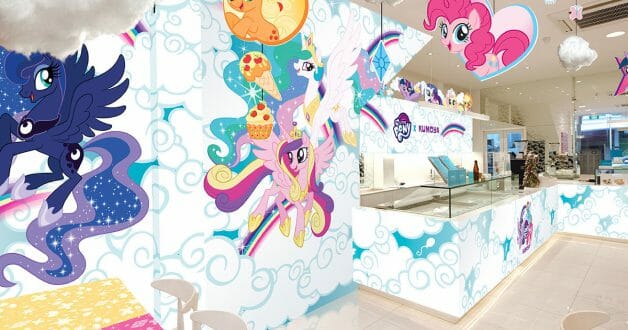 She says that it is because of the amazing compatibility between her and the team at Kumoya that they are able to execute such fun ideas and make them work back-to-back.
The Magical Menu
Shirley graciously brings down the menu for me and as I look at it, I forget everything about the real world. The food looks magical – it looks like the six ponies have come to life!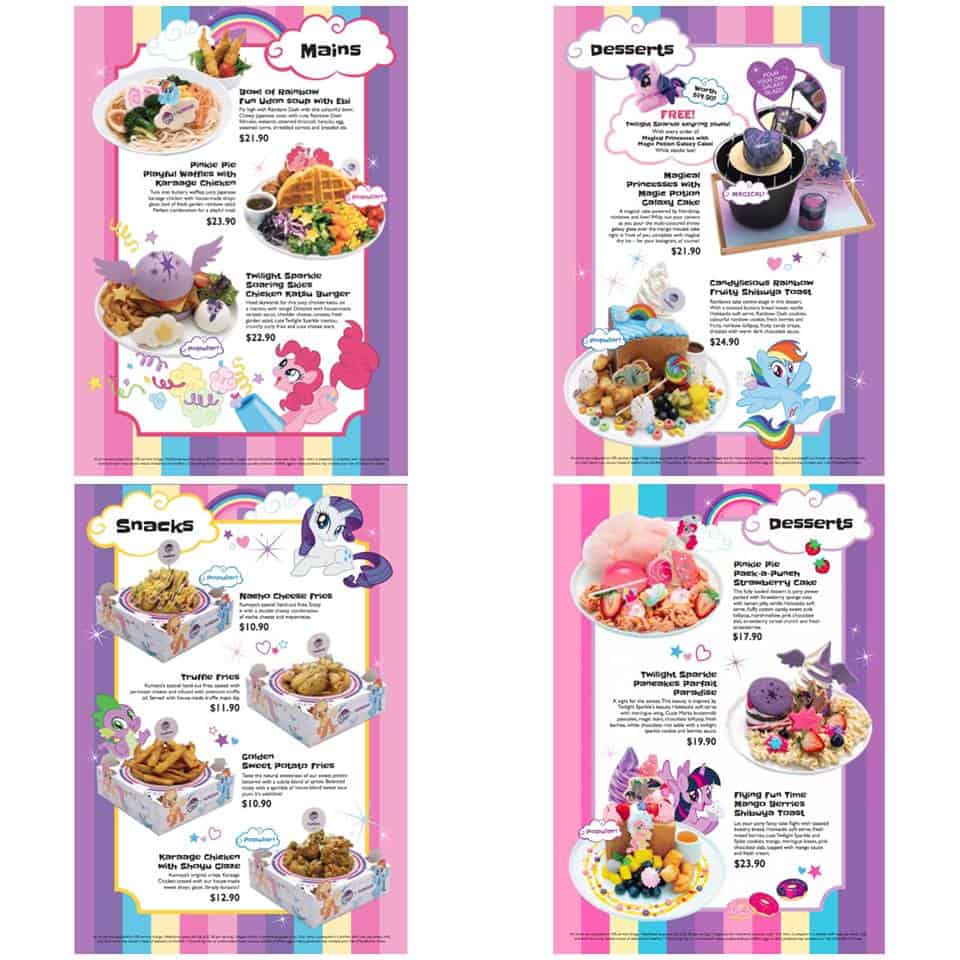 When it comes to picking her favorite food from the menu, shelaughs and explains that coming up with the right presentation for the Katsu Burger was difficult.
The burger is inspired by Twilight Sparkle who is one of the central characters from MLP. "Her features are intricate and detailed, and hence the burger had to demonstrate those features clearly," she explains.
She also likes the Pinkie Pie waffle where she has created a beautiful rainbow using healthy veggies and salad.

Another added perk this time is that visitors get to take cute souvenirs back home – merchandise such as key chains and pouches are given with main course orders.
The DIY Component
When I look at Shirley's bento, I recognize that it is her work. She is a brand when it comes to food art, and I recognize her signature presentations.
In the My Little Pony x Kumoya x Little Miss Bento collaboration, what stood out for me was the Magical Princesses With Magic Potion Galaxy Cake. I noticed a dark color tone for probably the first time in her food presentation.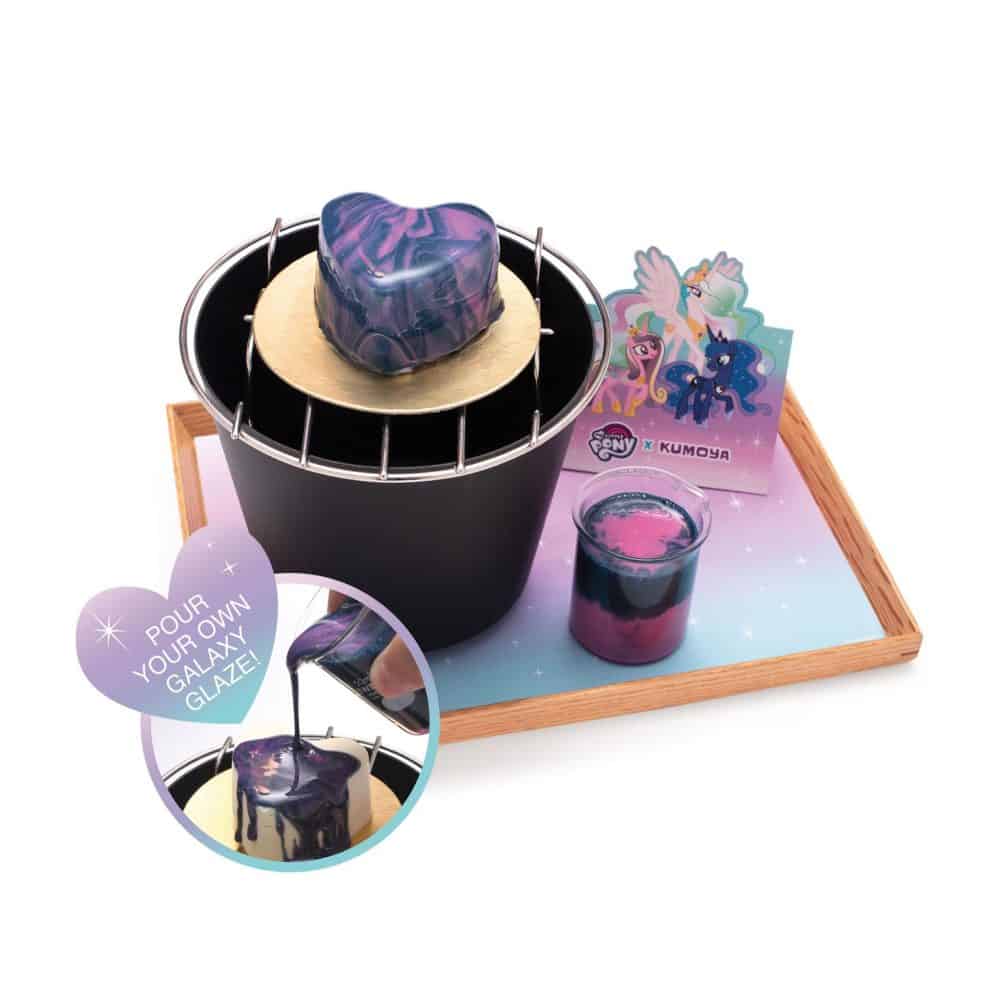 She reveals that they wanted to take the dining experience several notches higher, deciding to do something unique. The galaxy cake not only has a unique color palette derived from the MLP world but it also has a special DIY component where children get to select their favorite magical potion and pour it on the cake.
I enjoyed the food at the MLP cafe and relished the whole dining experience. If you're looking for a happy lunch or dreamy dinner, the My Little Pony cafe lets you lose yourself in the magic for a while.
Kumoya Singapore
8 Jalan Klapa Singapore 199320
Opening Hours:
Tues to Thurs, Sun, 12pm to 9pm
Fri and Sat, 12pm to 10.30pm
Closed on Mondays
Pop-up Period: 27 Sept to 30 Dec 2018