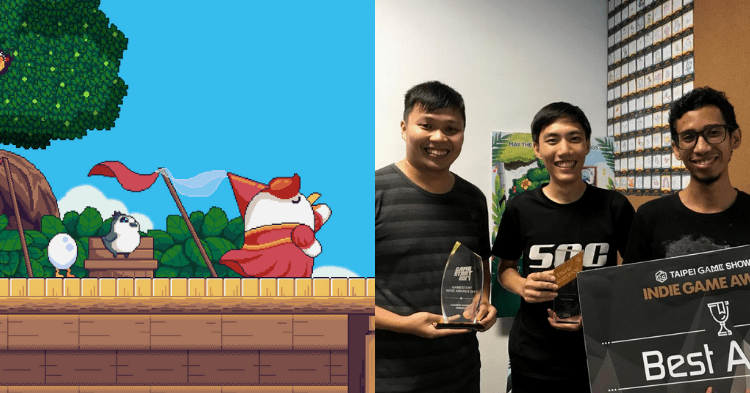 Most games produced by video game giants like Ubisoft and Naughty Dog usually employ hundreds of developers, with millions of dollars spent to create games like Assassin's Creed and Uncharted.
However, a burgeoning scene of indie developers – smaller teams of 1 to 20 – are rising to create smaller scale games. Ever since Steam opened its doors to independent developers in 2008, aspiring game developers disillusioned by big budget titles could dip their hands in and create a game of their dreams.
These games often hark back to nostalgic elements like platformers and pixel art, and we have Singaporean startups among them. Within the local indie game community, Joysteak Studios seems promising with their breakout game, Songbird Symphony.
The two founders, Tan Kang Soon, who does the game's art, and Muhamad Hanif, who does the sound design, go back to their junior college days. Back then, they decided they would someday make games together. Ten years later, Joysteak Studios is now a 3-man-strong indie company with Chue Sai Hou in charge of programming.
Joysteak Studios was founded to "create heartfelt, soulful games that would let players learn more about themselves and the world they live in," according to Kang Soon. Thus far, Songbird Symphony embodies the company's vision as seen by the gameplay and its overarching story.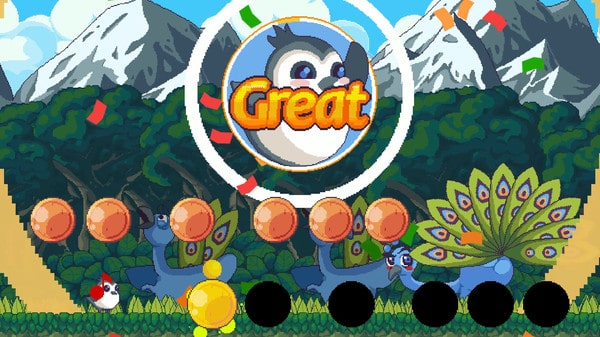 Songbird Symphony is a musical adventure game that combines platforming and 'Repeat-After-Me' rhythm gameplay mechanics. The narrative emulates what Disney does in the storytelling experience by making music a magical element.
Players will be taking on the role of Birb, a black and white unidentified bird who lives with Uncle Pea the peacock. Wanting to find out who and what the Birb really is, he leaves the safety of Uncle Pea's nest to find who his real parents are, encountering various creatures and their songs along the way.
An Unusual Source Of Inspiration
Kang Soon revealed that Hanif came up with the main gameplay after taking an "Animal Behaviours" module. Upon learning that baby birds mimic the songs of other birds to communicate, Hanif took that as inspiration, and materialised it through Songbird Symphony's musical game mechanics.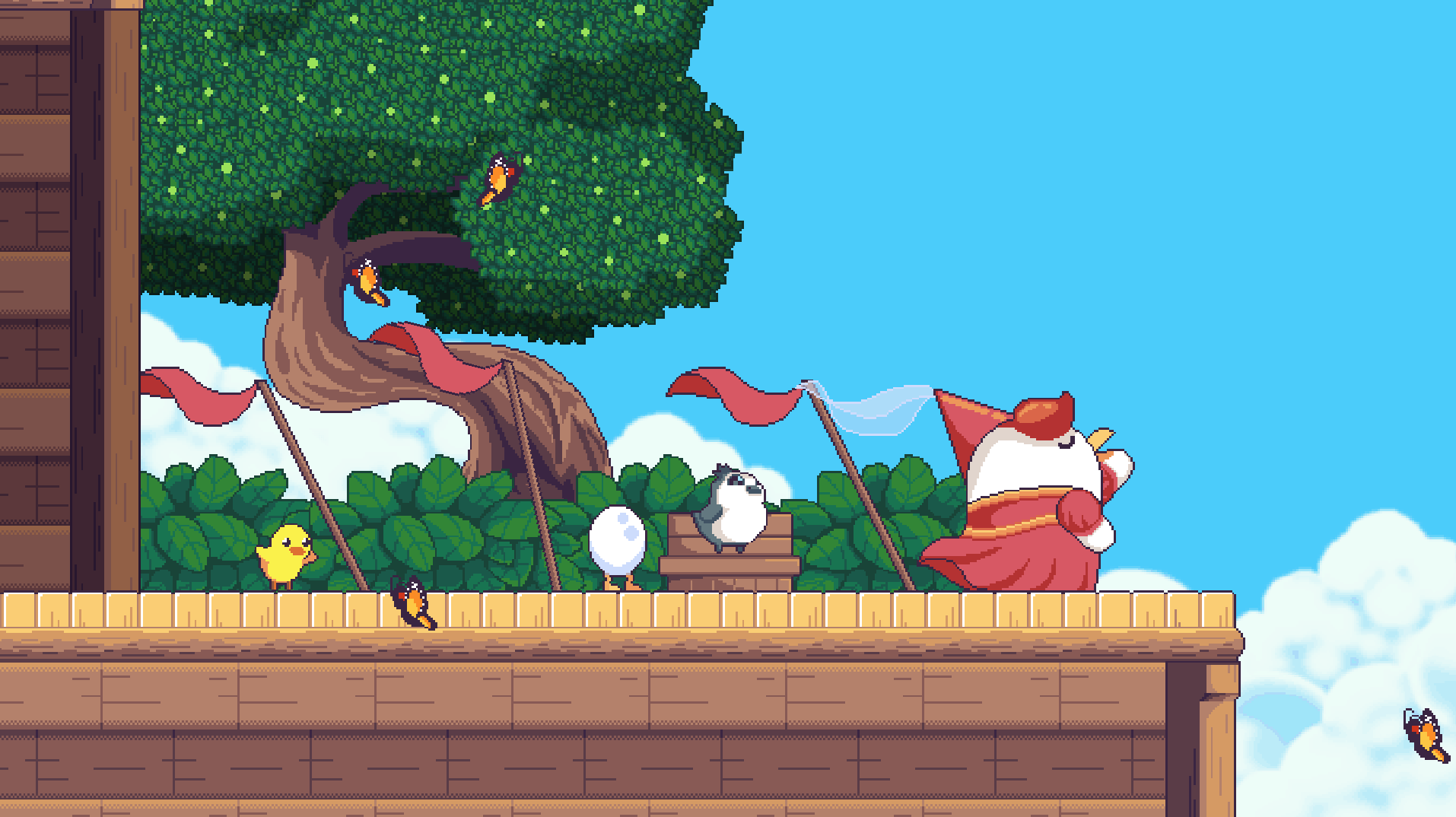 Beyond that, Songbird Symphony is also a story about the game developers themselves.
"We also wanted to write a story which reflects our own personal journeys to becoming game developers, and our ongoing struggle to build an identity and find a place to belong in this industry."
"Hence, Songbird Symphony is an adventure story that touches on topics such as birth, growth, belonging, emotionality, building relationships, and finding love," said Kang Soon.
"We hope that Birb's story is as much our story as it is your story."
The Initial Stages
The team initially worked on a demo for more than a year, which showcased a good 10-20 minutes of gameplay and all the features Songbird Symphony will have in the final release. Kang Soon attributed their eventual success to "a lot of luck and a little bit of 'strategy'."
Their demo was uploaded to various sites to test and gather feedback from the userbase.
After some fine-tuning, Joysteak Studios took the leap to showcase it publicly at STGCC 2017 and GameStart 2017. Hanif recalled in a blog post that the team wanted to bank on winning the audience's vote for the Indie Awards, but had overlooked it during their exhibition.
To their surprise, they won the Judge's Choice Award; Hanif admitted that he didn't believe it until their game's title appeared on the main stage.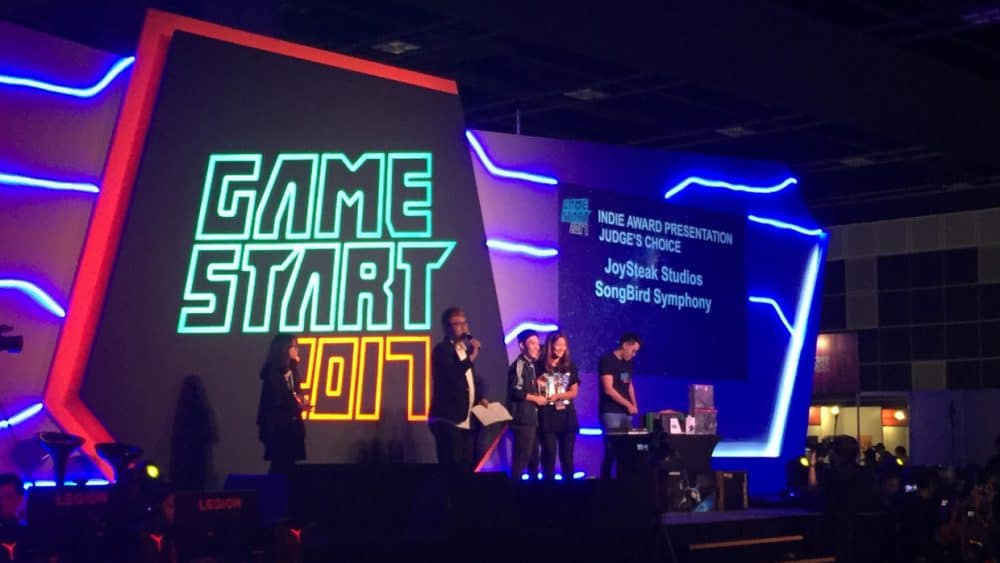 Riding on the high of their successful exhibition at GameStart, they then went on to other events like Taipei Game Show 2018 and Busan Indie Connect Festival 2018, where they won more accolades under "Best Game Audio" and "Excellence in Game Design" respectively.
On top of winning these awards, the team also worked hard to put together a pitch deck and game trailer to send to game publishers.
While most of the publishers they pitched to showed interest in the game, PQube (a UK-based game publisher who also published local indie studio The Gentlebros' Cat Quest) responded most enthusiastically. It was through their exchanges that the indie studio knew that they were the best publisher to work with, and announced their publishing deal this August.
"We had already went through more than a year living on our personal savings and toiling hard on the best possible game demo when we finally signed a publishing deal with PQube," said Kang Soon.
Challenges Ahead, And Facing The "Indiepocalypse" As A Community
Despite the great start, many in the indie development scene has been showing signs of worry that the market is oversaturated with games, dubbed the "Indiepocalypse". Nevertheless, Kang Soon still has high hopes for the industry in general.
"Rather than thinking that it is an 'apocalypse' or 'the end of [indie game development]', I very much prefer using the term 'recession'." he said.
"Regardless the state of the industry, I believe it is important to stay optimistic and do whatever we can with any resources and tools we have at hand to make the best use of our time as Joysteak Studios."
Other developers in Singapore's indie game development landscape could also feel the effects of the 'recession' as well, Kang Soon revealed. Simultaneously, more fresh graduates entering the industry hope to make fun and meaningful games, which adds to the communal support that game developers derive from each other.
On top of that, the Singapore chapter of the Indie Game Developers Association (IGDA), the Singapore Games Guild (SGG), and a dedicated Discord server for Singapore Indie Developers supports fellow indie startups as well.
However, Kang Soon also mentioned that "more support from the government and other investors would definitely be appreciated. But when it comes to the SG indies community, I am really happy that the support groups are there."
Songbird Symphony is slated to launch in 2019, and you can wishlist the game at their Steam page.