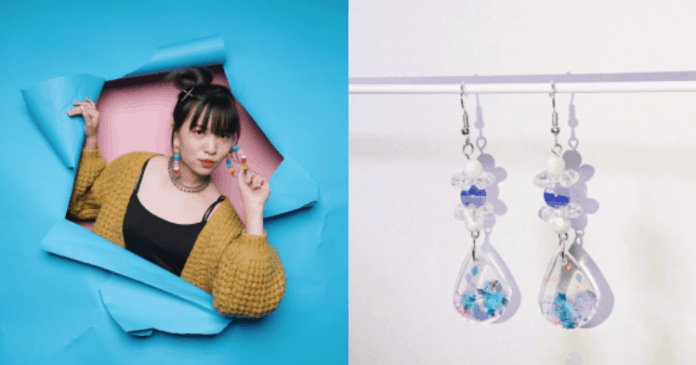 A handmade, delicate piece of resin decorated with holo silver diamonds and chunky glitters hangs from a trail of iridescent pearl, flower and crystal beads. As a finishing touch, this piece of accessory is attached to a small metal hook, completing this piece of earring.
This is one of the many pieces available from Sadshrimps' newest midsummer mini collection.
What Is Sadshrimps?
Sadshrimps first came about in 2015, when Natasha Elle, who was 17-years-old at that time, decided to take a leap of faith with an exploratory attempt at entrepreneurship.
Drawing inspiration from her peers' who were experimenting around with creating their own streetwear brand, Natasha's interest in starting her own business started to grow.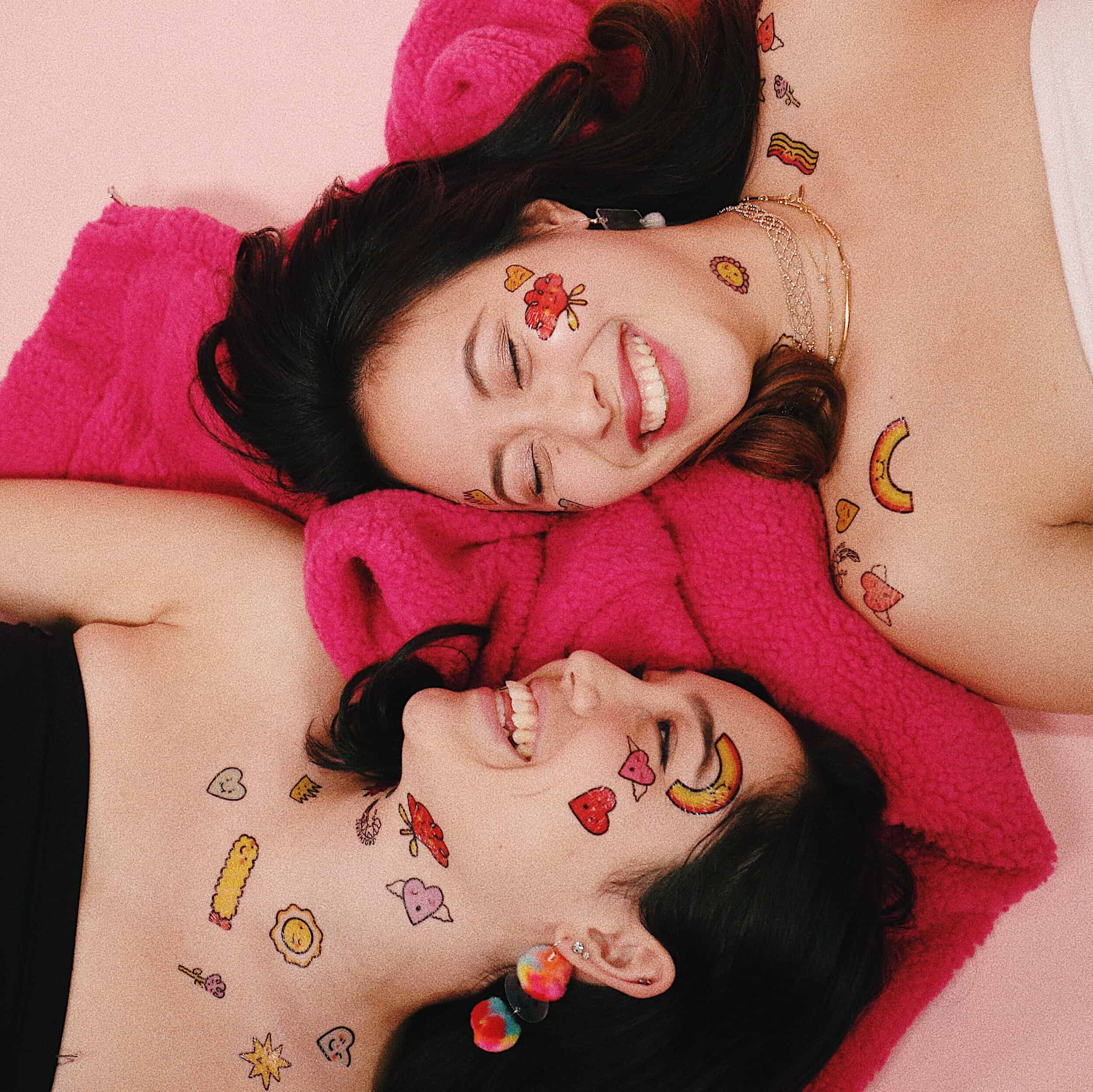 The idea of being able to create, market, and sell items that catered to her personal style had a great appeal to her.
Additionally, being in an environment where everyone was motivated to get their brands out there acted as a catalyst that further encouraged her to give entrepreneurship a go despite her lack of business knowledge.
"Something in me always wanted to design and create tangible things to cater to a market. So, being in an environment where everyone was so motivated to push their brands out there, gave me the push I needed to just 'heck it and give it a go' despite my lack of business knowledge and fear of the administrative side of things," she explained.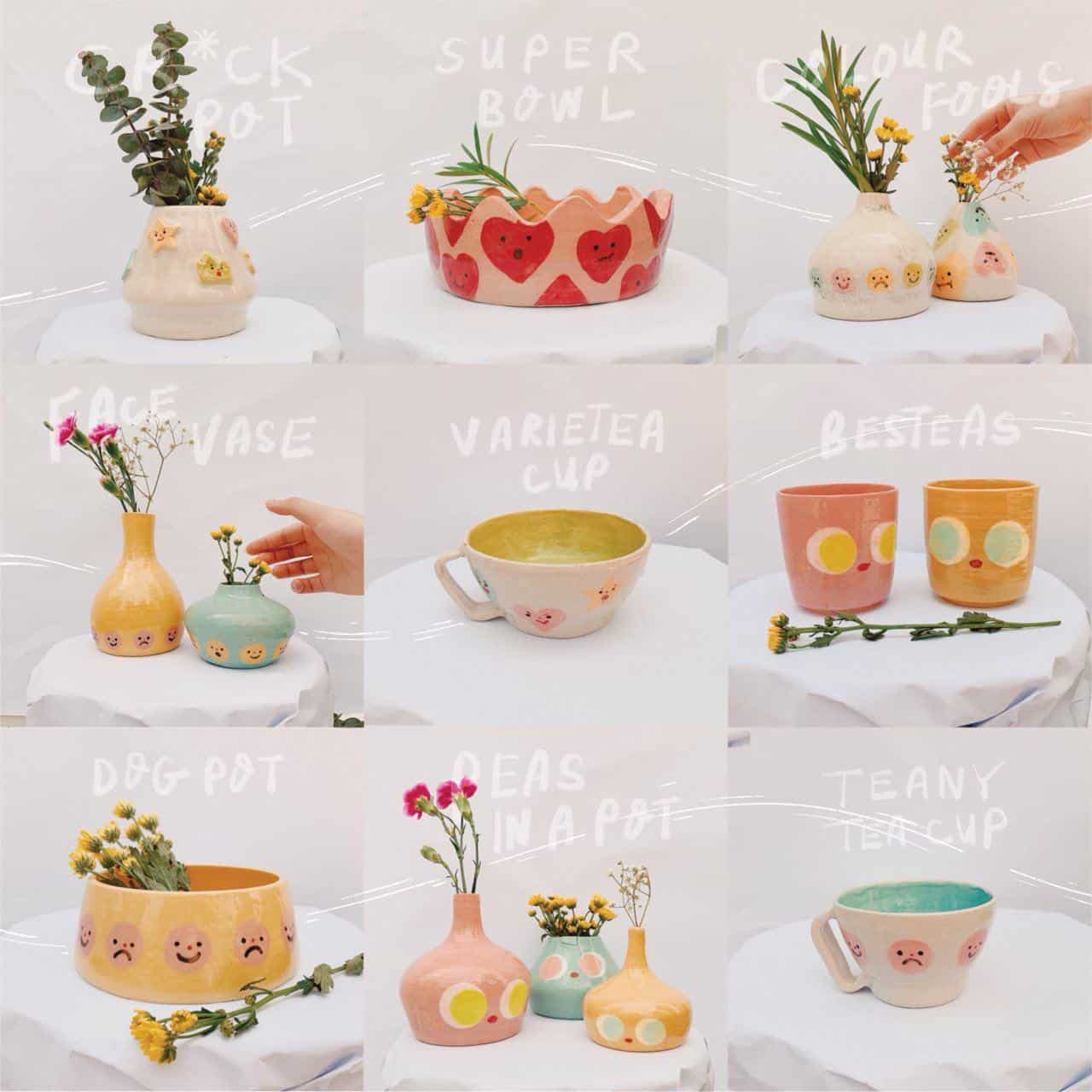 Today, Sadshrimps is a budding independent label selling apparel, crafts and commissioning pieces of art with 5 collections and 1 ceramic collaboration, and with over 400 pieces sold.
Apart from being a successful startup, Sadshrimps also holds a special place in Natasha's heart.
Not only has she invested so much effort in building the brand, but Sadshrimps also acts as her very own platform where she can showcase some of her interests through art and tangible items.
"It is my platform to share several joys of mine, be it through art, or my love for funky, edgy and cute wearables," she says.
The Inspiration Behind Sadshrimps
While statement jewellery has been making its comeback over the past few years, that's not all that inspired Sadshrimps.
With a love for jewellery, Natasha mainly drew inspiration from her personal style to create pieces that catered to her taste rather than what appealed to the masses.
"My taste in jewellery has always been rather specific! I love random items strung together in asymmetrical forms, bold colours that aren't in trend and pieces that really make me go 'yes I need to have that'," she explains.
With pieces made out of colourful tinsel puffs to pieces made out of water crystal balls, iridescent pearl and flower beads, her funky and unique taste is reflected in Sadshrimps' products.
Every product sold on Sadshrimps is bold, fun and different – while being practical.
Apart from the evident influence her style has on Sadshrimps, Natasha also draws inspiration from a specific season or something that interested her at that point in time when she was creating the product.
As a result, her inspiration behind the different collections are always changing, hence she prefers to not rely on any specific source for inspiration.
"Inspiration for me really comes and goes, which is why I separate all my pieces into different collections. Each collection has a certain vibe and feels to it that goes with either the season or a particular thing I liked when I made them!" She continues, "the best part about having changing inspirations is that I'll never be tied down to an idea that I can only make a certain thing."
In addition to her unique taste in jewellery, Natasha is also an artist and illustrator. This gives her an added edge in creating her products as she is able to combine the various art mediums to push her creative boundaries.
Struggles Faced
Just like any other business, Sadshrimps has had its fair share of obstacles and challenges.
Natasha went on to share some of the struggles she faced when she first started up her business.
"I think the struggle for most start-up brands is really learning how to get your brand out there – trying to establish a bond with your audience and getting them involved. Most brands have very similar competitors and that might be a source of stress in such a saturated market," she shared.
In an effort to help Sadshrimps stand out from its competitors, Natasha has always made it a point to create hand-made pieces unique to her.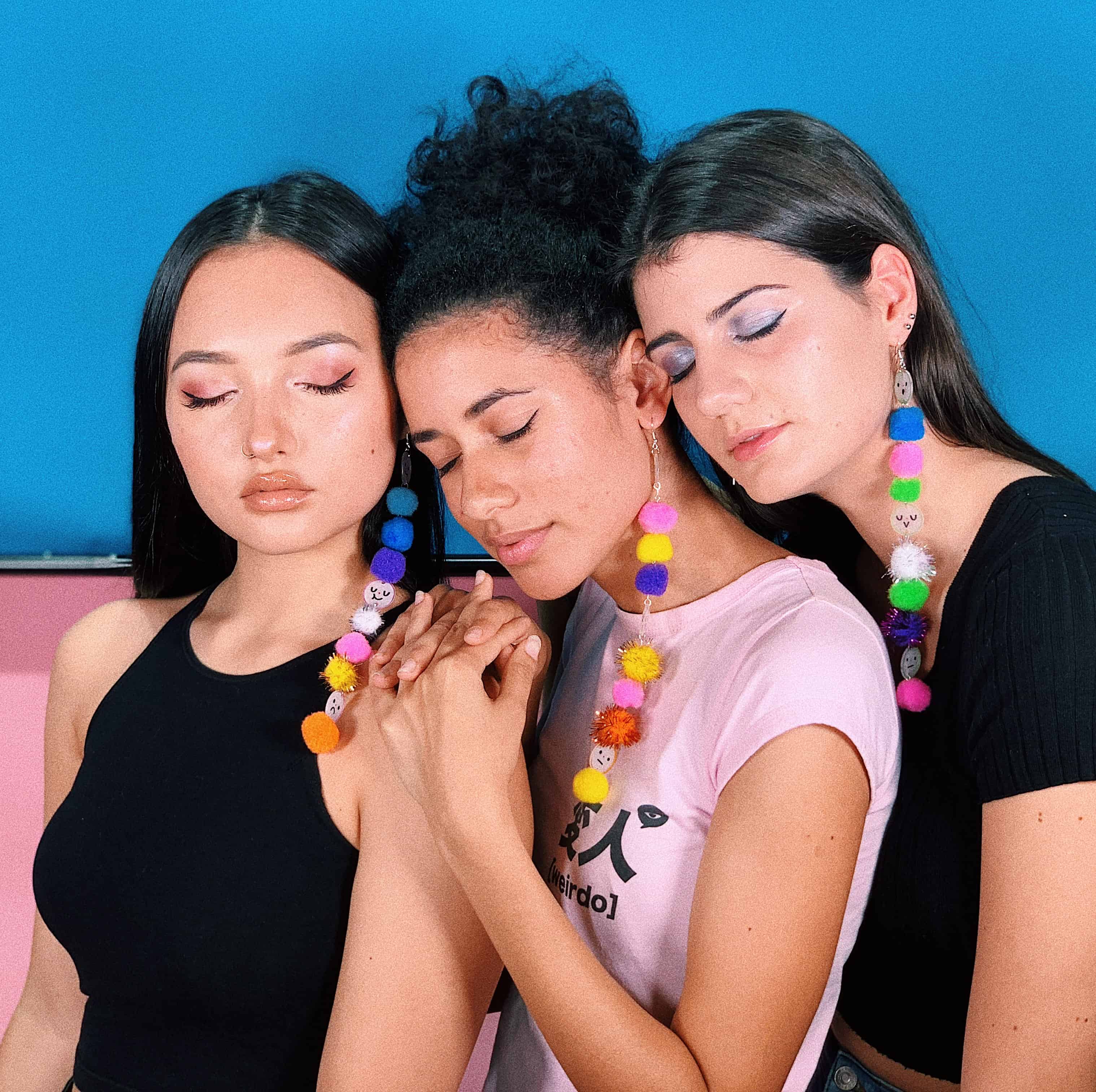 "I've always done my best to create hand-made pieces that only I can so I get to avoid having to compete with other brands in a saturated market," she said.
While the stepping stones leading up to a successful business is not an easy route travelled, seeing your efforts pay off is fulfilling enough to fuel your drive to bring your business towards success.
"It's always going to be a challenge to build up support but it's really fulfilling once you gain a stable foundation made of people who love your art and for that, I'm always thankful," she adds, "I've been lucky that I get to be a simple businesswoman just doing what I love for people that love what I do."
Favourite Piece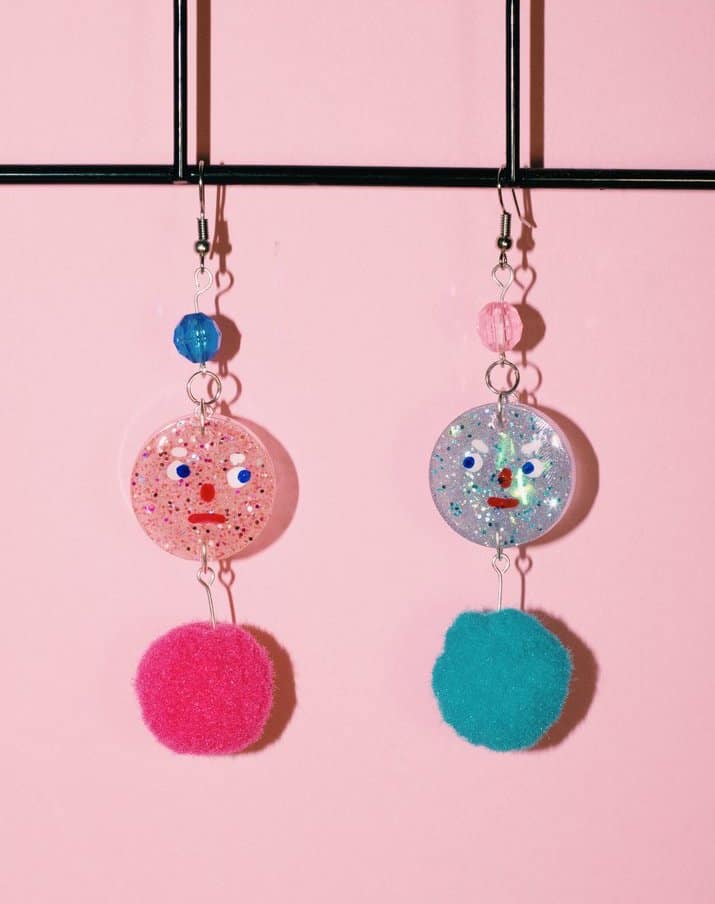 With the number of items Sadshrimps has released, it comes as no surprise that Natasha finds it difficult to pick out a single favourite item.
"It's so incredibly tough to pick a favourite piece; that's like picking your favourite child!" She continues, "but a design that I hold dear to my heart that's also a crowd favourite is one that came out in my first ever earring collection when I rebranded Sadshrimps in 2017! Cheeky Puffballs feature asymmetrical colour elements, an all-round balanced design and some of my favourite hand-painted faces! Uber-cute."
Future Plans For Sadshrimps
Despite the incredible success that Sadshrimps has seen over the past few years, Natasha still has many goals set out for her brand to achieve in hopes to further expand her business.
"There are so many things in store for Sadshrimps that I want to accomplish and make a reality," she says.
Some of her plans for Sadshrimps include moving the brand towards becoming a more sustainable and environmentally friendly brand.
"I want to branch out into making sustainable fashion pieces, ethical apparel wear and more fun accessories!" She explains.
Advice For Aspiring Entrepreneurs
To close off the interview, Natasha left a piece of advice for aspiring entrepreneurs.
"The best advice I can give is to just give it a go. In every endeavour, there are bound to be fears and worries and it seems like an uphill battle. But, if there's something you really want to do, to tell the world or to just share your love for, just act on it and make it happen. Nothing will happen if you don't try," she says.
For those who feel that they do not have the necessary knowledge and skills to run their own business, Natasha also offered a small tip that could help smoothen out the process of starting.
"Set aside some money because capital is important, separate your business accounts from your personal and never back down against people who don't respect your craft."
Jewellery fanatics can also shop Sadshrimps here, you can also check out their Instagram page here.