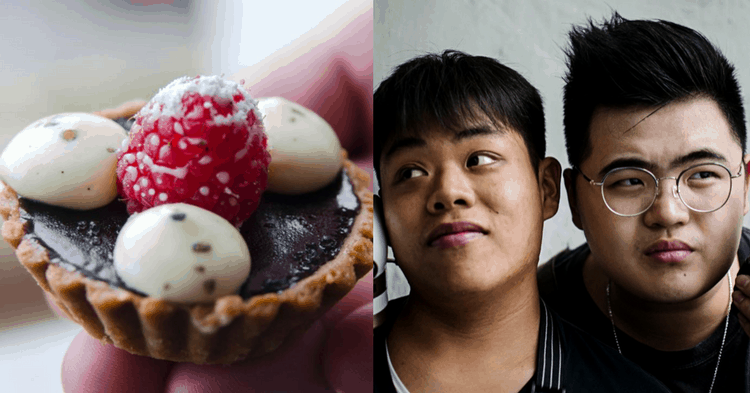 Embracing the notion that passion alone can accommodate a young Singaporean's ambitions, much less two, is considered rare. But wide-eyed 23-year old chef, Kristoffer Tian, and 24-year old multitalented creative, Matthew Chen, will tell you just that.
The duo helm Little Bites Bakery, a home-style online bakery.
As we sip on wine, coffee and water in Matthew's air-conditioned home (or what they call the "Duchess Branch"), Kris tells me how orders for their creations boomed after they first set up their Instagram account – a visual feast for 24/7 hungry people who fail to stick to their diet plans.
"We received orders every day for at least two months…it felt like a big blur!"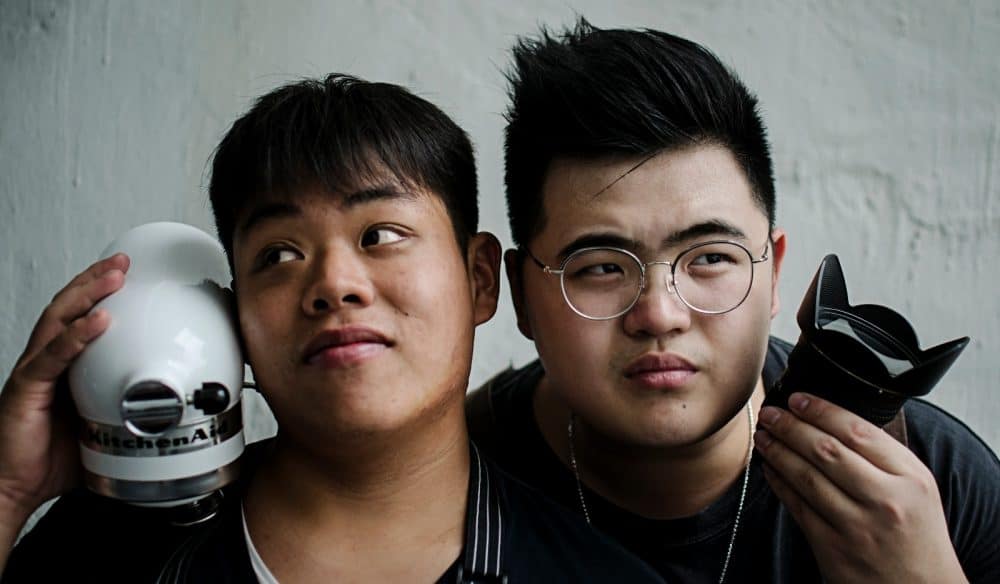 Kris's culinary experience comes from his days at the Institut Paul Bocuse where he attained a Bachelor's degree in French Gastronomy and Restaurant Management.
For someone who cooks, Kris comes across as a walking pressure cooker himself. His hand gestures are sharp and intense, while the inflection in his tone straddles between genuine effort in trying to string his words together and utter relief when it happens.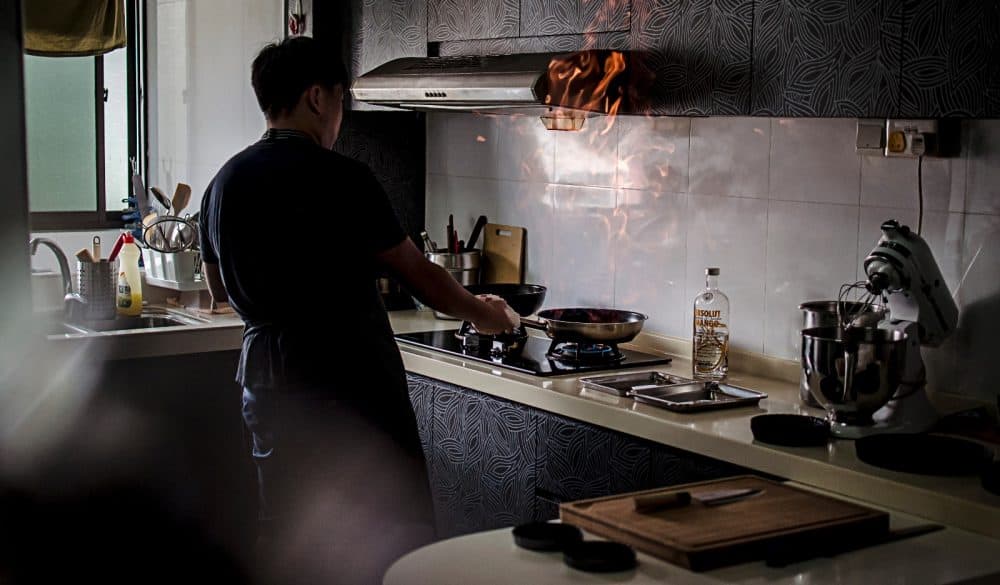 By contrast, Matthew is part laughing Buddha and part chameleon. The self-directed photographer and SIM RMIT Communication Design student's face lights up as he speaks, only to revert to a deadpan stare when you least expect it.
Yet the creative's bouts of inappropriate jokes are telling of how much more of a joker he is among the two.
"When we started Instagram, a lot of random people started DM-ing (direct-messaging) us. Sliding into the DMs, y'know? Asking for cakes…"
Euphemisms aside, I ask if there was a more intentional approach as to why one would consider setting up an online F&B business. Kris takes a deep breath and quietens before speaking.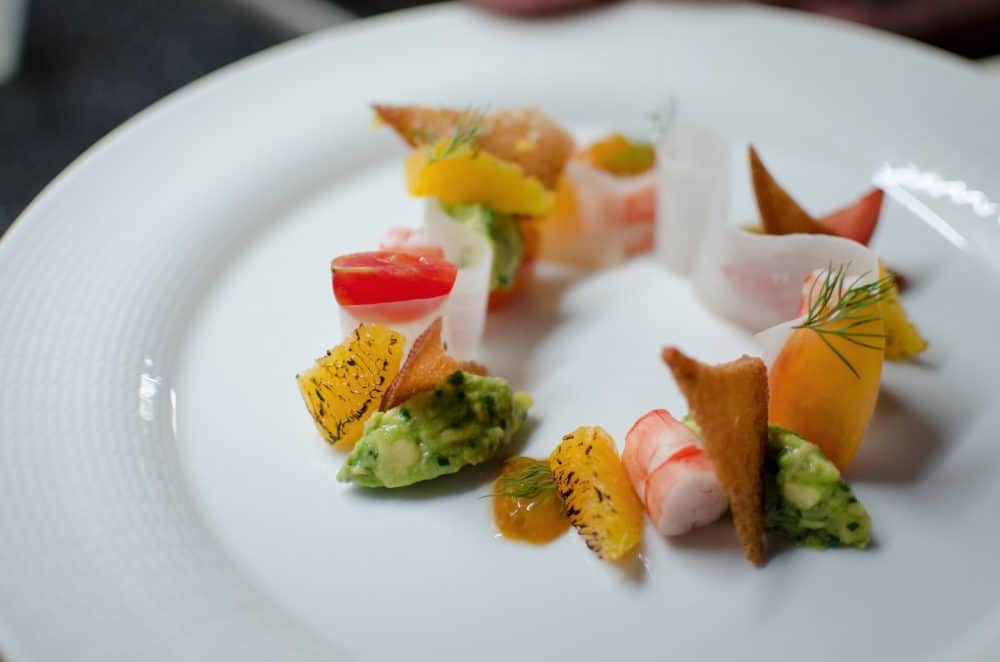 "It was because of financial issues. I wasn't in the best state. [But] I got to earn money from [Little Bites' sales] and to do something I love, until it became something more to explore."
"So we started exploring more options. We did more sit-down dinners."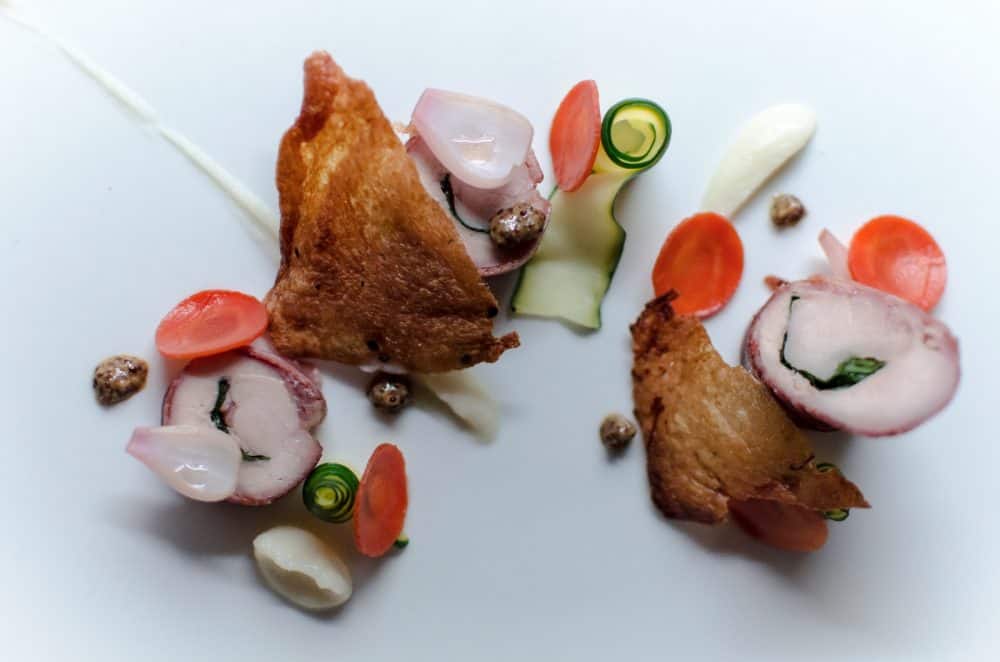 "We had to create every single component of every dish. We plated, then I'd bring it out and would go back to help him. That was quite an experience, and since then we've done quite a few more."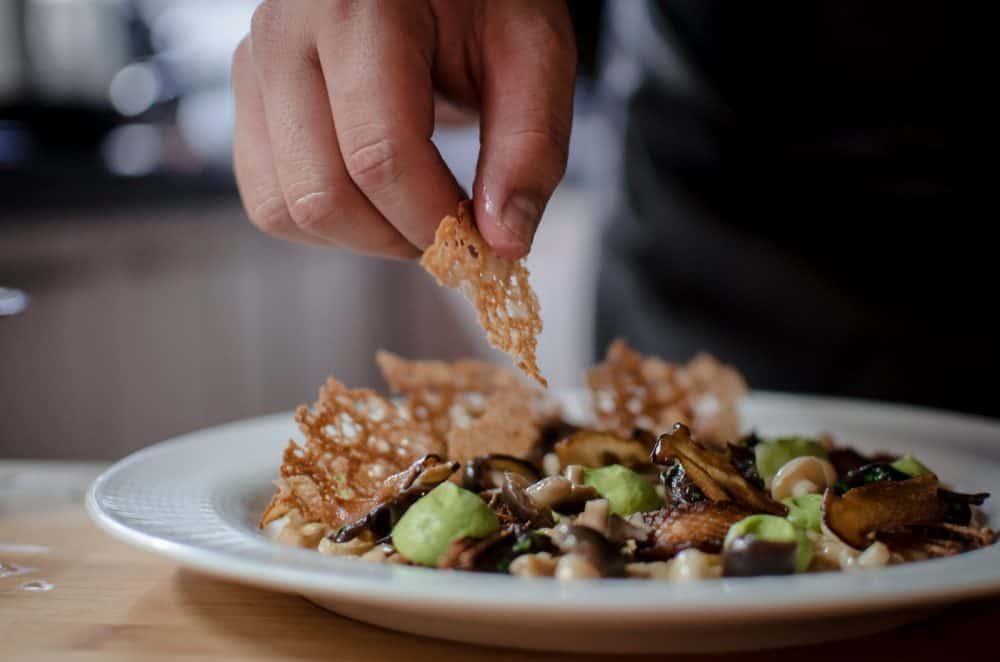 Partners-In-Panic
As orders piled up within the first two months of Little Bites' launch, Kris and Matthew tell me that there was never once when they rejected an order, whether or not it was a custom one or on the menu. Not even when they tried telling themselves to do so.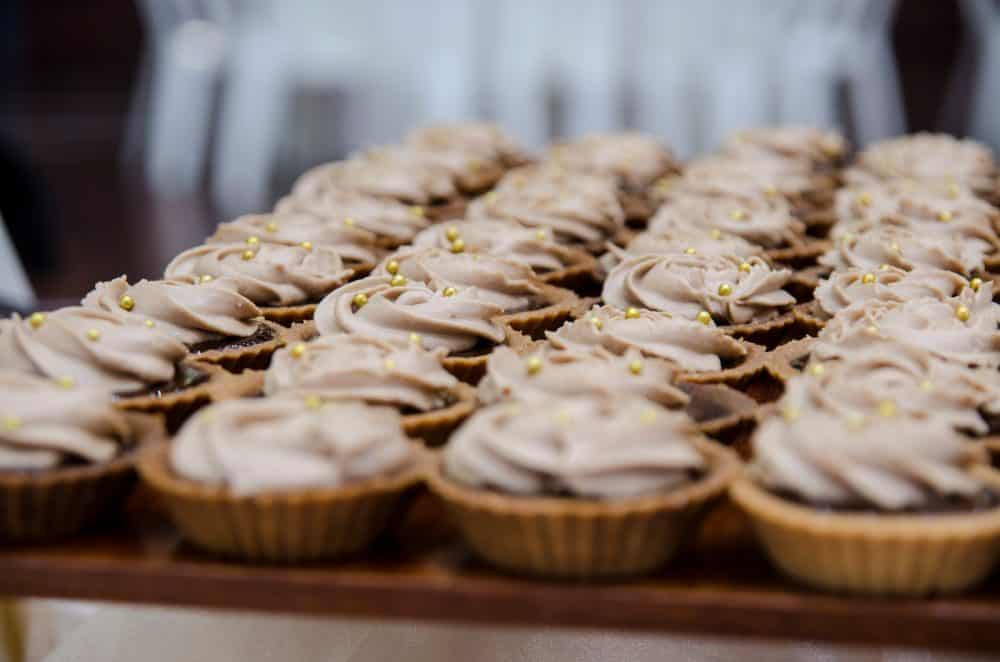 "It never happens," Kris grins as Matthew chuckles at the irony. "When the order comes, we're like, "YES! We'll take it!" Then we regret it later. But when the order comes, we have to do it."
Yet their 'take first, think later' mentality has given Little Bites the opportunity to tackle large-scale events such as weddings. A recent one in November had them piping away 250 tartlets on the night after they cooked for a sit-down dinner.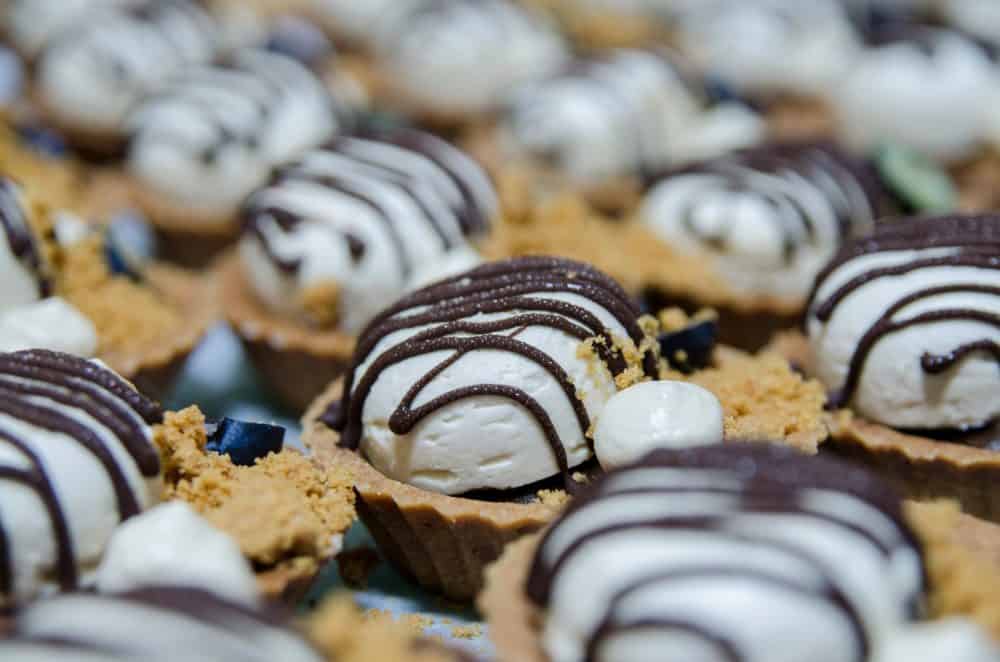 "We had to do them all by hand," Matthew says. "We were prepping [for L's wedding] for the whole week, then we started prepping the dinner. We went to church to set up at 4 PM, then we rushed back to Yishun (Kris' home AKA the 'Yishun Branch') to get all the dinner stuff!"
"And even though we had two fridges, we didn't have space," Kris adds. "So literally, from the living room of my house to the kitchen, to my bedroom —I had chocolate on my table! It was entertaining and very fun."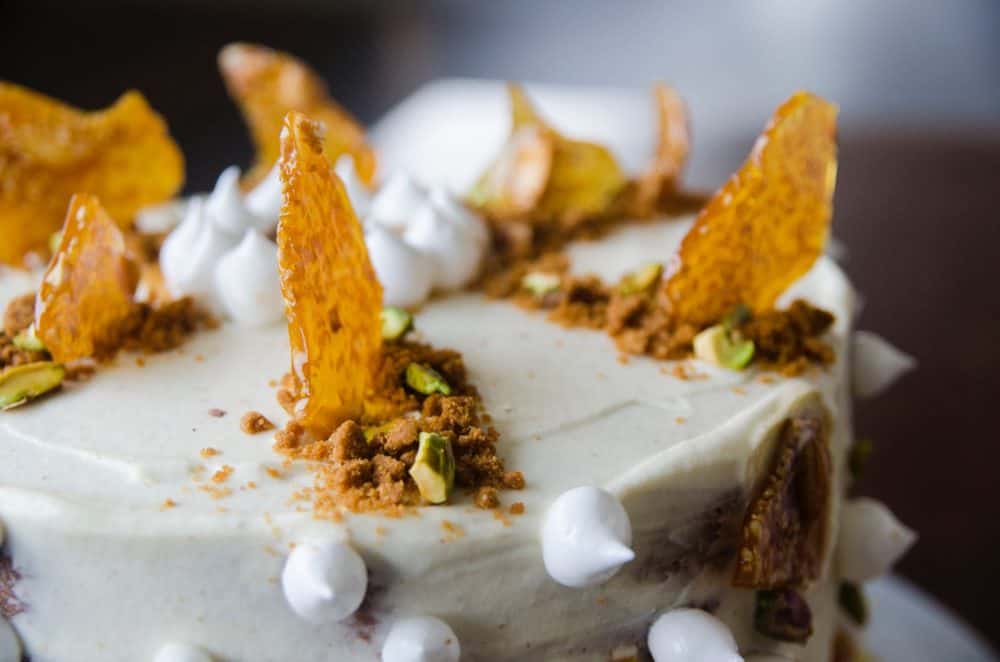 Real Trust Don't Rust
It seems that these experiences have not only strengthened the friendship between the two, but have also served as a test of how much they trust each other as business partners.
"There was once when we had an order for a chocolate tart while I was in camp and it just so happened that I took the recipe book with me because I wanted to write new recipes in camp," Kris explains.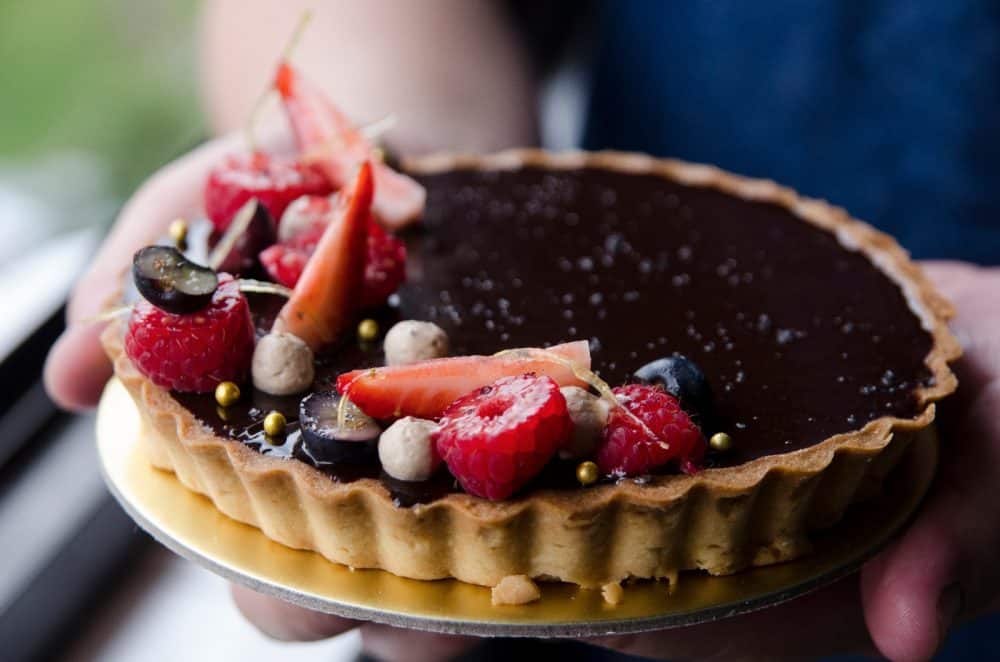 "Matthew was doing it — and of course I was panicking from where I was, because I don't get to do it on my own so I asked Matthew how everything was going when he was with Wenjun, a [culinary-trained] friend of ours.
"The mixture had raw eggs, so [after we sold the tart] Matthew asks me if it needed to go into the oven. He tells me, "Wenjun wanted to put the chocolate tart in the oven!"
"I say, "Yes, need to put inside the oven." To which Matthew goes, "Huh?! You're not joking, right?"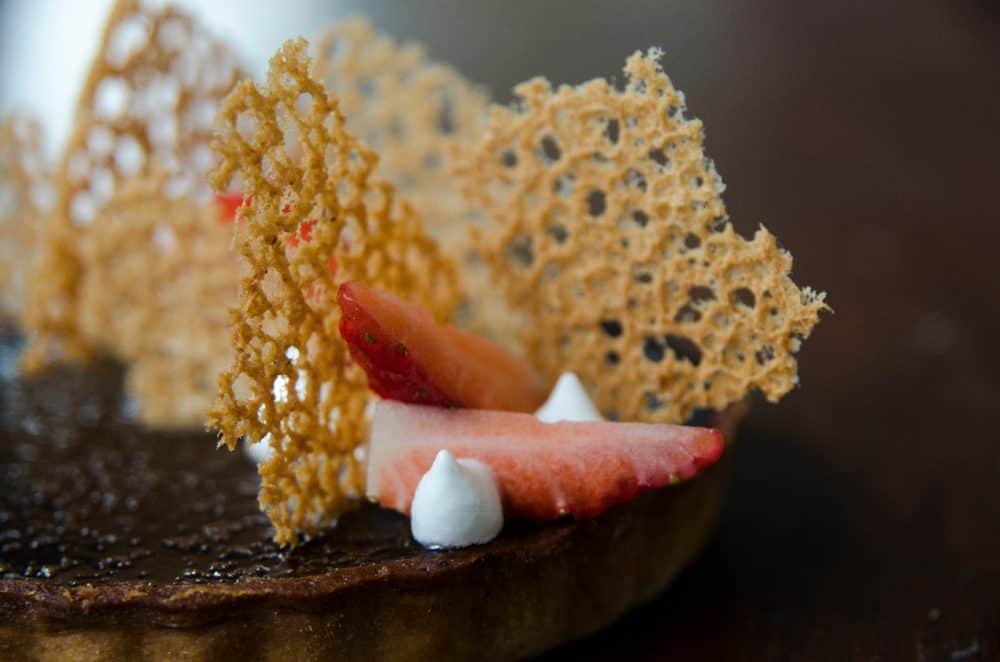 "I'm like, "Bro! It's a ganache leh! I thought ganache only got cream and cocoa!" So I almost served raw egg to a customer. That was horrid," Matthew squirms.
"But it was really funny because he worried so much that [Kris] fell asleep. But thank goodness the comments came back pretty OK."
"Independent In A 'Together' Sense"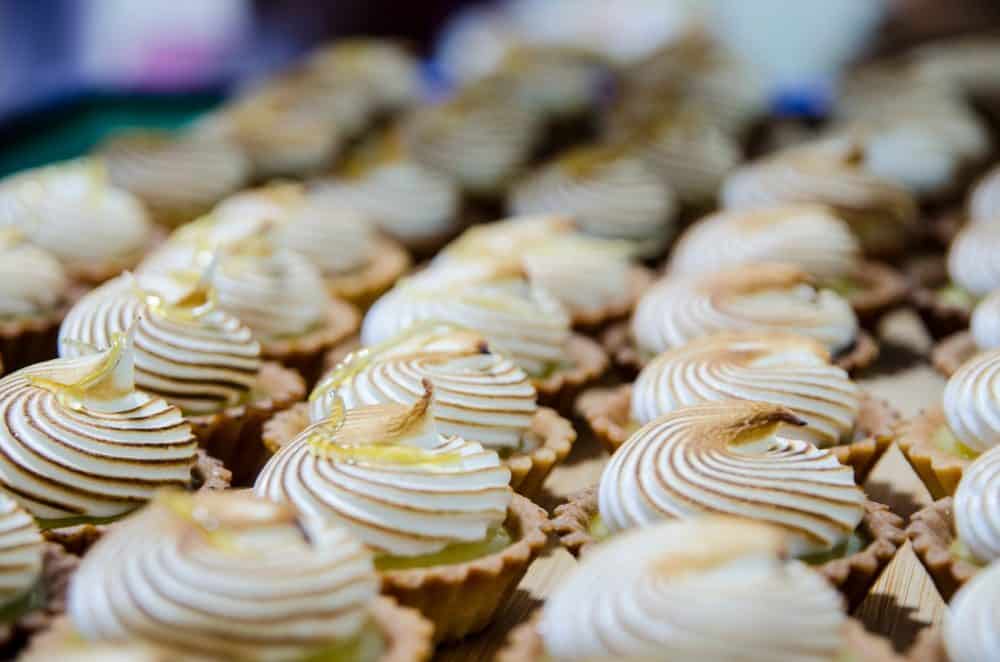 Halfway through the conversation, I decide to remove my rose-tinted glasses to delve into how they handle conflict and miscommunication when busyness flooded their schedules at the start.
Matthew was previously juggling school and his freelance roles as a graphic designer and photographer, while Kris continues to serve as a medic in the army. Due to exhaustion, they would often forget to update each other when it came to keeping track of customer's orders.
"When Little Bites started, everything took a backseat," Matthew says.
"We just started texting every day. No assumptions made. We still do that, but now, we can be independent in a 'together' sense."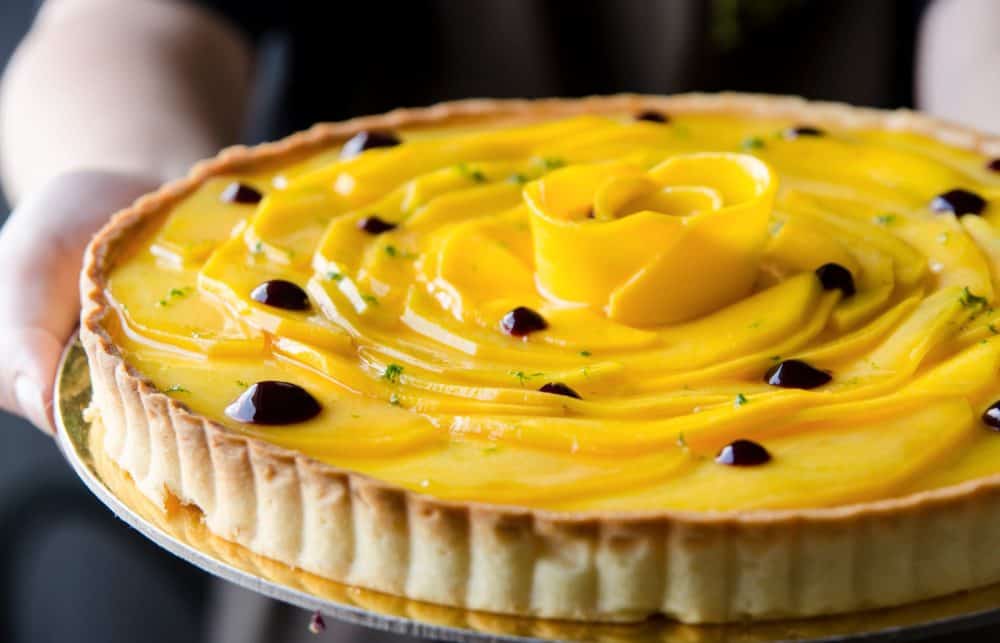 Having worked around each other's routines, toiling throughout dusk till dawn has become a constant for both Kris and Matthew since, and makes up the bulk of what a typical day looks like when the two are not experimenting with new recipes.
"We have a lot of things in common but starting a business together has shown us that we also have our differences. We learned a lot about patience because we're both angsty people," Kris grins as they exchange a knowing look.
"So we sit down and talk it out. Even if we do have things we fight about, if we need some space, we'll just end the night there."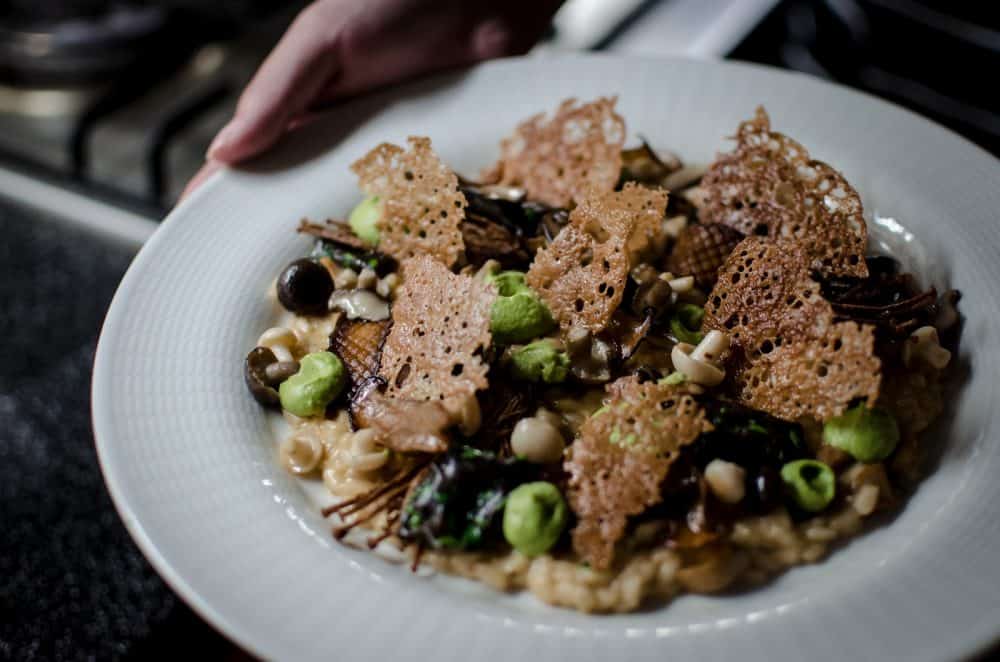 Matthew nods in agreement and echoes Kris' sentiments, saying, "That's the thing with friends. Just because you have the same bullshit radar or frequency doesn't mean you can handle crap together."
"It doesn't mean that when it comes to crunch time you can count on this person—you only know when you actually go through shit together."
The conversation takes a sobering turn as the boys start telling me about their experiences in their respective industries.
Fuel For Future Seasons
Kris begins by telling me how many chefs in the F&B industry lose track of what they want "because the process of getting where they want is a very shitty trail."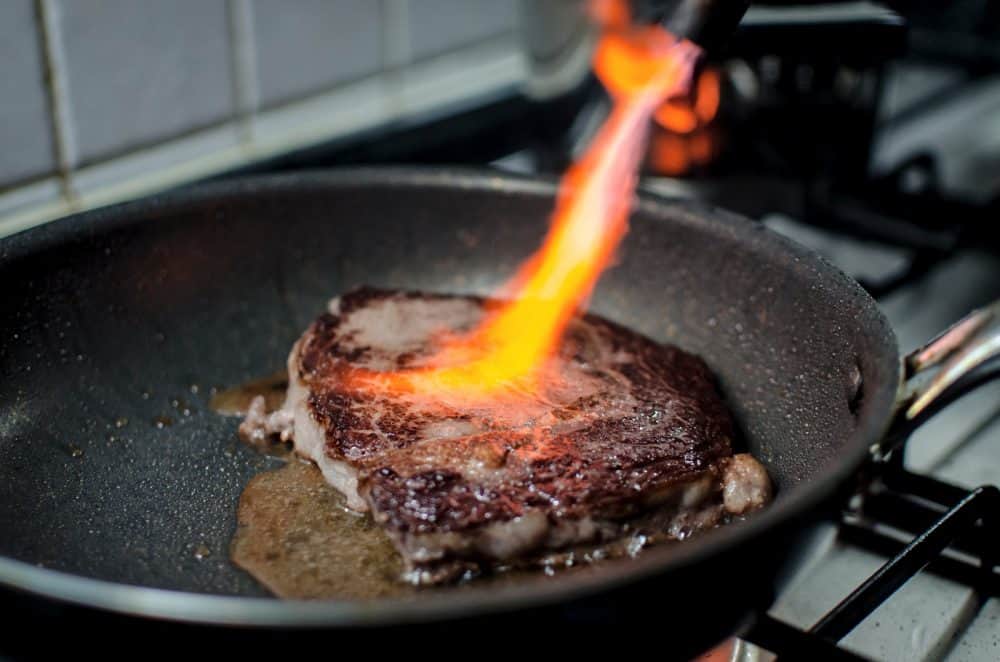 He shares his two cent's worth about how people in the industry are generally loose-lipped, and at times, verbally abusive.
Yet, for someone who has been called "useless", Kris possesses a rare fire in his belly. Pure passion, he says, is fuel to not just surviving, but thriving in the cut-throat F&B industry.
"You don't stop because people tell you to stop, or because people tell you that you're shit."
Matthew chimes in, telling me how people in the design industry have undermined his work.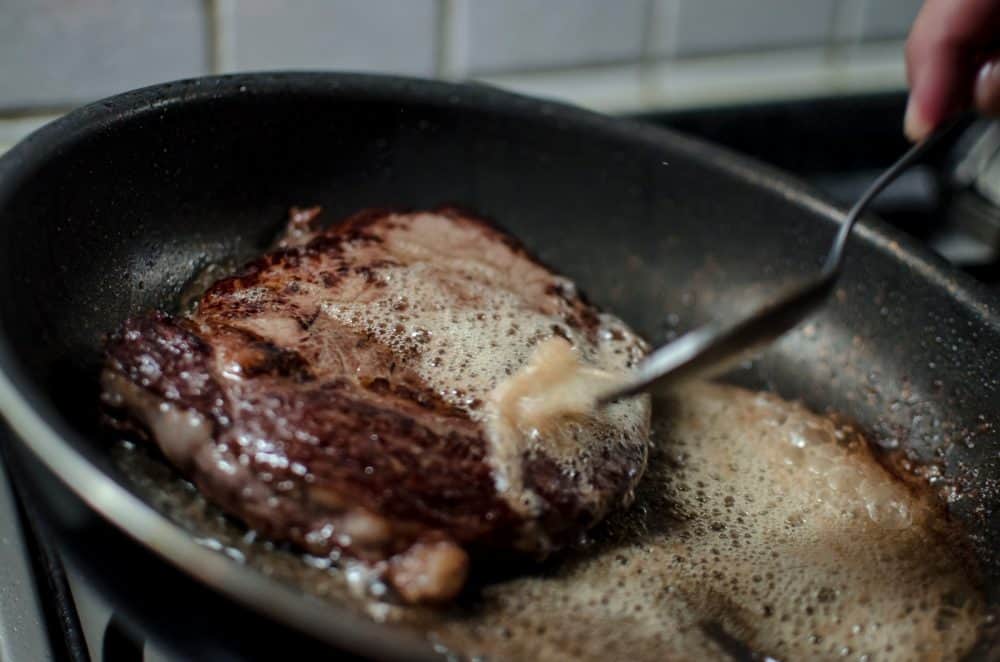 "I've had people in the industry who aren't design-trained tell me, "Oh you're not becoming of your portfolio. Look at the work that's in your book, you really did it ah?" And it hurts!
"I know I'm becoming of my work because I did it. And the only reason that it pushes you to become better shouldn't be because you want to one-up the person, but it's because you want to show it to yourself because you know who you are and your self-worth.
"But don't let the words of a fool dampen your spirit, you know?" Matthew looks at Kris, before looking straight at me.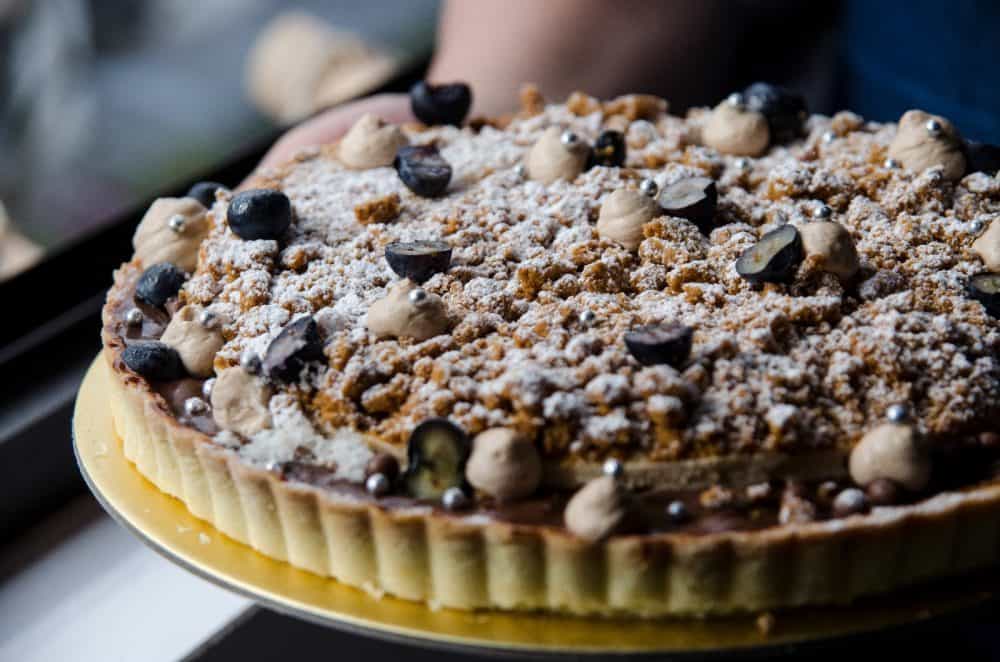 All of a sudden, it's almost as if I've caught a glimpse of what their friendship looks like. Besides the fact that Little Bites Bakery is a prime example of what it means to thrive in this age of collaboration, Kris and Matthew are also each others' pillars; a support system that has been built on a firm foundation.
"And that's basically what we live by for Little Bites. At the end of the day, it's a journey that I wouldn't have chosen to do with anybody else. Looking back… it's nice."
Follow Kris and Matthew's personal Instagram accounts here and here to find out more!
*Photo credits: Matthew Chen