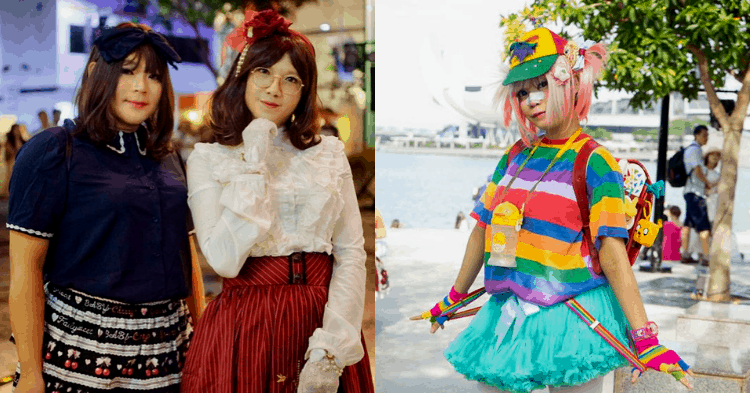 Fashion is constantly evolving – there are influences from celebrities, subculture trends, music genres and more. In the face of changing fashion trends, there is a niche group of passionate Japanese fashion lovers in Singapore who have never wavered.
This enthusiastic group has been partaking in regular Harajuku Fashion Walks along the streets of Singapore for four years. Started in May 2014 by 45-year-old Noriaki Tsuchiya, he wanted to allow like-minded people to get together and portray their individuality through fashion.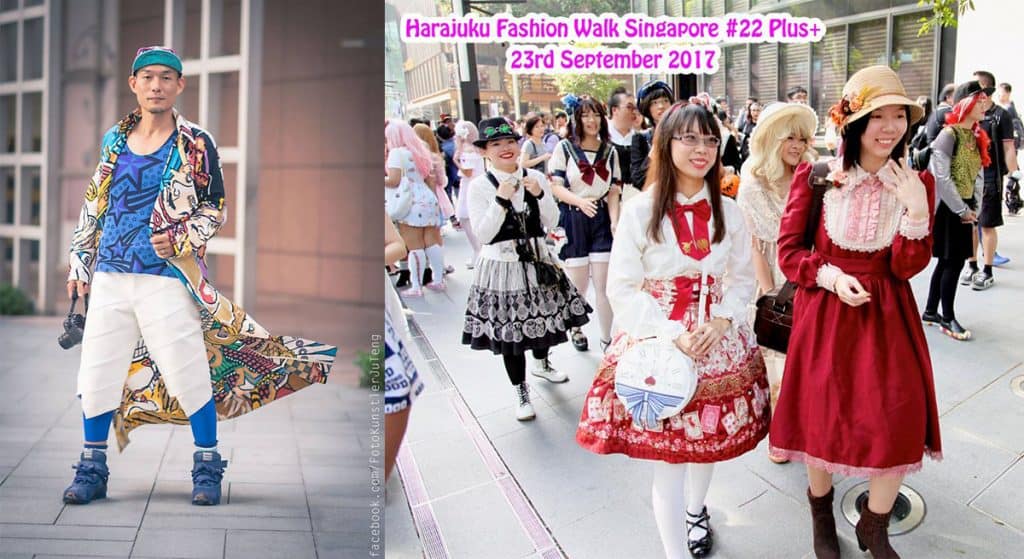 What is the Harajuku Fashion Walk really about? It is a fashion walk that originated in the Harajuku district of Tokyo, where participants get the opportunity to show off their outfits and to mingle with people of the same interest. To my surprise, it is thriving on our tropical island!
From excited gasps to weird stares, this group gets it all. I joined the participants during their 28th walk at the Singapore Arts Museum at 8Q as an intrigued spectator.
Choosing Individuality 
With all the hype and cameras clicking at them non-stop, I hesitantly walk up to a group and wonder if they will chat with me. Two of them are kind enough to respond to my questions.
Meet Zermine and Mihiko – both fans of Lolita fashion. To the uninitiated, Lolita fashion symbolises femininity without sexuality, is inspired by Victorian/Rococo influences and is characterised by frills, lace, and all things cute and girly.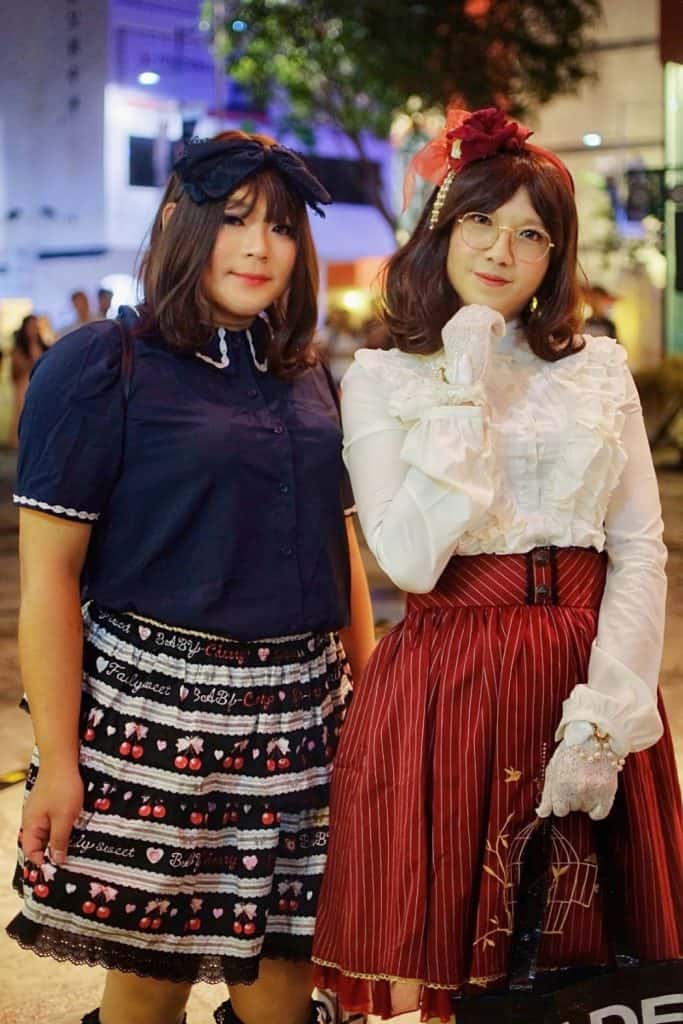 Zermine has been a lover of Lolita fashion since 2007 and today is her third time joining HFWS. "Actually, SgCafe started these gatherings way before Harajuku Fashion Walk Singapore. They were one of the first to promote subculture fashion. There were also more shops selling Lolita clothing back then but most of them have closed down now," she says.
The popularity behind this style is probably because of the high visibility from Japanese Anime and Manga.
Although this is Mihiko's first time participating in this public walk, she is not new to dressing up in this style.
"I love the beauty and the elegance of these dresses, and the details of Lolita clothing. It is so feminine and pretty."
Zermine agrees. She actually experimented with punk style – influenced by J-rock (Japanese rock music) – back in 2008. But, as she describes, "it just does not feel right, it does not feel like it is me."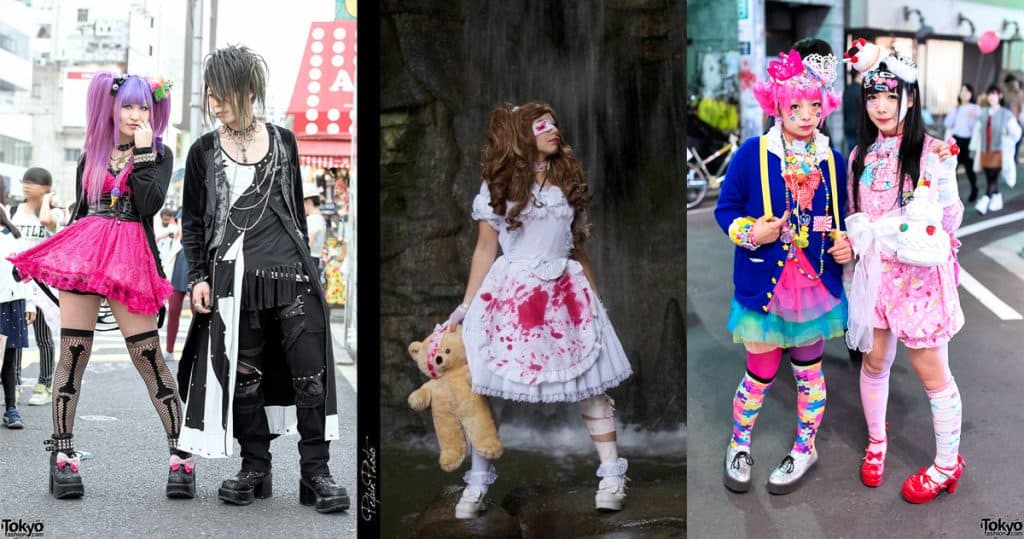 Both of them are photographers who were enticed by the beauty of Lolita fashion. Out of curiosity and their fondness for this style, they decided to turn the tables and be the wearer of these intricate, over-the-top-girly Lolita outfits instead.
Other popular styles of Harajuku fashion include Visual Kei (Gothic flamboyance), Decora Kei (bright colours and loud accessories), Guro Lolita (gruesome yet cute dolls), Kogyaru (cute Japanese schoolgirl uniform), Shiro-nuri (painted white skin) and more.
Spectrum Of Colours
I talk to Miku, a regular walker of HFWS, to understand more about her passion for Decora Kei fashion. She is a kaleidoscope of colours with flashy accessories to match.
"Decora is pretty bold and stands out a lot. It is a must to wear it with really bright-coloured clothing." She elaborates that stuffed plushies, different hair clips, candy bracelets and many more accessories are also used as part of the get-up.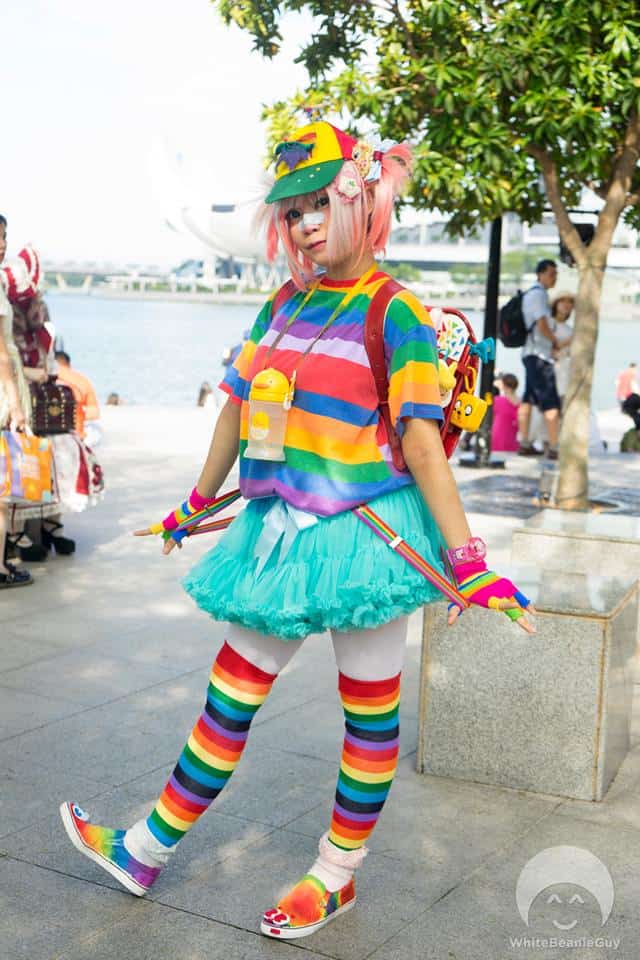 "Most of my inspiration comes from Kyary Pamyu Pamyu and Haruka Kurebayashi."
"I love this style and I feel so comfortable in Decora because it is me, it screams my personality! If we can see personality, mine is pretty colourful I must say."
Misconceptions From Society
To the ignorant onlooker, these Harajuku fashion-wearers are cosplayers. While the lines may seem blurred, there is a way to distinguish one from the other. Cosplayers dress up to portray and act out their favourite anime or game characters.
On the other hand, Harajuku fashion symbolises the freedom to wear whatever you want, regardless of trends and eras.
"We are not cosplaying. People think we are cosplayers because of how we dress but this is actually a fashion style," Zermine explains.
Thankfully, over the years of exposure via social media and public events, more people are increasingly accepting of such fashion choices.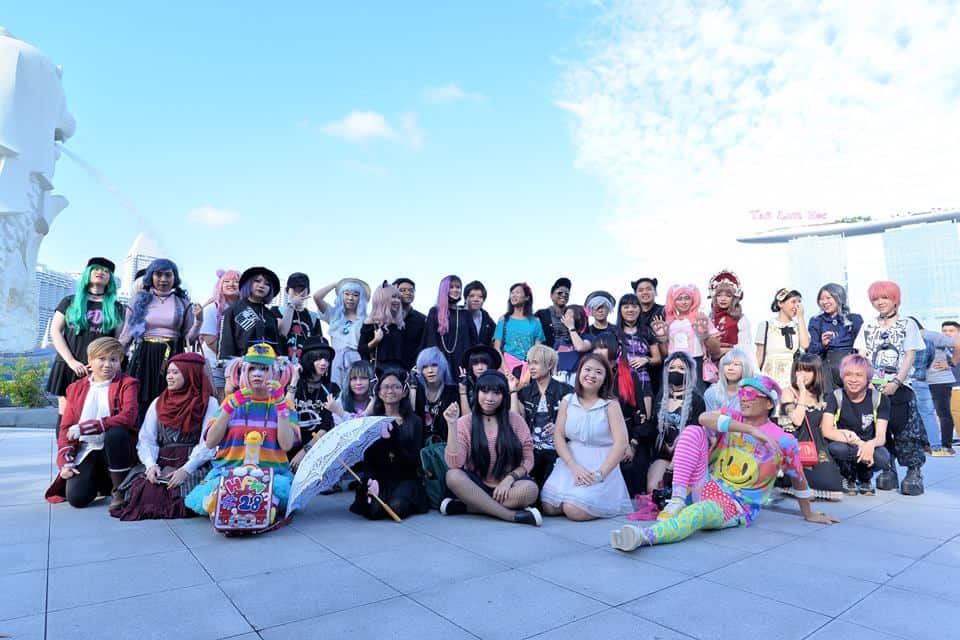 Some of these Harajuku fashionistas also inject their favourite Harajuku styles into their everyday wear.
In fact, Miku is one such example. She quips, "I am not ashamed to admit it, I just love standing out from the dark crowd! It may not be as heavy as what you see in some of my pictures, but I do wear Decora in my daily life."
What About Singaporean Fashion?
As the bustle of the night murmurs on, I am hit by a sudden curiosity about Singapore fashion in their perspective. I mean – I go out in basic staples and my wardrobe has not seen a revamp in years.
"Singapore fashion is based on online trends. There was a period where everyone was wearing off-shoulder tops and rompers because that was the trend they saw," Zermine feels.
Mihiko adds: "Youngsters are very influenced by online media and social influencers. Well, I guess the weather also plays a part in Singaporeans' fashion choices."
Stereotyped by its theatricality and quirky themes, it is understandable that some people may see Harajuku fashion as being eccentric, especially to the older generation and those with more conventional mindsets.
Yet, this is also the crux of Harajuku fashion style – to be free-spirited, imaginative and to freely incorporate one's own preferences to your get-up. These Harajuku fashionistas see themselves as being unique; different from those in a normal society.
Personally, I think it may be the crazy, creative style we all wish we had the guts to wear.
If you wish to join the Harajuku Fashion Walk Singapore, click here for more details.