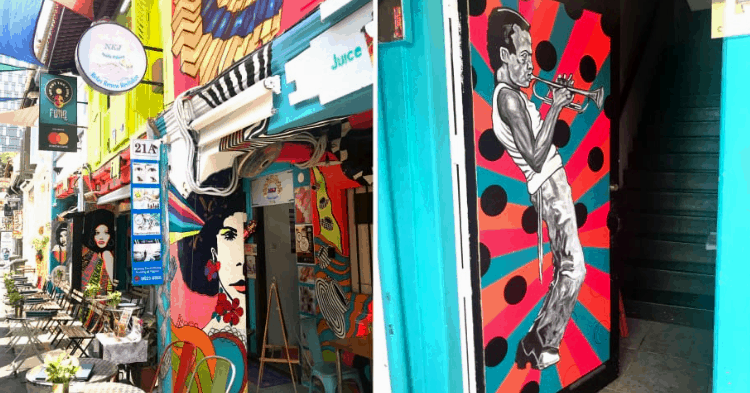 Singapore is a cosmopolitan country. We are globally known for our impressive economy,  tourism and commercialisation, but we also have a more expressive side.
Tucked behind the Bugis section of the Central Business District of Singapore is a world flourishing with art, offbeat fashion and artisanal eateries.
Enter Haji Lane and Arab Street, two sides of the same landscape.
Haji Lane
The edgy hangout was historically used as a housing zone for poor Muslim families and pilgrims who made their stopover in Singapore before heading for the Hajj in Mecca, which explains the origin of its name.
Time has drastically altered its purpose.
These days, the rows of shophouses that fill both sides of the narrow lane stock merchandise for hipsters who wish to stand out from the mainstream crowd, as well as artistic products for those with keen interests in novelties.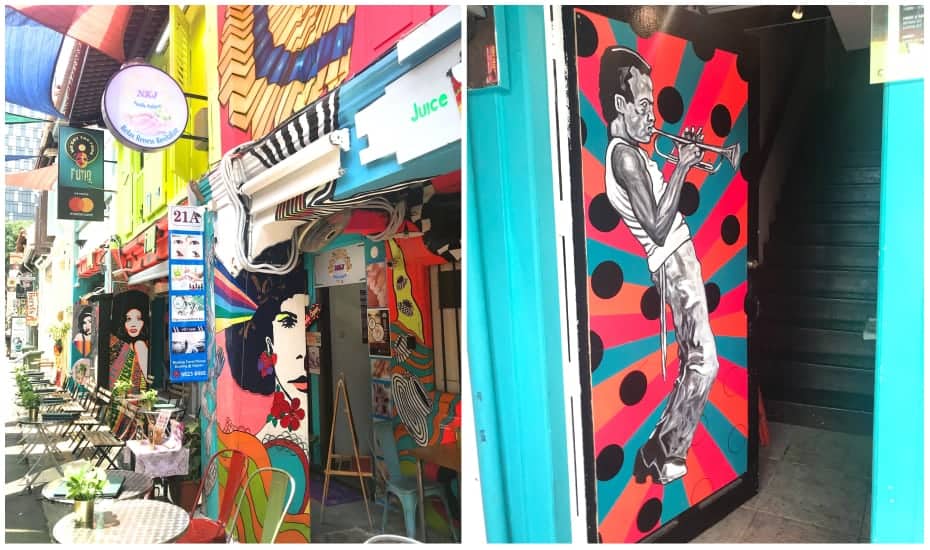 The shops may look tiny from the outside but the spaces within actually extend far towards the back end of these buildings. This is the result of an old government policy, whereby property owners were taxed based on the number of windows they had.
Stores in Haji Lane sold varied products under a non-conformity setting, boutiques would sell replica vintage wares and cafes that retailed curated clothing.
Additionally, hookah cafes once flooded the area, where expressive individuals engaged in lively conversations while puffing away at their fruit-scented inhalants. Several trendy eateries offered customers the option of sitting on divans (elaborately designed rugs with cushions) for an authentic Mediterranean experience.
And lest we forget, the mouth-watering dishes of kebabs, hummus and falafel, with their signature aromas wafting through the air; the perfect break for the roving shopper.
Arab Street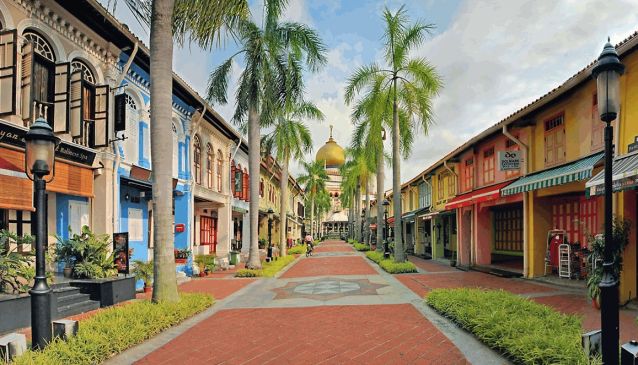 Turning around the corner brings us through a portal into Arab Street. The pristine, golden dome of the renovated Sultan Mosque stands like an ageless custodian over the denizens of tourists and locals alike who visit the neighbouring heritage promenade.
Generations of Arab immigrants have made this lovely nook their home away from home, according to the Jackson Plan of 1822, a blueprint set by Sir Stamford Raffles to divide citizens into their respective racial enclaves.
Nowadays, it is common to see the occasional Japanese tourists chatting and snapping fancy shots with the religious monument in the background. Thousands of dialogues are being exchanged every day as travelers and locals amass to savour the delightful cuisine of Arab, Turkish and Persian origin while others shop for unique aromatic blends and stylish carpets.
There was once a toy museum/shop that sold vintage toys commonplace during Kampong days: Kuti kuti (coloured plastic tokens involved in flicking duels), marbles and five stones. A gigantic tin robot statue stood guard at its door, welcoming visitors into the quaint wonderland of play things.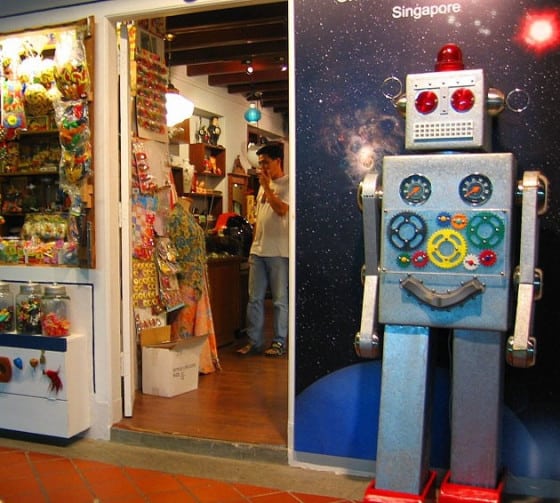 That museum has since been replaced by a procurer of nonya-related products such as bead slippers and ornate hair pins.
Yet, there is something mystical about the place: an appeal as inscrutable as it is old. I must admit at this point: Arab Street was once like a second home.
I was working as a shop assistant at the Sanctum, where one of the main duties involved looking after a mischievous cat resembling Salem, the famous pet of Sabrina the Teenage Witch.
The three-story shophouse served as a holistic centre, offering mystical services such as Reiki healing, tarot-reading and crystal-charging. The shop also stocked a series of fascinating products such as incenses in a variety of exotic scents and coveted tomes on nature rituals.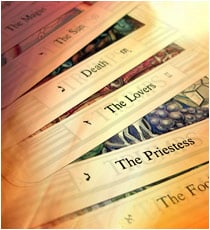 The Sanctum was but one of many whimsical attractions in the vicinity, where people take respites from the hustle and bustle of life to engage in spiritual R&R. The brick-and-mortar shop has since opted for an online approach.
Threatened Existence
Alas, these hot spots are constantly endangered.
2012 saw the clamping down of graffiti art in Haji Lane by the urban redevelopment authority (URA) as officials attempted to enforce a standard coating of pastel colours for the designated buildings within the area. Proprietors were instructed to scrub off or repaint inappropriate colours during renovation works.
Upon discussion with artistic shopowners, the URA decided to assess the graffiti on a case-by-case basis, positing that individual expression should not be restricted to rigid guidelines.
In 2016, the law banned shisha/hookah in Singapore, crippling the businesses of cafes that depended heavily on the exotic tobacco product as a major source of income. This also proved to be a huge blow to longtime patrons of the cafes, who considered hookahs as the main draw.
Perhaps the most problematic quandary of all, is the soaring rental fee that most start ups simply fail to keep up with. This has led to a high turnover rate for businesses run by local designers and entrepreneurs who had decided to set up shop in the popular nightlife district.
As I take a stroll down the familiar paths, a wave of nostalgia hits, along with a reminder: we must treasure the beautiful scenes in this rapidly evolving city.
Sumptuous food, chic boutiques and holistic experiences still abound in the streets but the question is, for how much longer?