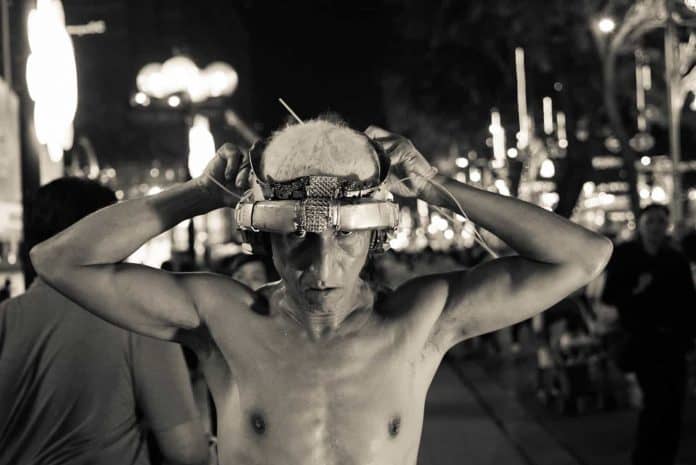 This is the last of our three part series, Busking in Singapore, where we explore the stories behind the faces we often see but may take for granted. 
For the finale, I chose Roy Payamal who is amongst the pioneers of street art in Singapore.
Roy was 6 when he started balancing things on his body and has always had a keen interest in the circus. Today, he has been a busker for over 30 years and is popularly known as the 'Silverman of Singapore.'
Roy is now 55 and has spent his life performing in Singapore as well as across the world in countries like Japan, the US and China. These days, he can be spotted performing around Orchard Road four days a week.
The Beginning
Roy, along with his brother and sister who are six to seven years older than him, was playing one evening with a badminton racket. They were trying to balance the racket on their palms and walk from their home's door across the garden to the gate outside.
His elder siblings could not complete the walk but Roy completed the 15 feet walk easily. Roy was 6 at that time and this incident stuck with him since then.
He started balancing, doing tricks and practising every day.
Eventually, his balancing and juggling art began to evolve. By the time he was 12, he was balancing heavier and bigger things on his body.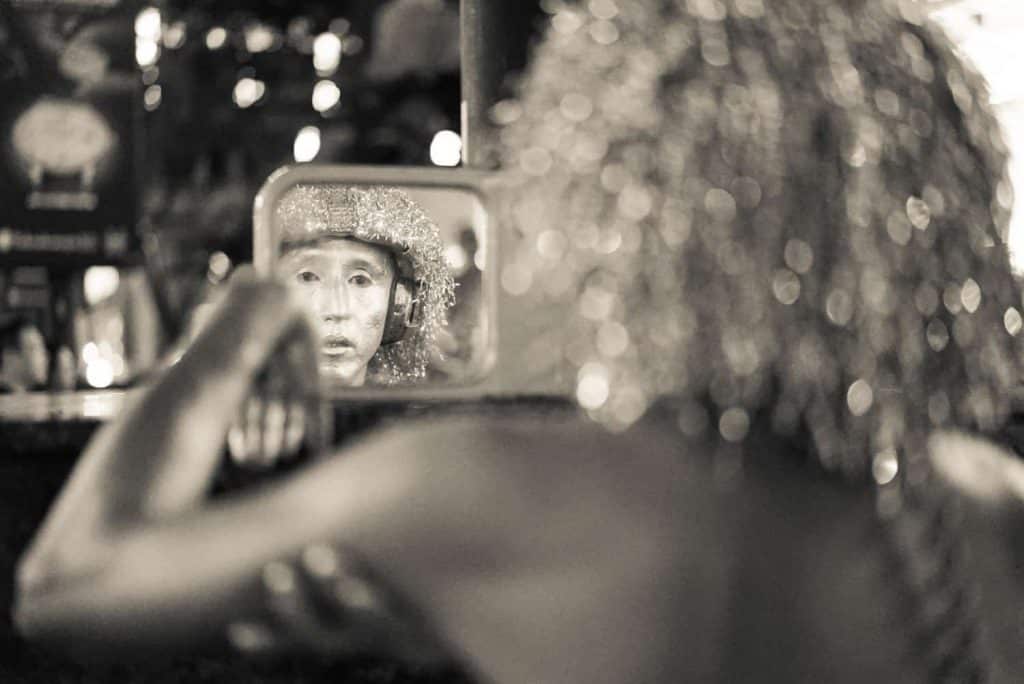 Roy recalls watching a lot of circuses then and was inspired by the artists.
At the age of 12, he saw an artist on TV, who had two assistants and was balancing six to seven chairs on his body.
Roy tried that at home without any professional training and did it with one chair at the first attempt. By the age of 15, he was balancing five chairs, doing fire spinning and juggling.
Busking in Singapore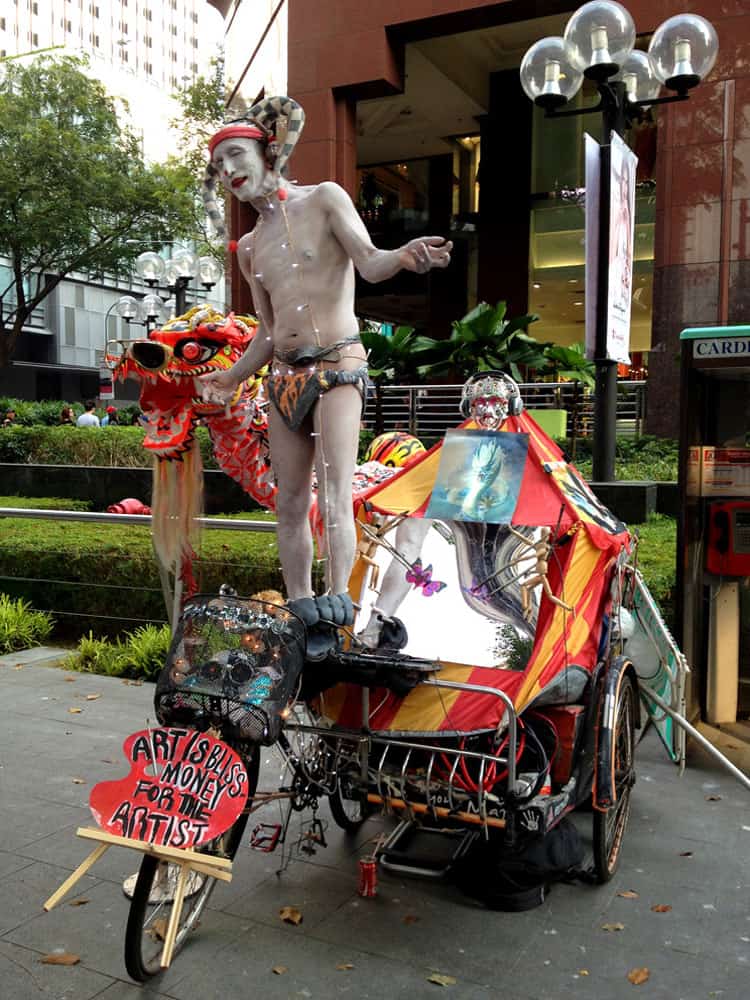 Roy started busking in the early '80s. "On the streets, I can experiment and evolve during the act. The audience is not an invited or ticketed one, I have to impress and earn their interest. This is what I love about busking."
Roy believes that the street is harsh – it gives instant feedback and helps artists understand if it is working or not on the spot.
His favourite place to busk is a spot on Waterloo Street where a Chinese Temple and Indian Temple are situated side by side. He likes the vibrancy and cultural flavour of that place.
"Singapore is very westernised and standardised but this is one place where the vibe is on a different level."
He adds that one misconception about art in Singapore is that it is only for intellectuals and modern people. But that is where the whole purpose of art fails because it is supposed to be for one and all.
The Birth of the "Silverman"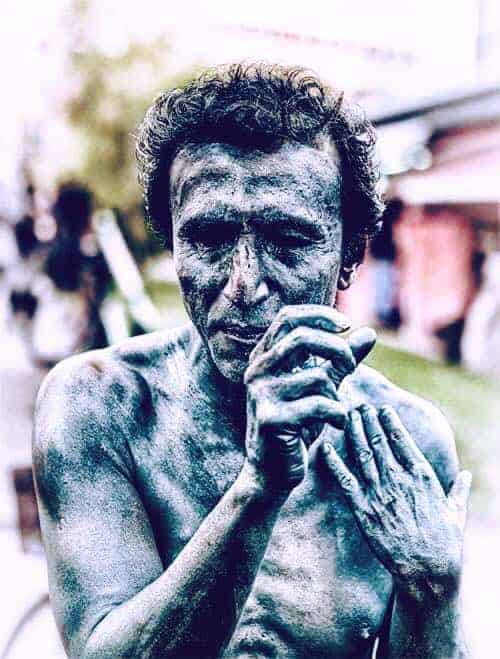 How then, did the name 'Silverman' come along? Roy laughs and tells me that back in the days when he used to do children shows, he was called "Ouch-the clown". However, this name did not catch on.
After some years, Roy was performing at a hotel where his agent asked him to dress up like a robotic juggler. People loved the act and then Roy was put on the stage to perform so he developed sets around the robotic character. It was from there that he got names like 'Cyberfreak' and 'Silverman'.
Of course, the latter caught on and stuck around.
Amongst Roy's years of performing, one incident remains close to his heart. He tells me that many years ago he was performing on Waterloo Street and an audience member walked to him and said," We cannot go to the Taj Mahal but we can create its wonder here."
To him , it was the most beautiful compliment that has stayed with him till now.
Speaking of the challenges, Roy shares that even after so many years sometimes thoughts like "is it worth it" or "am I talented at all" creep up sometimes. However, it does not stay for long.
One show with a good audience cheers him up and everything is good again. Making money through busking is challenging but he believes that consistency is the key.
Roy's siblings have always been supportive of him but his mother till date doesn't "quite understand" what he does. He says, "I have to do what I love doing no matter what."
How Busking Has Evolved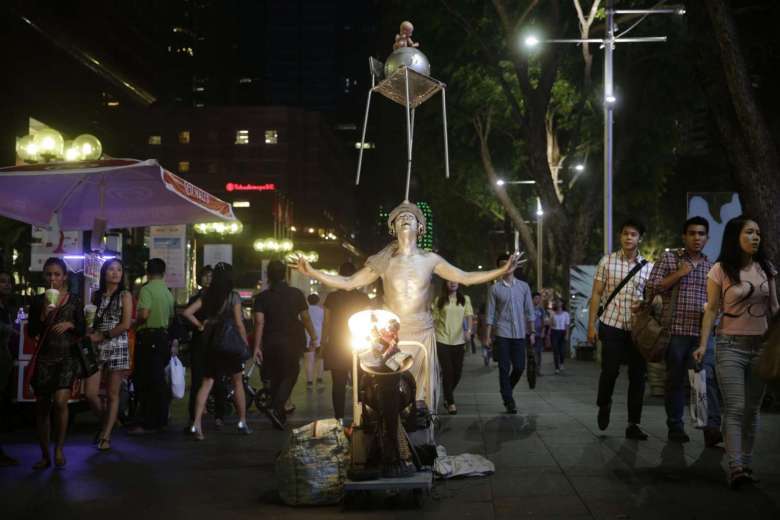 "There has been a big change in the busking scene in Singapore. I see so many kids with guitars, busking on the streets. This is a good thing," says Roy.
He adds that what is a little disheartening is that they are all very similar, singing the same songs and performing in a very standard manner. He believes that the street as a medium is an important opportunity to present art in front of hundreds of people.
"Artists should try creating their own songs and performances about life in Singapore. They should try and represent the culture of the Lion City." He adds that there are a few buskers who compose their own music and write their own songs, but it would be great if they did something original.
Roy stars in a film called Singapore Minstrel directed by Ng Xi Jie where we get to explore his poetic outlook and general approach towards life. As a free-spirited artist, Roy refuses to conform to societal norms and continues exploring untapped nuances of art – by simply being himself.
Read about the first two parts of our series here and here.