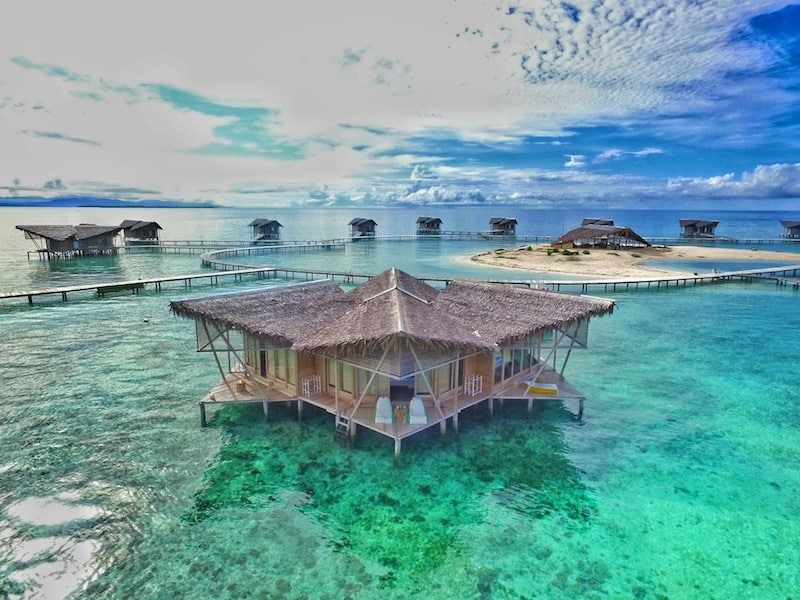 Blending the words 'floating' and 'hotels' together, flotels range from rustic cabins to luxurious villas built on stilts and sit upon the calming appeal of aquatic spaces. Who needs Maldives and Bora Bora when you've got these beautiful flotels right in Southeast Asia? Abandon land and get away from the city civilization. Tap into gentle lapping waves, the sun on your face and the ocean breeze to carry away your tension and stress.
Here are some of the best floating resorts in Southeast Asia to inspire your next aquatic getaway.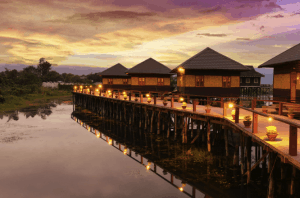 Situated above the peaceful Inle Lake and surrounded by the Blue Mountains, Shwe Inn Tha Floating Resort feature comfortable rooms that are classically furnished with a wooden interior. Like many floatels, access is only possible by boat, and the resort will ferry you in via a long tail boat that makes for a truly unique experience. Imagine cruising along the beautiful lake, taking in the exceptional scenery and watching local fishermen go about their jobs.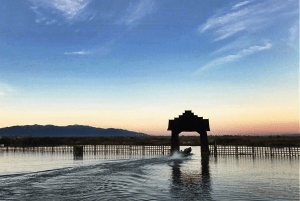 Even though this is Southeast Asia, don't be surprised if it gets chilly at night. Bring along some warm clothes just in case you need some extra layers! In the early morning, you'll hear sounds of the locals singing prayers as well as the motors of the outgoing boats. The resort provides ear plugs for this reason. Although to some this dampens the 'peacefulness' factor, to others this is all a part of the cultural experience.
With bamboo lodges set right atop the flowing Kwai Noi River, the River Kwai Jungle Rafts Resort was established in 1976, right in the heart of lush jungles and green mountains. Located in Kanchanaburi, just three hours outside of Bangkok, this resort is a true eco hideaway if you wish to escape from the hoards of tourists in the traffic-choked city.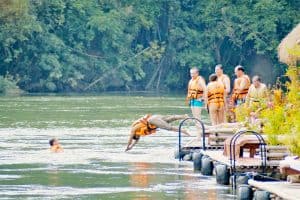 Things are definitely very quiet here at night, as the resort does not use electricity but rather relies on traditional kerosene lamps. In the day the docks are lined up with sunbathers and swimmers in the river. The current is strong enough to pull swimmers at a steady clip, and one of the favourite activity for guests here is the River Jump. Basically you'll jump off the pier, get carried by the water along the length of the resort, get out by grabbing the last ladder and repeat the whole cycle! Adrenaline seeker at heart? You'll love this. But if you'd rather not, you can always rent a canoe and take in the surrounding scenery as you paddle downstream.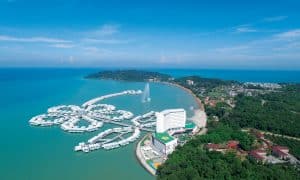 Set in Malaysia's Palm Islands – otherwise known as the Dubai of Malaysia – Lexis Hibiscus Port Dickson was recently established in 2015. Known for its water chalets that are arranged in the shape of a hibiscus, the resort holds a Guinness world record for the most number of swimming pools in a resort. Each of its rooms has a personal pool attached to it!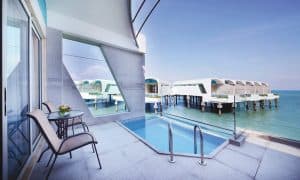 What makes this place a great destination for families is that there are facilities such as playgrounds, yoyo cars and bicycles to keep young ones entertained. There are also a myriad of activities to do here, such as archery, jet ski, banana boat and kayaking. If you're looking for something more exclusive, you can take a helicopter joyride to the skies, and be wowed by the stunning bird's eye view of Lexis Hibiscus.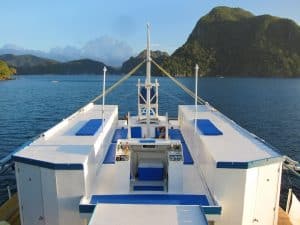 Located in the heart of the untouched Bacuit Bay in El Nido, the cruise is equipped with six sleeping cabins and serves as a floating hotel. Instead of a luxurious villa, think of this as a camping trip out at sea. There are exciting activities each day, and usually the crew will organise two trips to virgin islands or stunning lagoons, secret places where no one else goes, or to famous places when it's off-peak and no one else is there.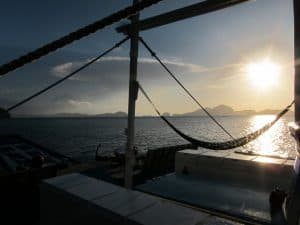 Guests who've stayed with Palawan Secret Cruise also highly rave about the meals on board, freshly prepared each day by their experienced chef and served in buffet style. Eat to your heart's content! In the day the deckhands and chef will try their luck at fishing, and they usually bring in barracudas or jackfishes for dinner. But if fish isn't your thing, the crew can accommodate to any kind of diet. At night, kick back in one of their hammocks and admire the magical night sky.
Literally translating to 'Love Island', Pulo Cinta forms a heart shape when viewed from above. The island is also known as Maldives van Gorontalo, and it sits in the Gulf of Tomini. All their villas are solar powered. There isn't AC here, but the sea breeze makes the temperature very comfortable at night. Besides, us Singaporeans are almost always in an AC environment, it's probably a good idea to sleep in a natural environment sometimes. In the morning, let the sunlight and gentle sound of the waves coax you out of slumber.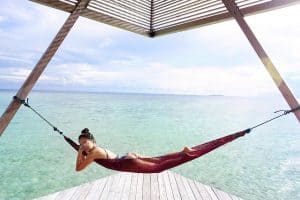 The waters here are absolutely pristine, which makes it a wonderful spot for water activities such as diving and snorkelling. And with its picturesque settings, there is simply no way to take a bad picture here. With hammocks and wooden swings in shallow seabeds, they make for perfect props to help you get that Instaworthy shot.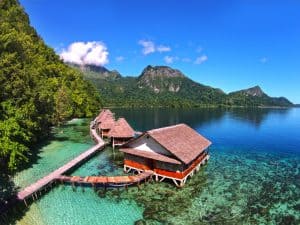 The eastern Indonesian province of Maluku is a hidden paradise, and one of the country's best kept secrets. Thanks to its untouched natural beauty, this remote archipelago is often compared to the Maldives. Exotic Ora Beach Resort is on Teluk Sawai – a beautiful wide bay that has dramatic cliffs, rugged, forested peaks and stunning cerulean waters.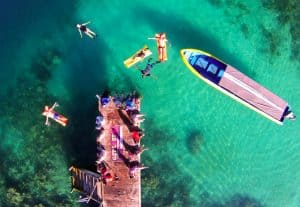 Go snorkelling right outside your sea cottage and marvel at the stunning coral formations. Make sure to stay away from areas that are too shallow – you don't want to accidentally kick or break any of the corals. At dusk, watch bat-like Lusiala birds emerge from a cave above the Saleman village. If a peaceful and idyllic vacation is your idea of a perfect holiday, you will certainly not be disappointed by Exotic Ora Beach Resort.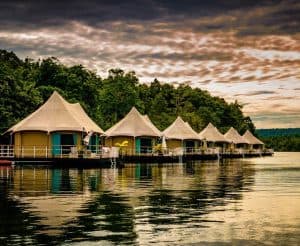 The idea behind 4 Rivers Floating Lodge was to create an environmentally friendly yet luxurious resort. In order to not cause harm to the surrounding nature, the resort was built using sustainable and mostly local materials. With solar panels, an eco-friendly wastewater treatment system and a waste reduction process, 4 Rivers Floating Lodge marries luxury with ecology. They are clearly very good at what they do.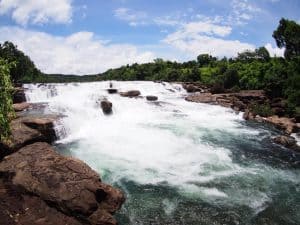 The resort also organizes different exciting excursions and activities for guests, such as a natural spa experience at Tatai waterfall, or walking into local Khmers' lives at Koh Andet Island. There are also mountain and jungle treks, sunset cruises and discovery tours deep into the Koh Kong Khnong mangroves. If you're a nature lover who aims to live harmoniously with Mother Nature, you won't want to pass up an experience in this beautiful resort.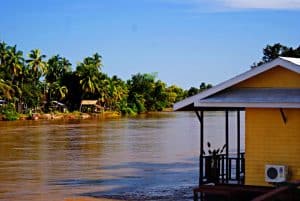 Laos is a well known Southeast Asian destination, but when we talk about floating hotels, it won't be the first thought that comes to anyone's mind. But set on the edge of the Mekong River, Sala Phae Floating Hotel is a popular choice of accommodation for budget-conscious travellers. It might not be like one of the five-star resorts that we have here, but its rustic atmosphere makes for a great place to kick back and disconnect from the city's pace of life.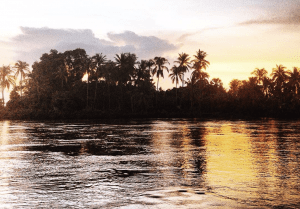 Guests can make arrangements for a trip to see the Irrawaddy dolphins or to Khone Pa Soi, a private small island. If you're into hiking, the Li-Phi waterfall (arguably one of the most beautiful waterfalls in Laos), is a 1.5-kilometer hike from the Sala Phae banks. Or you can just take it easy at your private balcony, and enjoy a sunset over the mystical river.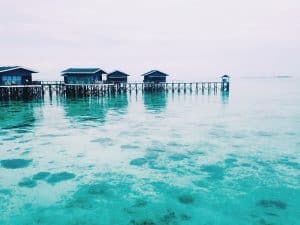 45 minutes away by boat from Semporna jetty, Pom Pom Island is a small atoll that takes a mere hour to walk around. The water villas here provide a stunning panoramic view of the Celebes Sea, with private sun decks and comfortable sun beds. Always wanted to pick up diving? The resort also has an onsite dive centre where you can get your PADI license.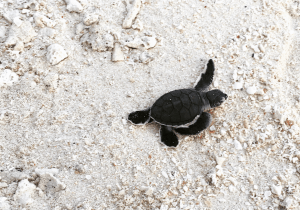 What sets Pom Pom Island Resort apart from other floatels is that it is also a shelter for Green and Hawksbill turtles to nest at night. If you're lucky, you might witness the eggs hatching and the releasing of baby turtles to sea. You can also go on a cruise trip to neighbouring islands onboard the Putri Pompom and have a dive or snorkel adventure. No matter how you choose to spend your time on Pom Pom Island, you will leave convinced that there is a piece of heaven here on earth.