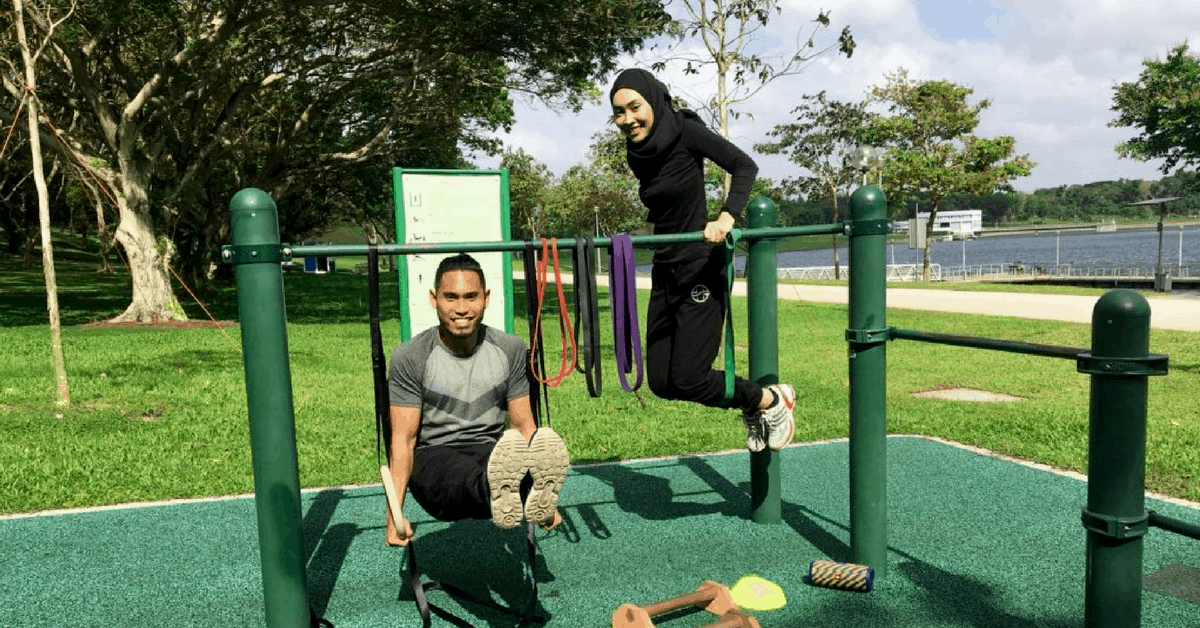 25 year old Haaziq has always believed in the transformative power of fitness, and how it can positively impact everyday people.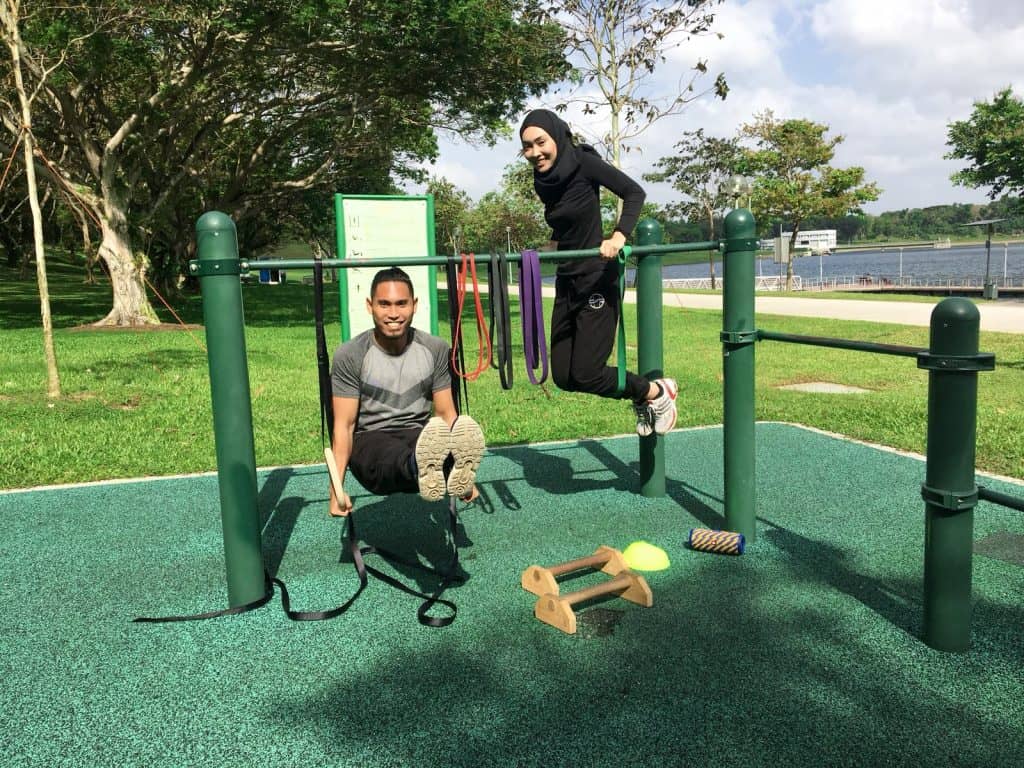 It is this drive and compulsion to help others that led him and partner, 23 year old NUS Economics undergraduate Ashikin, to create Start Station Bodyweight Fitness in 2017. Their mission is to make fitness training simple and easily accessible to anyone and everyone.
"You should be the master of your body. There's so many things that you can do with it. We'll teach you how to control and best utilise it."
"Most people don't get a chance to have this kind of exposure to this type of training. That's why I started Start Station."
His own journey began at age 18 as a certified fitness instructor in the police force. But it wasn't the gym that drew him in.
"I've been into fitness since I was young but I did more of soccer and track & field – towards functional stuff that effectively sculpts the body."
It was only during Haaziq's National Service that he developed a liking for calisthenics.
Learning About Calisthenics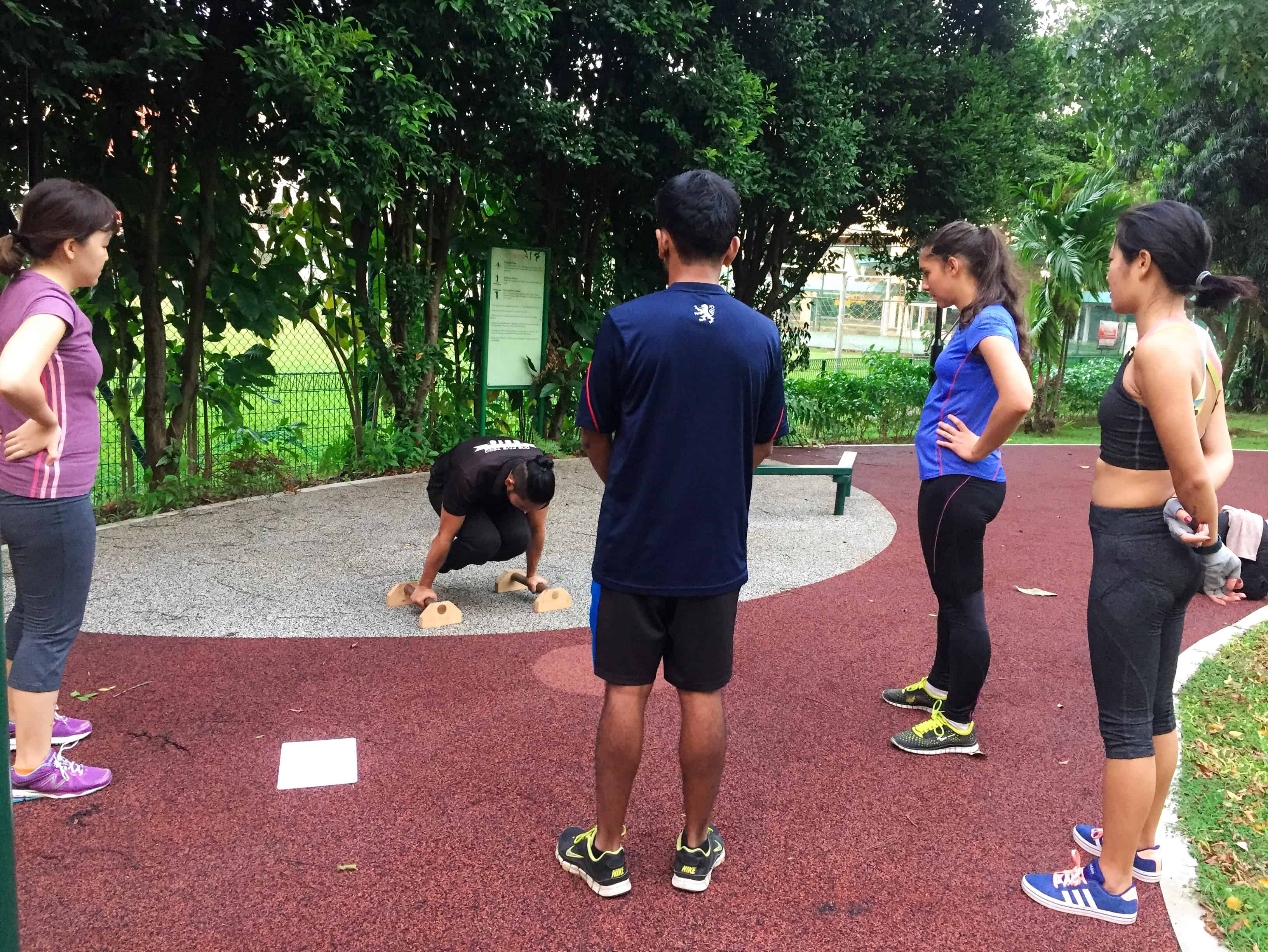 "In NS, I had to train 30-40 people at one time – how do you do that within the confines of a gym?" Haaziq shared. "You can't even fit in 20 people. So I thought of ways and even watched videos. That's where I found out about calisthenics."
"Since I found calisthenics, I started staying away from the gym. I've not carried any weights for almost 6 years."
Haaziq had never heard about this type of training before. He soon found out that there are other complicated moves which come into play when he was introduced to calisthenics.
He realised that bodyweight training is not only about push-ups, planks or pull-ups – a misconception that most people have about calisthenics, himself included.
"There are many things that we can do through calisthenics; so many things that you will learn about your own body. Small muscles that you didn't know exist," Haaziq remarked.
A typical lesson by Start Station lasts approximately an hour and involves dynamic movements such as balancing on minimal limbs, one legged squats and parallel bar movements – on top of the usual push-ups, planks and pull-ups.
Origins Of Start Station
The idea for Start Station came to Haaziq even before he entered university, towards the end of his time in NS.  However it was only in the National University of Singapore, that the Philosophy and Political Science undergraduate met his future business partner.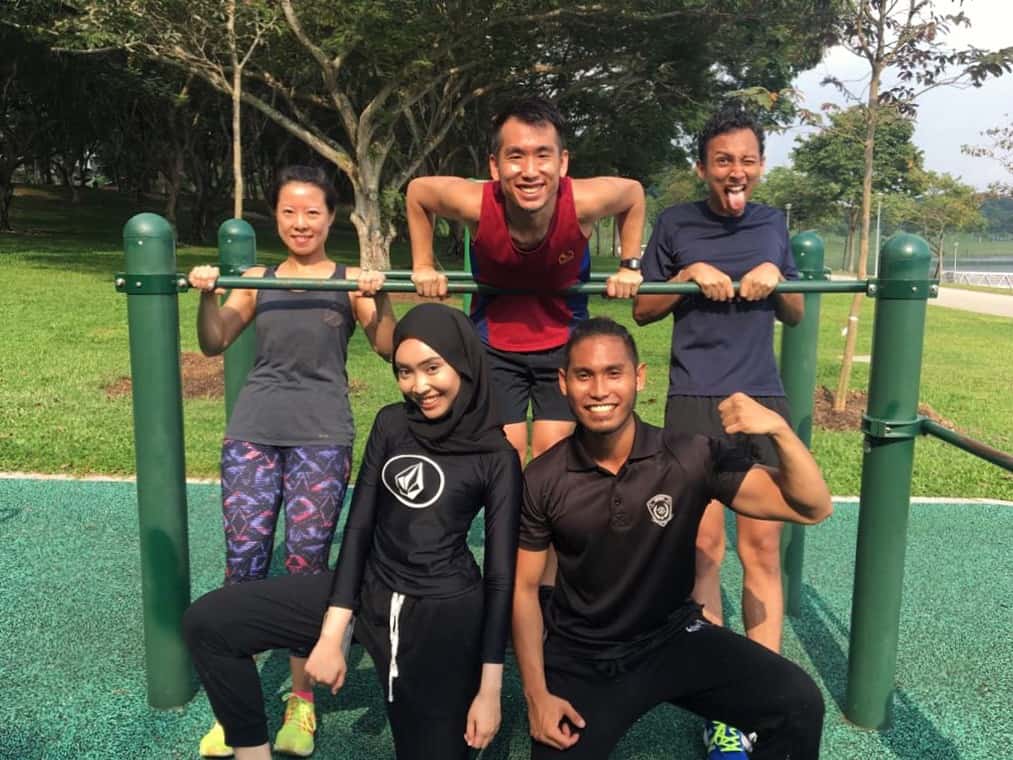 "I couldn't do this on my own," Haaziq admitted, "There is the coaching aspect to calisthenics and there is also the business aspect, the operational stuff. So I needed someone as a partner."
"It's hard to trust people in this industry because ideas are very easy to take and replicate. So when I got to know Ashy, we got very close and I decided I could trust her as well."
Ashikin's background in marketing and public relations was certainly a welcome asset to the burgeoning business, having run numerous events for her CCA's in school. But it was a matter of perfect timing which led her to agree to join Start Station with Haaziq.
"Before I met Haaziq, I didn't work out at all. I started jogging and I wanted to get into fitness but I didn't know how. I didn't want to go to the gym because I didn't like the vibe."
"So I met him at the perfect time. He introduced me to this concept of calisthenics and that's how it started."
"She wasn't very receptive at first lah," Haaziq chimed in, laughing. "And calisthenics is so difficult. So I understood her reservations. When you go to the gym you can go on the treadmill, pretend to take up a 2kg weight and do something."
"But for calisthenics, if you don't have the strength, you can't do anything because it's your own bodyweight."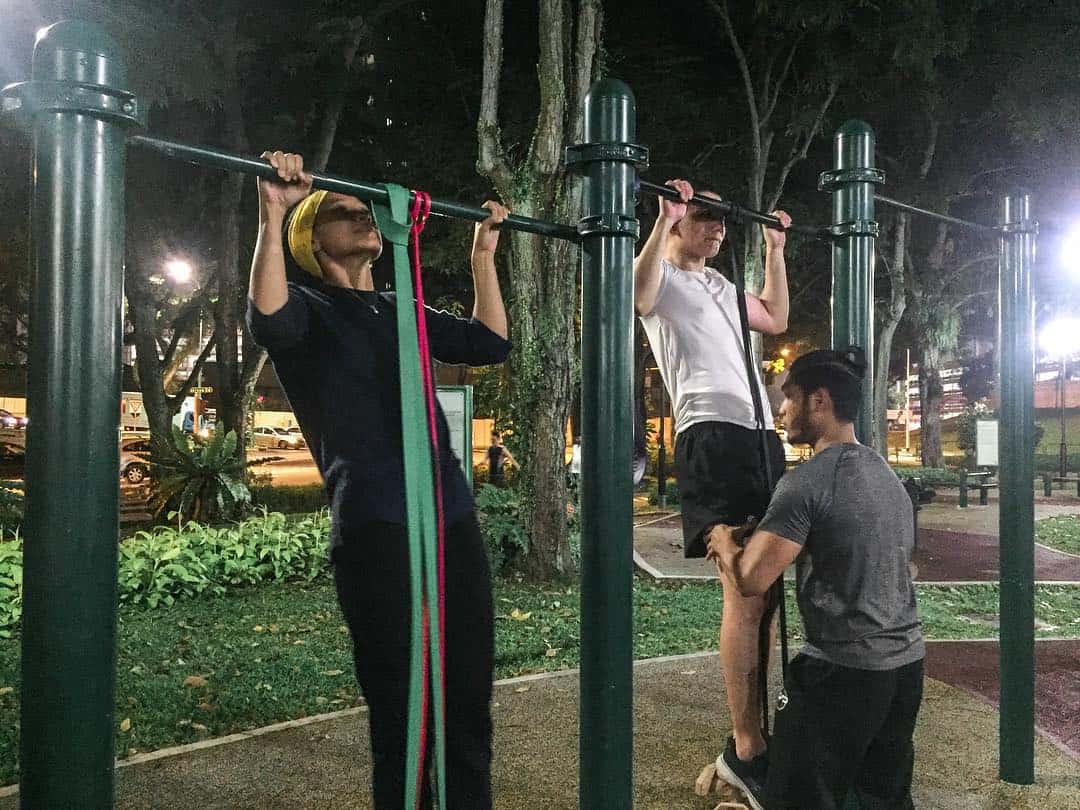 Ashikin initially thought that she would only stick to handling the operations and marketing aspect of it, but soon got curious herself when she saw beginners of all ages making significant progress through the training.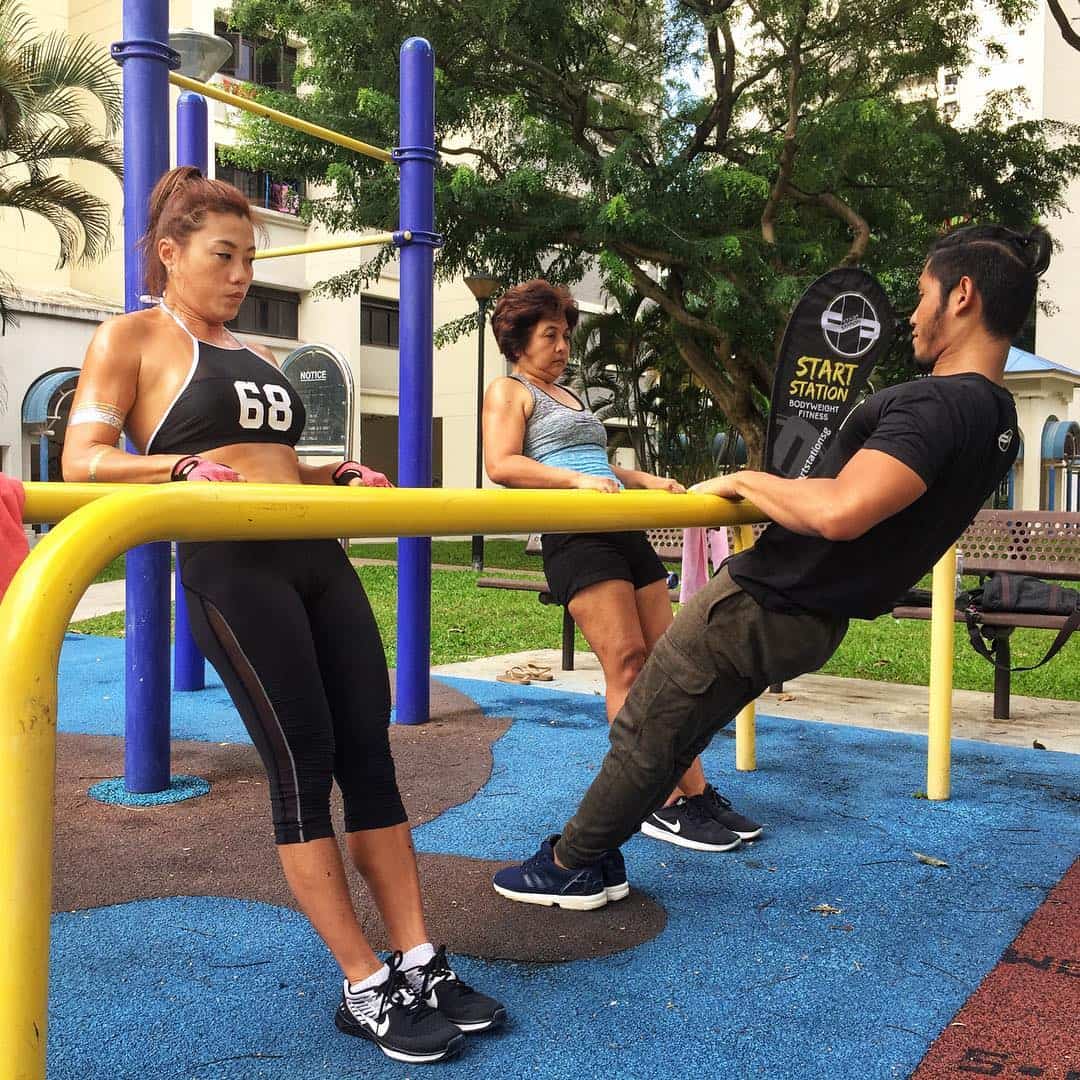 Haaziq recalls his month long Start 30 fat loss program, where a foodie contacted him on Instagram to collaborate. For this, the foodie's followers participate in Haaziq's training while going on her nutrition plan.
"The participants were middle aged – some of them were 40 years old. Some of them didn't  know what a hamstring was. When that was happening, Ashy hadn't started yet."
Ashy adds in, "when I saw these older aunties training and seeing large improvements with themselves, I also decided that I wanted to be part of it. It made me realise that anybody can do calisthenics with the right guidance."
The Strategy
The duo wanted to make calisthenics convenient and available to everyone easily.  So they decided on 3 centralised locations (Toa Payoh, Tiong Bahru, Bedok). "We wanted somewhere Central, North, West and Eastern so it's quite a nice mix," Haaziq explained.
What surprised the duo was the type of unexpected participants which joined at the company's inception.
"I had a friend who was very overweight. I personally messaged everyone in my following list on Instagram and she was one of the first ones who responded. She bought a package straight away without even knowing details of the class. She didn't even know Haaziq as a trainer. It was quite unexpected," Ashikin recalled.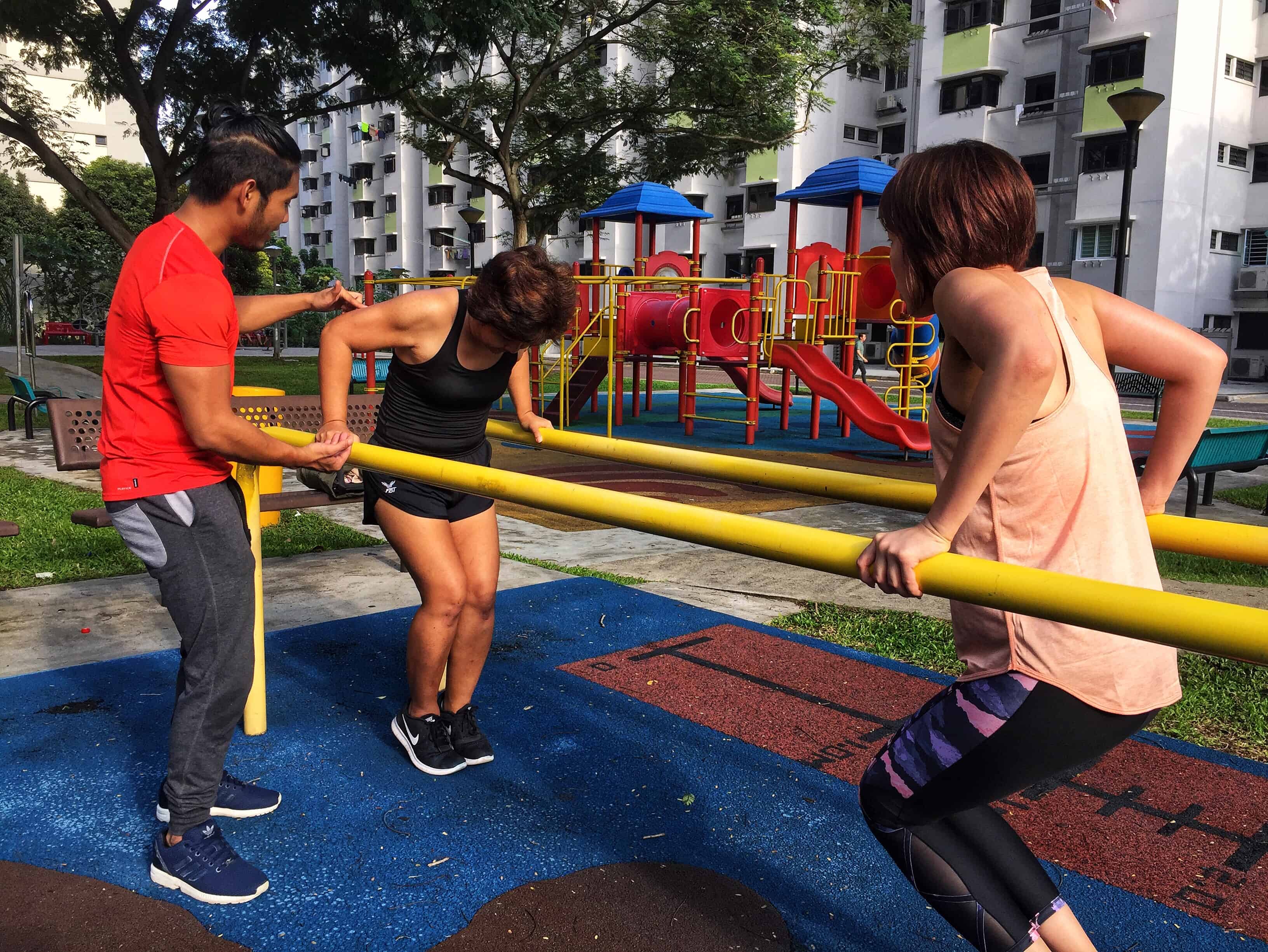 Other unexpected members included 2 of the weakest participants from the weight loss challenge. "They could not do jumping jacks," Haaziq said.
"They were the weakest and always complained. Of course I wanted everyone to continue with us but I thought they would be the last to sign – they ended up being the first to sign a package with us."
"They were the ones that saw the most change in themselves and they want to continue even today.
"One of them made a cake just to thank us. It's a small thing but it really makes us feel good."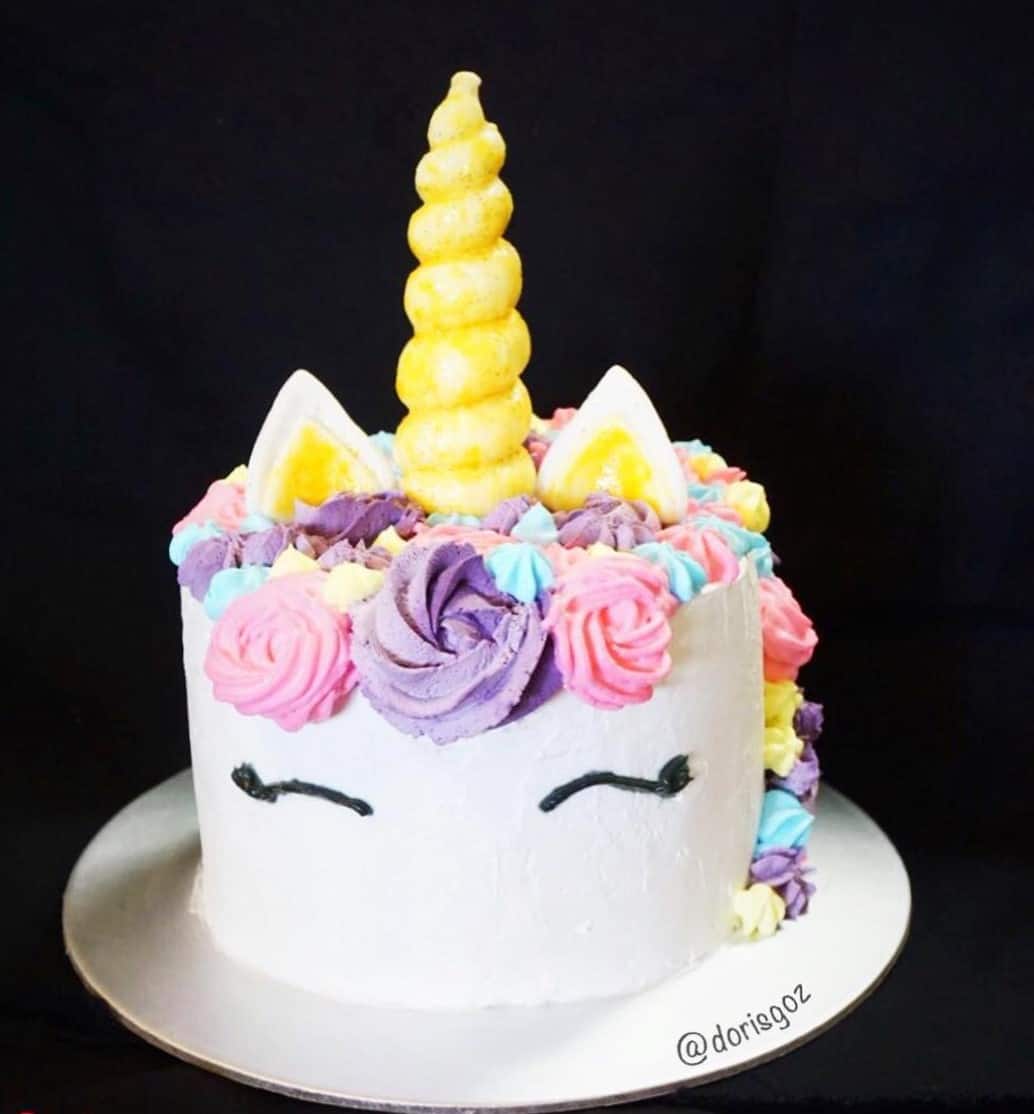 A Journey Of Growth
Haaziq has always believed in himself and his training methods, having done personal coaching and seeing his clients' transformation from his time working at Calisthenics Academy.
"I know that I can do this for beginners who want to understand the basics and not just the elite athletes. The only issue is getting people to come and experience it for themselves."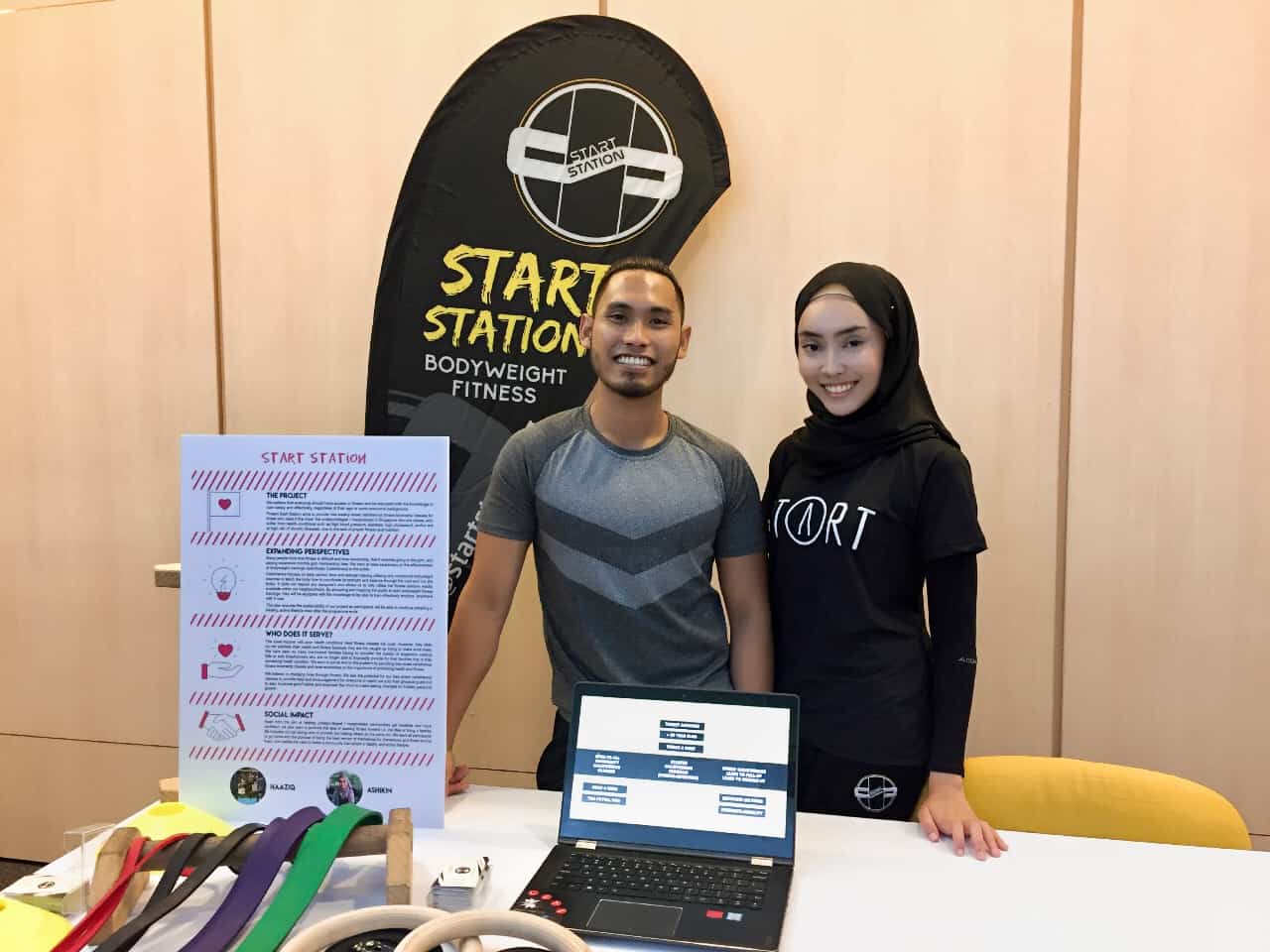 Start Station began with no capital whatsoever, but the couple managed to grow the brand through word of mouth and social media. They didn't have a website then in an attempt to keep costs low.
Haaziq confided in some of his friends about his financial issues, but one of his mentors posed this question to him that reinforced his intention to keep going:
"As long as there are people who go to your class, that means you're doing something right. Just keep going – change people's lives. One day you will earn the money."
True enough – within a few months, Start Station began to have regulars coming. It is a far cry from their early challenges.
"In the beginning, we had to coax people to come. Just come, just try out, we will tell them. We even offered them to not have to pay for their first session, just to get the word out."
Learning From One Another
Haaziq never thought that he would be challenged this way. "Some days I feel very drained. Like physically, when you're very tired and you don't have enough responses. When your responses and your effort don't tally, sometimes you feel like wah, is this really all it is?"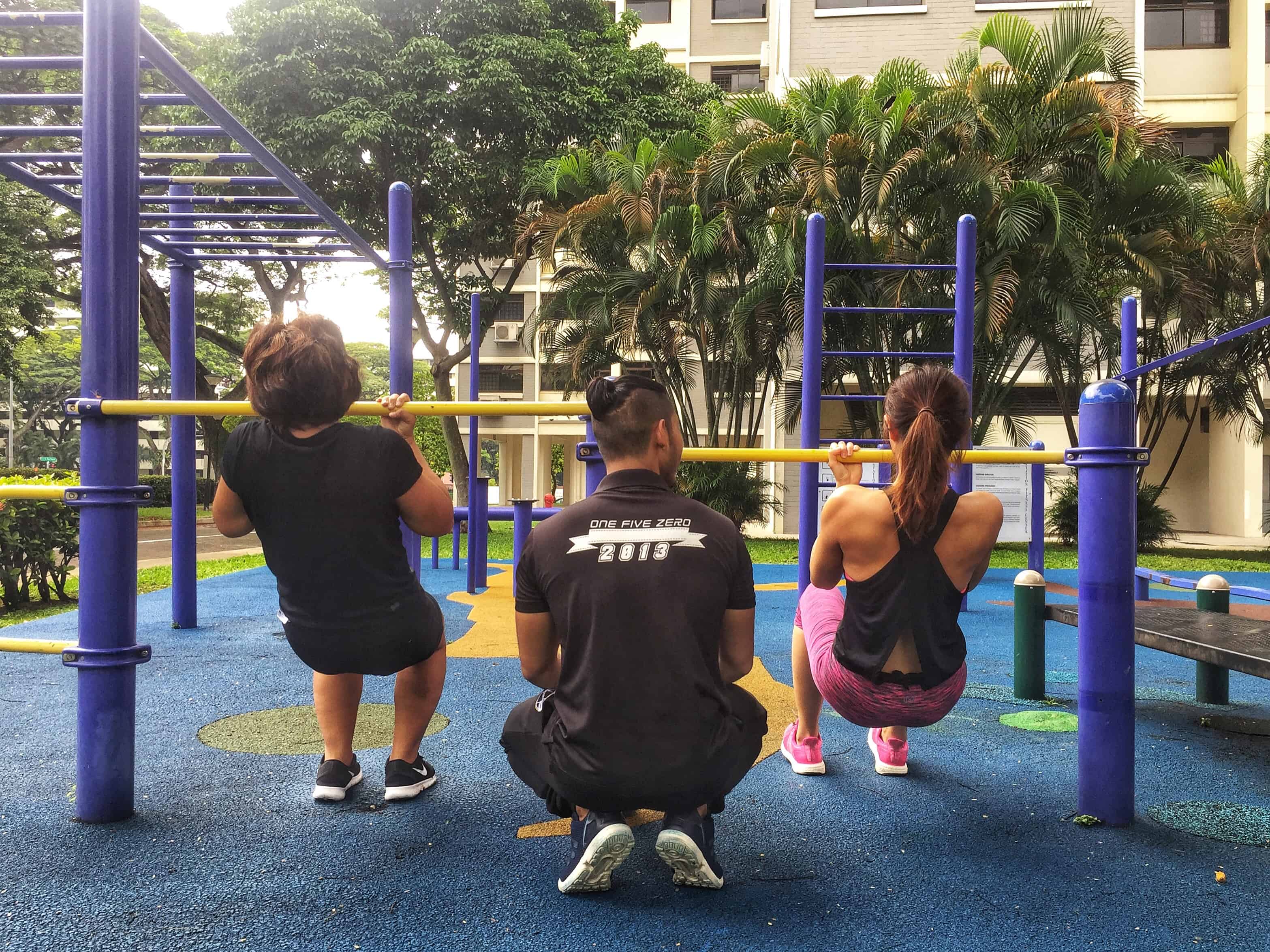 "Sometimes we feel helpless and stuck. You want to go out there and help people but you don't know how," Haaziq admitted.
Ashy would then be the one motivating him instead. "Days when I'm demoralised, she's the one that says "Come on, let's go, let's do this.""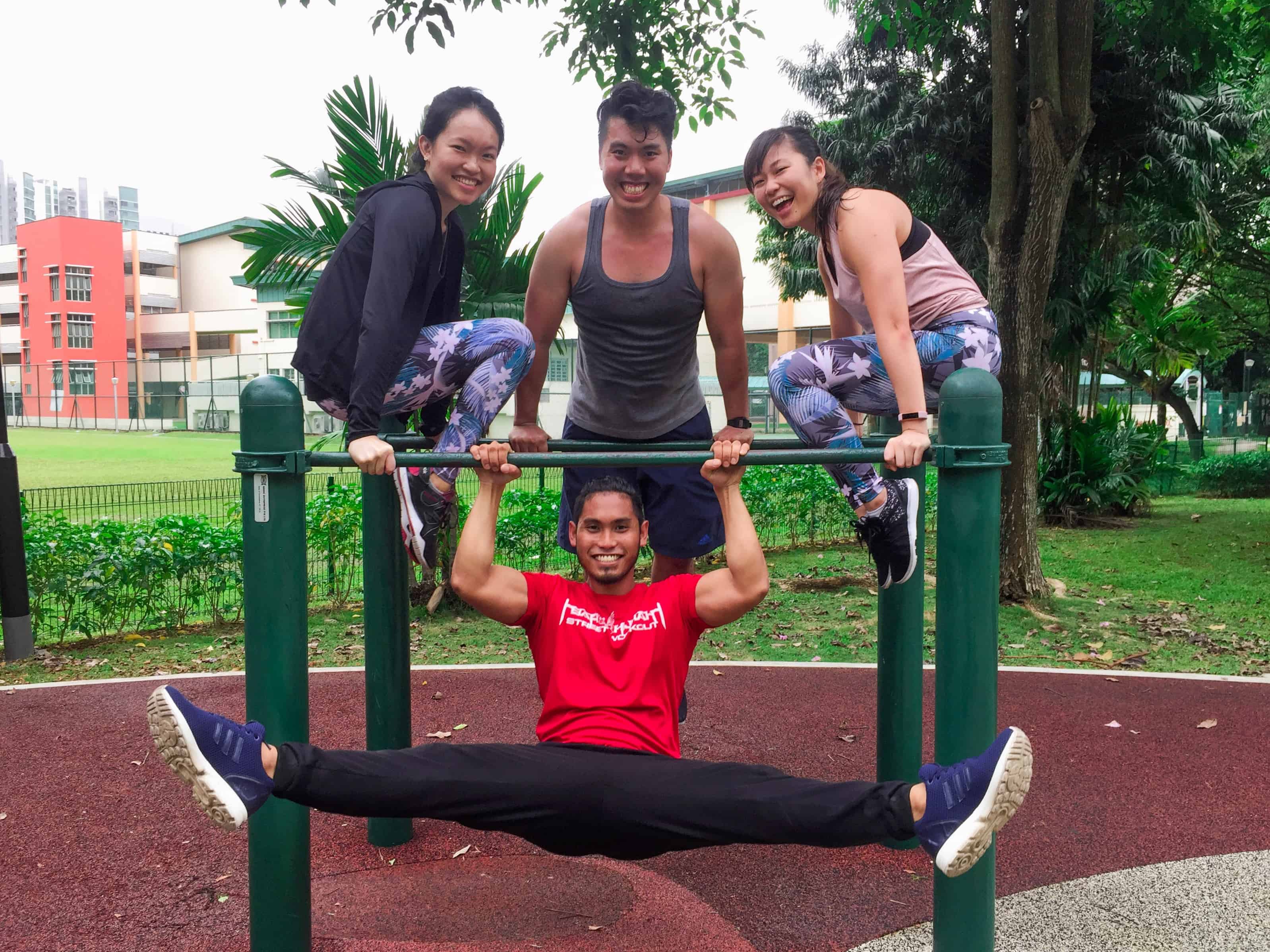 "I thought I would be the one who's unsure but I believe in him as he's capable of a lot of things – so when he's down I want him to keep going because I know that we will get there," Ashikin quipped.
Keeping each other's morale up was essential throughout this period. They knew the potential of the company and were patient to anticipate the right opportunities and moments to grow the brand.
Milestones and Targets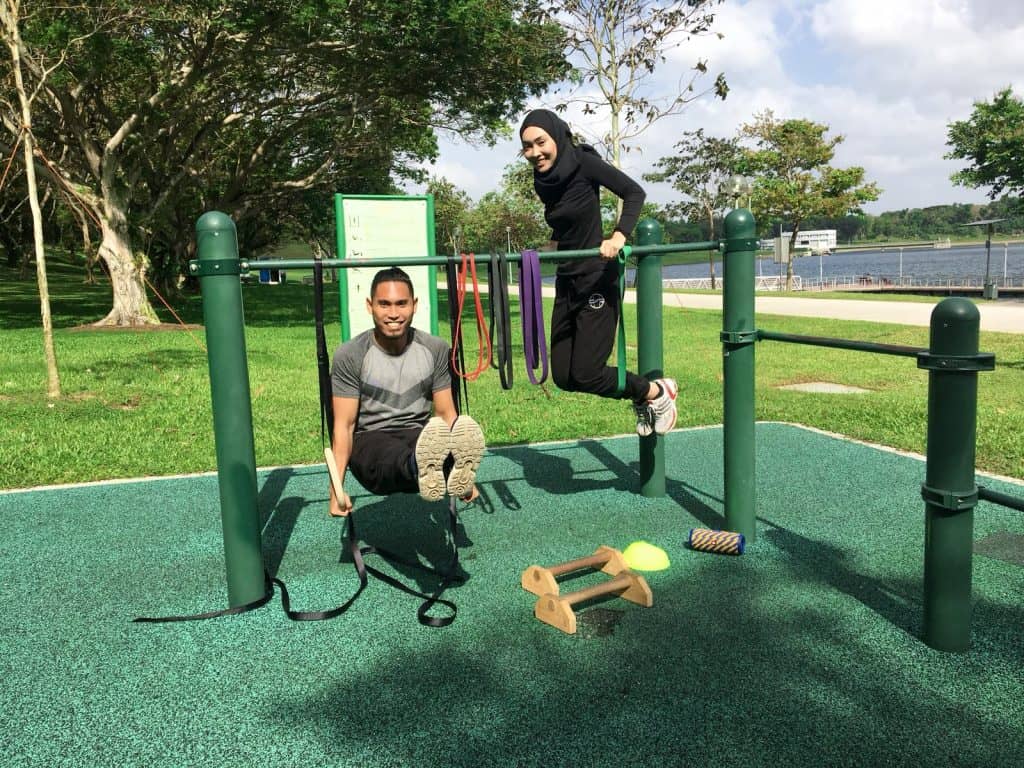 "We are definitely planning to have more coaches and locations. Ultimately, Start Station is not just a calisthenics company. It's a bodyweight fitness company."
Haaziq shares that his future plans for the company include activities such as yoga, capoeira and parkour.
What sets Start Station apart is that they do not require a studio or gym to train in. The concept and training itself is done outdoors, usually at exercise corners or reservoir parks.
"We just want to educate and inspire people who have never done it before to do it, to show them that bodyweight training can be done anywhere, anytime."
CNY 2018 PROMO 5-CLASS PASS @$88.
Check them out on Instagram and www.startstationsg.com for more information.