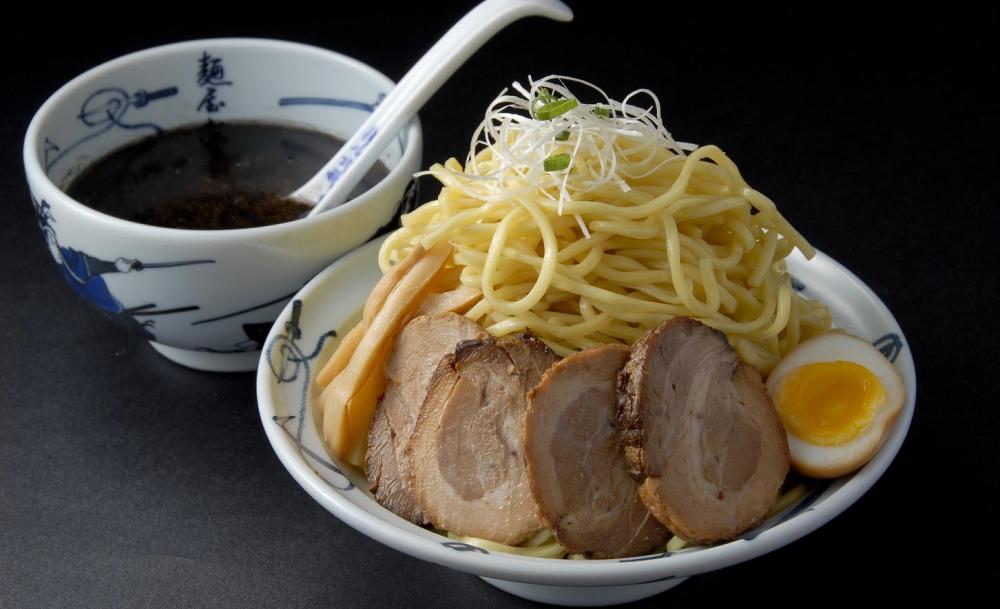 When I was first introduced to dry ramen, I was unsold and a total skeptic. "But the best part of ramen is the soup!", I exclaimed in protest. However, when I finally got down to giving it a taste test, it didn't take long for my tastebuds to get accustomed with this new ramen experience.
Also known as Mazesoba, this dry version of the conventional ramen is seasoned with infused oil with other condiments, complete with a soft-boiled egg to create a gravy similar to the texture of korean jajangmyeon or meepok when you break the runny yolk.
To get you started, check out these 7 ramen bars.
1. Ramen Matsuri
Located at the swanky North Canal Road along Boat Quay, Ramen Matsuri is best known for their chicken broth ramen.
But underrated is their mazesoba. Offering 6 variations, we'd recommend giving the Nagoya Styled Mazesoba($12.80) a try – dry noodles served with spicy minced pork and a generous sprinkling of scallions and seaweed, adorned with a soft-boiled egg.
Address: 7 North Canal Road, 048820
Opening Hours: 11:30AM–3PM, 6–10PM daily
Website
2. Kajiken
The OG of dry ramens in Singapore, Kajiken is the first ramen bar that sells exclusively mazesoba here on our sunny shores. The menu is pretty straightforward, with the same noodle base with various toppings.
For bona fide carnivores, satisfy your need for meat with the all toppings option ($15.80), which piles on the trinity of braised pork, chashu and karaage atop the noodles.
Address: 101 Tanjong Pagar Road, 088522
Opening Hours: Weekdays 11:30AM–3PM, 6–9:30PM | Weekends11:30AM – 9:30PM
Website
3. Uma Uma Restaurant and Bar
With its roots from Fukuoka, Japan, Uma Uma Restaurant and Bar brings diners the best of Japanese street food – Ramen, Yakitori and Kushikatsu.
On the dry ramen front, Uma Uma serves 2 unique versions, the traditional Mazesoba with Chasiu($16) and Tan Tan Men($14) – a dish similar to our local bak chor mee made with sesame base, minced pork, chilli oil and egg.
Address: Millenia Walk, #02-06, 9 Raffles Boulevard
Opening Hours: Sunday – Thursday 11:30AM – 11:30PM | Friday – Saturday 11:30AM – 12AM
Website
4. Daikokuya
Apart from the usual ramen and mazesoba, the tastemakers at Daikokuya creatively put together the Teriyaki Chicken Ramen Salad($10.90) for those with lighter palates.
Tossed in sesame dressing, the crunchy salad is extremely palatable with the springy ramen noodles and teriyaki, making it a refreshing starter. Who says ramen have to be cloying and heavy?
Address: 252 North Bridge Road, #B1-13 Raffles City Shopping Centre, Singapore 179103
Opening Hours:11AM – 10PM daily
Website
5. Kanshoku
Two words: Truffle. Ramen. From the outside, Kanshouku may very well just look like just another ramen bar in the town area but star item the Truffle Dry Ramen($16.90) changes everything.
Tossed in truffle oil, the folks at Kanshouku love truffle just as much as the next person and aren't afraid to show it. Served with two pieces of caramelised chashu, the dish is adorned with slices of shaved truffle to tell diners they're getting the real deal.
Address: 277 Orchard Road, OrchardGateway #01-06, Singapore 238858
Opening Hours:11AM – 10PM daily
Website
6. Menya Musashi
Here at Menya Musashi, ramen is served deconstructed where you dip the noodles into the broth before slurping, just like soba! With 4 different soup bases and toppings to choose from, stuff yourself silly with the free flow noodles that allows you to order five times the regular serving!
Our reco- pick the Chashu Tsukemen with the nutty miso soup base.
Address: 252 North Bridge Road, #B1-44C (Check website for all outlet locations)
Opening Hours:11:30AM – 10PM daily
Website
7. Sanpoutei Ramen
Made from scratch in the ramen bar itself, the noodles at Sanpoutei Ramen are to be distinctively firm and chewy, which is a big plus for us. And if you arrive at the right time, you'll catch the chefs at work.
As for the mazesoba, portions come generous with a healthy serving of aburi chashu – cooked to melt-in-your-mouth tender and torched before serving.
Address: 253 Holland Ave #01-01 Singapore 278982 (Check website for all outlet locations)
Opening Hours:11AM – 11:30PM (Last order at 10:30PM)
Website
Same Ramen, Different Style
If I could eat only one thing for the rest of my life, ramen ranks pretty high up on my list. Going soup-free sounds like a big step out of the comfort zone but these 7 restos will be quick to make you a convert.
Comment down below to tell us your favourite ramen bars!