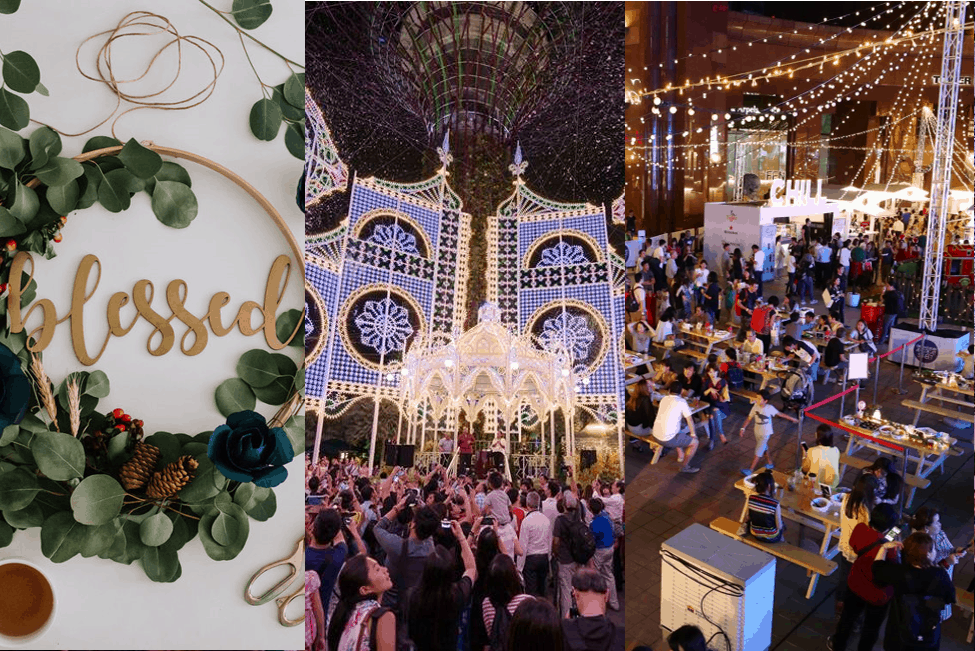 There may not be snow, reindeer or Santa in Singapore, but with these fun-packed list of activities in place, you're all set to have a fantastic celebration this Christmas!
Be it hearty feasts for gourmets, craft workshops and caroling for art lovers or markets for shoppers – there is bound to be something for everyone.
1. Christmas Wonderland 2017 at Gardens By the Bay
You may wonder what's new for this year's Christmas Wonderland – how about skating under the stars in the first ever outdoor skating rink in Gardens by the Bay?
Or a treat to watch the Asian debut performance by highly acclaimed Circus Abyssinia, and a photo opportunity with one of Asia's biggest Santa's Grotto!
Not forgetting the iconic light up, be dazzled by the Luminaire light sculptures by Italian craftsmen as you wander through the garden. Do stop by the little wooden huts at Festive Market for tasty treats or unique gifts.
1st to 26th December 2017, 4.00PM to 11.00PM daily
Gardens By the Bay
Admission from $4
2. The First Sustainable Christmas Market
You would hardly associate environmental concerns with Christmas; but then again why not?
Mercure Singapore goes green this Christmas by advocating sustainability at this market which hopes to promotes ethical products, edible produce and craft by local start-ups.
Savour a hearty home-style treat using old-world fermentation techniques by The Cultured People, organic premium produce from the Himalayan, carbon neutral beers and hand-crafted, reduced sugar and eggless cookies.
Don't leave without a beautiful souvenir from Hangmade by Gladys, made mostly with recycled materials.
9th December 2017, 9.30AM to 4.30PM
Mercure Singapore on Stevens (28 Stevens Road (S)257878)
Free admission 
3. Santa's Workshop at The South Pole
Celebrate Christmas right in the heart of the Civic District!
Organised by The Local People, this party promises fun filled arts and craft, food, games, carolling and a movie screening. Have fun at the fundraising carnival games by The Social Co., and join in the art wall backdrop painting.
Sign up for a workshop and learn to make Santa's Pin Badge, a fondant cookie bar and many more.
Also, tuck in with family and friends at the longest communal dining in the basement and catch a LED balloon from 8 to 10pm if you are lucky!
15th to 17th December 2017, 12.00NN to 10.00PM
South Beach Avenue
Free admission
4. Flashbang
Experience Singapore's first immersive neon light creative playground at Grange Road and 313@Somerset's Discovery Walk!
Flashbang will feature neon light art installations, interactive exhibitions, music and performance, among other activities in their line up.
This event is great for both families as well as friends who want to party with two different sets of programmes.
Day activities include experiential virtual reality installations and interactive walls, Make-A-Gift station, while night activities include light tunnels, walkways and sculptures designed by local artists and arcade games.
There will also be a countdown on Christmas Eve!
9th to 30th December 2017, 3.00PM to 11.00PM daily, 3.00PM to 01.00AM on 24th Dec
Grange Road Car Park 96 Somerset Road (S) 238163
Free admission 
5. Endless Wonder Christmas Village
Step into a European inspired Christmas Village in town and experience in Yuletide delights!
Situated just in front of Ngee Ann City, this illuminating village houses a two storey carousel ($5 per ride), Hitachi Santa's House and a Christmas Market.
With 25 pop-up stores, there is an array of festive treats and unique handcrafted gifts. Kids will be pleased to know that amusement rides and craft activities are in store for them.
Plus, a balloon sculptor and perhaps even Santa himself could be walking around the village!
25th November to 25th December 2017
SUN – THU: 11.00AM – 10.00PM, FRI – SAT: 11.00AM – 11.00PM
Christmas Week: 11AM – 11PM daily
Ngee Ann City Civic Plaza
Free admission   
6. Craft Workshops by PaperMarket
Want to learn something useful this Christmas? Here is your chance to, with a series of workshops organized by PaperMarket.
Choose from a variety of workshops such as interactive Christmas cards, Christmas tags, shadow boxes and more.Impressive your loved ones with a special handmade Christmas present this year!
Visit their website for more information on the class schedule and fees.
7. Christmas Laurel Wreath Workshop
Learn how to make a contemporary, asymmetrical Christmas wreath with a mixture of dried plants and everlasting paper flowers.
Spread the festive spirit with this beautiful addition to your home decor or as a meaningful gift to your loved ones.  Your designs can also be enhanced with personalised cutouts and a gold ring.
Hosted by Ever & Blue Floral Design and Ektory, this workshop teaches the basics of floral design, how to style a floral wreath, and how to handcraft your own paper flower. Visit their website to sign up if you are interested.
3rd December 2017, 2.00PM to 5.00PM           
Ektory studio 50 Niven Road           
From $150
8. ArtWalk @ Wessex Christmas Edition 2017
If you are looking to do a different activity, why not take a leisure stroll around the Wessex Estate and chat with artists at the art studios?
The artists will be exhibiting artworks of drawing, painting, printmaking, ceramics and mixed media. Since this is the Christmas Edition, you may end up buying a one of a kind gift just in time for the festive!
2nd to 3rd December 2017, 11.00AM to 7.00PM           
11 Art Studios at Wessex Estate (Portsdown Road)           
Free admission     
9. Christmas Pop-up Market & Workshop
Hosted by W Market, this is the go-to place for last minute Christmas shopping.
There will be 40 vendors – among them are local startups such as Sammygoround, BLUEBLUESEA, Tallmediumshort and more.
Workshops are also available, such as Christmas Card making by Dora Prints and Paper Goods.
23rd to 24th December 2017, 12.00NN to 8.00PM           
The Weave at Studio Three Sixteen            
Free admission
10. The Nutcracker by Singapore Dance Theatre
Whisk off onto a magical journey with Clara this festive, as she travels to the  magnificent Land of Snow and the enchanting Kingdom of Sweet!
The renowned old-school tale is retold in an enchanting ballet, featuring breath-taking costumes and spectacular sets by local designer Aaron Yap.
Book your tickets from SISTIC.
6th to 10th December 2017           
The Esplanade Theatre           
Tickets starts from $35 
11. The Fair – Christmas 2017
With close to 50 vendors featuring works by both local designers and independent international brands from Australia, Hong Kong, Malaysia, United States and India, The Fair promises a wide selection of items for you if you're seeking a unique gift.
From handmade designer jewellery to home decor and art pieces, there is plenty to choose from. Be sure to participate in the hourly lucky draw as well!
30th November to 1st December 2017, 1.00PM to 6.00PM
Pan Pacific Orchard
12. A Universal Christmas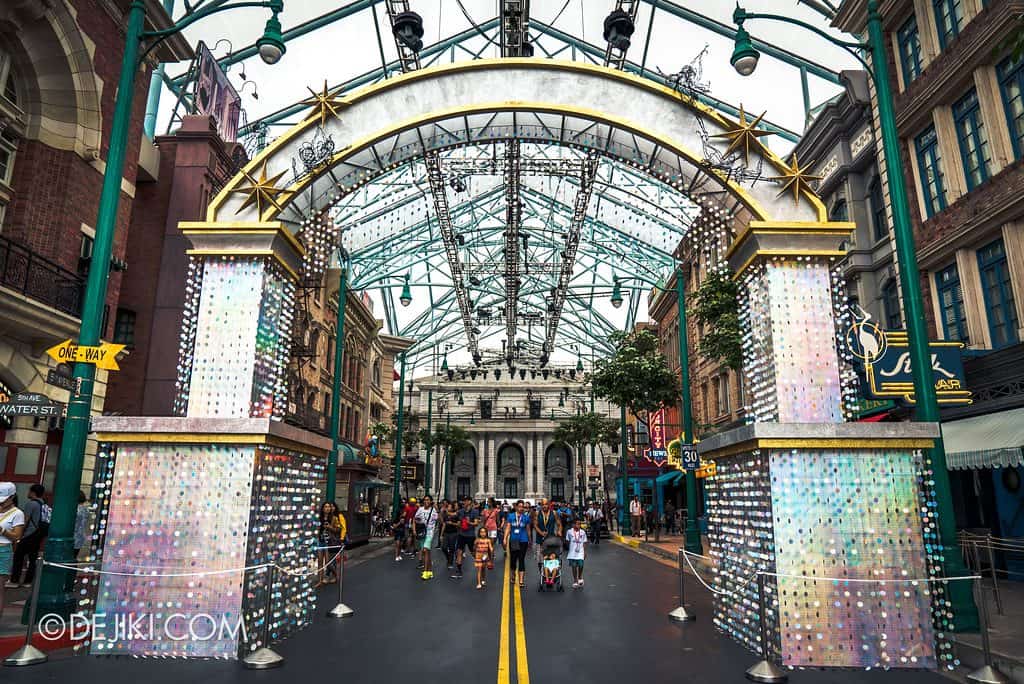 Universal Studio Singapore is not missing out on the festivities as well, with special performances and activities lined up this December.
Make sure to stop by Santa's Workshop and be greeted by Santa's elves, reindeers, and even Santa himself! The workshop this year will include tasks for guests to complete.
For more details, click here.
1 Dec 2017 – 1 Jan 2018, 10.00AM to 9.00PM
Universal Studios Singapore