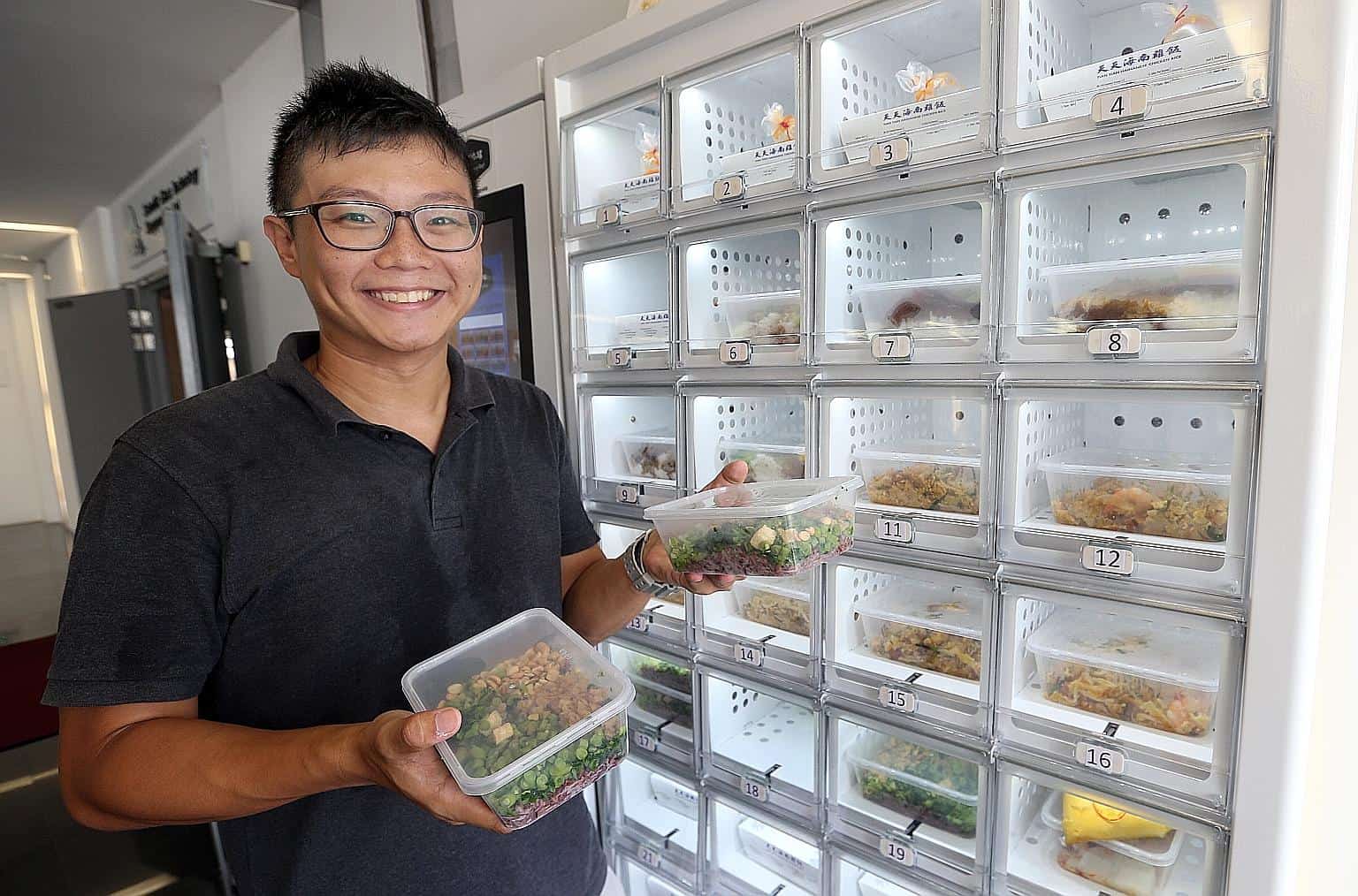 Hate queuing for your food?
The CBD has a great range of food to offer, but it's not surprising to get bored of the options, especially if you've been working there for quite some time. Not to mention, the lunchtime crowd reminds me of a zombie apocalypse. During my stint as an officer worker in the CBD, lunchtime was often quite an exasperating experience. When compared to our friends over at the business parks, although they might not have the crazy crowds, their food options make the spread at the central district look like quite a feast.
No matter which area you are working in, each district has its own woes. But not to worry – your voices have been heard, and a group of sympathetic entrepreneurs are here to solve your problems. Leave behind the daily issues of deciding what to eat, and the snaking queues in stuffy hawker centers. Because hawker food delivery is now a thing, and they are here to stay!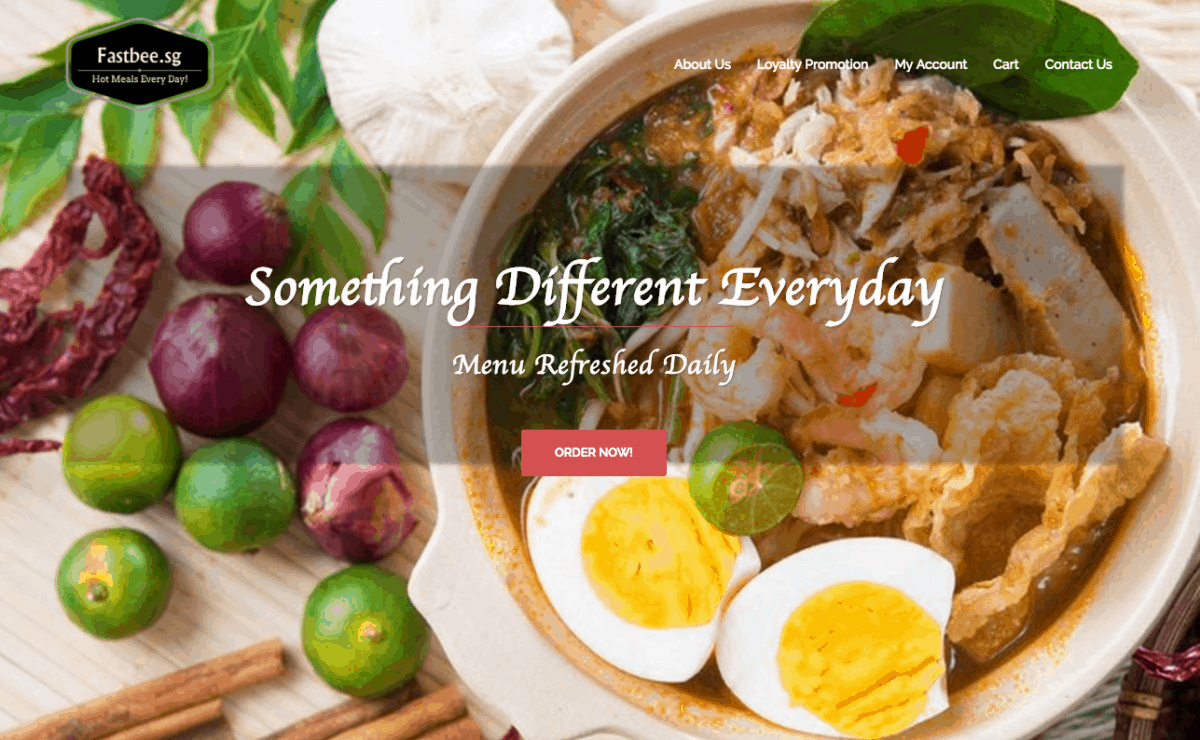 Used to hearing his colleagues at work complain about the lack of food choices, Mr Khoo Kar Kiat made the decision to quit his job at the Economic Development Board where he worked for eight years so as to start his own business. The idea of making hawker food available to the office hubs was something that he saw as a "gold mine", and so he set off to explore tech solutions to serve the business parks.
In early 2017, Fastbee was born. In order to attain a sustainable model and keep operation costs low, Mr Khoo uses technology to save on manpower. So instead of the usual delivery services in the market which requires many drivers, Mr Khoo decided to use an online order system with bulk delivery and self-collection services. By visiting trade shows, he was able to find the best machine to customize in order to keep food hot and also enable self-collection.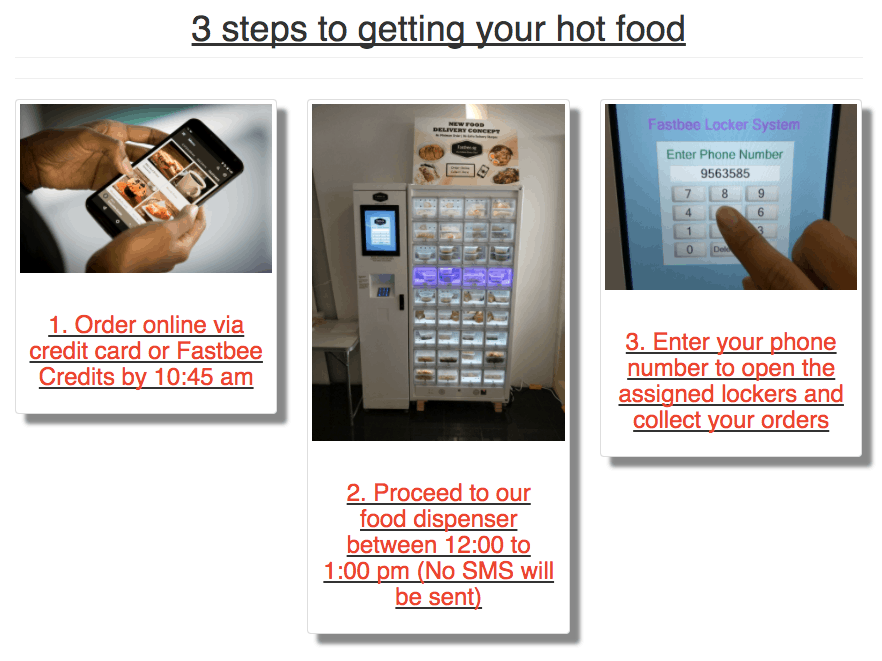 At the moment, there are four self-collection kiosks available in Science Park I, Science Park II, Mediapolis and CleanTech One. Users place an order and make payment via the Fastbee platform before, and the orders are then sent to the respective hawkers' mobile phones. Fastbee drivers will collect the food by 11.20 am and the meals will be delivered to the vending machines at the business park. The users will collect their orders by entering their mobile numbers.
Did we also mention that there are no extra delivery charges and minimum order?
Not only that, the menus are specially curated by the Fastbee team, and updated everyday with food options from the hawker centers at Bukit Timah, Clementi, Yuhua, Ghim Moh and Pasir Panjang. In order to ensure that the food is kept the freshest possible, all the hawkers are located not more than 20 minutes away from the vending machines.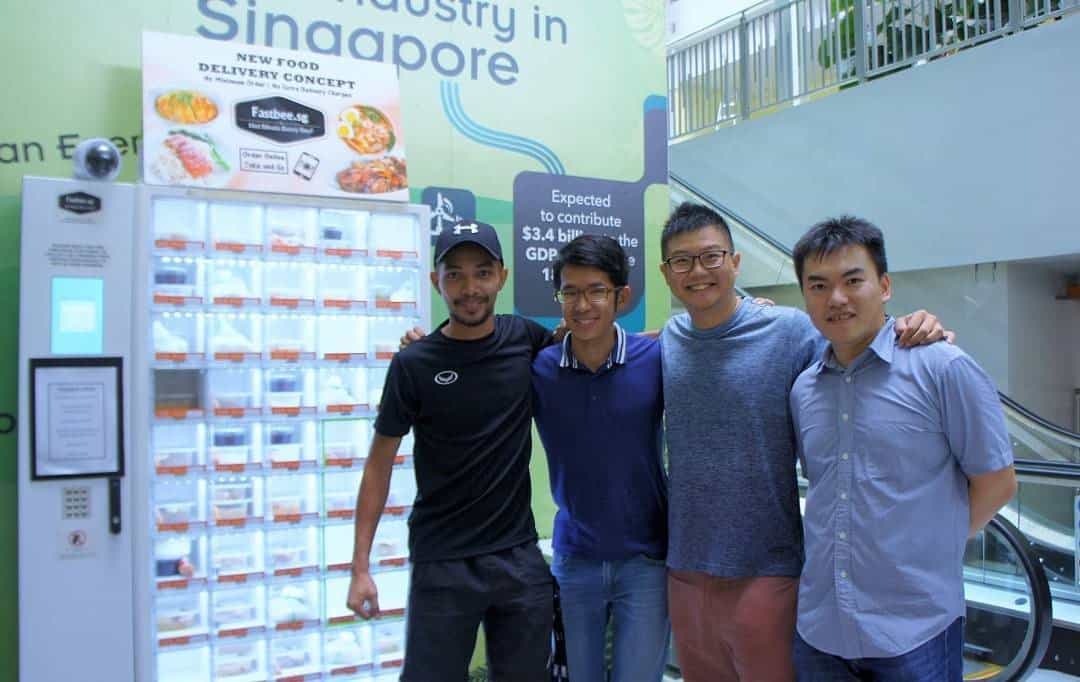 Source | The Fastbee team
On other food delivery services such as Ubereats, FoodPanda and Deliveroo, Mr Khoo doesn't consider them competitors. 'All of us are trying to change the way Singaporeans consume food, but I'm playing in a different segment – affordable daily options versus restaurant treats, business parks versus CBD, and preserving hawker heritage versus F&B chains,' he says. 'Competition will always be there, but I just aim to complement existing food options and fill in the gaps.'
Mr Khoo has big plans for Fastbee. Right now, they are especially sympathetic to the plight of business park workers, but he aims to have 100 machines eventually and serving 5000 meals daily. The Fastbee team is also looking into the option of having dinner services, and are keeping the HDB dinner crowd in sight.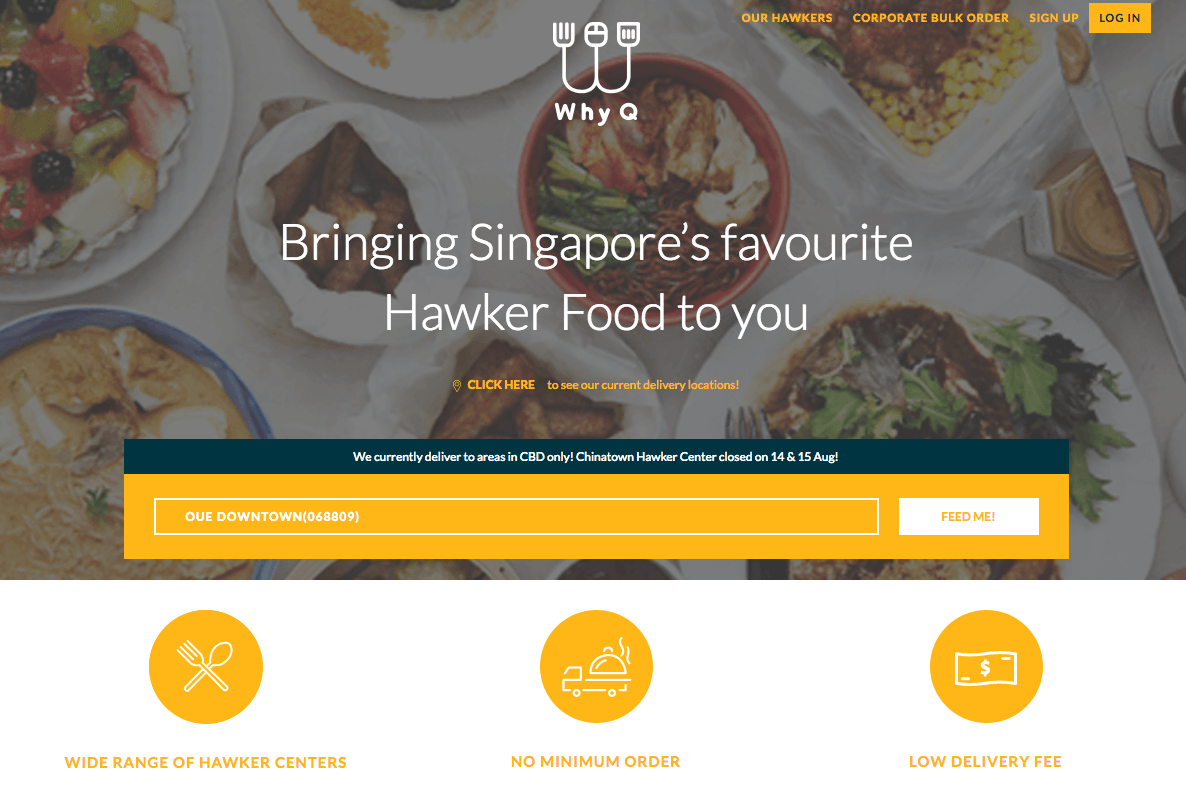 Working in the CBD? We've got you covered as well. WhyQ is another one-stop shop for all your hawker cravings, and right now they only cater to the CBD crowd. Hailing from India, Mr Rishabh Singhvi and Mr Varun Saraf were ex-coursemates and roommates that quickly fell in love with our hawker fare and became foodies.
For the next four years after their graduation from SMU, both of them went on to work in the banking industry in the CBD. It was here that they encountered the problem of long queues and found it hard to find feasible delivery options for a daily basis. They 'realised the potential for a low-cost model of food delivery from hawker centres', and set out on a road to help others like them overcome their daily struggles.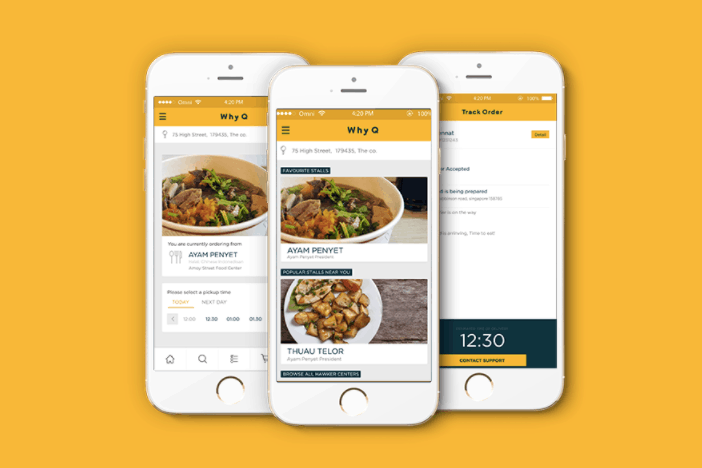 WhyQ was officially launched in February this year. As its name suggests, the idea is to spare customers the long wait at hawker centres during lunchtime hours and provide a convenient yet affordable food service option. Speaking about their launch, they say that the response was 'overwhelming'. In fact, they even had to implement a 'maximum order limit' so that they would not disappoint their customers!
WhyQ now has a customer base of over 4,000 and deliver over 300 to 350 orders per day. But it hasn't always been easy for them, Risabh says. As non-locals, neither of them spoke our local dialects and it was hard for them to break the ice with the local vendors. They had to use their delivery team as 'ambassadors' so as to conversate with the hawkers who spoke little English.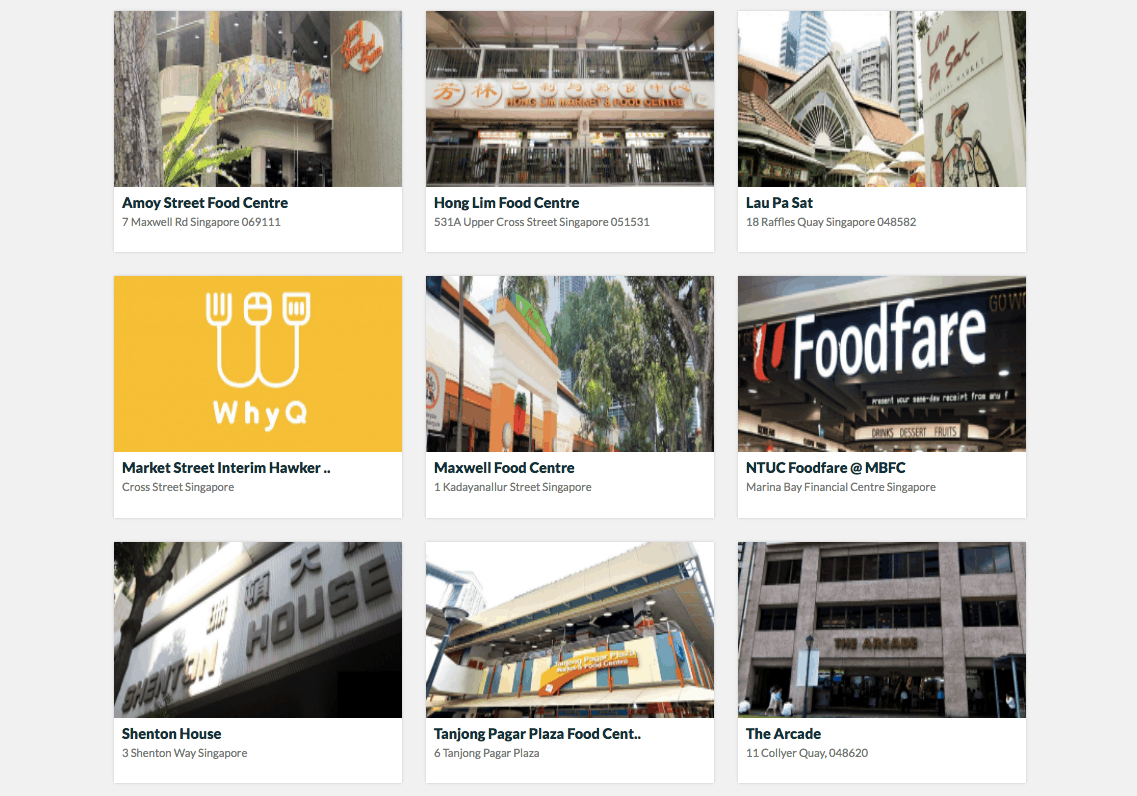 But now, WhyQ partners with over 300 hawkers across ten hawkers centers, and the startup serves both lunch and dinner times. Users place an order at least 75 to 90 minutes before delivery time via their website or mobile app, and the delivery will be brought to them at their preselected office building. Because Varun and Risabh want to ensure that each person can order food for themselves with no worries of having to meet a minimum order or to look for friends to split the delivery fee, there are no minimum orders imposed and the delivery fee is kept low at $1.50.
Just before lunch hour, the delivery team of 20 collects the food and labels them according to their destination. They will then meet up to sort out orders based on delivery locations, and head out again to various spots in the CBD to deliver the food. 'We deliver in batches at fixed time slots to a collection point – which is usually the reception area. Hawker food is inexpensive, and our mission is to keep it that way even while delivering it. Our economies of scale model ensures that we can optimise our delivery process, hire fewer resources and deliver to multiple customers together, which in turn helps us remove minimum orders and keep delivery costs low,' says Risabh.
Founder of the popular hawker food guide Makansutra, Mr K F Seetoh says that WhyQ might continue drawing demand if their delivery fee is kept reasonable. However, he also said that digging into a meal at the hawker centre is part of the whole 'hawker food experience'. That might be true, but for working professionals that are short on time, convenience and time-saving might be a more important factor.