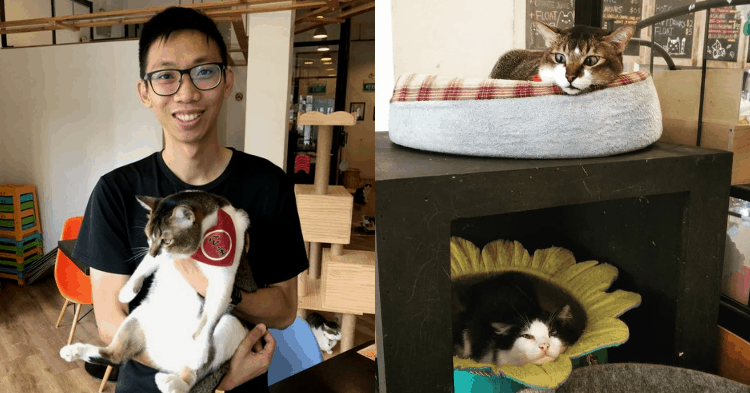 Community cats hold a special place in many Singaporeans' hearts. Many are unofficially declared by residents as mascots and some are even enshrined as icons, with fans managing their Facebook pages for them.
Despite the affection these cats receive, sometimes they do receive attention that is less than savoury. Reports of abuse reflect the stark reality that the streets cannot guarantee the safety of these community cats.
In the advent of internet cat videos and memorabilia plastered with cat prints, perhaps there is a way to marry this wave of obsession with cats and a place which serves as a sanctuary for re-homed strays. Cue The Cat Cafe.
At The Cat Cafe, you take off your shoes, sanitise your hands and step into another world through the sliding doors. The customers leave their drinks sitting on the table in favour of playing with the cats and trying to grab their attention.
I momentarily forget where I am until I trace a cat's gaze out of the windows and remember that the cafe is nestled in a corner overlooking Bugis street. But the cats belong to another world now, sheltered from the busy streets of Singapore, where they once lived.
 Meet Jefferson, Cat Dad And Coffee Enthusiast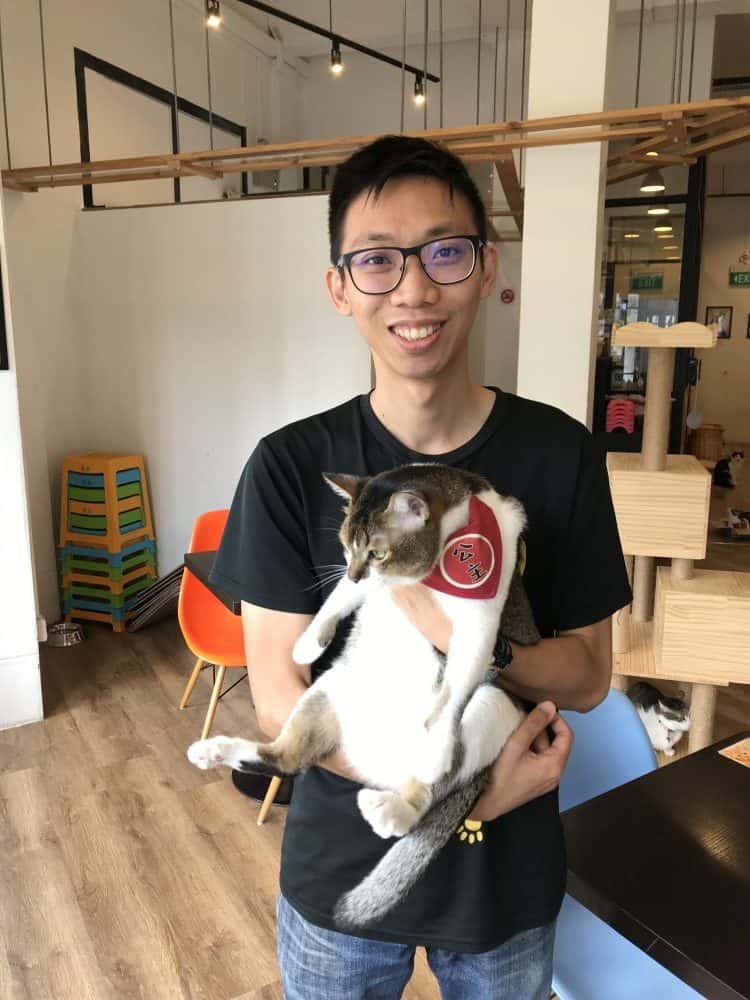 This world is created and carefully curated by Jefferson and his wife, Candice, who were inspired during one of their travels in Taiwan. The couple loves cats and coffee, so after visiting the first cat cafe in the world, in Taiwan, they decided to set up one of their own in Singapore.
Jefferson worked in the IT industry prior to this and continues working on the cafe IT system and the coffee machine as well. Thankfully, family and friends were supportive when they decided to venture into the cafe business, and it is clearly something that they were doing for themselves, independently-funded, driven by their love for cats.
The Cat Cafe specifically works with strays and abandoned cats, because in Jefferson's words, "in some way we want to let people know that stray cats can be home cats", and with so many good cats out there with no homes, the cafe provides a safe haven that "is better than a shelter because they get more attention, sometimes, too much attention", he quips with a laugh.
Speaking of the cafe, Jefferson says:
"We wanted to create a place where people can play with our local cats. It's a safe environment for people to get to know cats – for people who don't have cats and for people thinking of adopting to come and get an idea of what it's like to have a cat at home."
Looking around the cafe, it is easy to see that the couple has succeeded in creating the space they had planned – with children sprawled on the floor, eye-level with the cats, serving as testimony to how homely the cafe is.
Being the first few cat cafes in Singapore, the main challenge was getting the licence, as it was a relatively new concept.
"Initially when we first started, it was tiring because we were setting up all the things, so we worked 12 hours a day, 7 days a week to sort things out. It's like that when you start out your own business. Now it's much better with more people helping us and taking over more responsibilities."
The cafe also provides internship opportunities to polytechnic and university students who want to learn more about running a food and beverage business. The students are mostly attracted by the novelty of the concept; they come from various courses, mostly attracted by the idea of working with cats.
Learning To Love
When talking about his efforts in the field of animal welfare, Jefferson laughs and politely declines the label 'activist', saying that "places like The Cat Welfare Society do the real ground work". However, The Cat Cafe hopes that through interaction with its cats, people come to understand more about them and become more compelled to respect them.
Jefferson says that they see a wide range of customers. "We have the super excited ones, we have the scared ones and we have the extremely terrified ones who come in here because their friends forced them. They'll sit in one corner and observe the cats."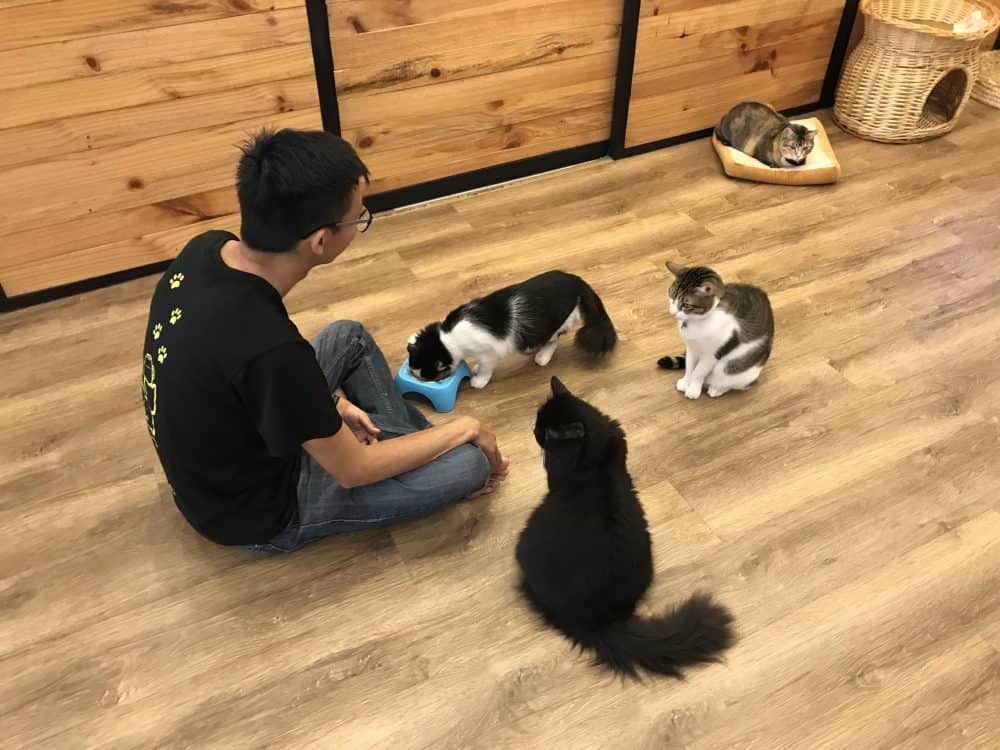 For many, this encounter would be their first time interacting and touching cats. They might not take to cats right away after this, but at least this experience helps people to overcome their fear, and some even warm up to the cats!
Children are their core audience. Even though they might be more of a challenge to manage, Jefferson says that it is important to reach out to children because "if you don't reach out to them while they're still young, they will grow up not liking cats."
This remains one of the firm goals of The Cat Cafe, to "share the joy of cats with younger patrons, so when they grow up, they might one day have a cat of their own, or at least they will not abuse cats".
The Cat Cafe does not adopt their cats out, due to strict regulation which requires about 2-6 months to bring in each cat into the cafe. As such, the current cats are mostly a permanent feature in the cafe. Should customers fall in love with the idea of having a feline friend around the house, the staff of The Cat Cafe are more than happy to give advice and refer them to shelters.
For Jefferson, running the cafe itself is a dream come true. "Business-wise, this is already a blessing. It is my dream job to work with cats, to let go of your full-time job. It's much more fun. Not that I didn't like my IT job, I still do, but running this is much more fulfilling."
But typical of a cat-person, Jefferson says "if you ask me who the owners are, these cats are the owners. I'm just taking care of them!"
To find out more, click here.