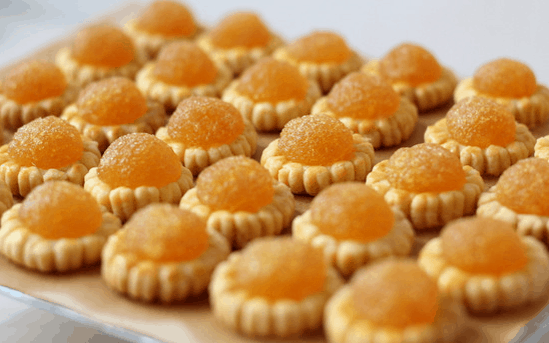 Grab the best Grandma-approved CNY goodies because old is always gold.
If you are looking forward to prosper in the new year, old is gold. And we mean that in a palatable way.
Although innovative treats—think charcoal pineapple tarts, bak kua cookies and green tea nian gao—are in demand and keep our taste buds fresh each year, it's arguable that there's nothing quite like the hand-made classics.
So switch out the shopping malls and take a trip down memory lane to these 10 old-school bakeries and pastry shops that grandma will approve.
​1. Hougang Kueh
Relocated from Ang Mo Kio's industrial area to Hougang's heartland, Hougang Kueh is a household name in Singapore's North-East that has been around for more than 30 years.
Now onto its third generation of bakers, every jar of goodie is hand-baked and hand-packed on the morning of the day of sale or delivery, guaranteeing optimal freshness at the point of purchase.
Many swear by the true-to-its-name melting almond cookie and cashew nut cookie so don't give those a miss if you decide to head down!
Hougang Kueh
Blk 678 Hougang Ave 8
​#01-517 Singapore 530678
2. Sze Thye Cake Shop
Running a one-man business is not an easy feat but Mr Koh Sun Liang, who's 69 going on 70, is fit as a fiddle.
Picking up his artisanal skill set by secretly observing the pastry experts in China, Mr Koh has been crafting traditional Chinese confections since he was 12 and has been unstoppable for 50 years.
Sweeten up the new year when you take home two of his most in-demand Chinese New Year goodies: the savoury sesame and the sweet peanut brittle.
Sze Thye Cake Shop
2 Beach Rd, Singapore 190002
3. Pine Garden
The year was 1984. Four relatives made the decision to kickstart a baking business to put bread on the table and our Little Red Dot was graced with the existence of Pine Garden.
Now 75, Madam Lee Ah Moy is one of the founders who's still as nimble-fingered as ever, baking pineapple tarts that are only available during the Chinese New Year season from a family secret recipe.
They prove to be a crowd favourite. According to the old-school bakery's managing director Mr Wei Chan, demand for their tarts increased fivefold over the last decade. But nothing in particular has changed, the recipe and method of making remains the same; even the German oven used to bake the tarts has been around for 32 years.
One can only attribute Pine Garden's success to its impeccable jam-to-tart ratio.
Pine Garden
Block 529, Ang Mo Kio Avenue 10, #01-2369
4. Tai Chong Kok
The pronunciation of nian gao sounds like "year high", therefore the Chinese believes in eating this steamed glutinous rice cake as it suggests progression towards greater heights.
For the most authentic of them all, you can get them from Tai Chong Kok, which has been around for a little over 80 years. Mr Tham Wing Thong inherited the family-run business from his father in 1984 and has never stopped producing nian gao since, which accounts for a fifth of their annual revenue.
While a nian gao may look simple and unassuming, it takes three days and a painful amount of labour to produce a batch of them from the steamer. So, don't take it for granted—grab yours at any one of the four retail outlets islandwide today.
Tai Chong Kok
34, Sago Street
5. HarriAnns
Perhaps best known for their kueh lapis legit, a delicacy that shows up during the festive season without fail, HarriAnns sells bona fide Nonya kuehs that are true to their roots. Entirely prepared by hand from the freshest ingredients and void of artificial colourings, these kuehs are out to woo your healthy hearts.
Its beginnings are humble. Back in the 1940s, Uncle Harry's mother would use to peddle her home-cooked glutinous rice and Nonya kueh on a pushcart to make ends meet. Till date, under the third generation's entrepreneurship, the cosy bakery has expanded into the territory of cafés. However, you still can enjoy the holistic old-school experience by visiting its 59-year-old outlet located in Tiong Bahru Market.
HarriAnns
Tiong Bahru Market, Stall #02-25
6. Kim Peng Hiang
We've all heard of Lim Chee Guan and Bee Cheng Hiang, but Kim Peng Hiang is making a case in the business of bak kwa. An under-the-radar bak kwa stall that's nestled in the heartland near Kembangan MRT station, it is little known that the brand has been around for more than 60 years and three generations.
The makers of bak kwa at Kim Peng Hiang are passionate about keeping the traditional manufacturing methods alive, but are also testaments to the notion that innovation need not be compromised in the process. Other than their famously juicy royal sliced bak kwa, the sweet but savoury pineapple bak kwa should also be on your must-try list.
Kim Peng Hiang
465 Changi Rd
(Near Kembangan MRT)
7. Madam Roseline's Pineapple Tarts
On a normal day, Madam Roseline draws a crowd to her inconspicuous booth in the KPT Kopitiam beside Punggol with a simple delicacy of popiah. This Chinese New Year, the crowd flocks there all the same but for a secret menu: demand for her home-baked pineapple tarts is insatiable.
Word on the street's that her pineapple tarts are heavenly; the crusts are buttery with impeccable measure and topped off with a dollop of pineapple jam that's not too sweet—a palate that the modern generation would appreciate. Because the crust is so delightfully powdery, be careful not to shake the container that they are stored in too much as it will cause them to crumble.
Madam Roseline's Pineapple Tarts
401 Hougang Ave 10
8. Jia Confectionary
If you'd rather make one stop to obtain all your Chinese New Year goodies, then Jia Confectionary is your destination. Located in Sims Vista Market & Food centre, which is mere minutes away from Aljunied MRT station, their pastries are all handmade with love by a loving pair of couple who identifies themselves as Mr & Mrs Ee.
You will find everything typical to a Chinese New Year celebration there, from floss rolls to love letters to kueh bahulus. However, the ones that caught our eyes are the beehive cookies that boast a blossoming aesthetic, and their Japanese crispy cookies that are sprinkled with a generous serving of almond or sunflower seeds.
Jia Confectionary
Sims Vista Market & Food Centre
Block 49 Sims Place #01-46
9. Dong Po Colonial Cafe
Although the café was only established in 2013, you will still be getting an authentic old-school experience—the recipes here date back to the '50s and '60s but are executed by fourth generation baker Kelvin Soh, and the interior is decorated with anachronistic bric-a-brac that will transport you to another time, during the early days of Singapore.
Original and inventive, the bakery spins its own take on Chinese New Year classics. We recommend that you get your hands on the Florentine, a delicate, crispy candy made of almonds and flavoured with vanilla and orange zest.
Or, if you prefer to snack lighter, the almond fingers that comprise a crispy meringue on top of a butter biscuit base is your order.
Dong Po Colonial Cafe
56 Kandahar St, Singapore 198904
10. Glory Catering
Although Mdm Chin Choon Siang is not Peranakan, there is no doubt that the co-founder of Glory Catering produces Nonya kuehs that are a hundred percent authentic and it is with good reason. When she was just 11, Mdm Chin often hung out with a group of bibiks from whom she would pick up the skills and recipes from to emulate.
Her foray into baking began in the late 1950s, and Glory Catering's melt-in-the-mouth pineapple tarts quickly rose to rank among Singapore's best. Their pineapple filling is known to be fragrant and moist, while the tart is sufficiently crumbly.
But, don't just walk away with their pineapple tarts if you are there; after all, Glory Catering is a Peranakan paradise so be sure to bring home their flavoursome kueh lapis that is both a feast for the stomach and the eyes, too!
Glory Catering
139 East Coast Road, 428829